No Comments
Rogue Ales & Spirits | 6 Hop IPA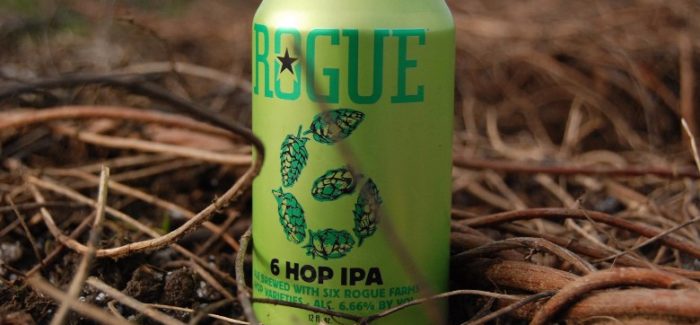 ABV: 6.66% | IBU: 87
If Hamm's is the beer from the land of sky blue waters, Rogue is the beer from the land of hop green farms (and amber waves of grain). Any doubt about this notion is removed after taking one sip of Rogue 6 Hop IPA. The Rogue collaboration with Mother Nature incorporates a harvest's worth of wheat, rye, yeast, hops and "free range coastal water," for a beer that is super hoppy, but presents far more to drinkers than just existing as a "hoppy beer."
The 6 Hop IPA is not a new beer; it's part of an entire family of multi-hopped IPA beers; four, six, seven, and eight hops per beer. Pick your favorite. However, this one is now in cans, hence it is more accessible. If you haven't had it before, you might try it now.
So, let's talk about it, shall we?
I can't say I'm privy to the process employed by Rogue head brewer John Maier, so I can only surmise it goes something like this: Remove the shiny vats from the brewhouse, attach it to a tractor, drag it along the farm and pick up anything and everything, and then add Rogue's own clean water… and then… voila, 6 Hop IPA.
Eh, maybe not. I'm sure it's more precise than that.
But, the moment the beer is poured into the glass, the aroma of fresh hops permeates the olfactories in a way that reminds us of the early days of the craft beer revolution, and shows us why Rogue was a big part of that. It also serves as a shining example of why this Chicago guy's Pacific Northwest beer friends scoff at the notion that IPAs are "so yesterday."
https://www.instagram.com/p/BQduFJ5gatM/?taken-by=the.o.rogue.onians&hl=en
Here is a list of what is in Rogue 6 Hop IPA
Rogue Farms Dare
Risk
Roasted McKercher Wheat
Unroasted McKercher Wheat
Roasted Dream Rye
Maier Munich & Dare
R-1 Malts
Pacman Yeast
Hop 1: Rogue Farms Liberty
Hop 2: Revolution
Hop 3: Independent
Hop 4: Freedom
Hop 5: Yaquina
Hop 6: Alluvial
Free Range Coastal Water
Granted, it is an IPA and mostly plays on familiar flavors and aromas. Nothing will shock you. It's like dipping one's spoon into a terrific bowl of chicken noodle soup. Yeah, you have it a lot, but when it's really good, you get a second helping… and a third (please drink responsibly, for that matter, please soup responsibly). It's a well crafted IPA relying on fresh ingredients and skilled brewing techniques. Simply put, it's damn good.
I implore any drinker of this beer to pour it in a proper glass, or at least a pint glass or something that allows the aroma to flow. Without it, the farm-fresh hop scent is missed and the IPA fails to be all it can be. Please, Mother Nature is watching — do what your mother says.
---
And, in case you weren't aware, Rogue also introduced new cans and artwork for its ultra-classic beer, Dead Guy Ale. They even made a little movie about it.

Wait, no. Sorry. That's the old one.
Here's the new one.
There was a time when Rogue had somehow lost its place among craft beer's most recognizable brands, notably back in 2013 when sales had dipped about 8%. But, Rogue not only is back on track, it's coming back in a big way. The path back to prominence includes solid beer, innovative recipes (see Voodoo Donut beers), cool promotions, increasing its canning and slick looking artwork.
---