No Comments
Brewery Showcase | Arches Brewing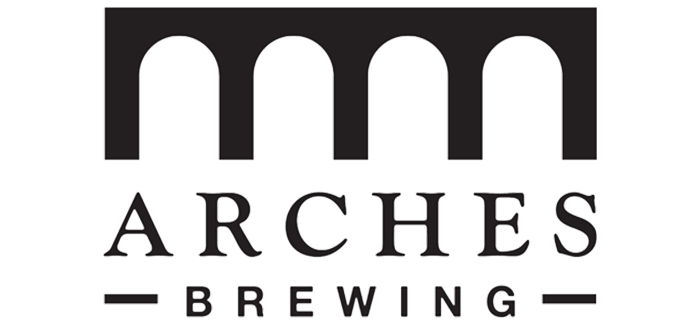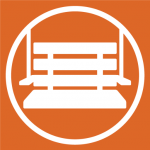 One of the hottest new breweries in the Atlanta-area is Hapeville, Georgia's Arches Brewing. Hapeville may be an unfamiliar city name, but the brewery is located just north of one of the world's busiest airports, Hartsfield-Jackson International. Arches is creating a lot of buzz as one of the best new breweries in Georgia (THE best in my opinion), so it's clearly wasting no time making its mark on the Georgia craft beer landscape.
Excitement was "a-brewin'" as I walked in for my interview with four of the five "pillars" of Arches – brewmaster and co-founder Jamey, head brewer and co-founder Greg, and co-founders Ryan and Jeff.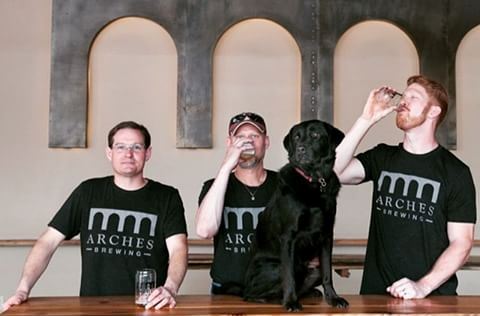 In preparation for the new 20-barrel brewhouse arriving in March to support the brewery's growth (a year ahead of schedule!), the guys had been moving the ridiculously large cooler, panel by panel, from one room of the back-house to another. And when I say ridiculously large, I mean it was probably bigger than my studio apartment, so they were not playing. When I walked back to chat with them while they were working, Jamey was still on a ladder drilling a hole through concrete blocks to get the electrical up and running. This level of hard work and do-it-yourself attitude was no surprise to me, as the guys designed and built the brewery from the ground up, renovating it from an old Napa Auto Parts and doing things like chiseling the concrete floor themselves. Disclaimer: do not try that at home – I hear it was awful. I conjecture there may even have been tears.
The new 20-barrel system will support the local demand for Arches coveted flagship beers. The former, 3-barrel system will be repurposed for specialty brews and the guys seemed giddy with excitement at the thought of experimenting with new recipes and techniques again. And that's right, Arches been operating on just a 3-barrel system for the past year! I intently listened in as though I were a member of the team while they discussed where the canning line could fit. Canning distribution is planned for September and I cannot wait to walk into my local beer store and see cans of Arches on the shelves!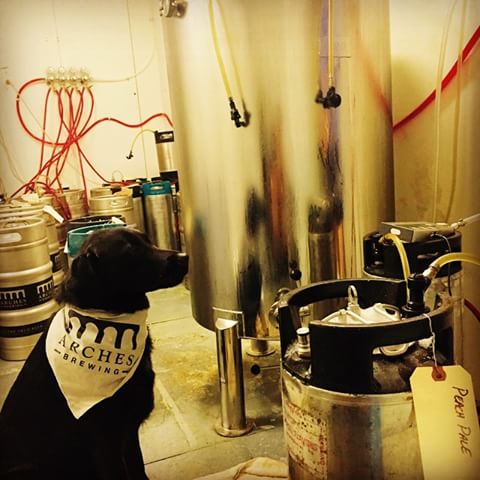 Greg, who runs the day-to-day operations of the brewery, is in charge of brewing each batch of beer. Asked how he felt about the new 20-barrel system, he admitted he was a little nervous, but mostly excited. Nerves I get, as most of their recipes require double or triple decoction, which involves removing some of the mash to be heated to a conversion temperature, then boiled and returned to the main batch. This produces a higher level of extraction and give the beers the crisp, dry maltiness necessary for their signature lagers. The guys assured me that in no way would the beer's quality suffer under the 20-barrel system, because, if need be, everything would be brewed in smaller batches to achieve the desired quality and taste. I was relieved to hear their exceptional attention to detail would not alter.
Arches celebrates classic and old world through its brewery design, beer focus and brand. My conversation with each of the guys highlighted how thoughtful and intentional every decision they make is, and how everything from the next beer recipe to the label designs for the upcoming cans marries perfectly with their simple, classic approach.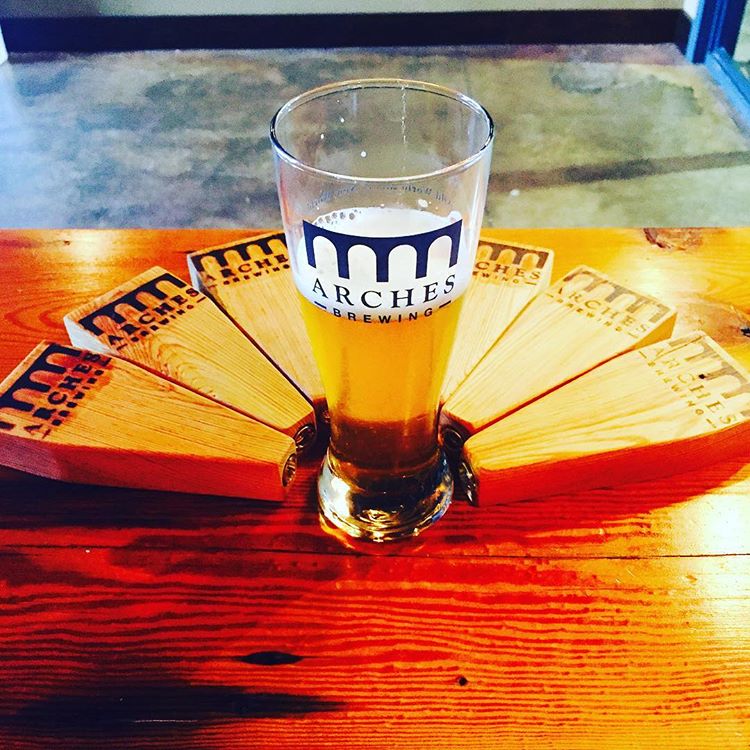 Arches really sets itself apart with its focus on classic and seasonal lagers; no one else in the Atlanta craft-beer market is brewing in this wheelhouse. The brewery's approach is a welcome and refreshing breath of fresh air. It's not that I don't love a solid IPA, but throwing back a classic, clean, perfect lager is sometimes all anyone yearns for!
Arches also branches out into Belgians and American-style beers, but always with its unique take and a focus on quality and deliciousness. The Arches crew follows a European beer calendar, which means some of your favorites might not be available year-round, but that makes it all the better when they come on tap again. Next up is the Vienna Lager, which I recommend seeking out, and a new beer will be launched every month for the remainder of the year.
Jamey and Jeff's backgrounds are in biochemistry, so they bring a unique take on the brewing front. A homebrewer for over 10 years before opening Arches, Jamey believes every beer can be made better through chemistry. Water chemistry plays a fascinating and important part of the brewing process, with the brewers ensuring the water used for each beer mirrors its country of origin.
They won't call themselves the best, but I will. I had to rephrase my question a few times and instead of asking what makes their beer better than any other in Atlanta, being so full of flavor and robust, I asked what sets their beer apart and makes it different. Jamey believes it's a combination of the care put into the water chemistry, to give the beer the perfect base for each recipe, and the temperature control on mashing, where the grain is starched into fermentable sugars. The level of control they have over the temperature allows them to ensure the majority of the sugars break down to alpha amylase, which allows maximum solubility for a full flavor. He believes these two focuses combined give Arches its unique quality.
Their flagship brews include the Unseasonal Lager, Equilibrium, Southern Bel', and soon(!) the Queen's Weiss, one of my favorites! (Can you have four favorites? No? Ugh, life is so hard.) A "taste" of what each of the current seasonals offers can whet your appetite below!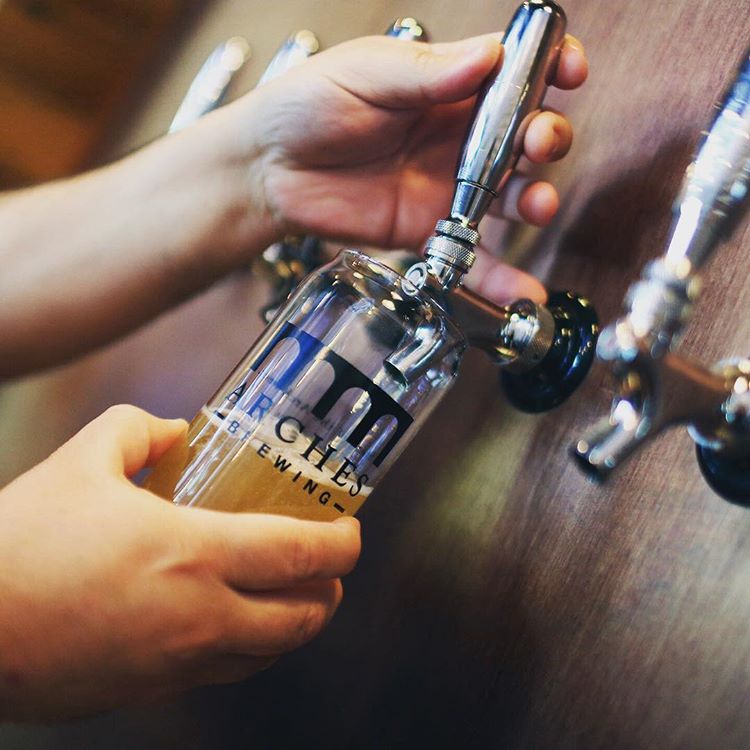 UNSEASONAL LAGER
ABV: 5.4%
As the only year-round lager, The Unseasonal Lager transcends all seasons. A beer outside of all traditional style guidelines, it creates a style of its own. The flagship lager was specially crafted by the team at Arches Brewing to be a lager that calls Atlanta home. A simple American grain bill is treated with old-world techniques creating a distinct color and body which is light enough for summer and strong enough for winter. All noble hops provide a classic mild and spicy bitterness. Double decocted lager made with all-American malt, noble hops, and Bavarian yeast.
EQUILIBRIUM
ABV: 5.6%
Equilibrium acknowledges the brewery's chemistry roots and is defined by a state which is balanced and permanent. Among many seasonal beers, Equilibrium represents the purity and consistency brought to the processes. A grain bill designed to provide a moderate body and improved head retention. Well bittered with notes of grapefruit and spice. Dry-hopped to bring out a citrus and pine aroma. This Pale Ale is a recipe that Arches Brewing has been producing for over a decade.
SOUTHERN BEL'
ABV: 6.8%
Southern Bel' is a deep Belgian Blonde ale with a traditional pilsner malt character and slight toasted biscuit notes. A smooth dry finish accentuated by cloves and fruity Belgian esters. Lightly hopped with a gentle earthy aroma. A subtle yet complex beer for the discerning palate.
QUEEN'S WEISS
ABV: 5.3%
A traditional Hefeweizen designed on a Bavarian water profile. A simple light bodied ale, with a high wheat content to give crispness and a cloudy pale yellow color. Subtle noble hop bitterness is present. The star is the yeast, one of the oldest strains in the world, which is specially treated to give bright clove and banana flavors, with a subtle pink bubble gum aftertaste.
Visiting Arches is a real treat, and one visit for which highly recommend. Made it through the work day? Arches. Did the dishes? Arches. Major life accomplishment? Arches! Tours are currently $15 for six tastings and a souvenir glass, with limited bottled special releases available for purchase. The guys are excited to offer some new limited release bottles/cans later this year when the updated law kicks in and their canning line is in place.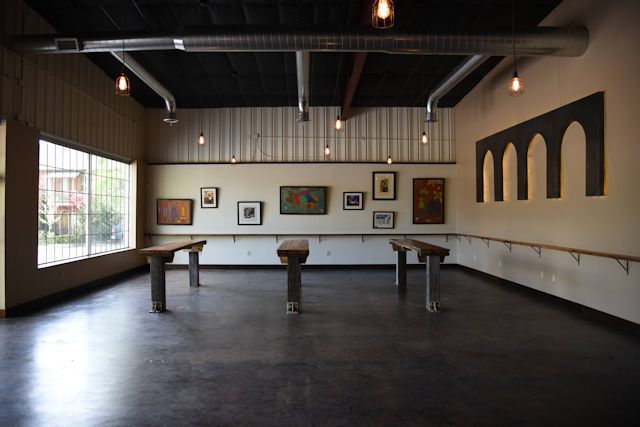 One of my favorite parts of Arches involves a visit by the brewery's beloved mascot, Duke, a sweet mutt who patrols the brewery when he's not herding his owner, Ryan. It's gotten to the point where if I'm planning on going to the brewery, I find out if Duke will be there first. Although Duke is allowed to roam, other friendly puppies are allowed at the brewery, but only on a leash. And in addition, well behaved children are welcome.
Arches has a great space with an indoor area with high benches, stools and couches surrounded by artwork, most of which is available for sale. The centerpiece is the large arches pillar which serves as the logo for the brewery. Out back is where the magic happens with the barrel and brewing system set up and then outdoors is a huge area with picnic tables, corn hole, life-size jenga and fire pits.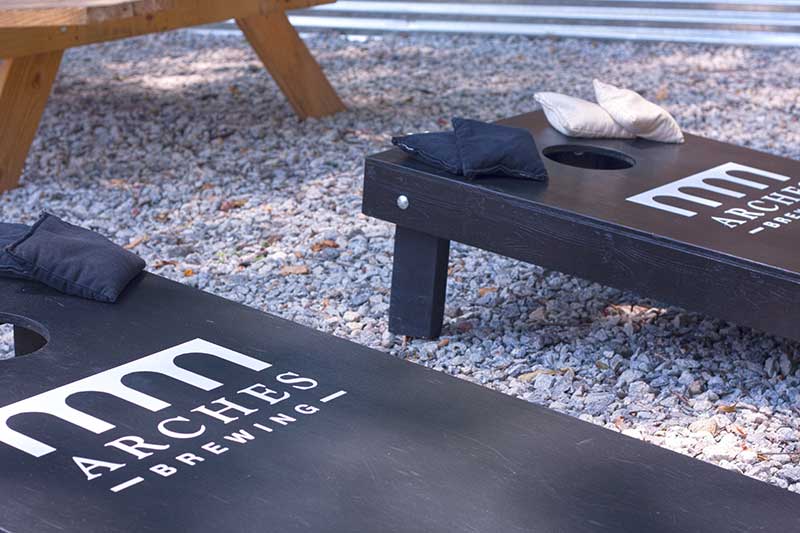 Although the brewery offers food for special events, on a regular basis there aren't any food trucks or food available. Again, hopefully that will change with the new law passing soon! There are a number of interesting restaurants in walking distance of the brewery, however, in downtown Hapeville. They also host yoga on tap regularly and special events for local businesses such as Delta.
A one-year anniversary bash is planned for April 15 with food, fun, and of course – amazing beer. Mark your calendars now!
Arches Brewing
3361 Dogwood Drive
Hapeville, GA 30354
Hours of Operation
Tues-Thur: 4p-8p
Saturday: 1p-6p
---