No Comments
BREAKING | Upland Brewing Company Expands to Philadelphia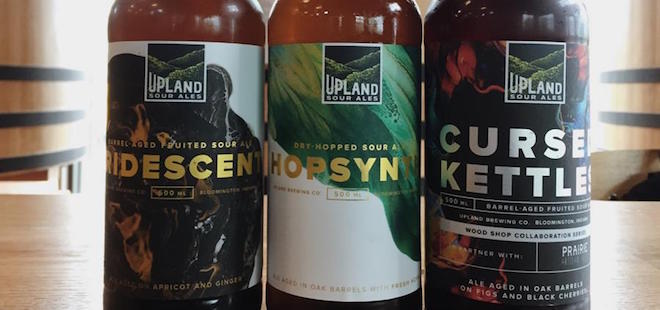 Featured Image courtesy of Upland Brewing Company.
Bloomington, Indiana brewery Upland Brewing Company has partnered with Penn Beer to expand the distribution of their wood-aged sour beers to the Philadelphia area. The first of their brews to reach the City of Brotherly love will be Hopsynth, Iridescent and a limited quantity of Cursed Kettles, which will be available on tap at specialty craft beer bars and bottle shops.
Upland's partner in this expansion, Penn Beer, has been in the business since 1953, and they definitely know which beers are the best to wash down a roast pork sandwich from DiNic's.
A year ago, Upland Brewing Company opened their Wood Shop Sour Ale Brewery, which is dedicated to the production of wood-aged beers. The brewers there have a chance to experiment with various styles in an attempt to create truly beautiful, unique beers. The results of these trials will soon be on their way to Philly. (Hooray!)
Iridescent is a blonde base ale which is wood-aged on apricots and ginger. Cursed Kettles is a collaboration with Prairie Artisan Ales and is aged on figs and dark cherries. Last, but not least, Hopsynth is a dry-hopped sour, which utilizes a different hop variety in each batch.
https://www.instagram.com/p/BS6vHBwhIq0/?taken-by=uplandbrewco
"Philadelphia has become one of the most influential beer markets on the East Coast, if not the country. The number of breweries that have entered our market is unprecedented. We've been following what Upland has been doing with their sour program. It's a great opportunity to partner with them and send a selection of their astounding beers to our retailers," said Pat O'Malley, Penn Beer's Senior Craft Beer Manager, via press release.
Launch events will be taking place during the week of April 24. Those events will also feature some whole-fruited sours, which Upland Brewing Company is bringing just for the occasion. For more information, visit Upland's website and follow them on social media.
4/22/17: Updated to reflect a correction. Upland Brewing Company is located in Bloomington, Indiana. 
---