No Comments
Founders, New Belgium, Dogfish & Rogue Announce New Beer and Projects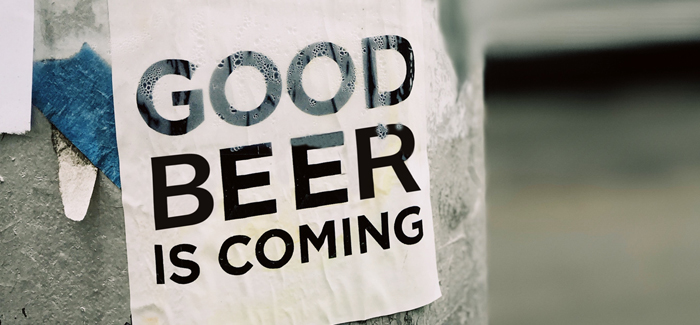 It's that time again to check on the nation's breweries and see what's going on. Founders, Dogfish, New Belgium and Rogue have made announcements about new beer and brewing projects.
Greater Lengths Video Series Celebrates Those Who Go the Extra Mile

Series highlights the people and stories that make the world a better place
Ft. Collins, Colo., July 19, 2017 – New Belgium Brewing's Greater Lengths video series shifts the spotlight away from the beer and onto the people it brings together. By honoring people who go the extra mile, and the untold stories behind the individuals who make up New Belgium, Greater Lengths helps to show that every journey has a great story.
"Over the years, New Belgium has collected incredible stories and we want to share some of those, from bike advocacy and the life-changing work our non-profit friends are doing in their communities, to the quirky stories of some of our employee-owners," said Steve Porcaro, director of content and communications at New Belgium Brewing. "There are so many unique tales to be told and Greater Lengths allows us to do that."
The first videos in the series feature the work of Boise Bicycle Project and stories of New Belgium employee-owners.
Boise Bicycle Project
Bikes have the power to change lives and communities, and Boise Bicycle Project showcases that. Boise Bicycle Project's Shifting Gears program helps incarcerated women learn new bike-repair skills while providing bikes to children in the Boise community. This film highlights the work of this non-profit, which has been a Tour de Fat partner for 10 years. Over this time, New Belgium, and those who support Tour de Fat have helped raise money and awareness for Boise Bicycle Project, resulting in various programs that help get bikes, bike safety and bike education to people who need it the most
"We're constantly trying to figure out who doesn't have a bicycle that needs one, so whether that's homeless folks, refugees who are new to our community, or people who are getting out of prison who maybe have the cards stacked against them," said Jimmy Hallyburton, executive director for Boise Bicycle Project. "What you start to realize is people are a lot more similar than different. People are often looking to be a part of something bigger. They want to make a difference. It's grassroots at its finest."
You can view the Boise Bicycle Project videos here: greaterlengths.newbelgium.com/boisebikes.
Employee Stories
In an ongoing series, Greater Lengths also highlights the interesting lives and stories of employee-owners at New Belgium. From back-country ski expeditions to learning how to live life on a farm, each story offers a unique tale and a window into New Belgium's employee owners.
"Not only is New Belgium a unique place to work, but it's also filled with fascinating co-owners who help drive our culture and our desire to make interesting beer," continued Porcaro. "To honor that spirit, we're shining a light on some of our most talented and interesting co-owners to tell more about who they are, what they do outside of the brewery, and why they make New Belgium such a special place to be."
You can view the Employee Stories here: http://greaterlengths.newbelgium.com/employees.
Greater Lengths will continue to add films throughout at the year at NewBelgium.com/GreaterLengths. However, to make sure a film isn't missed subscribe to New Belgium's YouTube channel at YouTube.com/NewBelgium, or sign up for New Belgium's newsletter.
~ Material Provided by Jenny Foust, Associate Vice President: Consumer Communications Strategy Group (CSG®)
---
Something Dark This Way Comes
Newport, Ore. – Rogue Ales & Spirits, the country's only brewery-distillery-cooperage, announces the release of 2017 Rolling Thunder Imperial Stout.
Brewed with ingredients grown at Rogue Farms and ocean aged in Dead Guy Whiskey-soaked handmade Oregon Oak barrels coopered at Rogue's Rolling Thunder Barrel Works,
Rolling Thunder Imperial Stout is the culmination of a long journey from bark to bottle. In 2015 Rogue acquired vintage, WWII-era, coopering equipment and subsequently established Rolling Thunder Barrel Works to take on the ancient artform of barrel making. Using Oregon Oak, Rogue's cooper Nate Linquist assembles, raises, toasts, chars, hoops, cauterizes, sands and brands one barrel a day, all by hand.
Rogue's Rolling Thunder Barrel Works Master Cooper, Nate Linquist, poses with Rolling Thunder Imperial Stout

"At first it was a creative challenge," said General Manager Dharma Tamm, "to see how we could incorporate our brewery, distillery, cooperage and farm into one beer. However, our brewers, distillers, coopers, farmers – and even graphic designers turned it into a quest to create a world class beer that exemplifies the Rogue spirit of challenging the norm and pushing creative boundaries."
Rogue Rolling Thunder Imperial Stout inside a hand-charred Rolling Thunder Barrel
Black with a creamy head, Rolling Thunder Imperial Stout features deep sherry notes accentuated by hints of coconut, cherries, dark fruit and vanilla held up against a dark roasted malt backbone with earthy hops. At 14%, this year's Rolling Thunder is bigger and bolder than the inaugural 2016 release. Limited quantities of Rolling Thunder Imperial Stout will be available on draft and in 1-liter swing-top bottles at Rogue public houses starting July 21, then at select retailers nationwide on August 1. For more information visit Rogue.com.
Rogue Ales & Spirits
Rogue Ales & Spirits is an agri-fermenter founded in Oregon in 1988 as one of America's first microbreweries. Rogue has won more than 1,800 awards for taste, quality and packaging and is available in all 50 states as well as 54 countries. Since 2008, Rogue has remained committed to saving the terroir of Oregon hops, barley, rye, wheat, honey, jalapeños, and pumpkins one acre at a time by growing its own.
HOW ROLLING THUNDER IMPERIAL STOUT IS CRAFTED
FROM BARREL
Rogue acquired vintage French WWII-era coopering equipment before knowing where to put it and who was going to make the barrels. Longtime employee Nate Linquist was tapped to be Rogue's first cooper and spent a year and a half apprenticing, learning the ancient art form of barrel making.
Using Oregon Oak, Nate assembles, raises, toasts, chars, hoops, heads, hoops again, cauterizes, sands and brands each barrel, one at a time all by hand. At full capacity, he makes one barrel a day.
TO DISTILLERY
The barrels are soaked first with Dead Guy Whiskey, which is distilled from Dead Guy Ale mash. During the aging process, the Dead Guy Whiskey imparts its flavor into the oak, getting the barrels ready for the next step in the journey.
TO BREWERY
Eight different types of grains, including oats and Rogue Farms barley are brewed with Rogue Farms hops, brown sugar, sweet dark cherries, vanilla and chocolate to create a bold character that is perfect for aging. The Rolling Thunder barrels that once held Dead Guy Whiskey are filled with Rolling Thunder Imperial Stout and aged in the rich, salty air of Yaquina Bay on the Oregon Coast. After nine months in the barrels, the beer is ready for the final step.
TO BOTTLE
As the final step from barrel to bottle, the imperial stout is poured into 1-liter bottles. Rolling Thunder Imperial Stout can be enjoyed immediately or can be cellared for years to come.
~ Press Release and Images Provided by Teddy Henriksen or Rogue
---
Here To Make A Strong First Impression
Dogfish Head Releases Oak-Aged Vanilla World Wide Stout
Brewery revamps 18 year-old stout recipe adding whole Madagascar vanilla beans and aging on oak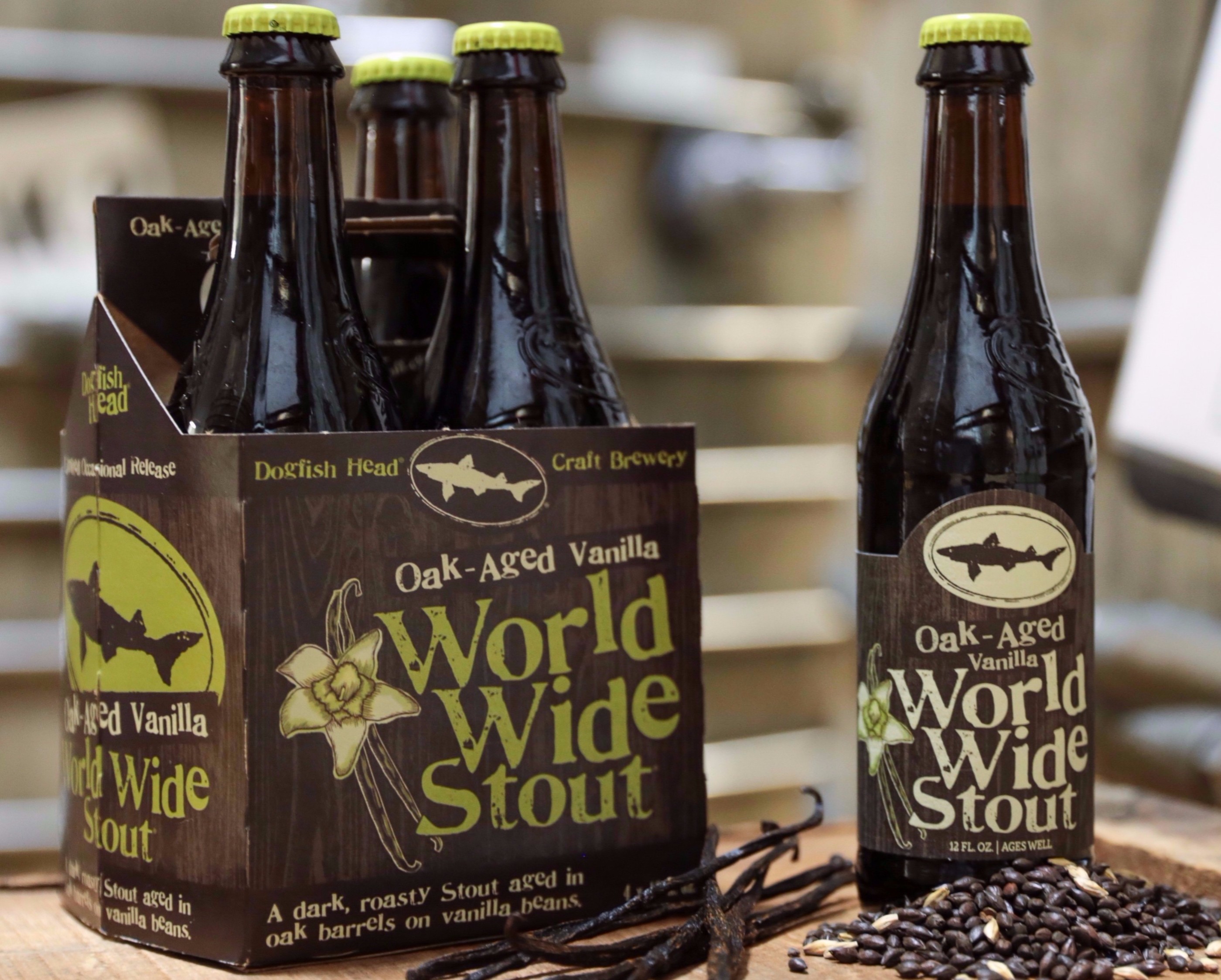 Milton, Del., July 21, 2017 – Dark, rich, roasty and complex, Oak-Aged Vanilla World Wide Stout from Dogfish Head Craft Brewery is now shipping to taps and shelves.  A beautiful beer to evolve with aging, this stout is brewed with a ridiculous amount of barley and aged in real 10,000 gallon oak tanks with heaps of vanilla beans.  Brewed beyond the limits of the average beer, Oak-Aged Vanilla World Wide Stout evolves from a complex wort into a big, bad blackened stout, brewed to last for decades, resulting in a wonderfully authentic tapestry of roasted malty, toasted vanilla flavors with subtle coffee notes.  
"When we first began brewing World Wide Stout at our brewpub back in the winter of 1999, the first batch sold out in less than a week –  and nearly 18 years later the response has continued to be amazing," said Sam Calagione, founder and CEO of Dogfish Head Craft Brewery. "At Dogfish, our raison d'être is to expand the boundaries of the typical beer experience by creating innovative beers made from fresh ingredients.
Calagione added,
"We decided to take a new spin on our popular stout by adding tons of whole Madagascar vanilla beans to the recipe.  The addition of the beans enhances the coffee and chocolatey notes in the beer which we think our fans will enjoy." 
This opaque complex ale clocks in at 16% ABV and has a depth more in line with a fine port.  It actually goes great with (or as) dessert.  A big old slice of decadent cheesecake is the perfect pair for this velvety stout.  "Like Fort and 120 Minute IPA, Oak-Aged Vanilla World Wide Stout only gets better in its golden years, said Calagione. "With aging, you'll find the heat of the booze fades into the background and the port notes and vanilla roastiness takes over," said Calagione.  "Grab a few bottles, enjoy one now and lay the others down for a few years."
To find and enjoy Oak-Aged Vanilla World Wide Stout and other off-centered Dogfish Head brews in your area, visit www.dogfish.com/brewery/fishfinder.
 ~  Provided by Heather Kenton, PR Specialist at Dogfish Head 
---
Brewed for Artprize 2017
July 17, 2017 —  For the fifth year, we're brewing a beer to benefit ArtPrize, an art competition hosted in our hometown of Grand Rapids, Michigan. Previous ArtPrize series beers include Mosaic Promise, Pale Joe, Spectra Trifecta and more. This year, we're looking forward to exercising our creativity again with a style new to our lineup.
This year's ArtPrize beer is Green Zebra, a gose-style ale brewed with watermelon and sea salt!
Subtly sour and a little sweet, this ale is a refreshing take on a nearly extinct German style, gose. Watermelon is the highlight of this lightly-hopped treat and gives it a hint of satisfying juiciness. The soft mouthfeel and dry finish comes courtesy of the addition of sea salt, a traditional gose ingredient. Green Zebra comes in at 4.6% ABV and 10 IBUs.
"ArtPrize is one of the most well-attended public art events in the world, and we are proud to continue our support," says our Co-Founder and President, Dave Engbers.
"We love playing with expectations when it comes to brewing our ArtPrize beers and Green Zebra is the perfect example of that. The gose style is very unique and pretty unknown, even amongst craft beer drinkers, and we wanted to bring our version of it to a larger audience. In fact, for the first time ever, our ArtPrize beer will be available across our entire distribution network so even more of our fans can get to know this style we've fallen in love with."
For the first time ever, we will be releasing this beer in 6-pack cans (yup, no bottles) in addition to draft. Green Zebra will also be available in all 46 states we distribute to. It will be priced consistently with our year-round lineup at $9.99 suggested retail price.
As we have done for the past two years with Spectra Trifecta and Pale Joe, we reached out to our immensely talented Founders Family to create a piece of original work for the label. Our taproom's own Jacob Wiseheart achieved that distinction and, with his striking and intense use of color and dimension, created a label that perfectly suits the lively, bright nature of the beer.
This will be available in the taproom beginning on August 15. Look for it in on shelves beginning mid-August.
Provided by Founders Brewing
---