No Comments
SweetWater & Telluride Collaboration | Torikumi Wasabi Infused Blonde Ale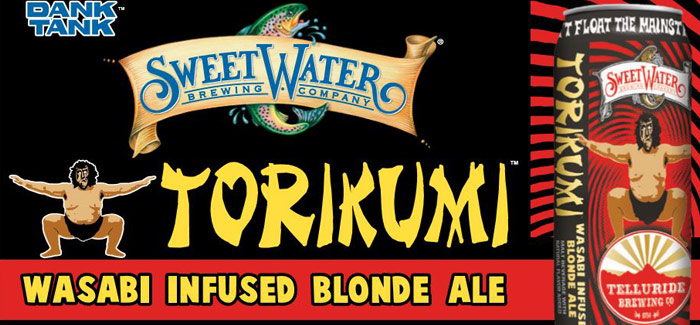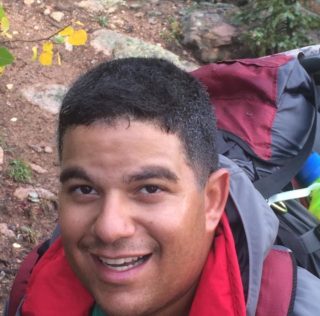 Arigato! SweetWater Brewing Company's latest dank tank offering, Torikumi, is a collaboration with Telluride Brewing Company. These two rad breweries combined to offer a heady blonde ale that features wasabi.
Torikumi's Aroma & Taste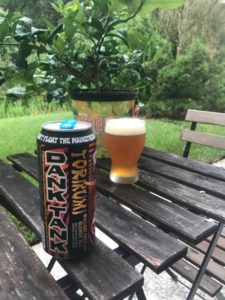 Torikumi pours a straw golden blonde with a thick and dense white head. The fragrance is delicate and floral with a tough to place blend of aromas. It bounces around citrus, lemongrass and tea tree wisps that blend with the floral hit of hops. The exotic bouquet is inviting and begs a long sip.
The first sip is interesting. Torikumi didn't immediately open with the intense horseradish flavor I was expecting for a beer featuring wasabi. Instead, what Torikumi offers is a delicate blonde ale right from the start. You get a light hop bitterness and a hint of sweetness from the grains. In the middle of the sip, you begin to get a floral blend that is tough to distinguish if it's coming from hops or from the underlying flavor of wasabi. The finish is where things get exotic.
Imagine you are enjoying a nice piece of sashimi tuna with a bit of wasabi smeared on it. Once you get past the flavor of the tuna and the bright spice of the wasabi, the finish of the bite is exactly how this beer ends. That indescribable flavor that, much like the aroma, seems to be a mix of lime peel, lemongrass and a hint of earthy tea tree. This is the true flavor of the wasabi poking through. It doesn't jump out and smack you with wasabi but Torikumi does get you to really appreciate a note of wasabi that is normally hiding behind an intense spice. It is great to see a beer incorporate an unexpected ingredient, showcasing it in a way that changes the way you look at it forever.
Food Pairing with Torikumi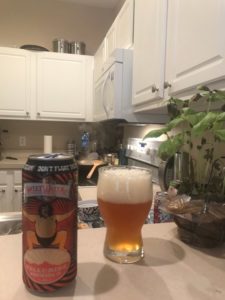 As I was preparing to pour Torikumi I knew exactly what dish I wished to pair with it. I made a spin on pad thai with shrimp. I know it's not Japanese which is the cuisine normally featured with wasabi but allow me to explain my choice. The nut butter, soy sauce and spice of the sauce combined with the chewy noodles and the snap of the shrimp were both brightened and improved by Torikumi's underlying wasabi notes.
Normally people think of saisons as the typical food beers but Torikumi has honestly dethroned them in my opinion. The featured addition of wasabi combined with Sorachi Ace hops and the delicate blonde ale all make this a beer fit to pair with a variety of options. Sushi would be an obvious pairing but something nutty, umami, and with a touch of spice such as pad thai or a curry is what really hit the spot for me.
Torikumi is what a sumo bout is called and the dichotomy between the namesake and the beer is interesting. One would imagine a sumo bout would be a knock out drag out challenge between two large and in charge competitors.The beer however, is delicate, floral, aromatic and light quickly washing through the tongue and never feeling heavy or forced. A perfect food beer! Find this one in cans now! As usual for the limited dank tank series, get them before they disappear. Sayonara!
---