No Comments
Pilgrim | Triple Blanche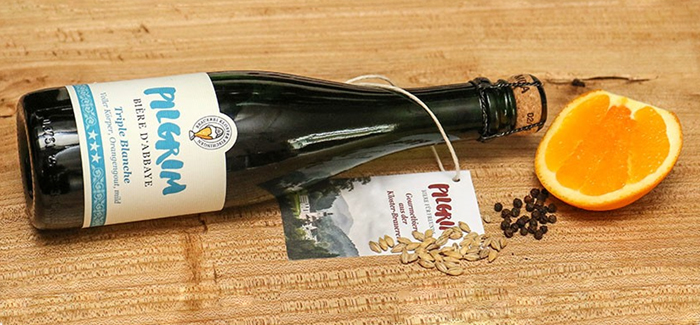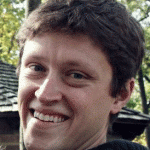 The first image that pops into my head at the word Pilgrim involves folks wearing tall hats and large-buckled shoes while sharing turkey and Stove Top stuffing with the Indians at Plymouth Rock. You know, historically accurate stuff. Nonetheless, the general premise of the American story involves a pilgrimage — a significant, spiritual journey to a new, location of importance. And although the Swiss do not celebrate ye olde pilgrimage to the New World in search of canned cranberry sauce and green bean casserole, I found a brewery here that celebrates pilgrims in another way.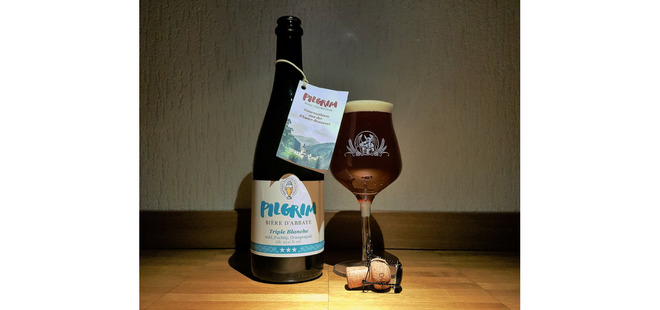 ABV: 10%
Pilgrim beer, specifically the Triple Blanche Abbey variety, from the Brewery Kloster Fischingen here in Switzerland, is named in memory of the thousands of pilgrims who've passed through their monastery since the 12th Century. Headed from eastern Europe to Spain, these travelers would stop at this way station to receive a blessing and stamp in their "pilgrims pass." The best part is that present-day pilgrims on the Way of St. James, who stop at Fischingen with the said pass, receive a free bottle of Pilgrim Klosterbier! I know what I'm going to be when I grow up.
I learned a thing or two during my time with this triple white brew. For one, it's an Abbey animal, not to be confused with a Trappist brew as it's not produced by the monks. And two, I thought I wasn't a fan of Belgian beers, but Pilgrim has proven me wrong. It pours the color of toffee with a viscosity akin to aged balsamic vinegar. The faint aroma gives way to a full-bodied mouthful of fruit flavors – think pineapple, apricots and peaches.
I noted it tastes like a tree which sounds weird until I discovered the water used comes from a spring located in the forest behind the monastery. That earthy fruit quality is super mellow with a sprinkling of black pepper in the background. Beware the 10% ABV and 75 cL sized bottle. This brew is easy drinking but packs a head-swimming punch. Pair it as I did with fine limoncello and speculoos chocolate truffles for the perfect late evening treat.
The present-day brewery has only been in existence since 2014, but I have to imagine they'll be around for a long time to come, mainly because they're making such exceptional beer. But also due to their mission statement of contributing to the economic viability and preservation of the monastery given its cultural importance. To that end, you can visit the monastery for the usual brewery activities, but with Brewery Kloster Fischingen, you can spend the night!
Follow Niel on Twitter @WaveTrainLLC and Instagram @WaveTrainLLC
Feature Image Credit: Pilgrim
---