No Comments
Kerri Gatz | General Manager of Illinois' Best Beer Bar 2018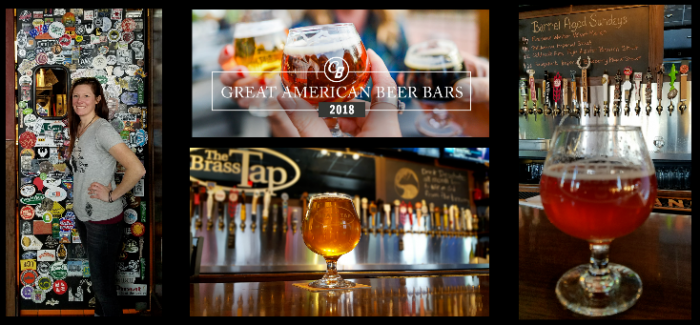 Kerri Gatz, general manager of the 2018 Craftbeer.com Illinois' Best Beer Bar, has cultivated a craft-beer environment that showcases small, local brewers with as much enthusiasm as it does well-known brands. Though operating under the umbrella of the Brass Tap franchise name, the independence offered to Gatz at her Orland Park (Chicago) location has allowed her to provide patrons with beer choices, events and an overall vibe that reflects her personality and love for beer. She's more than a bar operator; she is a craft beer ambassador.
"There are so many great breweries in the Chicago area; it's so easy to find good, local beer… the crowd that comes here looks forward to the latest [Maplewood] Juice Pants or something new from Pollyanna [Brewing]. They know the names. So if they don't go to the breweries..they come here and try them. I didn't really have to force it on people or have to make the decision to keep [smaller name] breweries on; it was made for me because people liked it, basically," explained Gatz.
Developing an Award-Winning Craft Beer Culture
When the bar opened in 2014, the parent Brass Tap franchise required Gatz to dedicate 17 of the 60 tap lines to franchise-approved brands, but few complained about the presence of such breweries as Dogfish Head or Founders, let alone the special KBS and 120 Minute events that came with it.
Nonetheless, in short time, Gatz increasingly gained the freedom to craft (pun intended) a beer culture all her own and the Craftbeer.com award demonstrates the level of success Gatz achieved in turning her vision into a reality.
A vision that she even turned into artwork:
As you might imagine, the award came as a (welcome) surprise:
"Oh my God! I was shocked," said Gatz. "It took me a week for it to set in. Even with every single person coming in and congratulating me, It took the 200th person congratulating me for me to think 'Okay, this is actually happening.' I couldn't help but think of all the amazing beer bars in the city and, well it's just hard to believe we are now one of them." Brass Tap Orland Park follows in the footsteps of notable Chicago-area craft-beer bars such as the Links Taproom (2017 winner) and The Bavarian Lodge (2014 & 2016 winner).
With greater recognition also comes more responsibility, and perhaps a little more pressure. "We are getting a lot more sales reps; a lot more breweries are coming in and hoping to sell their beer here," explained Gatz. The award has also inspired bona fide beer geeks to check out the newly crowned best-beer-bar. "We always have new customers, but the beer geeks now come here with high expectations. I can't but think about how they are judging us now [laughter]."
Orland Park is situated to the south of Chicago, both lying within Cook County. One will find a diverse demographic make-up consisting of old-school, blue-collared South Side Chicagoans who have trekked southward the last few decades, as well as Millennials and others who have always lived in the burbs. Women. Men. Old. Young. The wide-ranging crowd can make for an interesting challenge when operating a craft-minded beer bar.
"The weekly crowd, especially those who belong our Brew Crew club, are really into craft beer, but weekends still bring in some of the the Miller Lite crowd, or beers like Blue Moon. So, we try to offer alternatives such as light blondes or similar beers — like Allagash instead of Blue Moon — to give them a taste. When it goes well, they often come back feeling that we can be the place that they can drink more craft beers. They feel comfortable here. That's nice."
The one advantage of showcasing hyper-local breweries is that it appeals to a metro community that's built its history on an idea of neighborhoods and suburbs, whether its Logan Square and Wicker Park in the city or Orland Park, Lombard and Lake Forest in the suburbs. Thus, to know a beer comes from "down the road"  is not only appealing to the patrons, but emblematic of the entire model for which craft beer was built.
You Can't Sell Beer Unless You Do Your Homework
To fashion a craft-beer environment that appeases varying tastes, Gatz certainly needs to do a substantial amount of research. Gatz certainly doesn't mind: "It's awesome that I can go into these breweries and sample beers, and I'm basically doing homework on my day off, which you can that a lot at many jobs [laughter]."
She should know because she once worked in the corporate world and sitting behind a desk simply wasn't her thing, especially because she cut her teeth in the working world at places such as Buffalo Wild Wings and Elephant Castle, a popular bar in the heart of Chicago's financial district.
While she has some interesting stories of how she came to grow into a craft beer geek, none are more unique than her experiences with her family, which led to her landing at Brass Tap.
"My sister and I had grown to love craft beer, so after our dad retired and became bored, like a year later, he was looking for something to do. We had talked about opening a bar and tossed some ideas around, so when we would go to dinner there, we would bring bottles of craft beer around to try."
How can you not like a family bottle share party, right?
Not long after, Gatz's father, while down at their home in Naples, Florida, visited the local Brass Tap. Loving the beer scene and the comfort of having franchise backing, the idea turned into a plan. Before Gatz knew it, she was attending a discovery day for Brass Tap and, not much later, managing the bar in Orland Park.
Getting the Brass Tap franchise in Orland Park was one thing, but turning it into an award winner is due to the hard work Gatz put in, "My day is eight days a a week," she said with a smile. Let's face it; no one ever said working in the craft beer industry was easy, even when the accolades arrive.
Also, it doesn't take a genius to understand that a place doesn't run without a tremendous staff, and one would be hard-pressed to find someone working at Brass Tap without a love for craft beer.
https://www.instagram.com/p/BeCYVrVgh0z/?hl=en&taken-at=512634382
Women in Beer
Gatz is the embodiment of humble, but she's also remarkably knowledgeable and confident, and that's served her well. Indeed, when I inquired to her about any road blocks she may have encountered as a female in a male-dominated industry she replied, "Well, I think a few people were shocked. I didn't know that at that time [2014] if there were as many women beer buyers, but as soon as I started talking to people, really, they could tell I knew my beer. So, then it wasn't an issue."
But she certainly wan't unaware of the evolution of women in craft beer. Gatz noted, "There weren't as many women in the industry at the time. I mean. I'd go to fests and there'd be no line at the bathroom." Anyone who has ever attended a concert or ball game knows how odd that seems. So, she added (playfully), "I would laugh at the guys waiting in line."
Did I mention that she has a good sense of humor?
Today, of course, it would be rare to find a festival, taproom or craft-beer bar without women, including at Brass Tap Orland Park. "We definitely see many more women in the bar than we used to see when we opened."
* * * * *
In fact, you see a lot more people than when it opened. Women. Men. Old. Young. City dwellers and suburbanites. Craft beer geeks and craft beer novices.
From family dinners to a community bar, the central theme has always involved one principal ingredient: good beer.
---