No Comments
Flix Brewhouse | America's Cinema Brewery is Expanding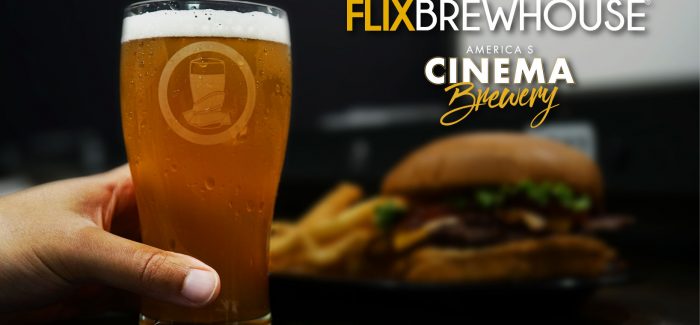 Flix Brewhouse opened in Round Rock, Texas in 2011 with the unique concept of combining a state-of-the-art movie theater with a microbrewery. Today they operate four locations around the country with plans to more than double that over the next year. I caught up with Greg Johnson, Director of Sales and Marketing for Flix, to learn more about this ambitious expansion.
PorchDrinking.com:

How did the concept of Flix Brewhouse come about?
Greg Johnson: Flix launched in the summer of 2011 in Round Rock, TX. Allan Reagan, our CEO, owned the shopping center that the first Flix opened in. At the time, he was operating a craft beer oriented restaurant as well (HomeField Grill) and wanted to convert a space in his center that was an Albertsons grocery store into a dine-in cinema. Another popular cinema was slated to go into the space, but backed out, and he still wanted to do it so he decided to start his own. He had purchased a small 3.5BBL brewery from a place in west Texas that closed and had it sitting in a shipping container. He called up his friend who is the owner of NXNW and said, "I want to set up our theater like a BJ's and put these tanks on display". They told Allan he was crazy if he did that, and it was stupid to just fake it, you have to do it right. And so we did, and here we are!
PD:

What were some of the early challenges?
GJ: Culture has always been a challenge. Yes, we are a brewery, but our operation is so different from literally every other brewery out there. So, there's a challenge with guests getting it, as well as team members understanding what's the role the brewery plays for Flix. We care deeply about our beer and breweries. At the same time, movies are what drives the business forward primarily, so there's a constant push-pull happening internally and externally.
PD:

The brewery is rapidly expanding, what goes in to choosing the right market for expansion?
GJ: Because we are a cinema, there are some tricky components into finding the right spot. Particularly, there are what Hollywood calls "clear zones" where you look to be at least 3 miles from another cinema. From there, it's game on for us. Our typical build is in the multiple millions of dollars, and our landlords share in that expense, so we look to identify partners that really want a dine-in cinema brewpub. If they didn't want a cinema, they aren't good partners usually. We also look for up-and-coming beer cities that we see as the next wave of amazing beer towns (that's why we landed in places like Albuquerque, Madison, and Des Moines).
PD:

It's going to be a busy year for the company, what other things can we expect to see this year and next for Flix?
GJ: We've been toying around with some limited retail package offerings. I'd love to see that get over the finish line this year, but we certainly have some capacity constraints (Flix saw 41% sales growth last year so we are really pushing our breweries to their limits, so I'm not sure it's feasible to package unless we partner with breweries to batch at their places). Flix is also exploring some really exciting things in our new markets with our architects to really increase the 'hangout-ability' of our brewpub areas, so I think when we open some of the new locations starting with El Paso this coming winter, we'll see the fruits of that. The last thing I'd say to expect to see in the next 18 months is to see Flix everywhere! We are tripling in size over that period to now (we have 4 locations open now, and should be right around 12 or 13 by the end of next year with more on the way). Our hope is that Flix Brewhouse will go from what is was in 2011 as a relative unknown concept that no one had done before to a well-known brand through the south east, south west, and "fly-over states" of the Midwest as we keep growing!
---