No Comments
New Belgium's Most Widely Distributed Beer Ever is Their New Bicycle Kick Kölsch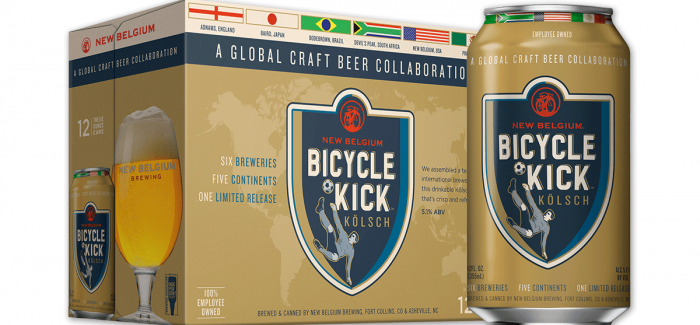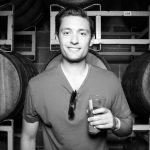 New Belgium Brewing has had success in a bunch of different beer styles, most notably with their popular Voodoo Ranger IPA line and the fan favorite Fat Tire. But they've never distributed either of those beers as widely as their newest offering. Enter Bicycle Kick Kölsch, their new, refreshing brew primed to be the premiere beer of this June's World Cup. To give it added appeal for "The World's Game," New Belgium decided to partner with five breweries on five different continents, creating a truly unique collaborative beer that boasts the finishing touches from five distinct breweries. The kicker, pun intended, is that each brewery that brews Bicycle Kick will also distribute the limited time beer across their distribution footprint. That's five continents, making it New Belgium's most widely distributed beer ever. We asked New Belgium spokesperson Jesse Claeys about how the Fort Collins brewery brewed a beer with worldwide appeal.
Drinking beer is a common activity at many gameday tailgates, with some breweries even devoting beers to certain NCAA Football teams. But for soccer matches? Not so much, at least in America, which is why New Belgium was inspired to brew something specifically for the soccer fan, both found at their brewery and around the world. "We have a ton of soccer fans…who are employee owners at New Belgium who are always lamenting the fact that their sport is a bit underappreciated in the U.S. It was clear soccer needed a beer," said Claeys.
https://www.instagram.com/p/Bho8o2zAjcV/?hl=en&taken-by=newbelgium
The creation of Bicycle Kick came at a perfect time, as the world's most watched event, the World Cup, starts in June. Watching your country compete on the big screen is a unifying experience for many fans, regardless of their background, color or creed. New Belgium wanted to make sure that this Kölsch reflected that type of sentiment while also giving drinkers the refreshing drink they needed during those hot summer matches. "We figured a craft beer celebrating the sport should also have that unifying element, so we reached out to breweries we respect in soccer-loving countries and we have a delicious beer to show for our efforts. As for the style, we really wanted something that plays well seasonality-wise, but a style that would allow us to be creative and explore interesting ingredients. All of the brewers were in agreement on this, and after a bit of discussion, we landed on a Kölsch," said Claeys.
In the collaborative spirit, New Belgium partnered with five unique breweries around the world, Adnams (England), Baird (Japan), Bodebrown (Brazil), Devil's Peak (South Africa) and Primus (Mexico). Each brewer brought their unique style to the collaboration, with the shared goal of making a great beer that would be appealing to drinkers across five continents, which isn't easy when you think about the different drinking preferences across each specific region.
⚽ #FelizJueves ⚽ Estamos próximos a lanzar Bicycle Kick, PAMBOLERA. Una colaboración GLOBAL 🌍 donde participamos: @Adnams 🏴󠁧󠁢󠁥󠁮󠁧󠁿, @bairdbeer🇯🇵, @bodebrown 🇧🇷, @DevilsPeakBC 🇿🇦, @newbelgium 🇺🇲 y @PrimusCervecera 🇲🇽 #PasiónPambolera MUY PRONTO pic.twitter.com/POeWegx3BM

— Cervecería Primus (@PrimusCervecera) April 26, 2018
The beer itself is intentionally light and easy to drink with a smooth finish. Peppered with notes of chamomile and lemongrass along with some subtle hop notes, the Bicycle Kick Kölsch is a prototypical summer-drinking beer that will compete well in any cooler this June. Adorned with gold  branding and a soccer player attempting the ambitious shot on the can, there's no doubt that this beer is made for soccer – and the World Cup.
Much like craft beer, soccer has experienced an explosive period of growth in the U.S. over the past decade due to the growth of the homegrown MLS league along with the popularity of the English Premier League found on NBC Sports. This trend is something Claeys has seen as well: "Both soccer and craft beer bring people together, uniting them over a shared love. That positive communal experience is always going to attract more and more people and grow in popularity." And while the U.S. sadly isn't in the World Cup, having a Bicycle Kick Kölsch on-hand will help ease the pain. The new beer is available now for a limited time in both 12oz cans and on-draught across the five-continent footprint. Heck, you might even end up cheering for one of the other brewer's countries that had a hand in making this beer. Brazil has a pretty good shot to win the whole thing. Cheers!
Feature image courtesy of New Belgium Brewing.
---