No Comments
Forbidden Root's 'Assembly Required' Line Brings Sour Haze to the Midwest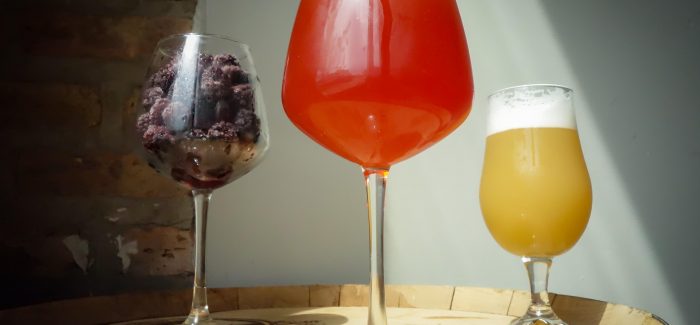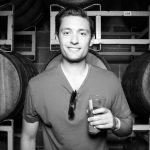 Avg. Reading Time:
3
min
Scroll through your Instagram these days and you're sure to find a wide selection of hazy beers in tulip glasses, strategically positioned to capture the faintest glimmer of sunlight on the glass. For many, the fanfare around the NE-style IPA is as much about the visuals as it is about the beer's inherently juicy sweetness. Humans are visual eaters after all, so creating a beer that delights both your eyeballs and tastebuds makes sense. When I scrolled through my feed a few months back, my finger stopped on a post from Chicago-based Forbidden Root. The West-side brewery has made a name for itself with their botanical brews and hazy concoctions, but this newest endeavor, dubbed Assembly Required, was daring even for them. It was a sour NE-style IPA, more opaque than hazy, with a bright rosy red hue that departed from the typical orange juice color of a traditional haze bomb. Their new Assembly Required line is a bold evolution to the must-make trend of the present. After tasting the next batch, I'm confident in saying that the sour haze trend is alive and well in Chicago
When I visited Forbidden Root recently, new head brewer Nick Williams had just returned from CBC. Along with great beer and a chance to reconnect with brewer friends, the Nashville conference also gave Nick and team the chance to find the latest and greatest in hops. Forbidden Root has found their niche with their decadent hazy offerings, like their creamy lactose and rye-infused Radio Swan NEIPA, which means that searching for the newest and juiciest hops on the market has become much more difficult. Everyone wants to find the next great hop, with many in pursuit of creating the next big "whale" release that lights up Beer Advocate and draws lines around the block. Nick hardly looks for piney or bitter hops like Simcoe anymore. Now, he is looking for hops, like El Dorado, that add a bit of punch and pucker to the traditionally sweet and juicy drinking experience of the hazy IPA. Enter Assembly Required. The first edition of the beer is beautifully balanced between sweet and sour due to the natural flavor characteristics of the blackberry puree added during secondary fermentation. The juiciness comes through late thanks to a generous amount of El Dorado hops but the finish is shockingly smooth. The overall drinking experience is really fun as the opposing flavors bounce off each other.
While Nick may be the creator of the new sour NEIPA line, the origin of the beer came from General Manager Brian Krajack. One for bottle sharing, Brian quickly fell in love with the sour creations he would receive from the brewers at Hudson Valley in New York. Their ability to push the limits of what a sour beer could be inspired Brian to bring the idea to his team at Forbidden Root. So far, it seems like they've struck gold with the idea. Version 1 of Assembly Required is almost tapped due to demand, but the second iteration of the sour NEIPA line is already in the final stages. Version 2 contains a huge dose of Motueka and Southern Cross hops, along with an infusion of lime puree, which will be the driving sweet and sour element in this batch. I got to try the near-final product and came away very impressed at how Nick was able to get such a wide range of flavor profiles from the lime, as it effortlessly bridges from tart to succulent. V2 pours a much hazier yellow than the bright, opaque red of V1, which was something that Nick really aimed for in his second batch.
We might have dry-hopped our second Sour NEIPA today 😬 Assembly Required V2 coming soon. Thanks for loving Radio Swan @TaylorLaabs! https://t.co/enXFymBok5

— Forbidden Root (@ForbiddenRoot) May 7, 2018
But the experimentation doesn't stop there. Forbidden Root also recently collaborated with the Northside's foremost hazy brewers, Corridor Brewery and Provisions, who have made a name for themselves thanks to dank NEIPA's like their Cosmic Juicebox. Creating a hazy beer from the minds of these two breweries seems almost unfair at this point, so I'll be keeping an eye out for when it releases.
The new batch of Assembly Required is going to bigger than the first, thanks in large part to the demand Forbidden Root saw for the first sour NEIPA in the taproom. Assembly Required is currently the #1 small pour in-house and is also part of the BBQ sauce that drips on their pork offering. According to Brian, having the taproom has been a huge component of the creative process for the brewery, as it provides a built-in feedback loop for their newest creations. The one-off beers that Nick and team produce help bolster Forbidden Root's already strong tap list while adding a bit of eye-popping variation to the beer menu when you read things like Strawberry Basil Hefeweizen. Along with greater volume, Assembly Required V2 should also be available in crowlers sometime soon—a first for the brewery. Forbidden Root hopes to have the beer ready for Illinois Craft Beer Week—ideally for their NEIPA tap takeover happening May 23rd. If you're looking for the next big thing in haze, I highly suggest you start marking your calendar. Cheers!
Feature image courtesy of Forbidden Root.
---