No Comments
Great Lakes Brewing Company | Holy Moses Raspberry White Ale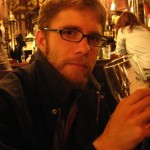 Last January, I waxed nostalgic a bit. Great Lakes Brewing Company decided to re-introduce Holy Moses White Ale as a constant, everyday staple in the beer fridge at the local, and not-so-local, supermarket. I quivered with anticipation when I heard the news, and then I balked at their seasonal May release. It was a beer that would add raspberries to its refreshing citrus undertones, and at the time I did not think I would be ready for that transition. After GLBC's foray into Holy Mimosas after the Holy Moses release earlier this year and after trying to make them myself—I used mango juice—the idea that there would be another form of Holy Moses to grace our shelves and our bellies was more exciting than the initial reveal. Now, Great Lakes Brewing Company and Holy Moses Raspberry White Ale has arrived, just in time for the warmer weather—FINALLY.
ABV: 6.2% | IBU: 20
With no hesitation this past week, I ran to the GLBC brewpub gift shop, bought my six-pack, and I began the journey into new territory. I welcomed the fruit and beer mixture; I had to be OK with this altered version of my first ever GLBC beer. We all yearn for the past, but we all need to embrace the future—and the future is now.
The beer poured just as smoothly, in as similarly satisfying a fizzy way as the original. This time in my tall glass, the beer possessed a pink hue. Faintly pink, nothing too vivid. The smells were lush and fruity, as I had anticipated, a bit tapered from the original but still enough for me to salivate with anticipation.
The taste: This was where I began to perspire. How would it compare with Holy Moses? My friends, let me tell you, it was not what I expected. The berry taste is there, but it is not upfront. It sneaks around the corners and gives you a sweetness amidst the the hoppy profile of the original Holy Moses White Ale. It is subtle, relaxed, absolutely perfect for late spring and early summer. So stock up, and enjoy your time around the BBQ, the pool, the cornhole board, the beach, wherever you are in need of a refreshing tippler for the undeniably welcome summer months.
Holy Moses White Ale's kin has been available at the GLBC gift shop since May 7. The raspberry rush spread out everywhere, May 14. So have fun with this new seasonal from Great Lakes, and get out and enjoy the sunny springtime we have waited so patiently for over the past few months.
Feature image courtesy of Great Lakes Brewing Company, artwork by Darren Booth.
---