No Comments
Brewing News Roundup | Releases from New Belgium, Founders, Rogue & Great Lakes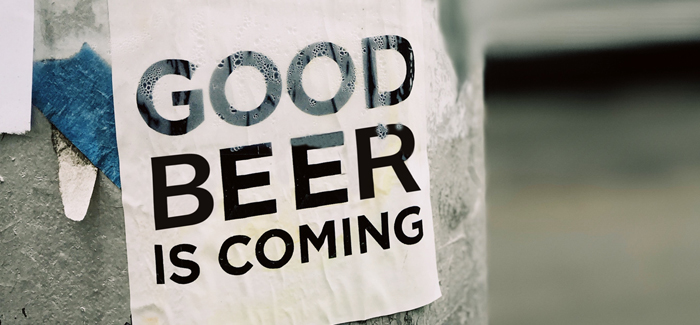 While we can't pretend to list every new beer release, here are several tasty tidbits that have come across the PorchDrinking.com desk from around the nation. Founders, New Belgium and Rogue recently announced beers that will hit the shelves across much of the nation. Get 'em while you can!
Seasonal favorite Mosaic Promise has an updated look and a new 15-pack can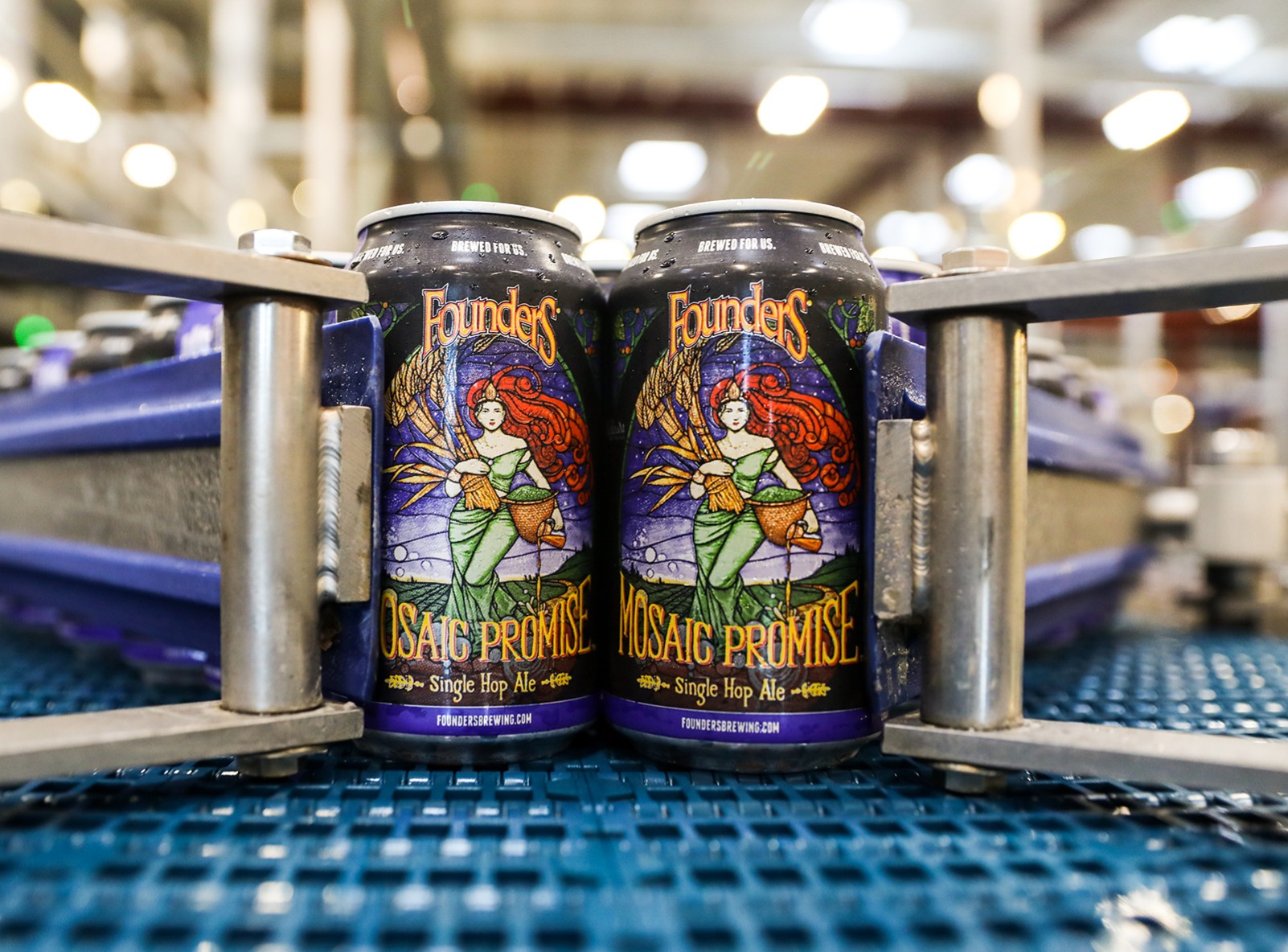 GRAND RAPIDS, Mich., July 26, 2018 – Founders Brewing Co. has announced the return of seasonal favorite and former ArtPrize winner, Mosaic Promise. Available until November 2018, Mosaic Promise has a new can design, which celebrates the artsy heritage of this beer. First released in 2014 as the official beer of ArtPrize, the international art festival held each September in Grand Rapids, the original Mosaic Promise package design label is inspired by a stained-glass window on permanent display in the Founders taproom.
Mosaic Promise is a single hop ale brewed exclusively with Mosaic hops, and a single malt, Golden Promise. Juicy mango and earthy pine flavors combine with powerful aromas, offered with a low ABV of 5.5% that is extremely drinkable. Mosaic Promise is exclusively available in cans, including a new 15-pack.  Available through November 2018, the suggested retail price of Mosaic Promise is $9.99 for the 6-pack and $17.99 for the 15-pack cans. For more information please contact Jena Dean, [email protected].
About Founders Brewing Co.
Established in 1997 by two craft beer enthusiasts—Dave Engbers and Mike Stevens—with day jobs and a dream, Founders Brewing Co. brews complex, in-your-face ales, with huge aromatics and tons of flavor. Founders ranks among the top 10 largest craft breweries in the U.S. and is one of the fastest growing. The brewery has received numerous awards from the World Beer Cup and the Great American Beer Festival and RateBeer and BeerAdvocate users often rate its beers among the best in the world. Located in downtown Grand Rapids, Michigan, Founders is a proud member of the Michigan Brewers Guild. For more information, visit foundersbrewing.com or follow Founders on Twitter, Facebook, Instagram and YouTube.
Information provided by Jenna Dean
---
New Belgium Brewing Favorites Return to Pair Perfectly with Final Days of Summer
The brewery's latest offerings prove spice is nice and wood is good
(FORT COLLINS) New Belgium Brewing is bringing back three fan favorites to help make the fall transition a little easier. Returning to tantalize taste buds across the nation are Voodoo Ranger Atomic Pumpkin, a spicy fall classic with a definite twist on traditional pumpkin beers; Le Terroir, one of New Belgium's most popular wood-aged sours; and Tartastic Lemon Ginger, a refreshing tank-soured ale.
Voodoo Ranger Atomic Pumpkin Ale 
ABV: 6.4% | IBU: 10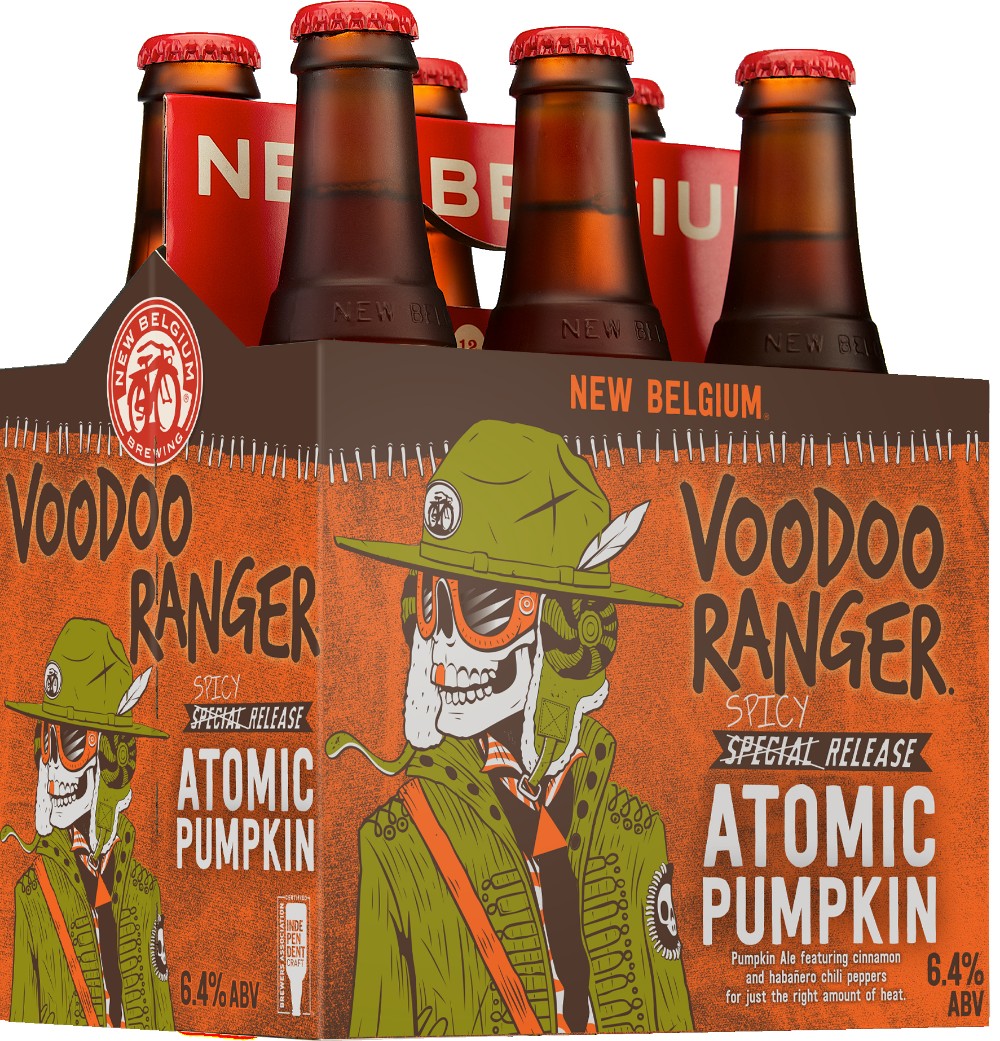 Back by popular demand is Atomic Pumpkin, a pumpkin beer unlike any other. Not too spicy, not too sweet, this ale is brewed with Saigon cinnamon and Habanero, Aji, and Del Arbol peppers for an explosion of flavors perfect to kick off fall. This medium-bodied ale pours bright autumnal orange with a light white lacing, and creates a spicy, warming mouthfeel.
Yeast: Ale
Special Ingredients: Pumpkin juice, Habanero, Aji, and Del Arbol Peppers, Saigon Cinnamon
Malts: Pale, Munich, Caramel 80
Availability: Now in 12 oz. bottles and on draft while supplies last
Le Terroir Dry-Hopped Sour Ale
ABV: 7.5% | IBU: 12

Le Terroir, named after the French term meaning "of the earth," packs the bold and hoppy nose of an American IPA, plus the pucker of a well-crafted sour. Felix, New Belgium's wood-aged pale sour beer, is dry hopped with whole cone Amarillo and Strata hops to create Le Terroir. The apricot and peach tones of the hops playfully complement the wood-aged backbone without any bitterness, creating a beer that changes subtly every time New Belgium brews it. As with other 2018 New Belgium vintage sour releases, this beer is bottle conditioned and presented in a 375 ml cork and cage format.
Yeast: Lager
Hops: Nugget, Amarillo, Strata
Malts: Pale, Wheat, C-80, Carapils, Oats
Maturation: 100% acidified in neutral oak containing the original house mixed culture
Availability: Now in 375 ml bottles
Tartastic Lemon Ginger
ABV: 4.5% | IBU: 3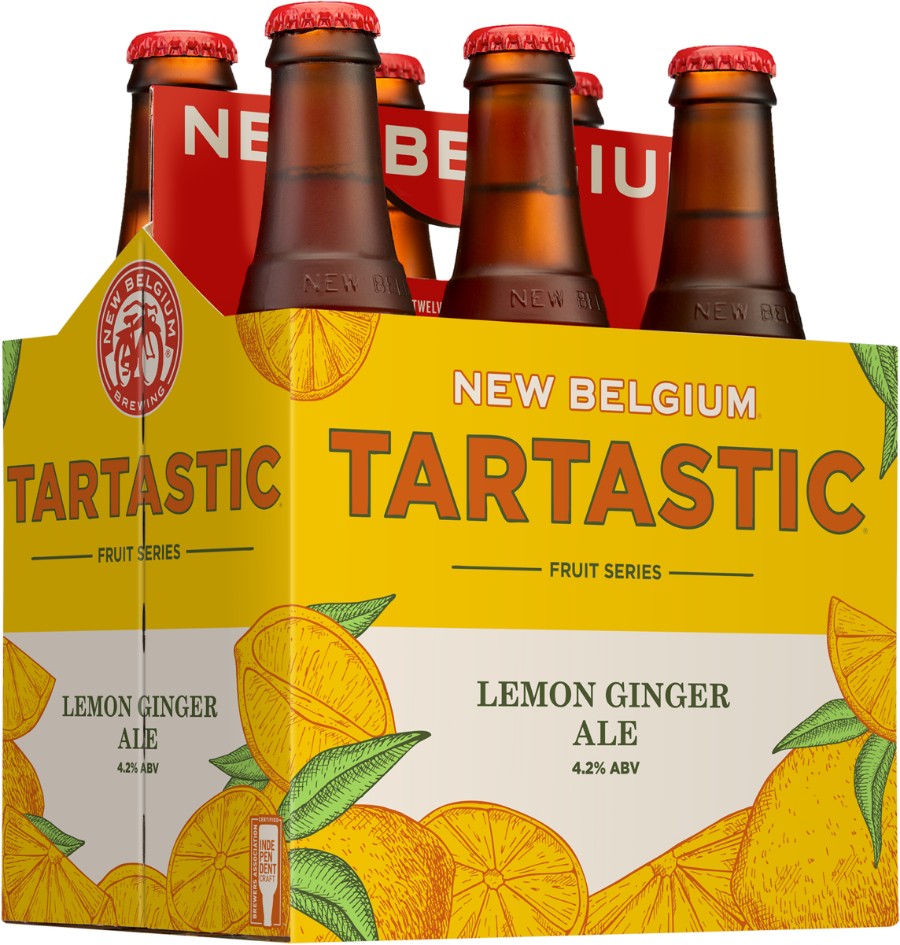 A tart, refreshing ale with the lip-tingling sweet and sour flavors of lemon and ginger, this Tartastic iteration's tank sour profile and fruity, spicy undertones enliven the taste buds with each bright, breezy sip.
Yeast: Ale
Hops: Nugget
Malts: Pale, White Wheat
Availability: Now in 12 oz. bottles and on draft
About New Belgium Brewing
New Belgium Brewing, makers of Fat Tire Belgian Style Ale and a host of Belgian-inspired beers, is recognized as one of Outside Magazine's Best Places to Work, one of the Wall Street Journal's Best Small Businesses and tops Bicycling Magazine's Best Companies for Cyclists. The 100% employee-owned brewery is a Platinum-level Bicycle Friendly Business as designated by the League of American Bicyclists, one of World Blu's most democratic U.S. businesses, and a Certified B Corp. In addition to Fat Tire Belgian Style Ale, New Belgium brews sixteen year-round beers: Citradelic Tangerine IPA, Fat Tire Belgian White, The Hemperor HPA, Voodoo Ranger IPA, Voodoo Ranger Imperial IPA, Voodoo Ranger 8 Hop Pale Ale, Voodoo Ranger Juicy Haze IPA, Sour Saison, Honey Orange Tripel, Dayblazer Easygoing Ale, Tartastic Fruit Beer Series, 1554 Black Lager, Bohemian Pilsner, Abbey Belgian Style Ale, Trippel and a gluten-reduced beer, Glutiny Pale Ale. To learn more, visit NewBelgium.com and follow the brewery on Facebook, Twitter or Instagram.
Information provided by New Belgium Brewing, Jesse Claeys and Bryson Ross
---
Rogue Ales & Spirits  Announces Release of Combat Wombat Battles Boring Beer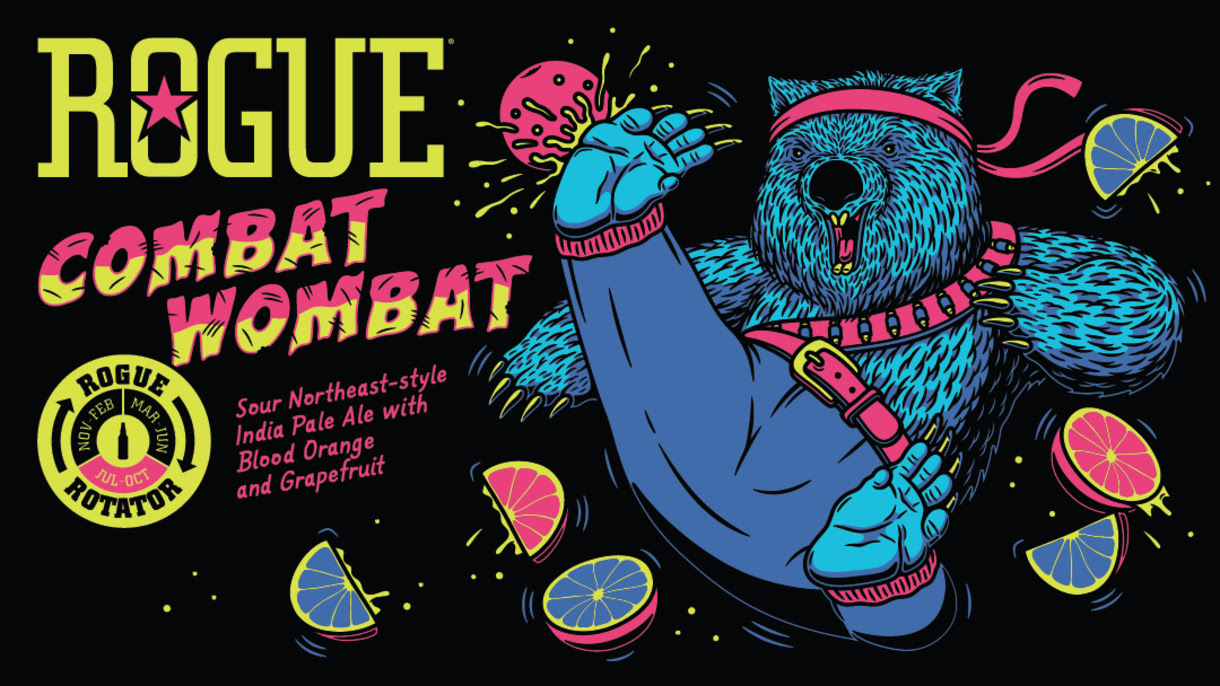 Newport, Ore.—This summer, Rogue Ales & Spirits releases Combat Wombat, a collision of styles and flavors, bursting with intensity and personality. The fierce combination of a Northeast-style hazy IPA brewed with Australian hops and a sour ale with blood orange and grapefruit inspired both Combat Wombat's name and its striking label design.
Given only the name and a pint of Combat Wombat, Rogue Graphic Designer Evan Bartholomew got to work drawing and designing Rogue's newest creation.
"I love the idea of this tiny, aggressive, but lovable marsupial that's ready to battle and brew at the same time," says Rogue Graphic Designer Evan Bartholomew. "The beer is citrus-forward but sweet, sour but juicy, and I think the label mirrors those contradictions. I wanted the bright neon colors on the label to reflect the big flavors of the beer."
"With thousands of beer options on shelves, and more joining them every day, label art is often a deciding factor for many consumers," says Rogue President Brett Joyce. "Evan's illustrations have set Rogue apart on the shelf since our Voodoo collisions and are part of the tradition of unique art on Rogue ales and spirits."
Combat Wombat is available in 22 ounce bottles and on draft in all Rogue pubs through October. Use the Rogue Finder to find it near you.
For more information on Combat Wombat, samples and photography, contact Rachel Morrison.
About Rogue Ales & Spirits
Rogue Ales & Spirits, the only farmer-brewer-distiller-cooper in the United States, was founded in Oregon in 1988 as one of America's first microbreweries. Rogue has won more than 1,900 awards for taste, quality and packaging, and is available in all 50 states as well as 54 countries. Proudly rooted in Oregon soil, Rogue's beers, spirits and sodas are made with ingredients grown on Rogue Farms in the Tygh Valley and in Independence, Oregon. Rogue Spirits are hand-distilled on a 550-gallon still in Newport, Oregon, aged in the thick ocean air of the Yaquina Bay and bottled by hand. Since 2008, Rogue has remained committed to sharing the terroir of Oregon hops, barley, rye, wheat, honey, cucumbers and pumpkins one acre at a time by growing its own.
Information provided by Rachel Morrison & the Rogue Newswire Service
---
Great Lakes Brewing Adds Extended Distribution to New York and Indiana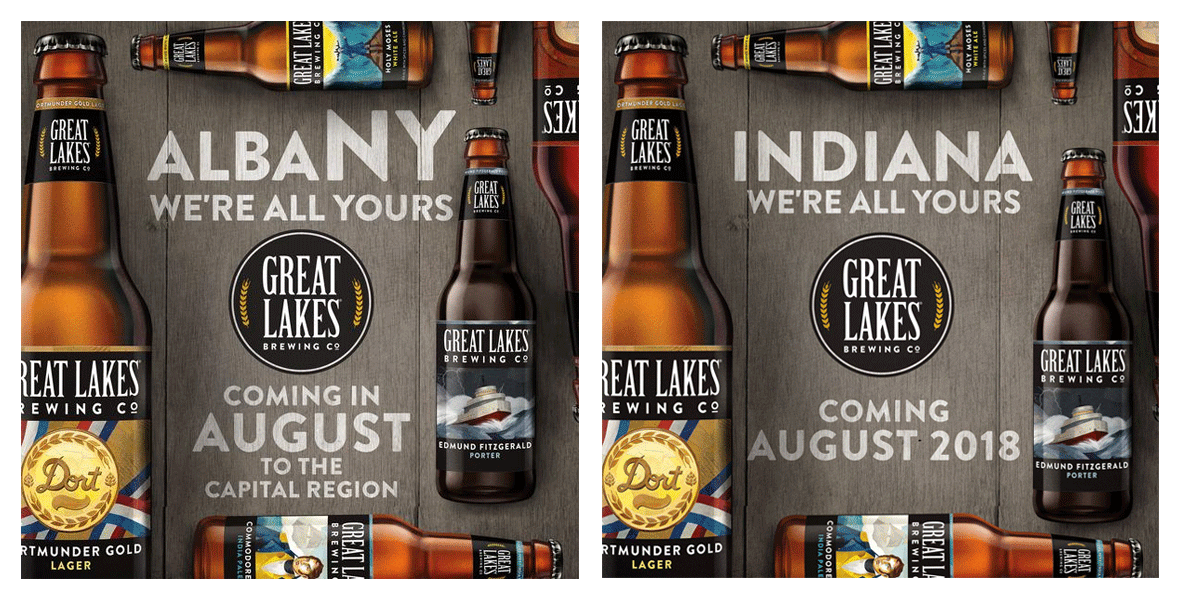 July 31, 2018 – Cleveland, OH – Great Lakes Brewing Co. (GLBC), now celebrating 30 years of independent craft brewing, announces plans to distribute their award-winning ales and lagers in Albany and throughout New York State's Capital Region as well as throughout Indiana.
On August 29, Ohio's original craft brewery will enter Albany with Saratoga Eagle Sales & Service. GLBC currently serves Upstate New York, including Syracuse and Ithaca. According to GLBC Regional Sales Manager Matt Roth, deepening distribution in New York State aligns with the brewery's growth plans.
"After seven years distributing only as far west as Syracuse in New York, we are excited to finally bring our beer to the Eastern side of the state. This fits our growth strategy of deepening our market presence within our relatively small distribution footprint. During my visits to the region wearing Great Lakes gear, so many people have asked where they can find our beer. It makes me happy when people recognize our brand, and I'm excited that our fans in the Capital Region can now drink our beer," said Roth.
Additionally beginning on August 20, Great Lakes will be available throughout the state of Indiana, through a partnership with Cavalier Distributing. GLBC has served the South Bend area for over a decade.
According to GLBC Regional Sales Manager Kevin Hack, deepening distribution throughout Indiana aligns with the brewery's growth plans.
"After 10 years of only distributing to the South Bend Area, we are excited to finally bring our beers statewide in Indiana. This fits our growth strategy of deepening our market presence within The Great Lakes region," said Hack.
Customers can expect to find GLBC's year-round family of beers in package and draft: Dortmunder Gold Lager, Eliot Ness Amber Lager, Turntable Pils, Holy Moses White Ale, Burning River Pale Ale, Commodore Perry IPA, and Edmund Fitzgerald Porter. GLBC's seasonal portfolio will also debut in Indiana, including the award-winning Oktoberfest and fan favorite Nosferatu Imperial Red Ale.
About Great Lakes Brewing Co.
Great Lakes Brewing Company (GLBC) is Ohio's original craft brewery, founded in 1988 by brothers Patrick and Daniel Conway, and employee-owned since 2018. We celebrate the abundance of the Great Lakes region in every beer, dish, and story we share. To learn more, visit greatlakesbrewing.com.
---