No Comments
The OGs of Craft Beer | Alaskan Brewing Company – Amber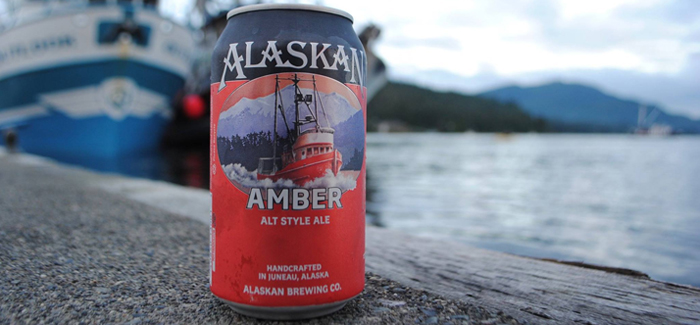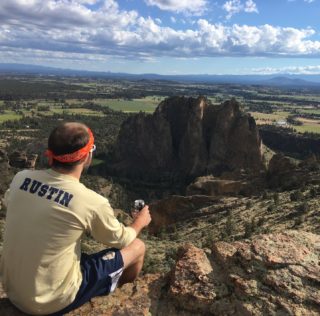 Alaska has a beautiful way of humbling and grounding you.
There is a specific feeling when one steps foot in the last frontier. It is a culmination of the many stunning hallmarks found in Alaska that aren't attainable in many other places.
The city glow dims to a natural-made twilight. The brake lights in traffic on the interstate transform to vibrant stars. The crowds of people hustling back to work after their lunch break become replaced by moose and bears that instinctively live in the moment in order to not only survive, but thrive, which serves as a reminder that this world is shared, not owned, by humans. The musty odor radiating from the smog that hovers over society gives way for the burnt wood and fresh spruce smells that grace your nostrils that replicated car fresheners can't even do justice.
The vast amount of incredible water and landmasses you pass by and through bring out the wide-eyed kid in everyone. Snow-capped mountains and frozen glaciers are visible across the horizon. Streams and rivers sourced from those glaciers, with that picturesque blue, transparent hue, give off a glistening reflection of all that hovers above. Evergreens, strongly towering straight up from the roots they planted, pointing to the sky and closely knit to one another like a village. Every breath of air fresher than the last. The sky, as big as can be, sparsely lined with dense, puffy clouds keeping you in a better mind frame than cloud nine.
This is what drew Marcy and Geoff Larson to the last frontier. You may not be familiar with exactly who they are, and that's ok. But note that together they are two of the pioneers of the craft beer movement that has swept our nation. And they accomplished that feat all from a city that is only accessible by plane or boat.
Remote Beginnings
Alaskan Brewing Company, initially named Chinook Alaskan Brewing and Bottling Co., began as an official operating brewery in 1986 when the aforementioned Larsons opened up their doors in Juneau, Alaska. It was just the 67th independent brewery in the entire United States at the time.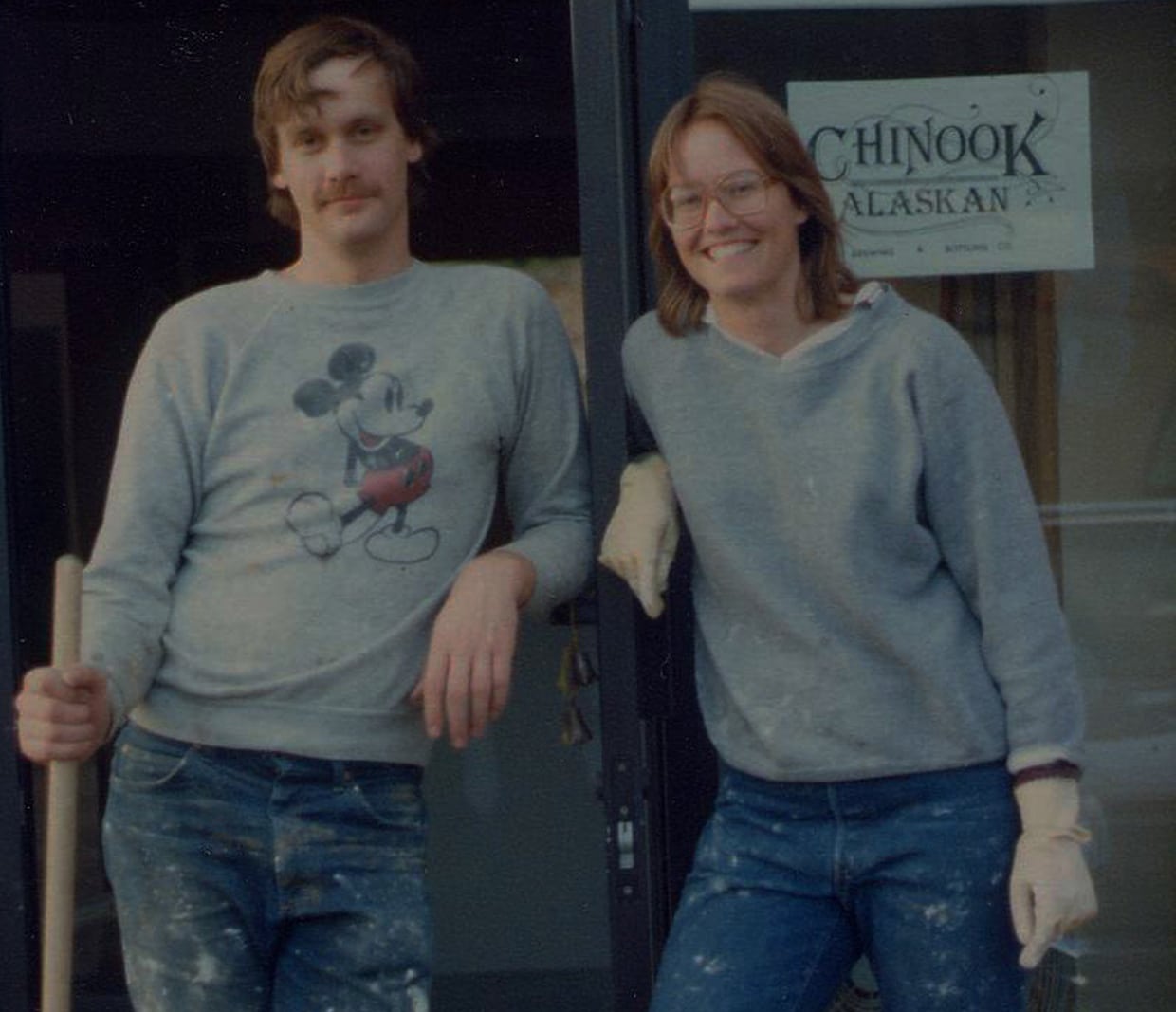 Juneau, the capital city of Alaska, has a blissful sort of isolation with no way to drive in or out of the city limits. This obviously seems to contradict stereotypes of what an ideal location for a brewery is due to the accessibility to quickly get ingredients or even grow them within the given climate.
"We have to ship in almost all of our ingredients and packaging materials up the 900 miles of Pacific Ocean that creates the Inside Passage of Southeast Alaska," Communications Manager of Alaskan Brewing Company Andy Kline explains.
And then once the beer is made, there is the logistical nightmare of figuring out how to quickly and efficiently deliver it to their markets in the lower 48. But in order to understand how and why that and much more were possible, the story to tell is long before that particular day in December of 1986.
Gold Rush Turned Malt Rush
Craft beer isn't just a recent boom of millennials gathering inside an old fire station of an artisan district in the downtown of a metropolitan city. It has ties to communities long before our digital age and Alaskan Brewing Company played a huge part in uncovering, paying homage to, and commercially popularizing the heritage of craft beer.
And the beer that put them, and even the state of Alaska for some not as well-versed in geography, on the map, was their Alaskan Amber.
The recipe for Alaskan Amber dates back all the way to the early 1900s when a local brewery, Douglas City Brewing Co., was in business.
"Our founders, Geoff and Marcy Larson, were inspired by reading an account of a brewer working in Juneau in 1907, who created a smooth Amber Ale by fermenting the beer in goldmine shafts to get a consistent temperature," Kline states.
With a rich history of being a mining town, the gold miners in Juneau wanted a beer that had more substance to the brew's body that they could enjoy after a hard day's work. This was what Douglas City Brewing Co. provided with their ale.
The records from Douglas City were found by Marcy when she was researching brewing in Alaska. In the records, it described this beer and its techniques, which peaked the interest of the Larsons. Geoff, who was a chemical engineer as well as an avid homebrewer, then brewed a batch based on those records and saw the potential the beer had. After tweaking and reworking the recipe, they created what is bottled and labeled today as Alaskan Amber.
In the Glass
Altbier, or Alt-style ale, simply put, is a German brown ale that the western German city of Dusseldorf is famous for. The world "alt" derives from the German language, which in English translates to "old". During the brewing process, Altbiers go through a slower fermentation process in relation to other ales due to the cooler temperatures (usually around 60-65 degrees Fahrenheit) the beer is conditioned in. Although top-fermented like ales, that time the beer is given to mature in those cooler temperatures give it distinct lager characteristics as well. This aging that takes place as well as the respects paid to the older technique of brewing with top-fermented yeast is where you can see the connection to the word "alt".
These beers gain lovely features thanks to that method, which is a sort of hybrid between traditional lager and ale practices.
ABV: 5.3% | IBU: 18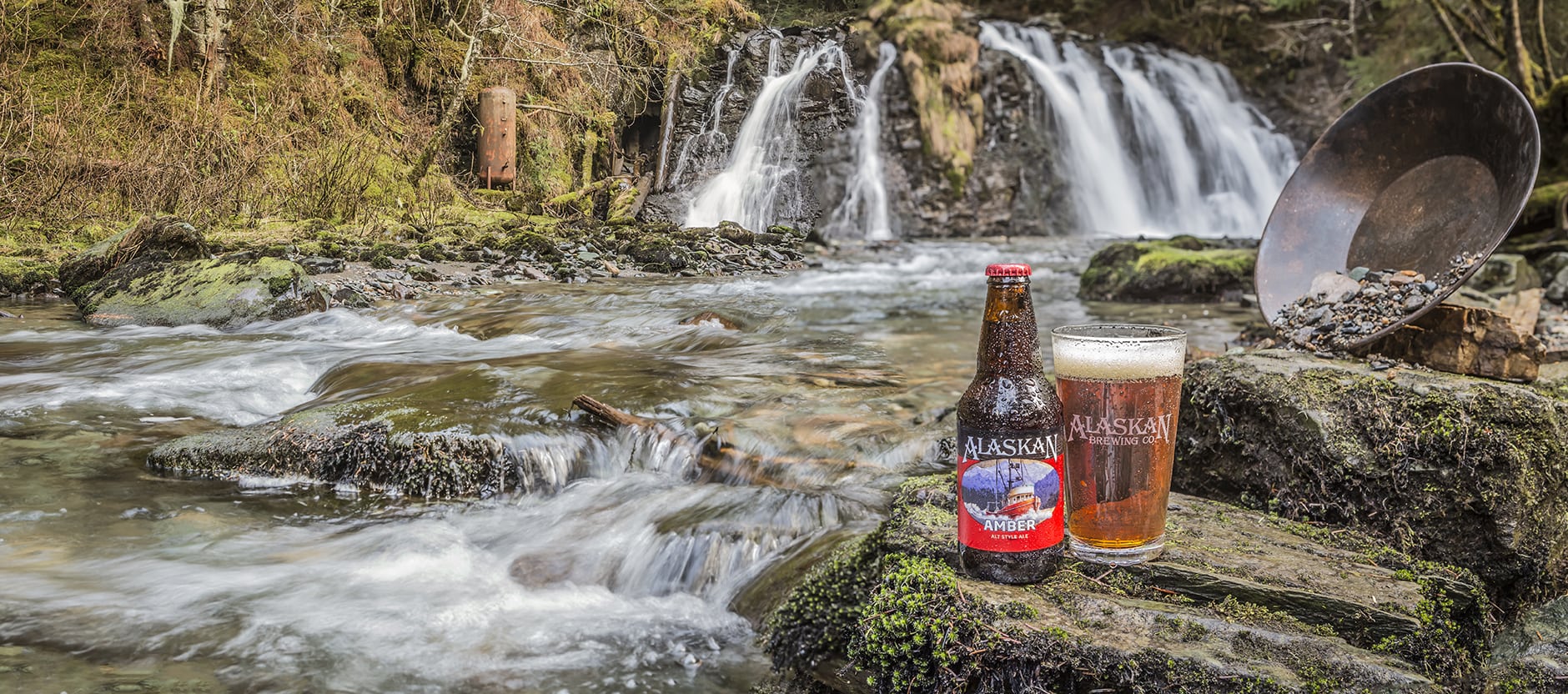 As the beer flows into the glass when poured, Alaskan Amber will show a boldly deep amber color. And when held up to a brighter light, vibrant orange colors are seen intermixed within this clean and clear beer.
"Alaskan Amber is first and foremost an approachable beer," Kline tells us.
This is why no matter if you find yourself among hundreds of selections at a craft-centric beer bar or your local neighborhood pub, Alaskan Amber is always a good choice.
Graced with savory notes of caramel and toffee as well as subtle hints of fruit, Amber smells great off the bat. Softer aromas resembling bananas can be picked out.
The beer provides drinkers with a gratifying amount of carbonation, while the mouthfeel lets consumers know this beer has sturdy character as it slowly flows through the mouth.
The nose acts as a good indication of what will also be tasted. The vividly robust malts have caramel, toasted biscuit and nutty flavors all coexisting in harmony. The undertone of bitterness doesn't outshine the malt at any point. Instead, it provides an excellent balance to the sweeter flavors. Ending with a crisp finish, this beer makes it hard to put down the glass!
Kline points out, "Amber steadily satisfies people who want to enjoy a beer that is smooth and mellow, with a malt richness that adds to food."
That food he is referring to can be a range of dishes, but it pairs especially well with cuisine like the fresh salmon and halibut found in Alaska.
But a similar scenario that breweries have seen with their own flagship beers, Amber wasn't an instant hit with every beer drinker at the start.
Kline also informs, "When we first started brewing Amber in 1986, many consumers considered it a 'dark' beer, and making and selling that beer was an educational process for many years as we grew."
It's safe to say that now most have come around and agree it is a delicious option for all occasions. This is why it currently can be found in over 20 states and has won its fair share of prestigious awards.
Sustainability the Alaskan Way
Nowadays, Alaskan Brewing Co. continues to push the envelope when it comes to the manner in which quality beer is brewed. Those previously mentioned challenges Alaskan Brewing has had to face due to its location has forced them to lead the charge of sustainable brewing practices.
"We are the only brewery in the world that runs a 100% spent grain-fired boiler, which makes the steam that heats our beer during brewing. We call the patented process Beer Powered Beer," explains Kline.
This process allows them to save nearly 70% on fuel they would otherwise have used for steam production. But they also let the state they live in give them an individualistic twist that other breweries can't mimic even if they tried.
"We are constantly inspired by the pristine beauty that surrounds Juneau – the mountains, ocean, forests and creatures that call this place home," Kline describes.
Whether it is their locally harvested high-bush cranberries, spruce tips from the wilderness that hugs the region, or their pure mountain-fed water that goes into their beers, those inspirations are refreshingly relished when you take a swig of their product.
At the end of the day, Alaskan Brewing helps to depict what makes Alaska such a uniquely wonderful place.
"It's an eclectic and individualistic state, and our state's breweries reflect that spirit," Kline remarks.
What Makes Alaskan Amber OG
To see the impact Alaskan Amber has made is proven by the absolute explosion in the beer scene in the last frontier these past five years.
"We have always tried our hardest to bring a bit of our Alaska experience and put it in a bottle. I think that has inspired many of the newer breweries in the state and I am always impressed with what other breweries are producing in Alaska," Kline says.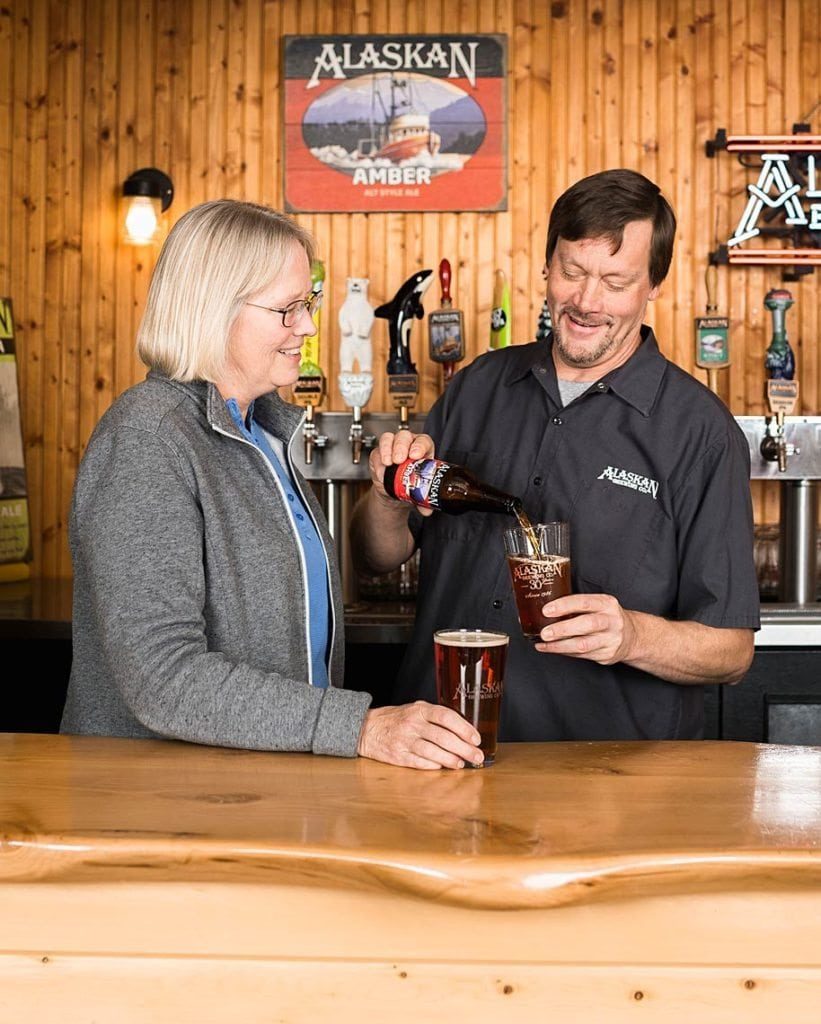 For many years, it was just Alaskan Brewing Company proudly waving the state's proverbial craft beer flag. But now, with only a population around 700,000, nearly 40 breweries call Alaska home. This shows the impressive impact the Larsons have made within the landscape of craft beer. One wonders if Geoff and Marcy understood the way in which Alaskan Amber would etch its name in the upper echelons of craft beer while they spent countless hours hand packaging those first 253 cases of Amber they would send out for distribution.
A Beer's Beer
To adequately define the word beer, one would branch out with a multitude of phrasing and wording that no matter how eloquent, would seemingly never do justice to the liquid that is in the glass nor maintain its unbound roots that stretch across multiple looks, flavors and styles. So instead, when someone unfamiliar with what constitutes the substance in the glass a beer and whether he or she is a fan, hand them an Alaskan Amber. In a matter of fact way, it quintessentially embodies all the crucial essences of what makes a beer a beer.
Or in a more concisely elegant way, "It finds a home with so many types of beer drinkers," as Kline sublimely puts it.
We at Porchdrinking.com thoroughly enjoy covering craft beer trends and showcasing the newest and beers. But, before terms like Brut, Milkshake, New England and even BBA entered the brewing-industry lexicon, beer fans were thrilled to taste Ambers, Pale Ales and some mysterious beer that may or may not have arrived from India. So, for one month, we are going to take time to remember some of those OGs of Craft Beer — the brews that made it all possible. While we can't cover all the OGs of Craft Beer, we want to take this time in August to pay homage to several of them. If your favorite "classic" isn't on the list; don't fret. Let us know what you loved back in the day (or still do), and bring attention in the comments section below or via our social media channels.
---