No Comments
Lieferbräu Brewery is About Family, Small Town America & Great Beer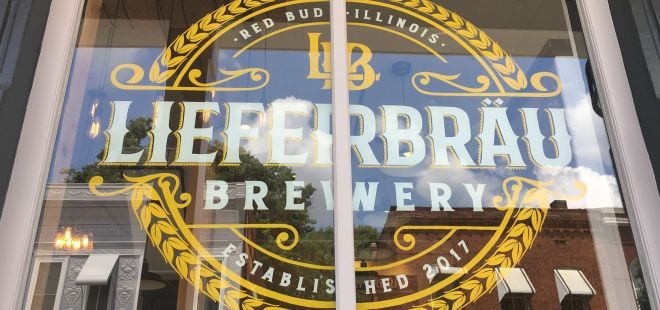 First, a piece of advice. Do not speed as you travel the picturesque country roads of southern Illinois. The first reason is, of course, the cops. The speed limits drop quickly from 55 to 35 as you near and enter the small farming towns along Highway 158. The second reason is the simple beauty of the drive. Country roads should be cherished and with the debut of Lieferbräu Brewery as a reward for heading in this direction, you'll be driving with a smile the whole time.
When you pull in to Red Bud, IL you'll be reminded of the charm of Main Street America as the brewery is located in the small four-way downtown intersection of historic old buildings. Each building tells a story but now each has a new tale of redevelopment including new restaurants, merchants and finally, its first craft brewery.

Nestled within the redevelopment of downtown is the storefront of Lieferbräu Brewery which opened and poured its first beers on June 30, 2018 following two years of planning and construction.
Walking into Lieferbräu, you'll instantly be drawn to the taps as the bar is immediately in front of you with additional seating to the left. The layout reminds me of a bistro, arranged more like a restaurant than a brewery. That perhaps is part of the plan—you will not be squeezed here. There is additional seating on the second floor, which is where the brewing takes place, but the jewel is the full patio backyard with additional second-floor seating complete with outdoor couches and a modern outdoor fireplace. I'm sure the patio will soon be recognized as one of the tops in our region.
We found a perfect seat at the bar and were quickly greeted with a beer and cocktail menu. Aside from the beer, Lieferbräu has a full bar with some of my favorite whiskeys on the wall. But I was here for the beer.
The Beer
As we like to do with new breweries, we decided to try a flight (or in our case two flights), each with four beer samples. Lieferbräu debuted with 12 full taps including lighter fare like pilsners and a cream ale to heavier IPAs and stouts.
For our first flight, we selected Lieferbräu Pilsner, Split Nail Pale Ale, Seven 70 IPA and the Altbier.
Lieferbräu Pilsner | ABV: 5.0%
Just what you want from a solid German pilsner: clean, refreshing, crisp. I found this one a bit heavier on the malt side, which I like.
Split Nail Pale Ale | ABV: 6.5%
Very smooth and balanced pale ale. I don't know the IBU, but there is just enough bitterness to keep it interesting and keep you drinking.
Altbier | ABV: 5%
I'm still learning my way around Altbier. This beer was balanced and delightful, but I'm still not at the point where I see myself ordering Altbier regularly. However, that's the fun of learning.
Seven 70 IPA | ABV: 7.0%
This is Lieferbräu's biggest beer so far and my favorite of the eight I sampled. For a rookie brewery, there is some maturity in this beer. It's perfectly balanced, not overly hoppy and not too bitter. 

In our second flight, we went with Zwolf Kolsch, Larak Blonde, Golden Grain Hefeweizen and Golden Grain Hefeweizen.
Zwolf Kolsch | ABV: 5%
I've had many strong Kolsch beers in my life and this one stands up very nicely. Zwolf delivers a balance of dryness and sweetness that I look for in any Kolsch, but it also serves up a nice, yet slightly bready flavoring that you usually find in European versions.
Larak Blonde
Another style I'm trying to learn more about. This citrusy ale is light but the flavor isn't; I even got a hint of some bitterness in the back of my mouth.
Golden Grain Hefeweizen
This, my friends, is the closest version to a classic German Hefeweizen I have found in years. Now, I'm not a big fan of weissbier, it's just not for me, but if you're into the 'Hefe' and enjoy the burst of banana and cloves, then step right up. This beer is intense, but the flavors come together beautifully.
Daniberry Wheat | ABV: 5%
Brewed for the head brewer's wife Danielle's love for fruity beers, if you too share the love then you'll enjoy this. The raspberry bursts on the nose and on the draw and lingers nicely. Extremely swiggable and sessionable, it's my prediction that if Lieferbräu ever decides to go to cans, this will be among their top two sellers.
The Brewers
The name Lieferbräu sounds regal and historic. You almost can't believe there hasn't been a brewery with the name before. The name comes from a multi-generational family of southern Illinois farmers, who apparently love to begin most of their first names with the letter K. Kirk, Kent, Karen, Kara and Kris (and their spouses) have all joined together to make Lieferbräu a reality.
Kris Liefer, a long-time homebrewer, runs the day-to-day brewing operation using a five-barrel system on the second floor.
Lieferbräu Continuing Beer Boom in Southern Illinois
Adding Red Bud to our local brewing map is exciting for many reasons. First, the explosion of beer in southern Illinois is exciting as these brewers are working to emerge from the shadow of the brewers up north in Chicago and have found a home among their kin in the St. Louis region.
On the drive to Red Bud, we passed another new addition to the Southern Illinois scene, the enormous Hofbräuhaus St. Louis. Another route to Red Bud could take you through Waterloo, where you'll find two more breweries, Hopskeller and Stubborn German.
So, while Red Bud may not be on the "beaten path," it is a journey worth taking. Make a day trip of it, see some beautiful parts of our region, celebrate life and drink great beer.
---