No Comments
Events Roundup | Black Wednesday in Chicago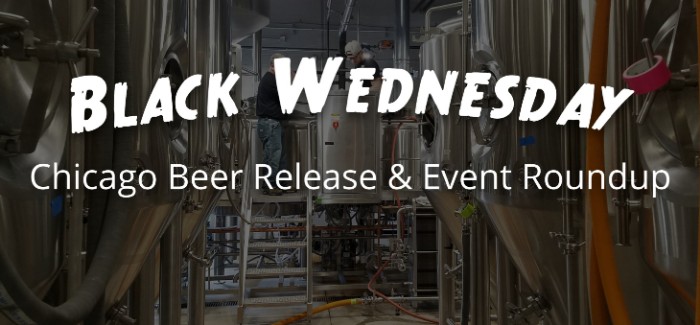 Once deemed "Black Out Wednesday," to differentiate it from Black Friday and because the day before Thanksgiving ranks as one of the busiest drinking nights of the year, Black Wednesday has grown to become one of the craft beer industry's biggest days. Chicago's breweries and bars are regaling patrons with plenty of special beer, most of it as black as a winter night. So, to help you navigate Black Wednesday in Chicago, we've compiled a list to help you.
We can't detail every event, but we tried to hit on the big releases and offerings. Did we miss something grand? Let us know via comments here or on social media. Have a great Thanksgiving Week!
Edit: Other entries have been submitted since first publishing. We are adding them as quickly as possible. Continue to check this page for further updates.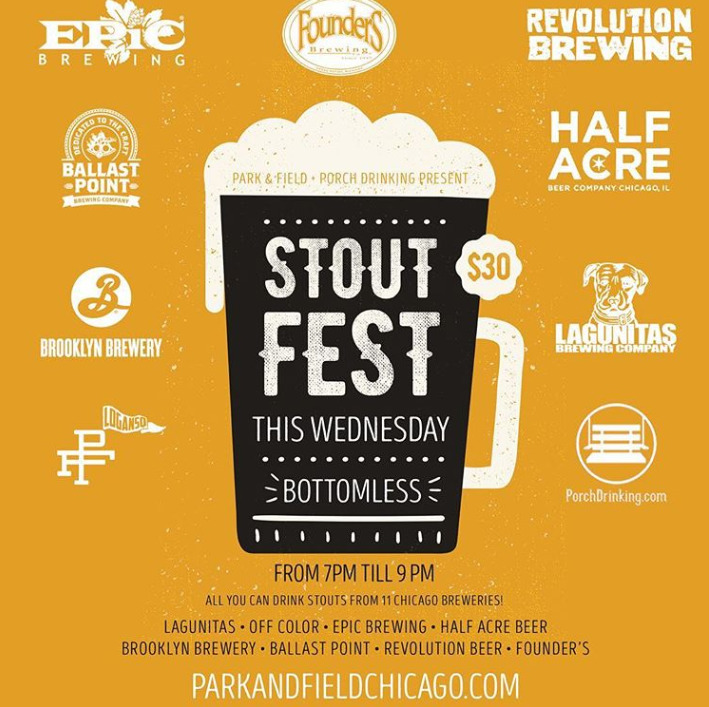 Tickets ($30 for limitless pours) available at parkandfieldchicago.com
Time:  7 pm to 9 pm
Beer (limitless pours):
---
Beer Shop | Drinksgiving Rare Beer Fest (including 2018 FoBAB Beers)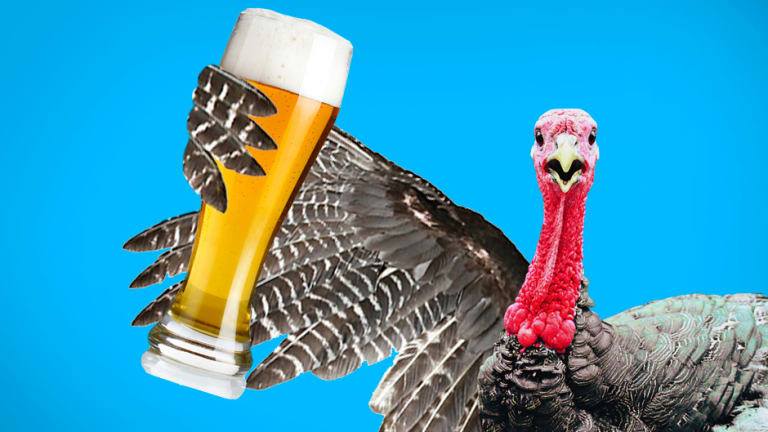 Our 3rd annual Drinksgiving Rare Beer Festival Tap Takeover is coming to BeerShop!
"We will be featuring some of our favorite 2018 FOBAB picks and local, rare releases available on draft, brewery representatives, bottle tastings & some damn good tunes from yours truly. "
Schedule:
7:00 PM – 8:00 PM — The beers are tapped!
8:00 PM – 9:00 PM — Bottle Tasting #1
9:00 PM – 10:00 PM — Bottle Tasting #2
10:00 PM – 11:00 PM –Bottle Tasting #3
11:00 PM – 12:00 AM (overnight) — Bottle Tasting #4
---
BuckleDown Brewing | Black Wednesday/Significant BA Stout Release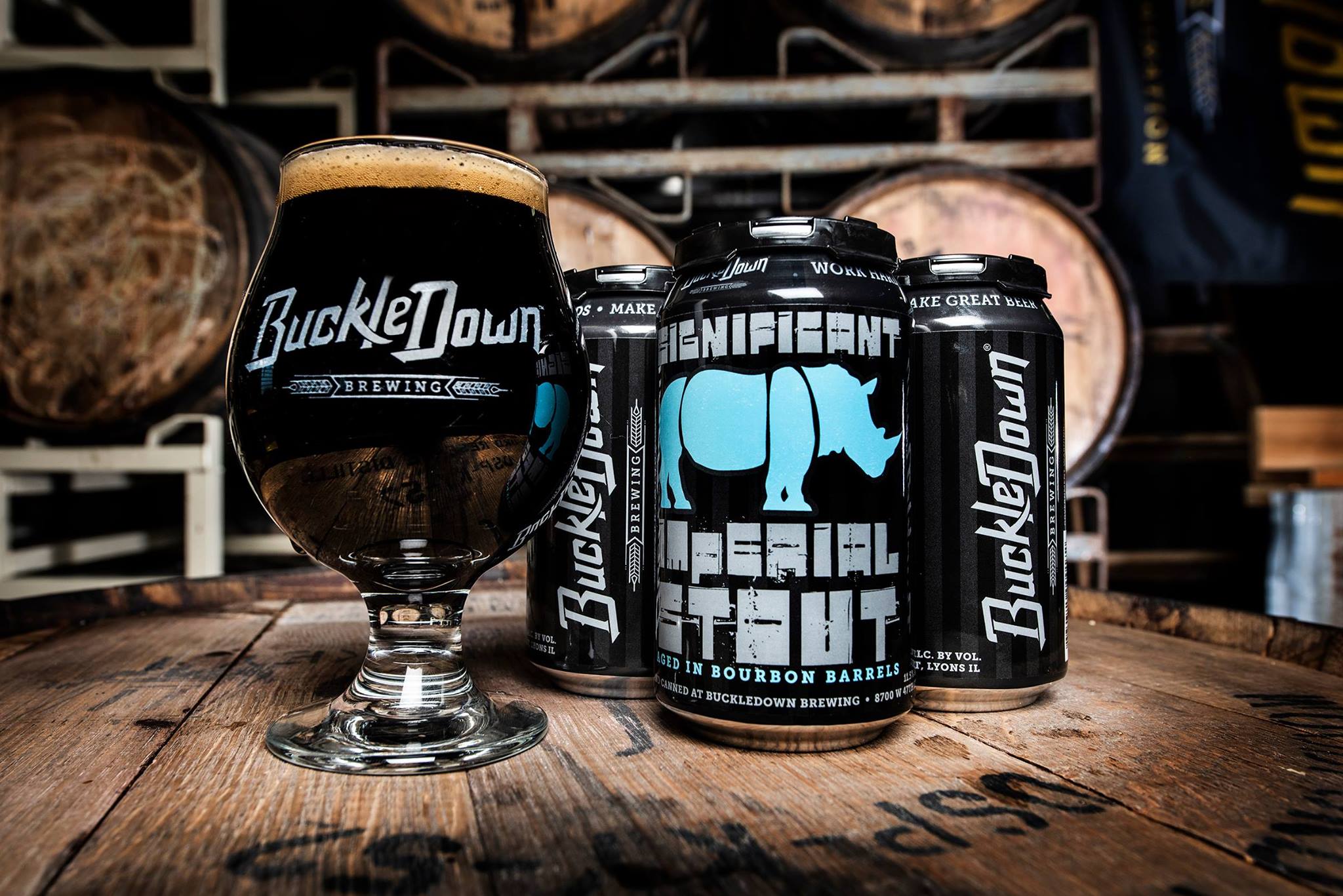 Beer: BA Significant Imperial Stout
Cost: $25 for 4-Packs. It will also be available on tap.
Time: Noon to 11 p.m.
Live Music from Fiddlesticks starting at 7pm.
---
For this event, the banners describe it well. Expect a big beer list with specialized flights available, notably from Founders — KBS & CBS.  Other highlights include Revolution Deth by Currants & Cafe Deth, Miskatonic Czernbog, Noon Whistle Bob Ross Did It and numerous others.
Events Page (Website) | Facebook Event Page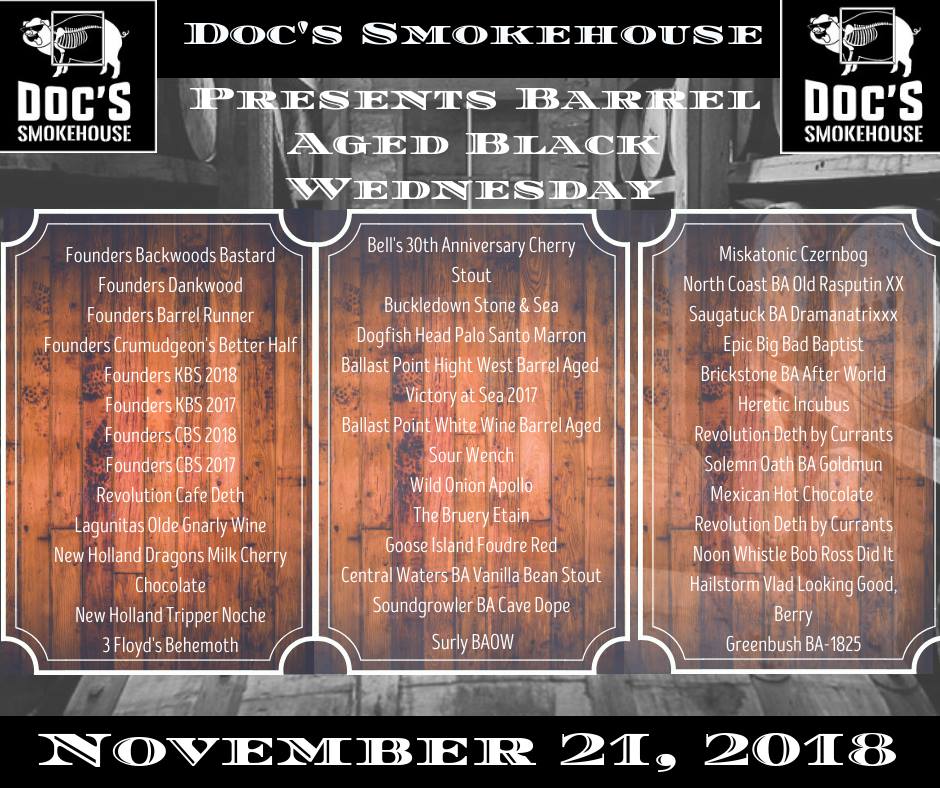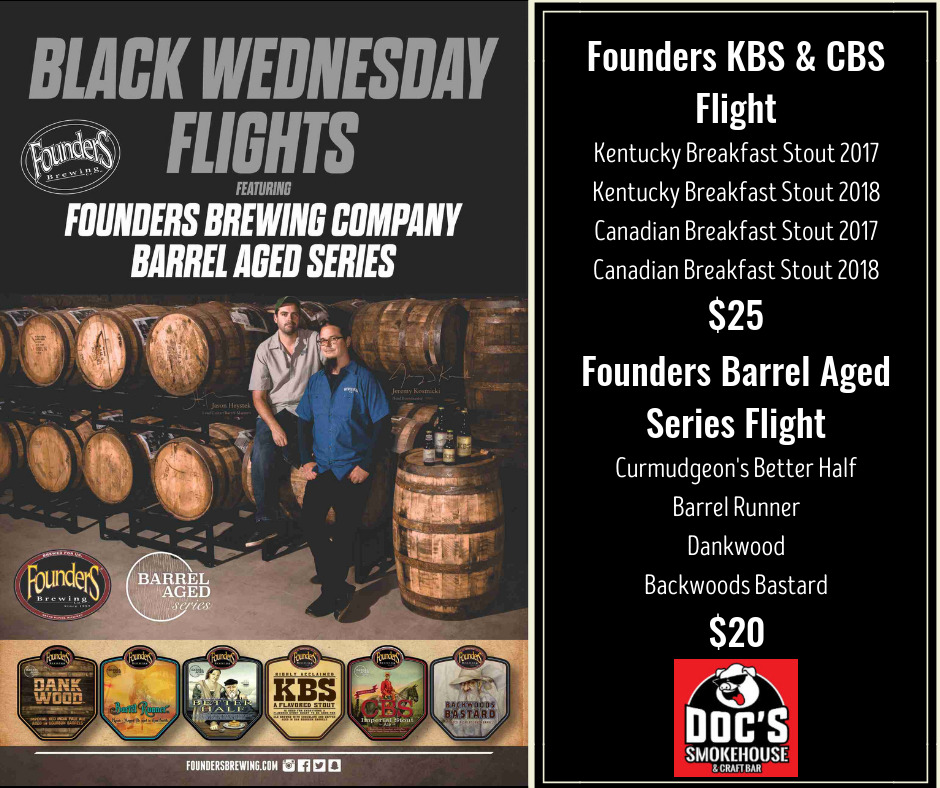 ---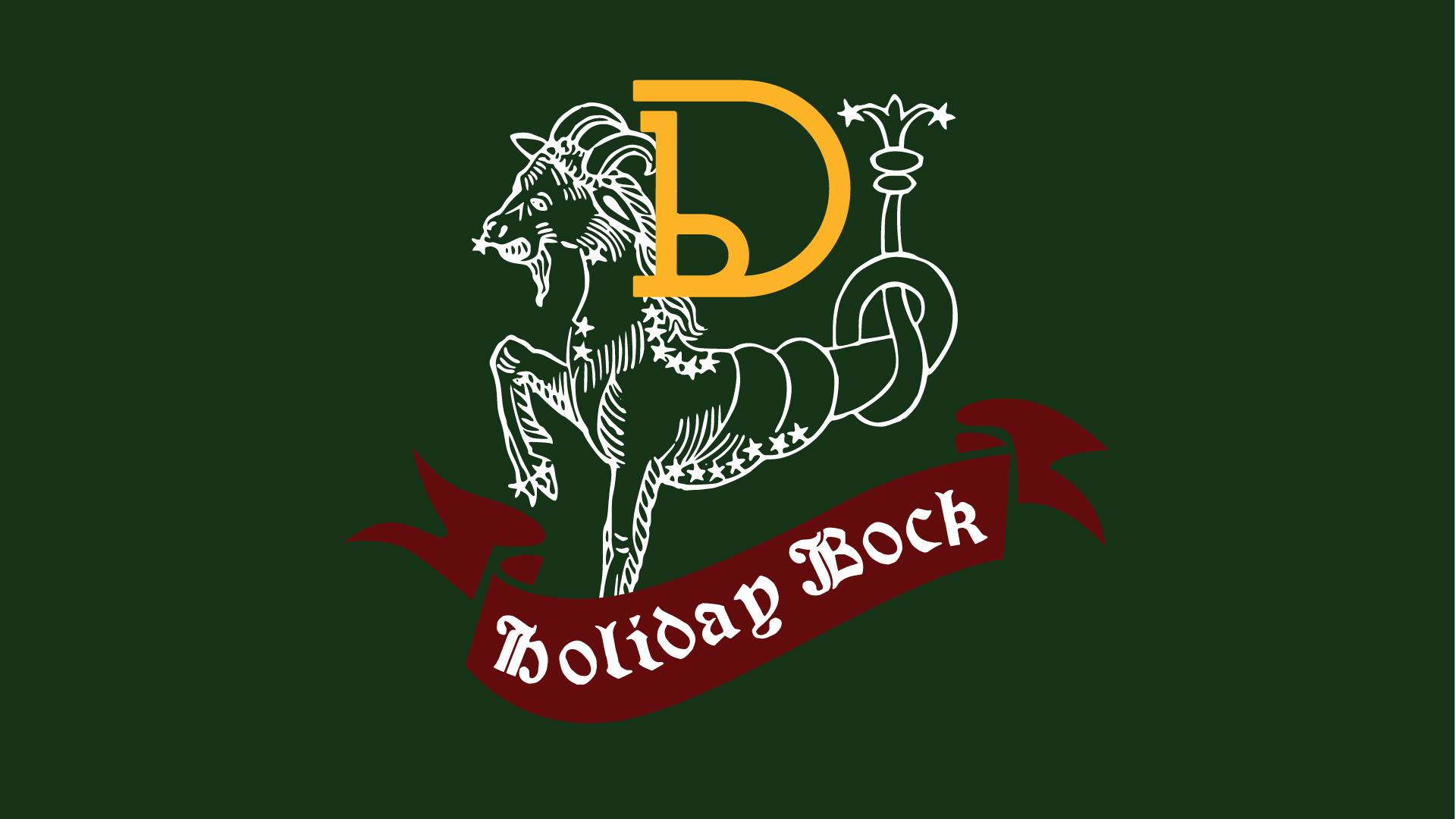 Beer: Holiday Bock Release
Time: Noon to 10 p.m.
Beer Note: Holiday Bock is a strong lager made for merry making. Other goodies to come!
---
SPECIALS! 🍻
• Our Dunkelweizen beer will be released tomorrow (Wednesday Nov. 21st) 🍻
• $4 @2foolscider cans
• #WinoWednesday $2.50 off wine pours or $5 off wine bottle
• #BlackFriday gift card deal – buy $100 in gift cards and receive an additional $25 gift card! pic.twitter.com/BlDhLn5L0x

— Flapjack Brewery (@FlapjackBrewery) November 21, 2018
Beer: Dunkelwizen
Time: 2pm-10pm
Details listed on the Tweet provided.
---
Goose Island Bourbon County Tappings | Three Chicago Venues
6 p.m. – 2 a.m. : Fountainhead Chicago – Facebook Event Page
Fine print: Please note we will be tapping all releases at 6 pm. No flights. First come, first served. No reservations. While supplies last (and we all know they won't last long!)
Tapping:
2016, '17 and '18 Bourbon County Brand Stout
2018 BCS Proprietor's
2018 BCS Wheatwine
2018 BCS Vanilla Stout
2018 BCS Bramble Rye Stout
2018 BCS Coffee Barleywine
2018 BCS Midnight Orange Stout
Goose Island Sophie Paradisi, Next Coast IPA and Noel
We'll also have very limited vintage bottling offers!
6 pm – 12 a.m. : Sheffield's Beer and Wine Garden – Facebook Event Page
PLEASE NOTE ALL BEERS ARE FIRST COME FIRST SERVED FIRST POURED.(Some are more limited availability that others!)
6 p.m. tappings for all drafts except for the Elijah Craig Reserve, which will be tapped at 8 p.m.
Tappings:
Bourbon County Stout Elijah Craig Reserve
Bourbon County Stout '18
Bourbon County Stout Coffee Barleywine
Bourbon County Stout Wheatwine Ale
Bourbon County Stout Proprietors
Bourbon County Stout Vanilla
Bourbon County Stout Bramble Rye
Bourbon County Stout Midnight Orange
Also: Old Man Grumpy APA, Noel , Project Cooper #3 Barrel Aged Porter, Parka Porter, Next Coast IPA, 312 Dry Hop and IPA
5 p.m. – 8 p.m. : Timothy O'Toole's Pub – Facebook Events Page
All eight variants, two variants tapped every half hour.
5oz samples of all variants will be $9; Reserve 5oz sample is $12. While supplies last!

Original Bourbon County Brand Stout
Reserve Bourbon County Brand Stout
Proprietor's Bourbon County Brand Stout
Bourbon County Brand Wheatwine
Bourbon County Brand Vanilla Stout
Bourbon County Brand Bramble Rye Stout
Bourbon County Brand Coffee Barleywine
Bourbon County Brand Midnight Orange Stout
---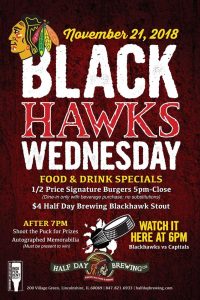 Half Day Brewing 
Beer: Half Day Black Hawks Stout on tap ($4)
Time: 5 p.m. to Midnight (Blackhawks v. Capitals at 6 p.m.)
Details: Shoot the puck for prizes after 7 p.m. (autographed memorabilia), as well as Food and Drink Specials including 1/2 price signature burgers after 5 p.m.
All Tap House Grill Locations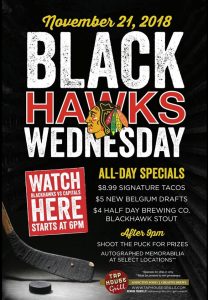 Beer: Half Day Black Hawks Stout on tap ($4) and New Belgium Drafts $5
Time: 5 p.m. to Midnight (Blackhawks v. Capitals at 6 p.m.)
Food: $8.99 Signature Tacos
Prizes: After 9 p.m.: Shoot the Puck for Prizes, Autographed Memorabilia at Select Locations
Link to all the Facebook Event pages: 
---
Horse Thief Hollow  | BA Cinnamon Girl & Music with Matt, Zack & Tom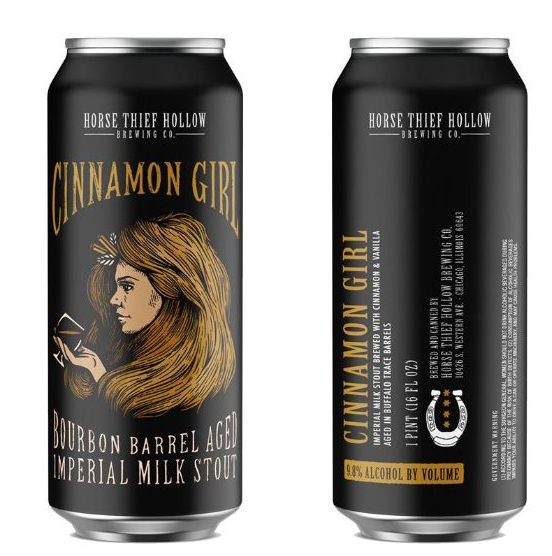 Beer: Cinnamon Girl (FoBAB beer)
Time 11:30am – 10:00pm
Details: If you missed Cinnamon Girl during FoBAB, you can try it on Black Wednesday both on draft and 16 oz cans. Cinnamon Girl is an imperial stout aged in Buffalo Trace bourbon barrels for ten months and then infused with Saigon cinnamon and Tahitian vanilla.
Music: As well, one can enjoy music with "Matt, Zack & Tom," from 8 p.m. to 11 p.m.
---
Light The Lamp Brewery | Release of Well Watcher Imperial Belgium Stout
https://www.instagram.com/p/BqXySboAMGE/
Beer: Well Watcher Imperial Belgian Stout (10% ABV)
Time: 11 a.m. to Midnight
Details: Well Watcher is a big Belgian Stout clocking in at 10% ABV. We allowed this one to ferment on the warmer side to bring out those tasty Belgian esters. We then let it mature in our tanks at cellar temperatures for 4 weeks post fermentation. The end result is a super smooth velvety mouthfeel with notes of dark cocoa, coffee, caramel, and stone fruit. With a slight earthy spice from the German noble hops. And of course, we're letting some of it sleep in Templeton Rye whiskey barrels.
---
Metal Monkey Brewing | Fonkey Mucker Release on Black Wednesday!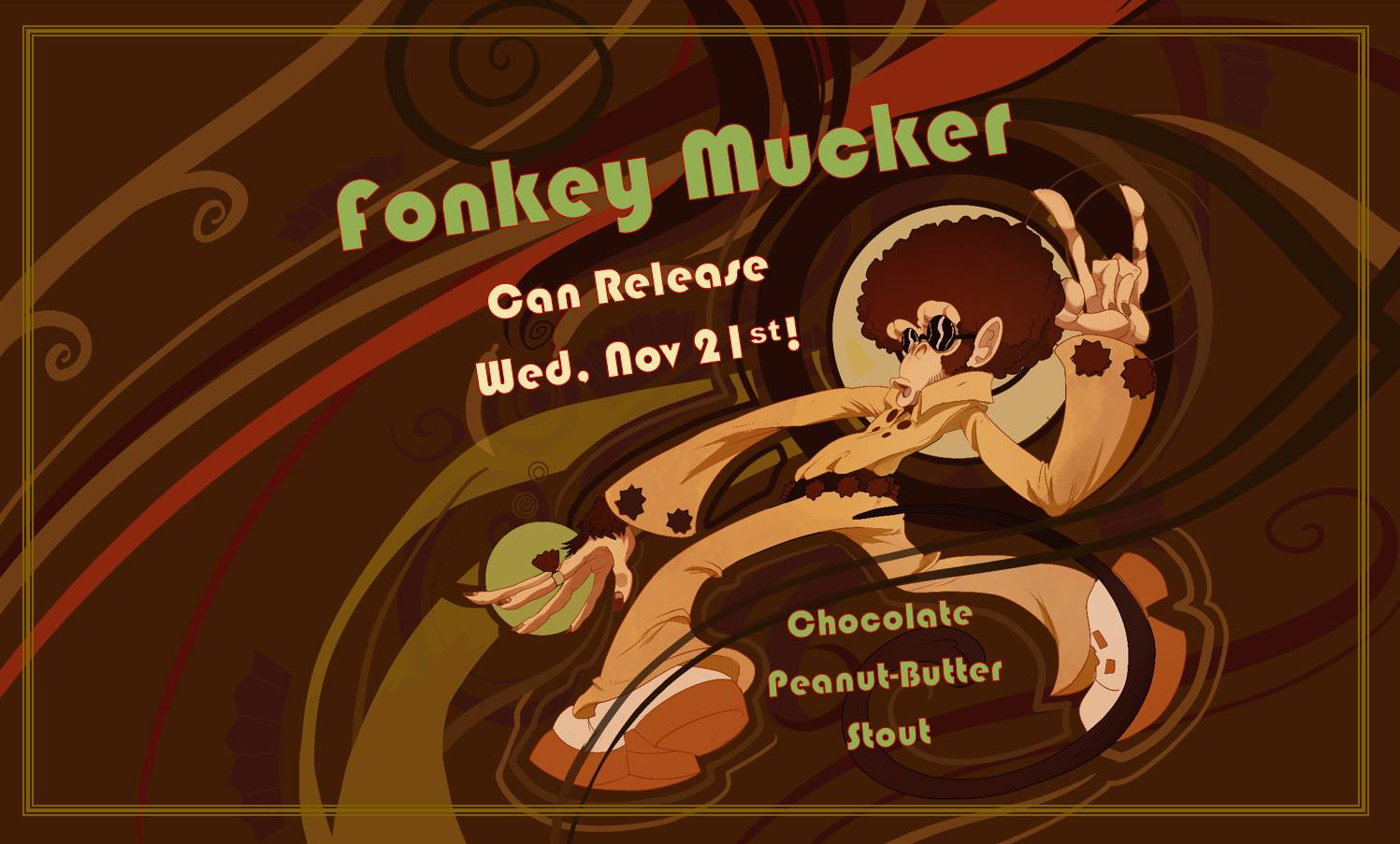 Beer: Can Release of Fonkey Mucker Chocolate Peanut-Butter Stout
Time: Noon to 9 p.m.
Description:Our first batch of Fonkey Mucker was a 5 gallon home-brewed batch and it's been a fan favorite ever since. It's still made with real cocoa powder and peanut butter and at long long last it's available in cans.
Stop on in Wednesday to pick up a four pack (or more;) for your drinking, sharing and gifting pleasure, and don't forget to relax and have a beer while you're here!
---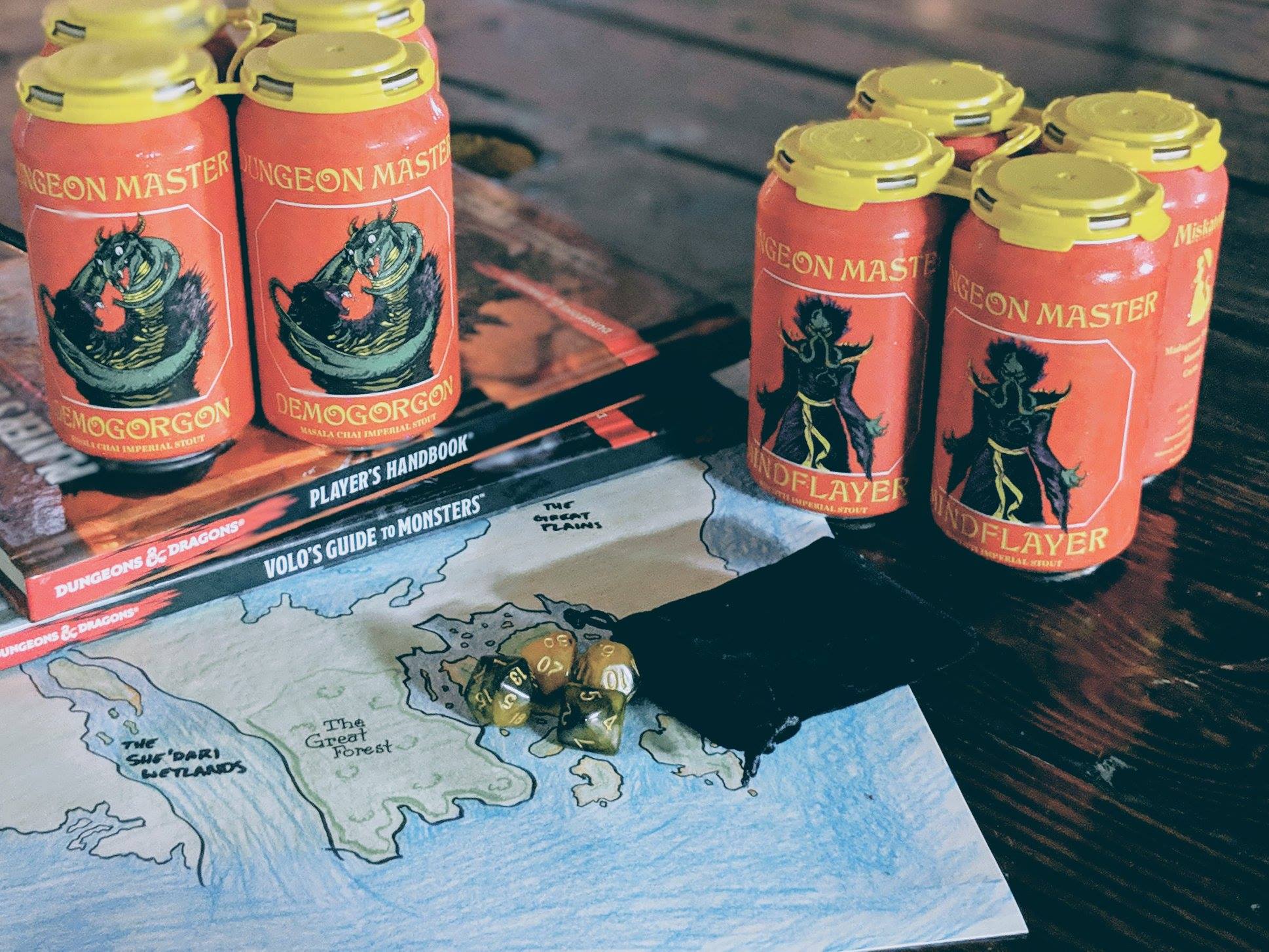 Beers: Two BA Imperial Stouts from the same base beer, Demogorgon and Mindlfayer.
Cost: ? — Available on Draft and in 4-pack cans to-go.
Time: Noon to Midnight
Description:Join us on Black Wednesday for the release of two new and very special beers: Demogorgon and Mindlfayer! Using the same base Imperial Stout, Dungeon Master, we crafted these two adjunct stouts.
Rich and sweet, Mindflayer is a Biscotti Imperial Stout, layered with smooth flavors of almond, vanilla, and cacao. Demogorgon is the more exotic of the two, a Masala Chai Imperial Stout, rich with cardamom, ginger, cinnamon, peppercorn, and black tea.
That is a lot of time to be here drinking such big, rich beers, so we will of course have food for you! Ayala's Empanadas will be on lunch duty, serving up their legendary empanadas, and Dark Horse Kitchen will have a few uniquely delicious dinner options for you.
---
Noon Whistle Brewing | KAPUT Barleywine release and Black Wednesday Party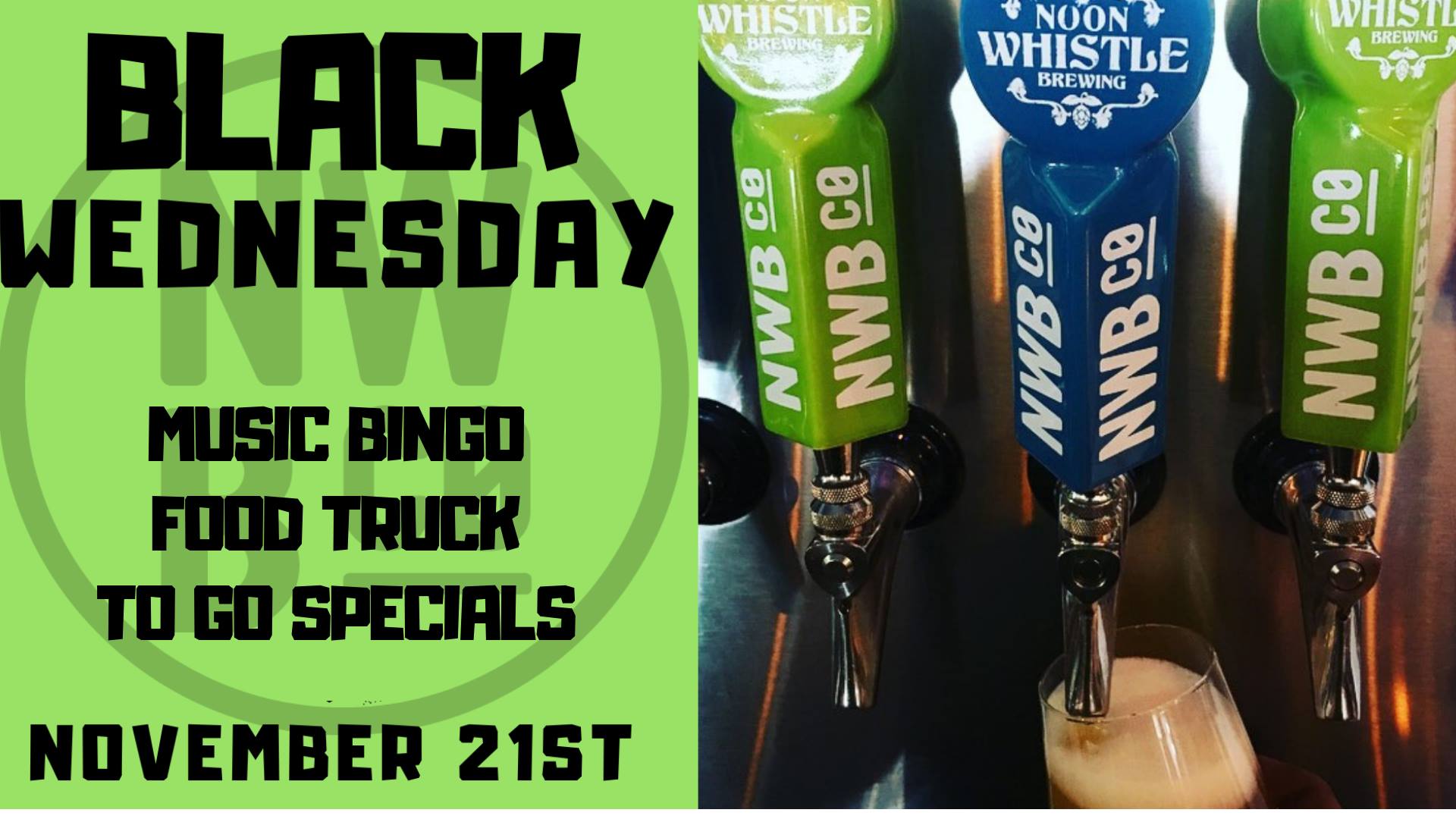 Beer: KAPUT Barleywine, 11.1%
Time: Noon to 10 p.m.
Notes from Noon Whistle:
Beer Notes: Bold and velvety with a subtle sweetness, this big barleywine holds complex notes of caramel, toffee and raisin. Drink it in, it always goes down smooth.
Food Truck: 4:30-8:30pm
Umbrella Azul Food Truck will be at the taproom serving up authentic Peruvian items such as delicious Pollo a la Brasa, Empanadas, Causas Rellenas, Alfajores, Piononos..and more! Homemade food with 100% Peruvian flavor!
Music Bingo: 6:00-8:00pm
Music Bingo with Baig of Tricks Entertainment in the taproom -Come enjoy this fresh take on the classic party game. Music Bingo is simple – enjoy your favorite songs from the last 50 years while your mark off the titles see on your card – the first person to line up five in a row wins!
**Free to play, with NWBco prizes up for grabs
PLUS.…
$1 off all Full Size Drafts and Growler to-go specials ALL DAY LONG so you an stock up and share with your family
---
Old Irving Brewing Co.| Barrel-Aged Krampus Cookies Bottle Release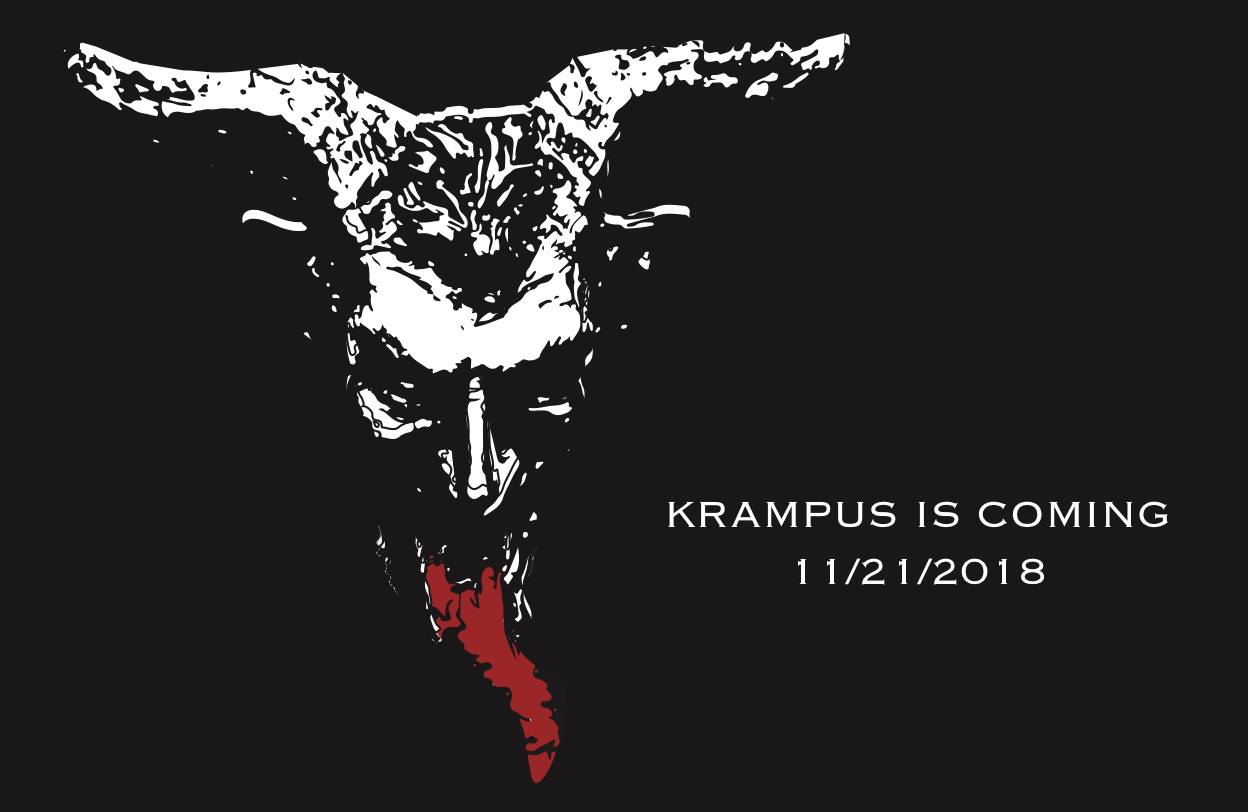 Time: 5 p.m.
Beer: Barrel-Aged Krampus Cookies a BA Milk Stout.
Cost: $20 for 22 oz. bottle. (Buyer pays taxes and Eventbrite fees. Purchase your bottle(s) here: )
Release Party is Black Wed, but one can buy the beer via Eventbrite and pick it up through November 29.
Old Irving Beer Description: "11 months ago, we captured Krampus in a prison of W.L. Weller 12 Year bourbon barrels and now the beast awakens to collect those unlucky enough to have landed on the naughty list. Barrel-Aged Krampus Cookies (12%) is packed with vanilla and cocoa nibs that blend beautifully with the rich flavors W.L. Weller 12 Year bourbon. Best enjoyed while hiding in fear."
Event Party Notes:
Special beer tapping – Champurrado Krampus (Krampus Cookies variant infused with Saigon cinnamon and Ancho and Guajillo chiles (very limited)! Good while supplies last.
Krampus-inspired food specials
Merch giveaways throughout the night
Grand prize giveaway: "Brewer For A Day" – win a chance to join Old Irving Brewing Co.'s head brewer, Trevor Rose-Hamblin, and the brew crew and brew a batch of beer on our 15 BBL brewhouse system. Includes lunch and multiple tastings. Good for 2 people. Must be present at the end of the night to claim prize.
Special Notes
LIMIT: There is a limit of four (4) tickets (4 bottles) per person.
RELEASE TIME: 5pm on Wednesday (11/21)
PICK-UP TIME WINDOW: You will have from 5pm on Wednesday (11/21) until 11pm on Thursday (11/29) to pick up your bottle(s). Note, we are closed for Thanksgiving (11/22).
For more information, please see the Old Irving Facebook Event Page
---
Only Child Brewing | BA European Vacation Sex & Kentucky Rouge Wild Ale
Beers: BA European Vacation Sex – Imperial milk stout with roasted marshmallow aged in bourbon barrels, 14%) and Kentucky Rouge (wild red ale aged in bourbon barrels).
Food: Pierogi Jo's (3pm to 7pm)
---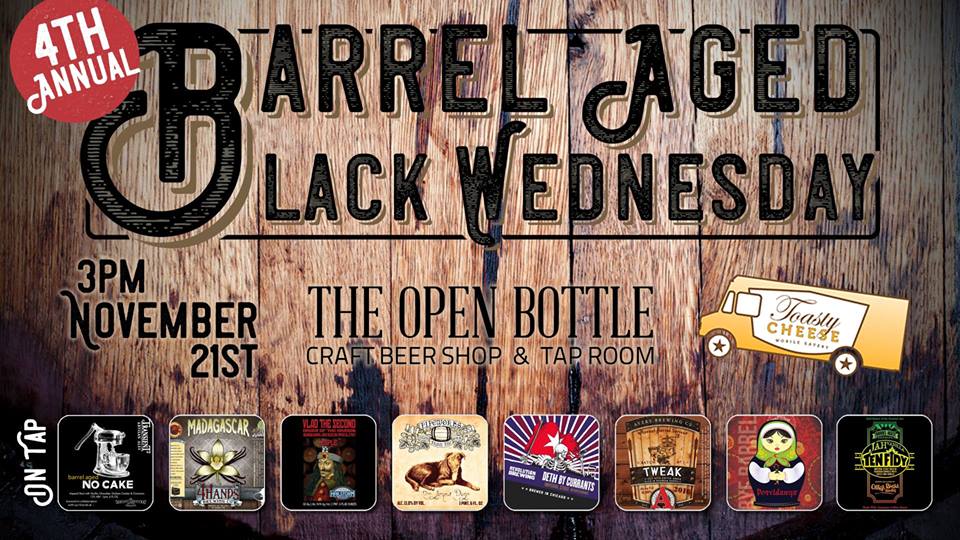 ** Be safe and use Uber! Take $5 off your ride to TOB on 11/21 with code EQ9PWYZ ! **
Time: 3 p.m. to 10 p.m. (Food 5 – 8 p.m.)
Beer:
ON DRAFT:
1) Transient Artisan Ales & Saint Errant Brewing Barrel Aged No Cake
2) 4 Hands Brewing Company Madagascar (2018)
3) Hailstorm Brewing Co. Vlad The Second Maple (2018)
4) Pipeworks Brewing Company The Jones Dog (2018)
5) Revolution Brewing Deth by Currants (2018)
6) Avery Brewing Company Tweak (2016)
7) Destihl Brewery Dosvidanya Rye Barrel (2017)
8) (announced soon)
---
Pollyanna Brewing | FoBAB Medal-Winning Beer Releases
https://www.instagram.com/p/BqYLHHeAh7u/
Time: 3pm (Both Pollyanna Locations)
Beer: Gold Medal winning "Apple Brandy Barrel Aged Orenda Volume 03" (Belgian Tripel) as well as last year's Bronze Medal winning "Orenda Volume 02" (Belgian Quad aged in Grape Brandy Barrels). (Limited amount available)
---
Pig Minds Brewing | Black Wednesday Barrel Aged Release Party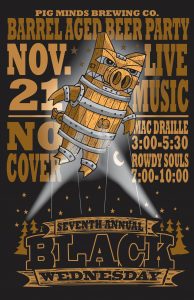 This event simply needs the Pig Minds' Description: "Join us for our 7th Annual Barrel Aged Black Wednesday party! We will be opening up the brewery and kitchen at noon on Wednesday November 21st to kick off the holiday weekend! We will be tapping a few barrel aged favorites. Live music with Mac Dralle Music at 330pm and we all get a little RODWY at 7pm with the Rowdy Souls!"
---

Beer: Specialty Beers on Tap
Time: 10 a.m. to Midnight (Pizza from Noon to 8 p.m.)
Highlights – Pizza, music and more.
Bricks Wood Fired Pizza – Naperville will be out serving up their freshly-made, mouth-watering 'za from 12pm-8pm, specialty beers will be flowing from the taps, Alex will be playing jams back-to-back in the taproom, and we'll be opening up the back of the brewery in the evening so you can explore and spread your wings.
Games
We'll have games out for you to play, but please feel free to bring in your own favorite games and invite some strangers to partake. You might just end up meeting your new BFF that way… you never know.
---
Tribes Beer Co | Double Barrel-Aged Beer Release: BA'd Santa & Give No Quarter
Time: 10 a.m. (Tribes Taproom location, Front Street in Downtown Mokena)
Beers: Give No Quarter BA Imperial Stout & BA'd Santa BA Christmas Ale
Cost: Both beers are $20 for Bombers, but one can purchase Give No Quarter for $27 with a limited "Give No Quarter" Tee Shirt.
Food: 5pm to 9 pm – Tribal Tacos y Tortas (Mexican Pop Up)
Notes: Both beers were aged in Buffalo Trace Barrels — Bourbon and Rye. Beers will be available on tap and in bottles, and the base beer for both (Para Bellum, the base for Give No Quarter and Santa's Lap, the Christmas Ale for BA'd Santa) will also be on tap.
---
Werk Force Brewing | 3 X BA Sleepy Bear Release Party Black Wednesday
The banner says it all with this event. (Edit – added Facebook post which has more details )
For more, see the Facebook Event Page.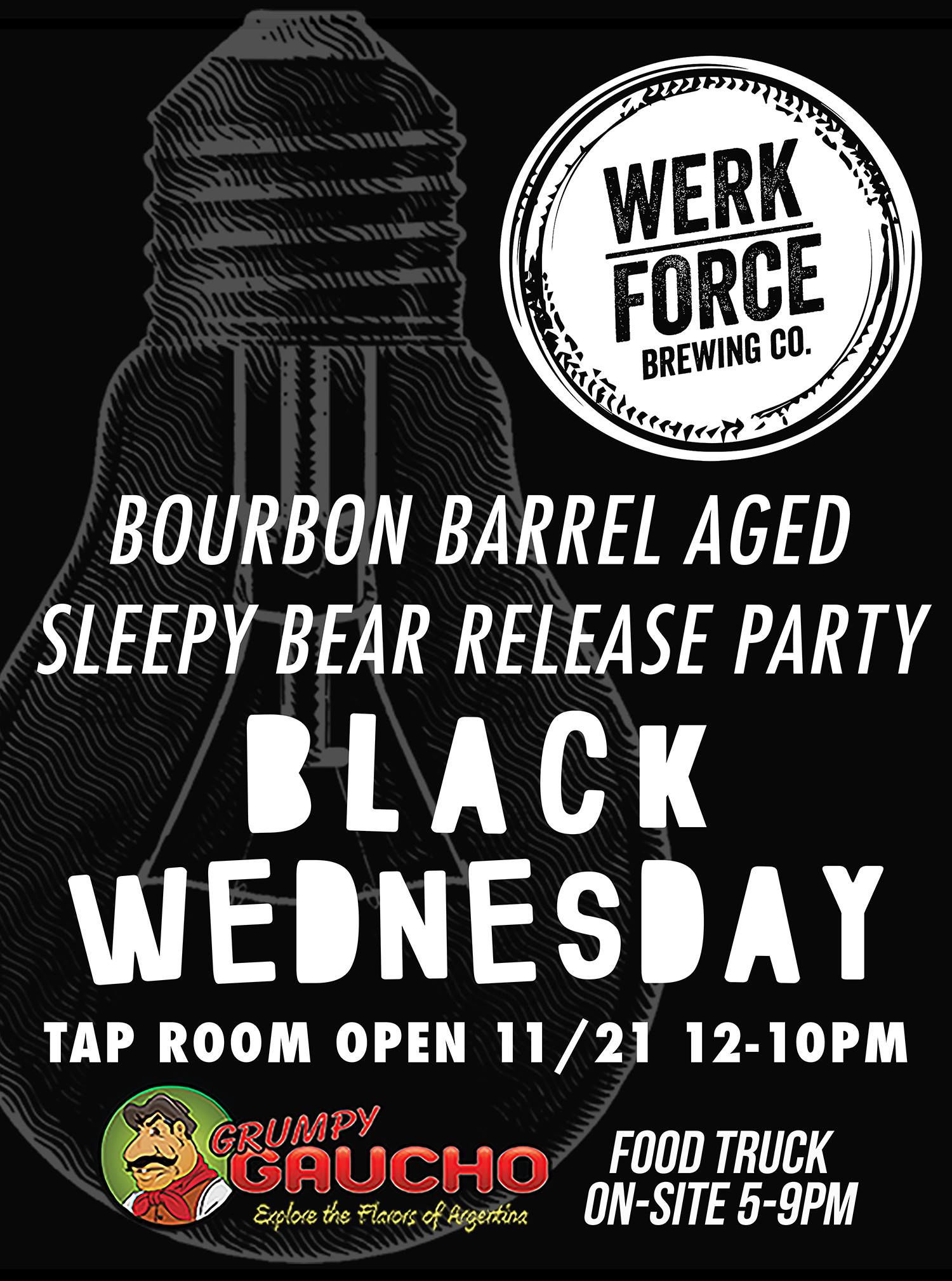 ---