No Comments
Brew Day Playlist | Revolution Brewing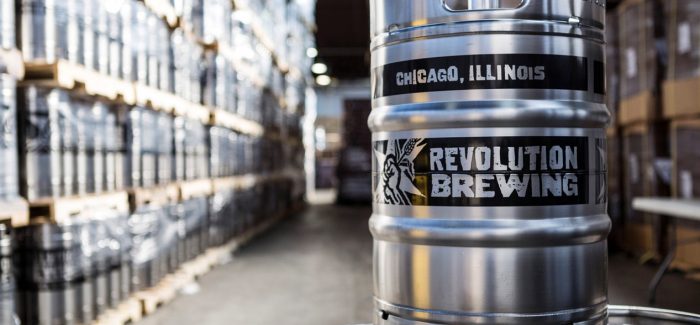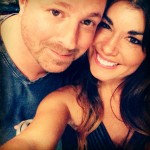 We may have fallen more in love with Revolution Brewing after getting a look at this month's playlist. Motörhead, Faith No More, Alice In Chains, The Stooges and the all mighty Slayer, oh my!
Initially, we became smitten with this Chicago-based brewery upon entering the beer trading game five years or so ago. A good friend sent us some of Revolution's best goodies all packaged up in bubble wrapped glory. We sipped on some of Chi-towns most sought after hoppy and barrel-aged brews without understanding the musical background behind the black-magic-in-beer-form, like Deth's Tar. But, during the Great American Beer Festival this year, we were lucky enough to get reacquainted. Purposeful stops to Revolution once or twice (maybe three times) during the fest proved their offerings were pleasant and it was fun to see them receive the bronze medal for Straight Jacket, a wood & barrel-aged strong beer. Congratulations Rev!
Revolution Brewing boasts the distinct claim of "the largest independently-owned brewery" in Illinois. This is a marvel given the huge craft beer market in the region. Opening doors in 2010, they assisted the next wave of craft beer growth without becoming 'flavor-of-the-week.' It sounds like they have some good roots.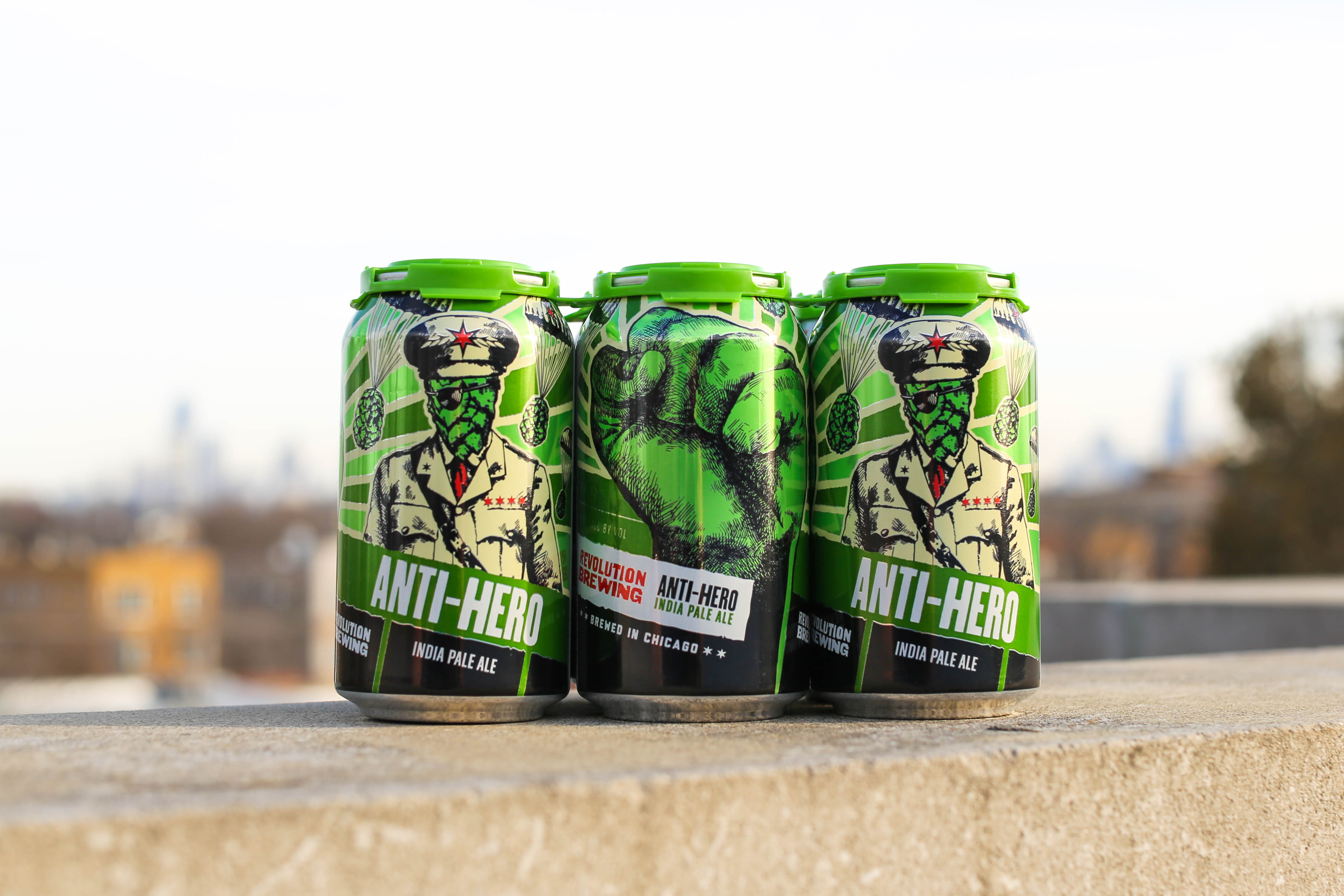 To give you a behind-the-scenes flavor, these are the kick-ass tunes vibrating the walls at Revolution Brewing while their creative juices produce tantalizing brews like the popular Anti-Hero IPA and Fist City Pale Ale. Be sure to check out the 2018-19 Deep Woods Series for even more tasty brews.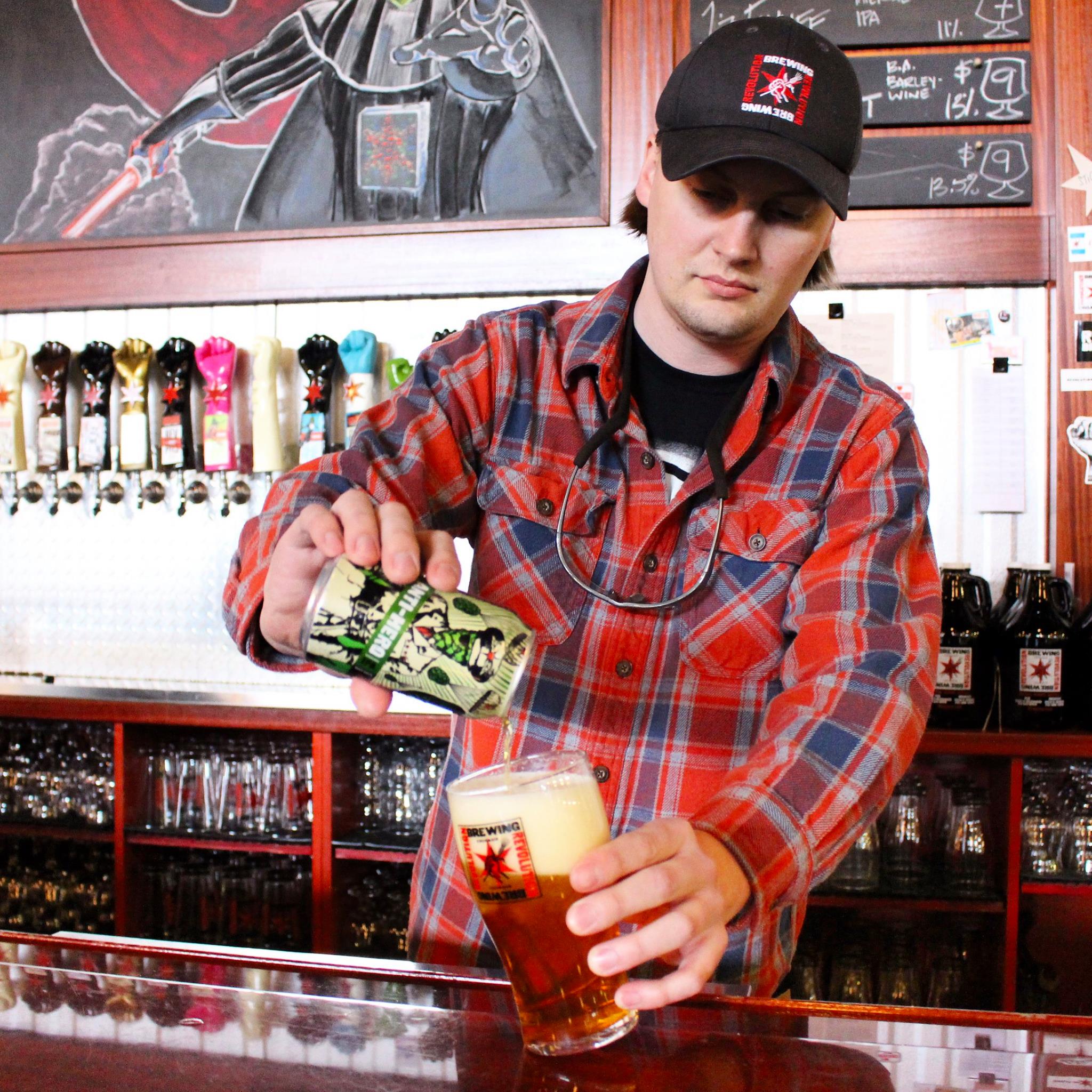 Marty: Every day's a brew day, so we usually mix it up. If I had to pick one for the guy who usually does the first mash in, I think Evan Isaac, our a.m. brewer, would probably like some Misfits at 5 a.m. on a Monday morning. As for the closing, if it's Dave Blackford finishing up, I think he'd like "Boudoir" by The Upper Crust.
For Anti-Hero, I always think of Minor Threat's "I Don't Wanna Hear It." That beer's punk rock. There's nothing "flavor-of-the-week" about it.
Slayer, Van Halen circa 1983, Motörhead. Then Slayer again. And Dio is emceeing the whole thing.
Music keeps everybody going and focused on what they're doing. If everything's going as planned, a lot of brewing can be repetitive. It can be easy to get distracted so we'll play some fun stuff to keep everyone involved. Sometimes we'll poke the bear and play a few songs we know people aren't going to like, which can be just as fun as playing music we do dig on. Some of the younger guys are really fond of playing Limp Bizkit to piss everyone off. They don't usually get more than one or two songs in.
Music is also something we all have in common: We go to shows together, talk about what we've been listening to and it's something we can talk about aside from beer. We all love beer, but you don't want to only talk about work while you're at work.
Naked Raygun played the opening of our production brewery and we went to see Bongripper not long ago. Our senior brewer, Matty Kemp, turned a lot of us onto Pink Frost recently as well. He's always the one to ask about good local shows.
Alice Cooper, "Long Way to Go."
Anything light, crisp, easy drinking. A super-fresh Fist City is a popular choice for the brewers, or Freedom of Speach. But I think we drink more Rev Pils than both of those combined.
Cheers!
Chris & Sylvia are a #craftbeercouple who love everything beer! Check them out on Instagram @chrishollands & @sylily.
---