No Comments
Malört | Forging Friendships With a Shot and a Beer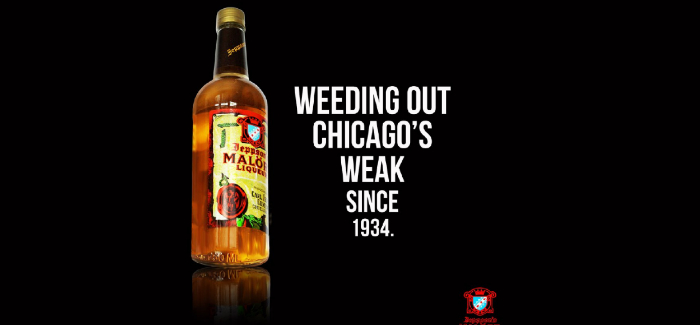 The first shot of Jeppson's Malört induces a reaction akin to sucking in one's entire face, and that's followed by a look of despair as one hopes and prays the aftertaste resembling something close to insect repellent will give way to something better. It doesn't. Malört is awful. It's vile. It's nasty. And it's beloved by an abundance of Chicago drinkers. The cult-like drink is part "bad decision," part "right of passage." These days, craft breweries and craft-friendly bars in Chicago regularly pair Malört with craft beer—or offering it to you after a night of craft beer. A communal sharing of Malört forges friendships and kinship. Simply, Malört is bonding in a bottle.
Born of the Great Depression, Jeppson's Malört (now owned by Chicago's C.H. Distillery ) was developed by a Swedish immigrant in Chicago (although it dates back to medieval times). The Swedish-style Bäsk liquor (Swedish for bitter liquor) flavored with "malört" (Swedish for wormwood), has been known to offer medicinal benefits such as settling one's stomach. Indeed, our Midwest Editor, Mike Zoller, can confirm this — he swears it recently worked for him.
So, are you ready to understand the Malört phenomenon? Are you ready to embrace Malört's cult-like status? Here are the steps necessary to go from Malört skeptic to Malört fanatic.
Step 1) Embrace its bad taste. Love Malört BECAUSE it's bad.
What starts as grapefruit and something sweet (let's call it honey, I guess), the drink quickly devolves into something most refer to as gasoline or insect repellent. I offer the following video to demonstrate, or admit, that the spirit is not usually well-received. But, that's not really the point, as I will discuss later.
Now, did you notice how all the people in that video—from varying nations—all bonded through their tasting of Malört? Sure, they didn't like it at first. But, I'll bet every dollar I have that if this group met together at a bar, and someone offered them a group shot of Malört at 1:30 a.m., they'd all do it again, just for the hell of it.
I think we can safely proclaim, "More Malört, less War!"
And, that takes us to step 2.
Step 2) To love Malört, one must embrace the culture surrounding the drink and accept its ugly-duckling beauty.
This video serves as a great instructional tool for which one can see the beauty that is Malört.
The Malört Song (A Waltz for Old Jeppson) by Archie Powell and The Exports:
Step 3) Commit to Malört with a Chicago Handshake—a shot of Malört and a beer.
You'll notice in the song performed by Archie Powell and The Exports that the folks at Metropolitan Brewing are featured in a few clips, and that is no accident. Metro and Malört are not mere friends; they are lovers.
Meanwhile, Burnt City Brewing (currently in the midst of a move, but doing just fine despite odd reporting that said otherwise), has a banner it hangs that pays homage to Malört. For that matter, in Chicago's south suburb of Mokena at Tribes Beer Co, a placed owned by a former chef who has rubbed elbows with many sophisticates within the culinary and vinification world, one can get Malört on tap—who says Malört isn't classy?
Beer spots and bars like Paddy Longs, Kuma's Corner and Bitter Pops have all embraced and ran specials pairing Chicago's craft beer with Malört.
Three Floyds, in fact, holds its Dice of Doom events at Kaiser Tiger, the popular "Sausage, Bacon and Beer venue," which allows drinkers an opportunity to taste Malört-barrel-aged Dark lord.
Yep, beer aged in a Malört barrel!
In fact,  Dice of Doom IV arrives on November 17, 2018. Go give it a try.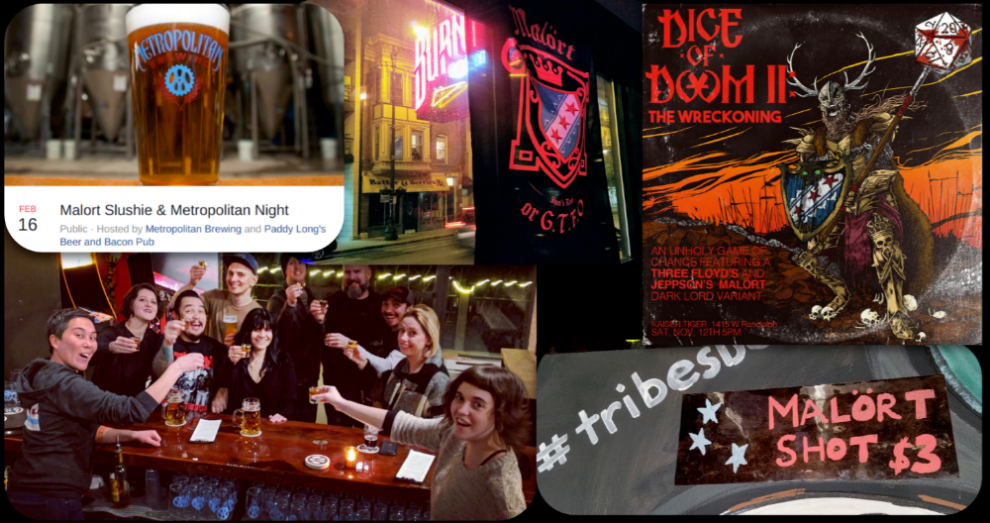 Step 4) Go out. Have a few. And then end your night with Malört.
The best way to enjoy Malört is in a crowd, cheering, and flexing one's liver muscles as a group. It's all about the bonding. Is it a bad decision? Of course not. Once you pass step 3, the goodness or badness of Malört-based decisions is inconsequential.
Chicagoans love it. Chicagoans also hate it. But, we love it even more because we hate it. So, if you find a bottle of Malört, take a taste. Think of it as the nation's third largest city collectively pressuring you into enjoying it. And you will. You won't know why you enjoy it, but you will.
---