One Comment
BrewDog's DogHouse Craft Beer Hotel is Disneyland for Drinkers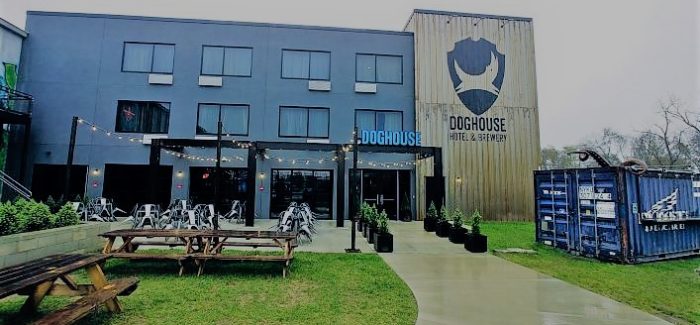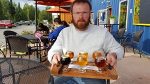 Craft beer is always best enjoyed locally, straight from the brewery taproom. But if you can drink at the source, why not sleep at the source, too?
While Columbus, Ohio, has seen a craft beer renaissance in recent years, it has never reached the status of a beer destination that Portland, Oregon, or Asheville, North Carolina, have achieved. That quickly changed once BrewDog's co-founder James Watt stepped foot in the heart of the Buckeye State. Impressed with the midwestern city's hospitality, he and his BrewDog team set out to build the world's first craft beer hotel, raising funds through a crowdfunding website. It didn't take long before they had more money than they knew what to do with, and the rest is history.
Kids have Disneyworld. Adults have The Doghouse Hotel and Brewery. Located on the outskirts of Columbus, Ohio, this is truly the most unique destination for your drinking, eating and lodging needs.
Exterior
Upon first sight, visitors might be taken aback by just how expansive BrewDog's space is. The hotel is tucked away on the side of the production brewery nestled next to the taproom and restaurant. Parking is ample, but don't expect a spot right next to the hotel if it is a busy night (which is usually… uh… always). To avoid a long stumble back to the car in case you forgot something, it's best to arrive as close to check-in time (3pm) as possible. If you're lucky enough to visit in the spring through fall, you will be impressed by the outdoor space available for the person who enjoys a beer with nature. There is ample seating outside complete with a firepits, a small pond and a dog park. It's perfect for those warm summer nights and crisp fall weather. During my visit, it was a torrential downpour for three days straight, so I enjoyed my drinking experience indoors, which was no less impressive.
View this post on Instagram
The Lobby
Entering the hotel, it is immediately obvious that this hotel is anything but ordinary. The lobby bar doubles as the front desk, so you can get your room key and grab a welcome beer at the same time (which you should obviously do). If you are new to BrewDog, their Punk IPA is a great introduction beer to their style of brewing. It's a full-flavored, hoppy ale with tropical notes, and sure to get the party started. No need to head to your room yet, it's time to go exploring! (If you were smart, you have a growler of beer in your kegerator waiting for you).
The lobby is tastefully decorated with the classic appeal of a "study room" with leather sofas, chairs and plenty of books (mostly about beer and brewing). If reading isn't your thing and you have a competitive edge, challenge some other guests to board games or tables games, all which are scattered throughout the lobby area. The front desk will happily store your bags for you, while you take a moment to soak in your experience. If you wander outside of the lobby area, make sure to check out the interactive BrewDog Beer Musuem, which will walk you through the history of beer, the brewing process and BrewDog's rightful place in the craft beer industry.
The Room
When it's time to head to the room (if you've already forgotten that the front desk has your bags, you'd better slow down and pace yourself) take the elevator on up! Your floor will greet you with the floor number crafted together with BrewDog beer cans. A cool touch and easy to see in case your vision has started to get a bit blurry. Many of the rooms overlook the sour storing foeders and it's a wonderful sight to behold as you unlock the door to your magical kingdom.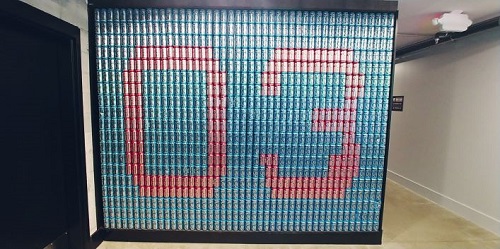 While many would appreciate the shower beer fridge, the mini tap in your room, or the mini fridge stocked with a variety of quality craft beer, it's some of the little touches you aren't expecting that really show how much thought was put in the hotel. The shampoo, conditioner, body wash and soap are all made locally by infusing the Elvis Juice IPA into each product. The in-room coffee offered is locally roasted by Stauf's coffee, a nice touch showcasing BrewDog's desire to support local businesses in Columbus.
Make sure your drinking adventure does not end with being passed out on the floor, because the bed is quite comfortable. The mattress is very plush and the comforter is nice and heavy, perfect for those chilly fall evenings. Now that you have taken all the room pictures and posted them on your respective social media sites (pfft… millennials…), fill that glassware with some kegerator beer, sit back and take a moment to enjoy the craftsmanship and details that went into each and every room.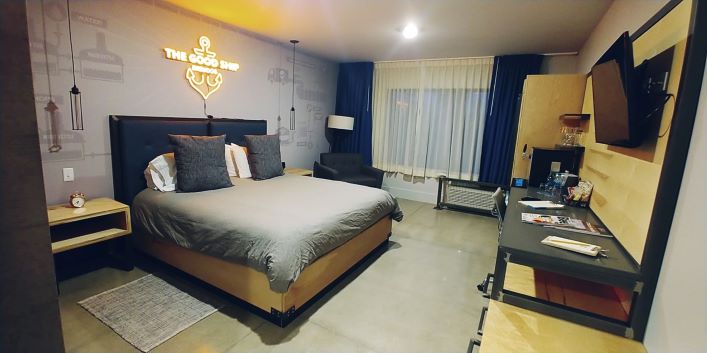 The Food
By this time, you should have cleaned out that 64 oz growler in your room, so it's best we get that stomach full of some grub. A beer-focused resort is nothing if it doesn't have good food and, lucky for you, The DogTap hits the spot. If you're staying on a Friday and Saturday night and the restaurant is booked (as it was for us), don't worry. If you're staying at the hotel, the staff will make a special reservation from you based on your desired time to dine. The food menu is elevated pub grub that includes everything you need to compliment your day of heavy drinking; pretzels, pizza, tacos, burgers (including a very good house made veggie burger). At this point, you should be a few beers in, so best to pace yourself and order a round of flights. This is the best way to enjoy a variety of BrewDog's food friendly beers to compliment your appetizer and entrée. The NE style IPA, Hazy Jane, as well as the People Power Pale Ale and Lost Lager, all compliment the meat, cheese and bread you should currently be shoving into your face. Being that this is a trip of indulgence, better save room in that ever-expanding stomach of yours and get one of BrewDog's signature beer floats for dessert paired with BrewDog's delicious Jet Black Heart Sweet Stout.
View this post on Instagram
Time to head back to the lounge for more board games, table games or a quiet night of just sitting back on one of the comfortable leather couches with a good book. At his point you're probably sick of beer, so luckily the BrewDog Lounge has a carefully selected, limited menu of fine whiskeys and bourbons as well; a great way to end your night.
The Hangover
BrewDog knows you're here to indulge and kindly takes this into account with their free breakfast offerings the next morning. During our visit, the hotel offered had huevos rancheros, meat and cheese plates, pastries and variety of juices and coffee to soak up the shame and prepare their guests for another day of drinking. It's hair of the dog time, and no better way to tie one on, than to enjoy a BrewDog beer in the shower. It's a new day.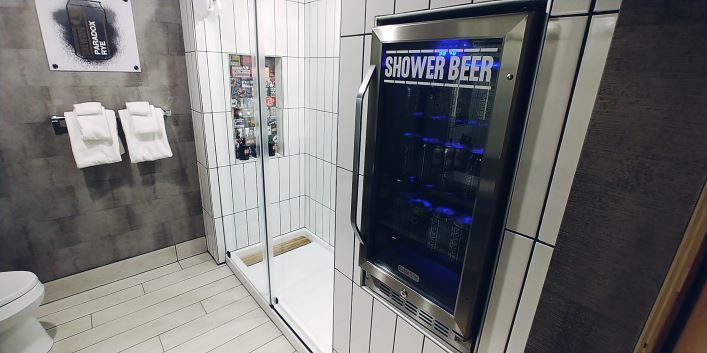 In closing, if none of this sounds remotely appealing or interesting to you, why the hell did you even read this all the way to the end? I think there is a kale farm for you to volunteer at some where out there. BrewDog's DogHouse Hotel spares no expense when it comes to ensuring that their guests do not go home without their thirst fully quenched. So if you're a beer fanatic looking for the ultimate beercation in middle America, the DogHouse in Columbus, Ohio, is a can't-miss destination.
---