No Comments
Dovetail Brewery Releases Helles as First Can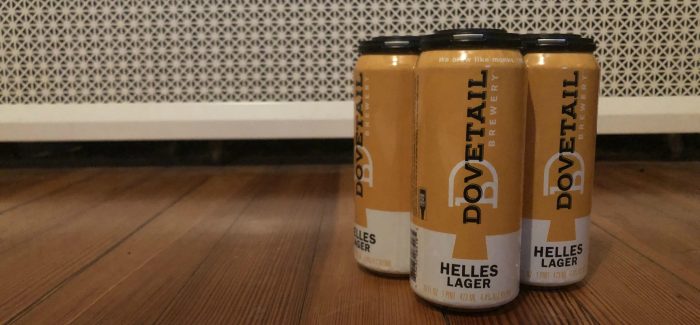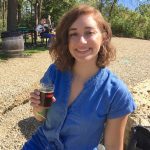 Almost one year after releasing its first bottled beer, Dovetail Brewery brings its signature Helles to cans. Beginning this week, locals can pick up a four-pack of the 16-ounce cans at the brewery's North Center taproom.
Focusing on continental European styles, Dovetail's brewers and owners Hagen Dost and Bill Wesselink stick to traditional European methods. The Dovetail Helles is a 4.4% ABV German-style lager made with all pilsner malt and Saphir hops, producing a malty, floral, easy-drinking lager. Helles was originally brewed just for the summer as a limited release, but Dovetail recognized the light and refreshing beer had a life beyond the warm and sunny months.
Dovetail's decision to can this latest to-go beer is based on a commitment to freshness and customer preferences. Dost notes that cans have become the container of choice for craft beer. With this, there are more opportunities for brewers to can their beer, such as mobile canning services, which Dovetail uses in lieu of having a costly canning line on site. On top of the popularity of cans, the vessels also allow for reliable freshness.
https://www.instagram.com/p/BrQKNX1HGYp/
Many Chicagoans know Dovetail for its three core opening beers: the Dovetail Lager, Hefeweizen, and Rauchbier. Though the Lager is the brewery's top-selling beer in the taproom and on tap at local bars and restaurants, Dovetail chooses not to can that particular beer out of respect for their customers.
"One of the things we've been driving from the beginning is that we need to show our customers love," said Dost. "We don't want to compete with our own customers."
By keeping the Lager solely available by the glass (and growler) at the taproom and on draft at several drinking and dining establishments, Dovetail ensures guests still enjoy an exclusive experience when they order a glass of the Lager – a beer that can't be picked up at the corner store.
Many Chicago breweries are jumping on the canning line alongside Dovetail. Whether switching from bottles to cans or diving into takeaway beers for the first time via cans, like Cruz Blanca. The Rick-Bayless-helmed brewery and taqueria recently announced three of its beers are now available in cans: Mexico Calling Lager Especial, El Train American IPA, and Palm Shade Tropical Pale Ale.
Dovetail Helles in cans will be available at local retailers beginning Thursday, December 13. The brewery will release its second canned beer, the Vienna Lager, on Wednesday, December 19. Dovetail's bottled beers include experimental XO1 Flanders Rauch and XO2 Wild Table Beer, Kriek, and 12.25.16 Lambic.
---