No Comments
Ultimate 6er | Bah, Humbuzz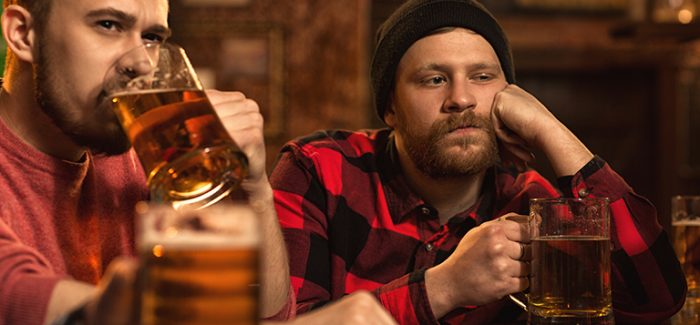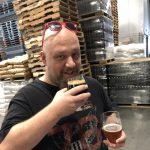 Cheer and happiness and all that festive crap is important, I suppose. But once in a while, the get-off-my-lawn crowd needs a shoutout. If you love the holidays and feel all warm and tingly at the sight of fresh December snow, this ain't the article for you, Cindy Lou Who. This one's for the grinches, the scrooges, the grown Charlie Browns; the curmudgeonly and cantankerous cranks of the world.
My promise to you right off the bat, is that there will be no cute rhymes here. If there's anything I hate more than holiday music, it's the nauseating rhymes companies try to incorporate into everything. Between the stress of shopping, the weather, traffic and that unbearable Mariah Carey song, we need an Ultimate 6er – and not just any 6er – to get us through to New Year's Day. There are 12 shopping days left until Christmas, and today is 12/12. So here's a 6er of beers that are all at least 12% ABV to pair with the season's most pervasive annoyances.

Annoyance #1: Holiday Music
There are actually people in this world who voluntarily – nay, joyfully – listen to holiday music non-stop in November and December. There are radio/tv stations devoted specifically to this suspiciously upbeat demographic. I love music, and I'm not usually one to criticize anyone's musical leanings, but this is different. Modern holiday music is the most heinous noise propagated across the world's airwaves since infamous d-bag Fred Durst all but ruined music in the '90s. I would rather listen to the high-pitched squeak of a cat chewing on balled-up wool socks while a restaurant full of people scrape forks across ceramic plates than suffer through one more minute of Christmas music (with the possible exception of Dropkick Murphys). I invite you to click that link and listen as you read along to get you in the spirit.
https://www.instagram.com/p/BqLRZStAcub/
With all the sickening, saccharine music that you'll have to endure throughout the next couple of weeks, you need something nice and hoppy with IBUs off the charts. There aren't too many beers better suited for this than Dogfish Head's "120 Minute IPA." With an ABV between 15% and 20% depending on the year, it's got all the bitter, hoppy goodness you'll need to keep "All I Want for Christmas" out of your head for at least a couple of hours.
---
Annoyance #2: Insane Relatives
That thousand-mile barrier between you and your family sure makes it easier to love (and occasionally miss) your parents. Unless of course you currently live with your parents. Maybe you're just saving money for a house, or trying to pay off that crippling student loan debt. Maybe you're a grown-ass adult who's having a hard time right now because someone told you an English degree would be "the right choice" in college.
Whatever the case may be, it only takes a day or two to remember how sweet it is living on your own. We've all got a weird uncle or aunt (unless you're the weirdo), and while there's an odd charm to dorky jokes and a quirky lack of social grace, the whole "family" thing wears on you pretty damn quickly when it's all packed into one inescapable loony bin.
https://www.instagram.com/p/BfGkZw-AOJ6/
To help ease the pain of loving dysfunction, I recommend Uncle Jacob's Stout from Avery Brewing Co. This Imperial Stout is aged in bourbon barrels for six months – the same age as the screaming hordes of demon spawn that infest every holiday flight you'll be taking this year. Dear Uncle Jake is malty and smooth, but also boozy enough that your taste buds will know that you're getting the job done properly. A beer that packs this kind of heat is the only way you're going to make it to 2019 without setting your childhood home on fire. So pair this 15% ABV holiday cure-all with your favorite dessert, then sit back and talk conspiracy theories with your father-in-law.
---
Annoyance #3: Bad Weather
You know, I don't really mind snow that much as long as I don't have to drive anywhere. To be honest I don't mind chilly weather, either. What irritates me is that at the first sight of snow, people turn every square inch of commercial real estate into a purge-like apocalyptic cage match. Denver has a pretty mild climate, really, but we do see snow EVERY YEAR, so I will never understand the nuclear-war level of panic that goes on. That 24-pack of La Croix and gallon tub of salsa can wait, my people. The snow will melt tomorrow.
https://www.instagram.com/p/Boz7QkInTog/
Avoid the chaotic buy-in-bulk frenzy by keeping the essentials continually stocked in your fridge: mustard, hot sauce, some kind of sliced cheese, and lots of high-quality, high-ABV beer. This year I was pleasantly surprised by how complex and delicious Copper Kettle's "Snowed In" lineup was. There's a lot of competition for Barrel-Aged Stouts, and the coconutty, chocolaty-smooth 12.8% brew could arguably be put in the conversation with longtime staples like Dark Star, BA Ten Fidy and recent batches of Parabola.
---
Annoyance #4: Holiday Shopping
My bank account, she mocks me. I depend on her to purchase the finer things in life, like band t-shirts, hamburgers with glazed donuts as the bun and independently crafted brew. But come holiday time, my revenue stream gets diverted from the pleasure centers of my brain to the spiraling whirlpool of rampant Christmas commercialism.
I like giving people gifts. It's one of my few admirable qualities. What I don't like is clawing my way through a crowd of stampeding bulls to get a great deal on a TV. I don't participate in Black Friday, but I do peruse the deals on Cyber Monday, which is now just one part of a month-long "sale" that starts the week before Thanksgiving. Gotta hit those pre-pre-pre-Black Friday sales. That's where the real deals are at.
https://www.instagram.com/p/BpzwdBxg9e_/
By the time I get done shopping, wrapping and bandaging up papercuts, my living room absolutely looks like a Christmas bomb has gone off in my house. So Prairie Artisan Ales' Christmas Bomb is the perfect beer to sit and drink while you marvel at the bounty that has financially destroyed you yet again. Christmas Bomb is a variant of Prairie's Bomb series but amped up a bit with holiday spices and a get-the-job-done 13% ABV.
---
Annoyance #5: Weird Traditions
Wherever you land on the whole Pagan/Christian/commercialism spectrum of Christmas ideology, let's all agree on one thing: holiday traditions are freaking weird. I'm not just talking about the "standard" weird things like mistletoe, caroling, ugly sweaters and fruitcake, but also the other traditions that your families come up with. Who's the lunatic in your family who sends out the annual "state of the union" letter? Is it you? Are you the one making bland dad jokes and prattling on about little Jimmy Jerkface making the honor roll? How about the endless, vicious cycle of families trying to outdo one another with wacky Christmas card photos? Matching sweaters? Silly poses?? Whaaaat?!? You so crazy…
Anyway, if you ask my dear old granny, she probably won't reply because she's dead. But back in the day if you had asked her, she would say that there are only a few traditions we really need to bother with during the holiday season: a big family supper, cigars, bare-knuckle boxing and lots of hardcore beer drinking. Grandma also felt the need to drag my heathen ass to church every Sunday when I was young. So, as someone who had religion pounded into my young and still-developing brain, I feel obligated to make at least one mention of that one guy… you know who I'm talking about. The sandals guy… long hair, bitchin' abs? That guy.
https://www.instagram.com/p/BKCVmQYApgO/
Even More Jesus from Evil Twin Brewing is dark chocolate fudge in a bottle…er can. I realize that this list is mostly made up of imperial stouts, by the way. I do appreciate a good winter beer that isn't a stout, to be clear. But when it comes to mind-numbing, thick-as-molasses, high-ABV relief, we often turn to the imperial stout, and that's alright with me. At 12% ABV, EMJ makes you wonder why the dude wasted his time with wine when he could've been turning water into a righteous, malty brew.
---
Annoyance #6: Christmas Day
So Happens It's Tuesday | The Bruery
Having three or four Christmas celebrations to go to is really great when you're a kid. But as an adult, splitting time between several families turns Christmas Day into less of a happy celebration, and more of a hellish fate-tempting series of runs through a gauntlet of bad drivers on hundred-mile-long sheets of black ice.
There's a lot of empathy given to people who are lonely or alone on Christmas. And you know what, if you took it all away from me, there might come a time when I miss it. I'll write a new story if that ever becomes the case. But right now, I'm cracking open a beer, pretending I've gotten all my shopping done, and daydreaming about beautiful things:
I envision a Christmas Day where everyone saves their cash, stays off the roads, orders in Chinese food, and leaves me alone to curl up on the couch with ANYTHING but "The Christmas Story" marathon. And of course, there's plenty of winter brews stocked in the fridge next to the Christmas ham nobody had to cook. It would be just like any other Tuesday, except I don't have to go to work.
https://www.instagram.com/p/BpC2HSWBTH7/
This year, it just so happens Christmas is on a Tuesday, which makes it very convenient to pick a beer for the occasion. So Happens it's Tuesday is a staple seasonal Stout – the sister beer of Black Tuesday, which was named for the devastating stock market crash of 1929. While it might take more than a 14% bomber to make you forget your financial woes this holiday season, it's at least a step in the right direction.
Cheers to all of you out there in the grind, pushing through the holiday season to make other people happy, even when you feel completely dead inside. That's what a hero does. Grinches of the world, unite. You're not alone.
---