No Comments
Strong BA Series | River North Brewery – Barrel Conspiracy: Mr. Sandman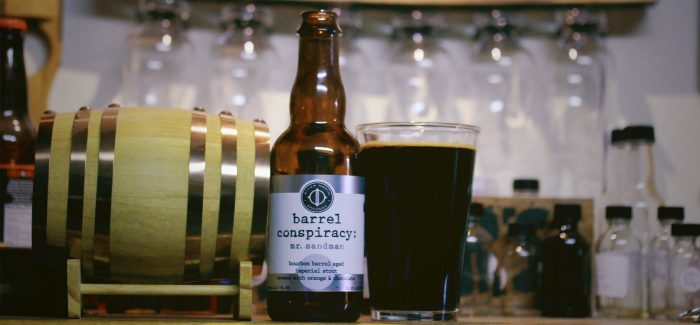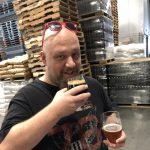 With an in-state distribution footprint that stretches to every corner of Colorado, Denver's River North Brewery is a longtime local favorite. Despite its reach, its longevity and its reputation among hardcore craft enthusiasts, River North has still managed to remain somewhat of an underrated contender in the world of barrel-aged beers.
"It's one of those things… the ones who know, know. But a lot of folks don't know," says Matt Sauerwein, sales director for River North. "Before COVID, I spent 90% of my time talking to people about the barrel-aging program here because we've been under the radar for so long. Even with good distribution in the state — you can find our barrel-aged bottles just about everywhere in Colorado — we're a bit of an  unknown. Not everyone is willing to throw down $12+ for a bottle they're unsure of."
River North's Barrel Aging Program
As they near 10 years in business, the team at River North has started to stand out as Colorado's most prolific producer of big, barrel-aged beers. Other, smaller breweries like the excellent Burns Family Artisan Ales specialize in strong beers, but not to the scale of River North (Saurwein half-jokes that he'd love to do a super high-ABV collaboration with Burns, like a 30% ABV knockout). "Avery might have been the big name in big beers before us, but they don't seem to brew and distribute quite as many as they used to," Saurwein says as he helps finish wax-dipping bottles of Last Guardian, a 15.1% Golden Ale.
River North's Single Cask Series is the heart and soul of their BA program. "The whole point of what we do with the Single Cask Series is to let each barrel speak for itself and shine. We want to see what each single barrel does and how it changes the beer." In-house, River North is able to experiment with different kinds of strong beers like Barleywines, Belgian Quads, Golden Strong Ales and more. For wider distribution, the brewery tends to lean on the more traditional barrel-aged Imperial Stout.
Barrel Conspiracy
Liquor stores who understand what kind of magic River North can do with a barrel of beer (and who also have access to unique barrels) started reaching out to the brewery for collaborations.
"Barrel Conspiracy is a limited series, because there's a lot that goes into it," Saurwein says. "For the Molly's Spirits collaboration, they had a barrel of Laws' Four Grain Bourbon that they hand-picked. They bottled and sold the juice as a single barrel in their store, and then sent us the barrel to fill with beer — in this case, our Mr. Sandman Imperial Stout."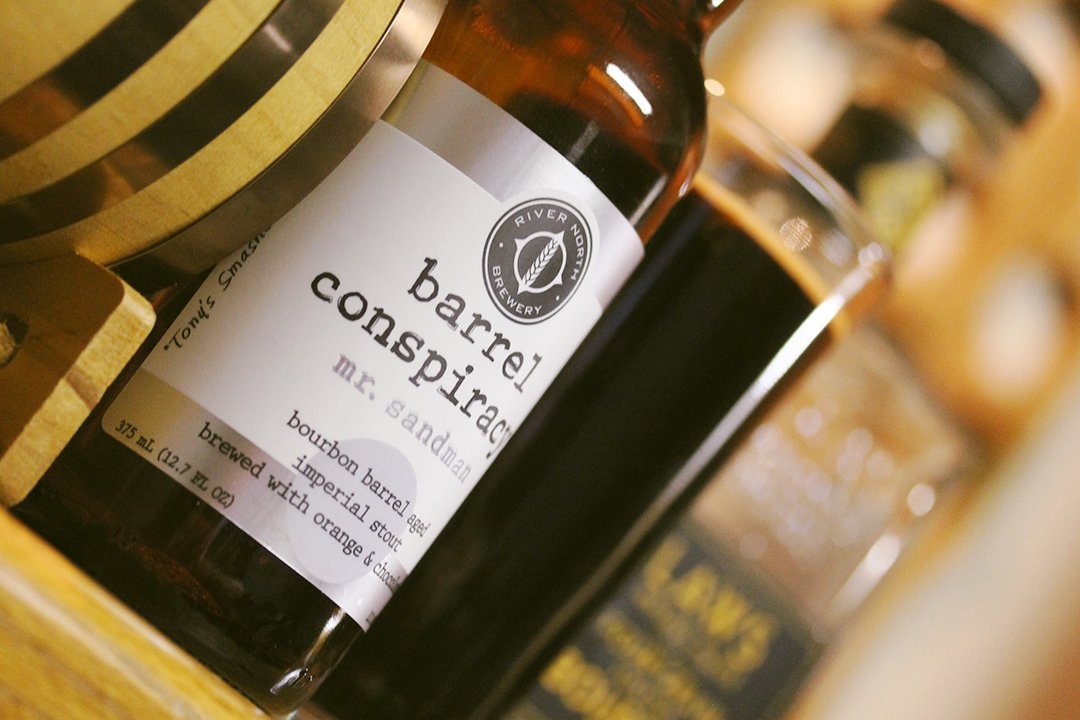 Since it's a complicated process, River North typically only does the Barrel Conspiracy collaborations with stores that have a large customer base and can provide a good, unique, in-tact barrel (they've gotten barrels before that were no longer water-tight). And even then, other issues can prevent the collaboration from being a success.
"We don't typically use adjuncts in our beer. But Molly's said if we just send them a plain old BA Stout, it wouldn't sell that well — even with their large customer base. So we all got together — A rep from Molly's, myself, our former head brewer, and our current head brewer, Matt Malloy — and we started thinking of ideas that would be good for this time of year. Someone said 'do you remember the smashed orange?' If you don't know, they're these wrapped candies that people get during the holidays. They come in foil and you smack them on the counter before you open them. When you unwrap them, you get a chocolate that looks like an orange, cut into thin wedges. So we ran with that idea."
Barrel Conspiracy: Mr. Sandman
From that brainstorming session came Barrel Conspiracy: Mr. Sandman, a bourbon barrel-aged Imperial Stout brewed with orange and chocolate.
"Once we had our flavors, the brewers came up with like 10-12 different versions of it and we all tasted them. We narrowed it down to the one we thought was best, and this beer is the result. It tastes just like smashed orange. Once you get that in your head, you can't get it out."
As to be expected, the beer pours molasses dark with a very thin head that clings to the glass pretty much for as long as the beer lasts. Poured cold, the nose doesn't reveal a lot of the orange character that is imbued in the beer. After letting it come closer to room temperature, the orange peel, chocolate and roasty malts aromas become very prominent.
On the palate, the orange is front and center. To balance out the sweetness of the chocolate and the roasted coffee taste of the base Stout, the bitterness of the orange is a welcome addition. All together, it's a smooth (if citrusy), balanced beer that seems to easily and dangerously cover up the fact that it's 12.8% ABV.
What's most exceptional about this beer is the finish. It lasts a crazy long time, and each time you move your tongue around your mouth, you pick up something slightly different than before. But ultimately, the orange notes win out over everything else, and the experience is very close to the smashed orange that they intended to replicate with this brew.
Barrel-Aging During COVID
"To us," Saurwein says, "it makes a lot of sense to brew lots of barrel-aged beers right now since they're almost all over 10% ABV and can be cellared for a long time. But not a lot of breweries are doing that right now; they're focused on session beers and their core lineups. It's understandable, especially for breweries that don't do their own distribution. We have a new version of Colorado Strong Ale coming out — half of it we aged in Stranahan's whiskey barrels, and we're still waiting for the okay to distribute that one. Right now it's just so hard to know what's going to happen and where we're going to be in the future, so distributors are more leery of one-off specialty beers."
As of the writing of this, Colorado is currently doing to-go or outdoor seating only at breweries, which puts a strain on all breweries. It's been a unique challenge, but River North is commited to their barrel-aged Stouts and often get compliments for the beers on tap in their RiNo and Blake Street taprooms.
"One thing I hear quite a bit is that we're one of the only breweries that has multiple Stouts on tap at any given time. Many breweries have their core beers and then a lot of IPAs. We average at least 3-4 Stouts at any given time."
Bonus Beers: The Decennial Series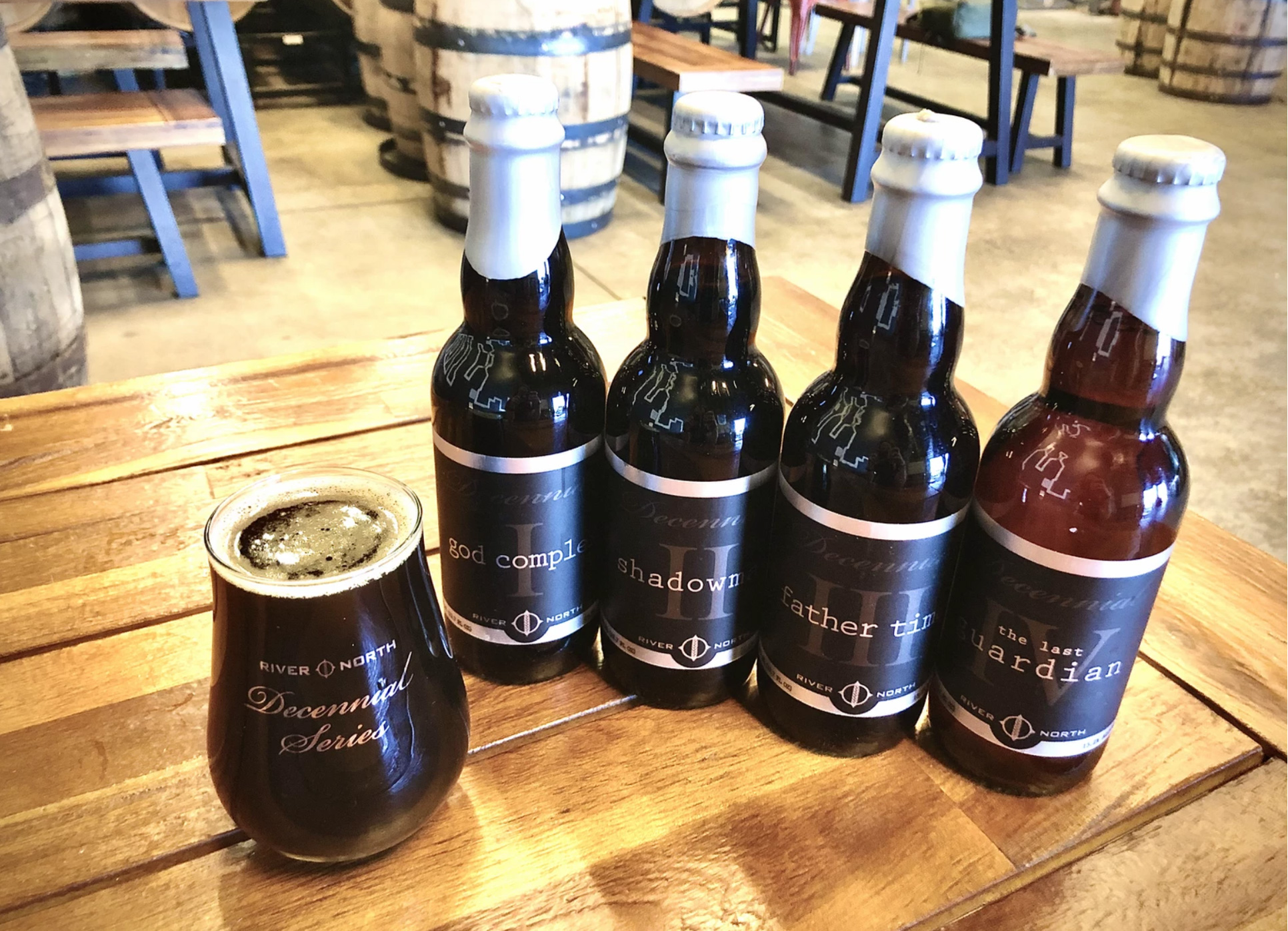 On Friday, December 5, to celebrate 10 years as a brewery, River North released a special four-bottle Decennial Series. "If you order the complete set, you get a limited-edition glass with it," says marketing manager Katie Schroepfer. "We've got a high ABV version of a Belgian Quad (God Complex), Barleywine (Father TIme), Imperial Stout (Shadowman) and a Golden Strong Ale (Last Guardian) which are all around 16%. Even if we sell out of the commemorative sets, we'll still have plenty of individual bottles to pick up, so folks can come and grab some to-go!"
The weather is cold, times are challenging, and we're all missing the comfort of coming into a taproom to warm up with a winter beer. But with their ability to adapt, and their focus on barrel-aged goodness, River North can still give you a little taste of winters past in either of their two Denver locations.
"All of those high ABV beers we have are perfect for all the outdoor dining and drinking we'll be doing this winter," says Schroepfer.
---