No Comments
Dogfish Head Stretches its Creative Roots with New Alternate Takes Whiskey Series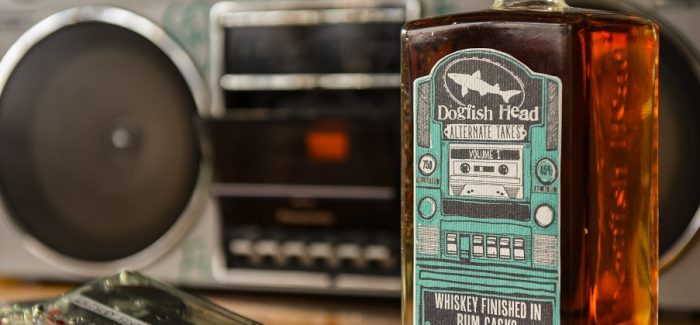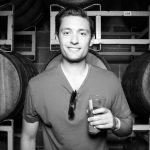 Delaware-based Dogfish Head is anything but timid when it comes to their product. From beers made with space rocks to colorful creations that combine beer and wine, the brewery most known for their intensely-hopped IPAs has made it a point to expand their creative profile beyond just beer into the lucrative distilling space. After experimenting with small batches of spirits in as early as 2002, Dogfish put their foot in the ground in 2015 with the launch of their new distillery which creates 100 percent scratch-made gin, whiskey, rum and vodka at their Milton, DE location. Now, the ambitious brewery and distiller is taking things one step further with the launch of their Alternate Takes spirits program that aims to shake up the traditional liquor you see on your local liquor store shelves.
The first volume out of Dogfish Distilling Co.'s new Alternate Takes is Volume 1, a whiskey finished in rum casks. Mixing whiskey and rum drinkers can often resemble mixing oil and water (much like macro and craft beer drinkers), which makes Dogfish's approach that much more ambitious. Dogfish's distilling program has been making traditional whiskeys and rums for several years, but never ventured to make a spirit that combined the essence of both — until now.
Twisting the narrative of what a whiskey can, or should, be is exactly the point of the new spirit, according to Dogfish's head distiller, James Montero.
"We saw an opportunity to apply the same off-centered lens, as well as a commitment to quality and consistency in our spirits program, that we do with our beer," Montero said. "Like with our beer, everything is done grain to glass with real ingredients sourced in their rawest form."
https://www.instagram.com/p/Bqx1nZ6B1zK/
The ability to roll out such a complex spirit was not a quick process. As the new, state-of-the-art distillery matured, Montero and crew methodically added new pieces like massive 500-gallon copper pots, a 250-gallon vodka column and tanks and stills of all shapes and sizes to ensure they would have the creative freedom to dream up (and then execute) ambitious and experimental spirits. One of the most recent additions was the addition of a barrel warehouse where they could store offerings like rum barrel-aged whiskey along with other exciting liquids.
Using their own honey rum barrels coupled with their proprietary "Doggie Ale" yeast makes this new creation from Dogfish Head particularly off-centered. While many brewers buy in to the latest trend or consumer fad, Dogfish is more than content with taking their own route; the results prove the point:  Volume 1 of the Alternate Takes program is a delight.
I was lucky enough to sample a small batch of the new whiskey and was impressed that a company who devotes so much time towards their beer can also be so adept in whiskey distilling (a notoriously complex process). The golden brown liquid sits smooth and bright on your tongue with a sumptuous caramel and honey body that lightens the burn. Dogfish is well-versed in barrel-aging, so they know how to balance the burn of the barrel and it's apparent in this whiskey. The honey rum barrel is effective yet mellow, adding smokey sweetness to a smooth whiskey taste. It really is almost too drinkable, especially with the realization Volume 1 comes in around 45 percent ABV, well above even Dogfish's most outlandish barrel-aged beer.
Thankfully, consumers should be able to experience the fruits of the Dogfish Distillery's labor even after Volume 1 of their Alternate Takes program runs dry. Montero notes that they aim to produce one unique whiskey creation around the holidays each year from now on. They also plan to work in lockstep with their brew team on how to repurpose the barrels used throughout their operation for a second life (and a second shot) at some barrel-aged magic. It's clear that Montero and team are excited about their ability to produce something purposeful, making a name for Dogfish Distillery and the Alternate Takes program. I'm a believer after trying out the first batch.
Alternate Takes: Volume 1, Whiskey Finished in Rum Casks will be bottled in limited quantities and available during the holidays 2018 or until supplies last. I suggest you venture out to find a bottle so you can shake up your traditional holiday drinking experience.
*Feature image courtesy of Dogfish Head
---