No Comments
The Strategic Approach Behind Dogfish Head's New Summer 12-Packs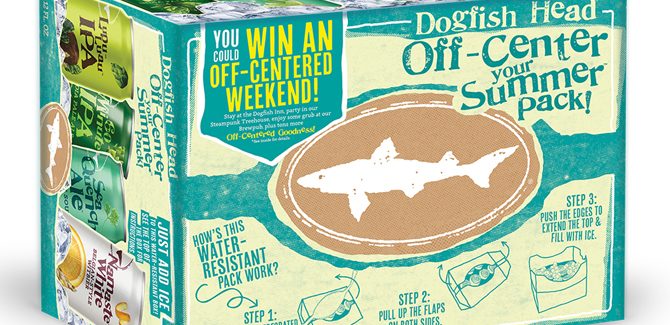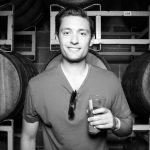 We've written on here before about Dogfish Head's passion to stand out amongst growing competition in the craft beer market. Heck, we even devoted an entire 6er to it. But crafting a beer with scorching hot chili peppers or moon dust can only go so far. At some point, you need to find new ways to set yourself apart from the beer lining the shelf next to you. In their latest move, Dogfish Head is doing just that by introducing the new Off-Center Your Summer Pack. The new pack signals their shift towards differentiation by presenting a more premium product that offers more than just a 12-pack of beer to consumers. Dogfish Head Founder and CEO Sam Calagione offered his thoughts on the new seasonal variety pack and what its introduction to the market means for Dogfish Head and the larger craft beer arena.
The new variety pack aims to be a high-end and multi-faceted product by being a packaging vehicle that has multiple functions. Along with holding twelve cans of beer, the variety pack also converts into a functional cooler – all you have to do is add ice. It's a perfect play for those heading to a summer cookout or boating trip. That said, the beer inside is highly appealing to the average craft beer drinker, as each pack will come with four cans of 60 Minute IPA, Lupu-Luau IPA, Namaste White, and their popular 2017 summer seasonal: SeaQuench Ale. Retailing at or around $20, the pack also includes a custom Dogfish Head KOOZIE® Can Kooler and a chance to win a trip to Dogfish Head's Delaware brewery for an exclusive beer adventure. While the price tag is heftier than some of its counterparts, the decision was all by design. It's a strategy that Calagione and crew have begun to implement across their coast to coast brewing footprint: set yourself apart by pricing your beer as a premium product. As shelf space for cheaper craft beer options continues to shrink, Dogfish will find breathing room at the end of the shelf thanks to its higher price point.
A witbier chock full of flavor, Namaste White digs deep into our culinary roots, using ingredients of dried organic orange slices, fresh-cut lemongrass, peppercorns and a bit of coriander for a refreshing and sessionable experience! 🍊 #craftbeer #offcentered pic.twitter.com/THunOrBvY7

— Dogfish Head Brewery (@dogfishbeer) April 2, 2018
The introduction of the new variety pack is just the next iteration of Dogfish Head's strategy to stay afloat in the increasingly choppy craft beer ocean. Calagione, in particular, is obsessed with the economics behind the beer and what he views as Economic Darwinism.  "Surviving this shake out moment we are now entering will have nothing to do with scale – it will be a tale of economic Darwinism. The consumer will decide winners and losers. I am confident they will choose breweries that are firing on all three critical cylinders of quality, consistency, and being well-differentiated."
To weather this storm, Calagione believes the market will divide itself into two camps: the fiercely local, niche breweries, and the "coast-to-coast distributing 100,000 barrel-plus indie craft brewery." The lack of a sustainable "middle" in craft beer is something that we've discussed before on this site and it makes a lot of sense when you look at the economics behind it. Per Calagione, national brewers like Stone and Bells command $40 per case at retail, while Dogfish Head and its commitment to premium command a high $52.85 per case. These three brewers skew higher and therefore offer better margins, which provides a buffer from mistakes and consumer variables. But those in the "middle" of craft beer only command $37.97 per case – per IRI. The margin for error is a lot steeper and the impacts of a few bad months of sales can be destructive for a brand. As you might have seen in your own town, the risk of being caught in this "middle" becomes too high for many young breweries, who instead opt to become a hyper-local "small" operation that relies on its brewpub to drive sales, traffic and distribution.
As you can see from the above, the market for craft beer in 2018 is not for the timid or weak-hearted due to the constant flux of new beer and harsh closings – look no farther than the sad story ongoing with Green Flash Brewing. Thankfully, Calagione and his bullish personality are well prepared to navigate the current market through shrewd packaging moves like the Off-Center Your Summer Variety Pack and the quality team he has built. "Dogfish is succeeding at this challenging moment because we have great salespeople covering every major market, we have great integrated sales & marketing plans on a manageable trimester basis, and we have great focus on our high-five brands."
The new pack should be on shelves this summer and I have a feeling it won't be the last packaging move Dogfish makes this summer. Cheers!
Feature image courtesy of Dogfish Head Brewing
---