No Comments
Weekly Buzz | September 23 – September 29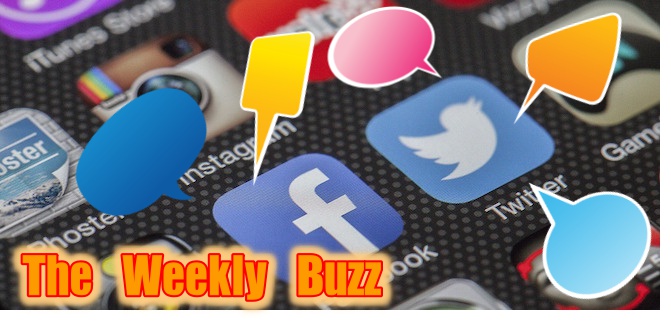 Autumn is in full swing. Oktoberfest's and block parties are popping up nation-wide, and the hop harvest continues. Events for GABF are starting to roll in, and, of course, we found a little beer-related nonsense for you, too. All this and more in the latest edition of The Weekly Buzz!
I'm not sure the math checks out, but we all agree with their basic premise!
Fact: the #GreatAmericanBeerFestival is 118% more awesomer when wearing lederhosen. #TGIGABF pic.twitter.com/TsuWSj67wF

— GABF (@GABF) September 23, 2016
---
A move like this has the potential to hurt craft beer growth in Michigan. What do you think?
Increasing Michigan's beer tax would hurt breweries, brewpubs, distributors, retailers, farmers and beer lovers across the state. #nobeertax pic.twitter.com/jK4B5wrpOF

— Michigan Beer & Wine (@MIBeerandWine) September 23, 2016
---
The Alpenhorns are about to get this Oktoberfest started at Urban Chestnut Brewing!
Horns are about to sound at #OKTOBERFESTSTL pic.twitter.com/XftROnFClI

— UrbanChestnutBrewing (@urbanchestnut) September 23, 2016
---
Goose Island is providing the ultimate service at the 312 Block Party.
Shaving off beards and man buns for charity. #312BlockParty pic.twitter.com/0CkZNzp8iH

— Goose Island Beer Co (@GooseIsland) September 23, 2016
---
Where do you stand on the issue?
Beer Distributors join other special interest groups in opposing #marijuana legalization. https://t.co/Dt3bAYKscu pic.twitter.com/5QrKlcsw0u

— RateBeer (@ratebeer) September 24, 2016
---
Lots of Oktoberfest celebrations this week!
Be sure to stop by @vtoktoberfest today. Some great German beer with several #vtbeer too in #btv pic.twitter.com/HW8YpOA3kd

— Vermont Beer (@vtbeer) September 24, 2016
---
Night Shift is ready to pay tribute to the great Fest on the Wies'n, too!
#Oktoberfest Alert!! Beer + Music + Food = an epic beer fest at @NightShiftBeer today!! https://t.co/6Br9f6WRO0 pic.twitter.com/K7Qci1OljI

— BostonAttitude (@BostonAttitude) September 24, 2016
---
Great news for Rhinegeist and Boston! Now, if they'd just distribute a tiny bit further South…
We're heading East! Our beer launches full-time in Boston and across Massachusetts starting Monday.
Event schedule: https://t.co/TSrEnDBqHF pic.twitter.com/FMccOjn3WC

— Rhinegeist (@rhinegeist) September 22, 2016
---
Craft breweries, we salute you!
— Straight Hops (@TheStraightHops) September 24, 2016
---
That Philly-Burgh rivalry can be pretty intense. Thanks to Yuengling for trying to keep Pennsylvania unified.
One thing Pittsburgh and Philly fans can agree on, their #GameDayLager. pic.twitter.com/0A724SifYT

— Yuengling Brewery (@Yuengling_Beer) September 25, 2016
---
That's a beautiful flower… I wish someone would send me a bouquet of these!
While you're apple picking, our brewers are hop picking! Or selecting that is, at hop selection in Yakima.?? pic.twitter.com/OO9vKFSOOh

— Left Hand Brewing Co (@LeftHandBrewing) September 26, 2016
---
This brewery's giving a little something back to a good cause. You gotta love that!
This Tuesday @NightShiftBeer !! 6-10 pm. Awesome raffle & 50/50 raffle. Jamaica Mi Hungry food truck! Who is coming?! pic.twitter.com/VoRqc2QlXM

— The Boxer Rescue (@TheBoxerRescue) September 25, 2016
---
Hmmm…. which one will it be?
It's a very hoppy Monday! Assistant Brewmaster Mark is out in Yakima selecting hops & on today's agenda…Palisade! pic.twitter.com/PwoWwzVQXk

— Dogfish Head Brewery (@dogfishbeer) September 26, 2016
---
Someone's testing their new can line!!
Extrovert cans arrived for testing! Look for them on shelves this winter! pic.twitter.com/QvJEgtLpYr

— Left Hand Brewing Co (@LeftHandBrewing) September 26, 2016
---
So THAT was his secret?! I drink good beer. Why haven't the Eagles drafted me yet?
The night before the Steelers game, Wentz had beer from the oldest brewery in the world ? https://t.co/pBPBUehvRk

— Billy Penn (@billy_penn) September 26, 2016
---
Good on ya, Left Hand Brewing. Way to put those pedaling legs to good use!
9 yrs, 6 states, 482 riders, countless miles, & now… $2 million! Congrats to @TeamLeftHand for raising $2M for @mssociety! pic.twitter.com/KK2AoWXPKG

— Left Hand Brewing Co (@LeftHandBrewing) September 27, 2016
---
Porn pages are getting tricky these days…
Porn pages have been tagging @Boulevard_Beer as the location for their posts on Facebook causing me to do this a few times a week. pic.twitter.com/0bjIDTAxYq

— Jeremy Danner (@Jeremy_Danner) September 27, 2016
---
Are you registered to vote?
Holy smokes, it's #NationalVoterRegistrationDay! Are you set for Nov. 8? https://t.co/nocLBLqoMF pic.twitter.com/ZLhU4rxUi8

— New Belgium Brewing (@newbelgium) September 27, 2016
---
Avery Brewing's got some plans for GABF. Do you?
As if you needed another reason to party during GAB…well yeah, yeah you do. Check out our full line up of events around town. Seeya there! pic.twitter.com/7ODnlY6auw

— Avery Brewing Co (@AveryBrewingCo) September 27, 2016
---
Oskar Blues has some GABF fun on the schedule, too!
.@GABF is next week, people. These #OskarBlues ORDEAL events are where it's at. Get your tix: https://t.co/yNEZnM2Xzq pic.twitter.com/6IUpNPoSqW

— Oskar Blues Brewery (@oskarblues) September 27, 2016
---
I'd have to say, "Not very well."
Valid scientific point. #gabeer pic.twitter.com/PAfVRY9mIU

— oconeebrewingco (@oconeebrewingco) September 28, 2016
---
A great, free educational tool from the Brewers Association.
FREE Online Brewery Safety Training – https://t.co/XPN8CEvdB5 #BeerBiz pic.twitter.com/Vrgga4nQEh

— Brewers Association (@BrewersAssoc) September 28, 2016
---
An Oktoberfest in the shadow of a former steel mill? Don't mind if we do! (Mustaches Optional)
THINGS TO DO THIS WEEK! Oktoberfest begins! Prost! Watch here: https://t.co/RGMvEyFjEw pic.twitter.com/IQfwqCNejM

— SteelStacks (@SteelStacks) September 27, 2016
---
Uh oh! Someone has construction going on!
It might not look like much, but our #ElkRapids Production Facility expansion is officially underway! #ShortsBrew #StarcutCiders pic.twitter.com/TIbTffmRoh

— Short's Brewing (@ShortsBrewing) September 29, 2016
---
If it's good for my health, I guess I have to drink it.
Commercials during Saturday morning cartoons in the 70's taught us about a well-balanced breakfast. pic.twitter.com/CGpGZZCP2H

— Metropolitan Brewing (@MetroBrewing) September 25, 2016
---