2 Comments
Great Lakes Brewing Company Releases 2019 Beer Lineup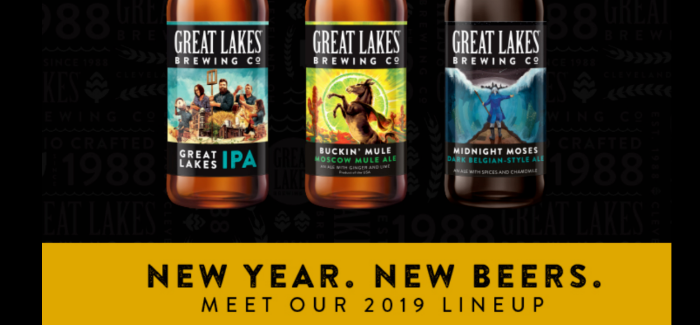 Born in 1988, the 30-year-old independent and employee-owned brewery, Great Lakes Brewing Company (GLBC) has announced its 2019 lineup. Alongside favorites such as Edmund Fitzgerald Porter and Burning River Pale Ale, GLBC unveils its new, year-round Great Lakes IPA, an IPA that honors its employee owners. As well, GLBC has a new cocktail-inspired Buckin' Mule Moscow Mule Ale, and the Moses Mix Variety Pack, which features Holy Moses White Ale alongside two variants. But, that's not all. New cans, new branding and new beers highlight the schedule for next year.

Two New Beers
Great Lakes IPA: A new year-round beer that pays tribute to the brewery's employee-owners (Debuts March 2019)
Great Lakes IPA joins the year-round lineup and pays homage to the company's employee-owners. Brewed with lemon peel, Mosaic, Lemondrop, Azacca and Simcoe hops, GLBC notes, "the refreshing dry-hopped, citrus-forward American IPA joins GLBC's year-round portfolio in 6-Packs, 12-Packs, and draft beginning March 2019. Its label, created by illustrator Sam Hadley, features portraits of GLBC employees who are now owners thanks to an Employee Stock Ownership Plan (ESOP) introduced by founders Patrick and Daniel Conway in 2018."
Buckin' Mule Moscow Mule Ale (Debuts June 2019)
Taking inspiration from the classic Moscow Mule cocktail, the GLBC Operations Team developed Buckin' Mule on  the brewery's new 2-barrel pilot system, GLBC explains: "Brewed with fresh ginger, lime peel, rye and Citra hops, the unique unfiltered seasonal beer debuts in June, 2019 in 4-Packs and draft. Its playful label illustrated by artist Sam Hadley features a bucking mule in a Western-inspired scene complete with ginger cacti and a lime sunset.
Holy Moses Variety Pack & Variants
In addition to the year-round variety pack, GLBC will releases its Moses Mix Variety Pack in May, comprises of the year-round Holy Moses White Ale, the seasonal Holy Moses Raspberry White Ale and the new Midnight Moses Dark Belgian-Style Ale
"Formerly a GLBC pub exclusive beer,' explains GLBC, "Midnight Moses combines Holy Moses White Ale's orange peel and coriander with black malt, bringing rich chocolatey flavors to the Belgian-style Wit's spicy, citrusy and effervescent profile."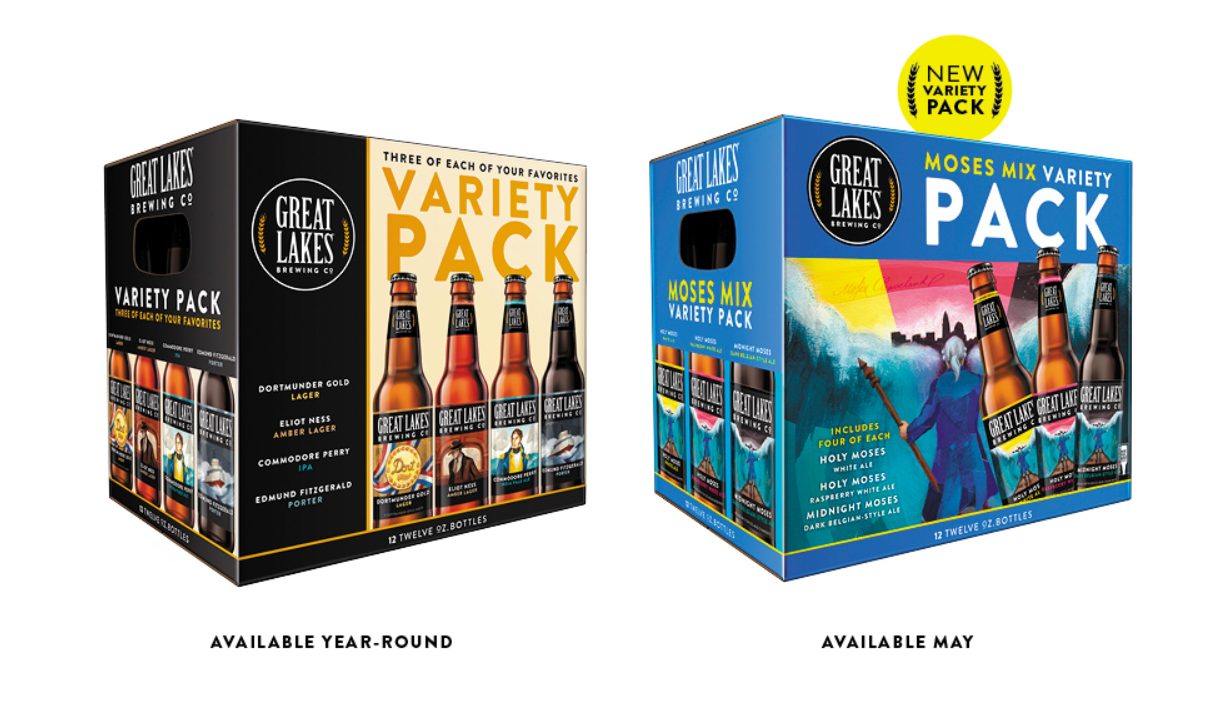 Some Great Lakes Brewing Co. Canning News
New Packages
The year-round Lightkeeper Blonde Ale will be available in 12-ounce 6-Packs. Meanwhile, Rally Drum Red Ale, which will arrive in time for the opening day in April, and Moondog ESB (September) also return in 2019 and will be available in 16 oz. can 4-Packs.
Legendary Series 4-packs include updated branding & packaging
The new "Legendary Series" name and design "complement the mythological stories and premium nature" of GLBC's cult favorites:
Chillwave Double IPA,
Lake Erie Monster Imperial IPA
Buckin' Mule Moscow Mule Ale
Nosferatu Imperial Red Ale
Blackout Stout Imperial Stout
Great Lakes notes that "Lake Erie Monster Imperial IPA will also feature ferocious new label artwork by illustrator Sam Hadley."
Great Lakes Brewing Company 2019 Release Calendar 
---