No Comments
A Forever Flagship: Larry Bell Talks about Two Hearted and What Comes Next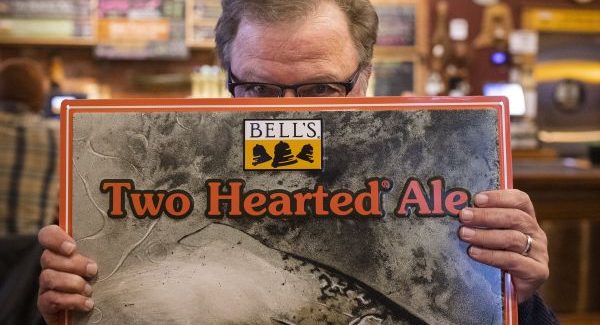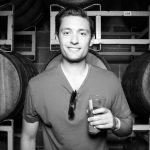 To appreciate the many wild branches of today's craft beer industry in America, one must take note of its roots. There are few bigger pillars in the American brewing industry than Larry Bell, the founder of Bell's Brewery. What started as a humble homebrew supply store in the '80s has turned into a craft brewing powerhouse that remains a foundational stitch of the modern brewing fabric. A testament to the Michigan brewer's impact is the sustained success of Two Hearted IPA. Alongside their Oberon Wheat Ale, the unassuming IPA with a fish on the green-hued label is a beer that helped modernize the craft beer scene and helped establish the IPA trend in America. PorchDrinking sat down with Bell's founder Larry Bell to learn more about the history of the flagship and what comes next.
Stop and Start…Then, Success
There are few tap lists or beer menus that don't include Bell's Two Hearted IPA these days thanks to its well-balanced malt profile and fruity yet bitter flavor profile that highlights the Centennial hop. Back in the beginning, the hops were actually sourced from Wisconsin; now, Bell's is the largest purveyor of Centennial hops in the world thanks to the massive year-round production requirements of Two Hearted. But it didn't start out that way–not even close. 
The first recipe for Two Hearted actually fell flat when Larry first started brewing commercially. Then, as Bell's grew and added new brewers, Larry and team decided to give it a second shot–with a few proprietary tweaks of course. Version 2.0 became a seasonal staple of the brewery, but still paled in comparison to the production cap of Oberon. Then, Americans started to develop a taste for bitter yet balanced IPAs, driving demand for Two Hearted and instituting it as a year-round staple in 2004. Since then, Larry says that Two Hearted has impressively grown in volume year over year and is now the primary driver of the sales for the brewery along with Oberon of course. Bell's produced over 200,000 barrels of Two Hearted in 2018 alone.
https://www.instagram.com/p/BtWwgV8D6ak/
Earning Accolades for the Midwest
In the early days of IPA, many drinkers believed that only West Coast brewers had the ability to make truly exceptional hop-forward IPAs. That all changed when Larry entered Two Hearted into the annual Alpha King IPA Challenge at the Great American Beer Festival back in 1999. Ten beers were entered: Nine from the West Coast and Two Hearted from Michigan for the title of best IPA. Guess who won? "It turned into a big media circus; I got crowned. People thought…"Well, what do you mean, Midwest brewers can't brew with hops?" Well yes, actually we can, you don't have a stranglehold on that any more."

https://www.instagram.com/p/BqcaZJcANrh/
It was the first award that Larry and Two Hearted won. Thankfully, it was far from the last, with Two Hearted consistently earning accolades from Michigan press, national media and an almost consistent spot on Zymurgy's Best Beers in America survey. Two Hearted actually reclaimed its #1 spot in their 2018 survey. "Obviously we feel happy to get those accolades, especially for the staff and brewers who brewed the beer and work so hard on it," said Bell.
Weathering the Hazy Storm
So, how does Two Hearted consistently show up on the top of the best beer's list? "I don't think it tries to be anything it's not. [Two Hearted] never tried to be flashy, it's just a well-balanced single-hopped IPA. It's a consistent product that i think consumers trust." Two Hearted's ability to stand out amongst today's haze craze as a single-hopped Centennial IPA is a testament to Bell's brewing process and their ability to get the best quality ingredients for their beer. Larry notes that Bell's is the world's largest buyer of Centennial hops, which obviously has its perks. The most paramount being that they often get first choice on the new crop.
Still, consumers are more adventurous with their IPA choices now then they ever were. They want multiple hops, flaked oats, lactose, and everything in between. It's a market that is ultra-competitive, yet one that Larry thinks is here to stay and it shows with the release of Bell's new Official Hazy IPA. Then again, those more decadent IPA offerings definitely aren't for everyone. "The truth of the matter is people drink a lot of standard IPAs like Two Hearted still. You might not hear about, it might not be as sexy, but it still commands a place for beer drinkers."
https://www.instagram.com/p/BsmFFg0DL9s/
One of Two Hearted's most appealing traits, besides from it's consistent flavor, is it's consistent shelf life. Longevity on shelves is not something the current round of hazy IPAs can offer and it's something that Larry thinks sets Two Hearted and IPAs like it apart from some of its murkier colleagues. "We've done a really good job keeping Two Hearted flavor intact with some longevity in a bottle and keeping it as shelf stable as we can possibly get it."
Exciting Variations Coming Soon:
With so much success behind one brand, it only makes sense to double down on it. Earlier this year, Bell's revealed that Double Two Hearted is coming this summer in bottles for the first time. Larry is happy to report that their post announcing the news was their biggest post ever on Instagram.
https://www.instagram.com/p/BtCPPDPnevo/
The excitement for Double Two Hearted extends past this January, however. Larry says that they gave an unlabeled version of it to employees at Christmas time a few years back and were met with instant positive feedback. So why didn't this release happen sooner? Well, a lot of it comes down to hop availability. Bell's does Double IPAs well, just look at HopSlam, and they're well aware of how much hops are needed for a proper batch. In years past, they were never able to source as much Centennial hops as they needed–that finally changed this year.
It's a move that shows Bell's is more than willing to adapt and entertain the curiosity of their consumers. Speaking of entertainment, Larry even said that the brewery might (might) delve into a Black or Cold Hearted IPA–perfect to give to your ex on Valentine's Day. If their new variants are anywhere near as a good as the traditional flagship, I have a feeling that Bell's Two Hearted will be warming even of the coldest of hearts for years to come. Cheers!  
*Feature image courtesy of Joel Bissell/MLive
---