No Comments
An Interview with The Athletic's Baseball Analyst & Craft Beer Guru Eno Sarris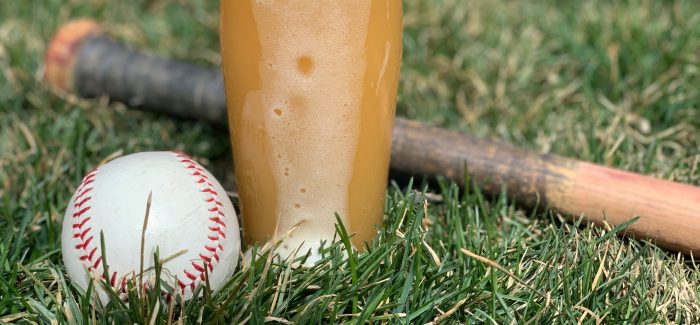 Few things can stir up nostalgia like the smell of fresh cut grass, hearing the crack of the bat, a vendor in the distance yelling "Beer here, beer here! Peanuts!" As we kickoff one of the most anticipated times of the year in the U.S. (MLB season), it can cause excitement, sentimentality and expectation. We at PorchDrinking, had the fortunate opportunity to speak with baseball analyst for The Athletic and former beer writer, Eno Sarris, about the evolution of baseball's growing relationship with the craft beer industry. Eno was generous enough to talk through his own love of craft beer and "the game," lending an extremely fascinating insider's perspective.
Q: When/how did your affinity for craft beer begin?
A: I went to Sanford in California and helped out with my dorm's social events and such, so I always got a keg of Sierra Nevada and stashed it away for the residents. Then I moved around a lot – San Francisco, London, and New York – and got into the craft cocktail scene. However, I eventually move back to CA to raise a family and didn't have as much time to do cocktails and maintain a bar with dozens of ingredients, so craft beer became a simpler option to a similar craft drink experience. This new interest also helped to develop my pallet and soon after became a hobby.
Q: Same question, but for baseball…
I came over to America in 1986 and my stepdad got me into baseball. I was trying to make new friends and baseball provided a great avenue to do that by imitating batting stances like Gary Shefield and trading baseball cards. Much like craft beer, this hobby of mine eventually turned into my full-time job.
Q: How have you seen the craft beer industry evolve within major league ballparks around the country?
A: I used to lament about how terrible beer selections were at the ballparks, but now you have ballparks that have beer bars, like at the Giants stadium (Oracle Park, San Francisco) and others where breweries are actually built into them and do small batch releases. I think baseball is outperforming other sports by how it's started embracing craft beer into their stadiums. People now even stand in line for certain craft beer cans at games. It's a combination of the maturation of the craft beer industry as a whole and baseball realizing the value of offering local brews to their audience. In order for a brewery to be available at a ballpark you have to be able to scale your beer, and I think early on, places weren't able to do so. For example, Alvarado Street Brewing is going to have its Mai Thai beer on-tap here in Oakland now that they're able to scale and produce enough volume for 30-40k people to attend a game and not run out in the 1st inning.
Now that the craft industry has matured you have both what I'd call mid-levels and big-littles for breweries that are big enough to scale and produce enough quality product for local teams. This also allows stadiums to show off their local brews and culture. Now you see stadiums that have local agreements with their resident craft breweries, like Boulevard Brewing in Kansas City for example.
https://www.instagram.com/p/BvjyB3CHLGa/
Q: Were there some trailblazers for bringing craft into stadiums?
A: Yeah, I'd say Seattle, San Fran, and San Diego jumped on adopting craft beer into their ballparks early on. Then, other cities saw their success and felt comfortable doing the same for themselves. It's a good way to engage people with beer and events, such as beer festivals at the ballpark. Baseball has seen some attendance drop at games in recent years, so the craft beer culture has been a fun new way to draw people to ballparks across the country.
Q: When did you start to notice this change?
A: I think I really began to notice a shift when there were agreements with the big local craft breweries and the teams.  It's more challenging for the teams and stadiums to do this rather than using "big beer" because it's way more to manage, and there can be some concerns about scale. But the value for them [the stadiums] is definitely there. I think they didn't realize at first how many more people were willing to pay for craft beer at a game. A lot had to come together for this change to happen: the craft beer culture to create its own draw, local breweries being able to scale their product, and the price point to enforce the effort for the stadiums. It took awhile to get from the initial craft beer boom to a mature craft beer situation.
Q: What ballparks do you enjoy going to the most based on their craft beer offerings?
A: There are a few places that stand out in my mind. One is Great American Ballpark of the Cincinnati Reds. There are a bunch of places walking distance to the park, and that city as a whole has an underrated craft beer scene. They do a great job featuring a variety of local beers throughout the stadium as well. I might go there just to drink beer at the ballpark. Another one I'd highlight is Chicago White Sox stadium (Guaranteed Rate Field). I think why is because "that" Chicago team has a lesser following than the "other" Chicago team so they revamped their beer scene to help their attendance. The cool thing about going to a White Sox game is that it gives you a good pulse on local Chicago craft beer just by going to a game. A last one is Citi Field of the NY Mets has good beer; they're also adding breweries to be on-sight and a part of the stadium. I know Mikkeller's Brewery does baseball specific brews every season named after players and things of that nature, which is fun.
Q: What do you think the maturation of craft beer into ballparks offers to the fans' experience and baseball culture?
A: There's something naturally linked between baseball and beer. The game itself is a slower pace – in the beginnings of the sport, folks used to sit and picnic to watch games in places like the Polo Grounds before there was seating and perhaps you'd even have a home run ball land next to you. A baseball game is a great place to have a conversation with a friend. Doing so with better beer is only natural. Baseball is a culture of savoring, versus chugging. You can see that now with some of the food scenes in stadiums, as they are starting to evolve as well. Again, connecting to more of a picnic mentality.
No doubt this was a fascinating insider look into both the maturation of the craft beer industry and how it so naturally fits with America's Favorite Pastime. It's amazing to see how stadiums have begun to cultivate relationships and an entirely new culture by introducing craft into their stadiums. We hope that the next time you're at an MLB ballpark, you're able to kick back with a friend and enjoy some good conversation, baseball, and a local craft brew too all while taking in the long loved sights and sounds of Major League Baseball.
https://www.instagram.com/p/BT-U0xsDemO/
---