No Comments
Telluride Brewing Co. | AlpenGOSE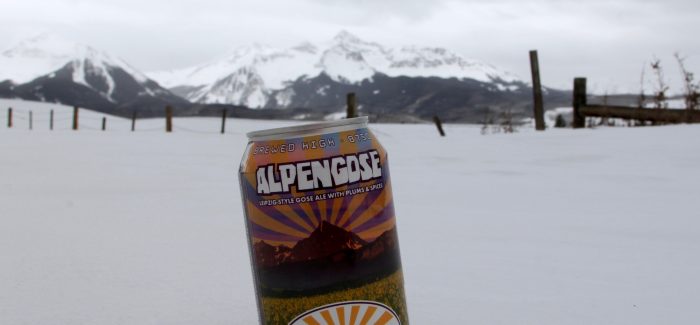 As a big fan of Telluride Brewing Co., I couldn't resist the presence of a new can offering in my neighborhood liquor store. But wait—a Leipzig-style gose brewed in the winter?
Indeed. AlpenGOSE is such a fanciful elixir.
The 4.5-percent beer represents the brewery's first seasonal sour. Telluride released it last year on draft only under the moniker "There Gose the Snow," a nod to the anemic snowfall. This season, the creation took on the name AlpenGOSE in hopes of a winter full of powder.
The decision to rename the beer was clearly prescient, as was the decision to can it this year — or so at least I'd argue, since it's delicious and I can just as easily see myself enjoying AlpenGOSE during a break on the slopes as I could floating down the river in the summer.
The beer pours a beautiful rose-gold color. While it's tart, the combination of Italian plums and Himalayan salt balance each other well. In other words, AlpenGOSE isn't the kind of pucker-up intense you get from other gose-style beers, making it approachable for those new to sours.
https://www.instagram.com/p/Bt6ZpqYF1xD/
Brewing a tasty beer apparently isn't enough for the Telluride team, which whimsically claims to have saved winter this year with their decision to rename it AlpenGOSE.
"Recognizing the incredible power of beer names to change the weather (read: power of beer to change the world), [Telluride Brewing President Tommy] Thatcher and [Brewmaster Chris] Fish are just happy to see snow falling on their hometown and require no debt of gratitude for the winter they may or may not have single-handedly saved," the brewery declared in a press release. "They only ask that beer drinkers enjoy their newest creation as winter slowly fades into spring and summer."
---