No Comments
Sour Summer: Five Sour Craft Beers to Beat the Heat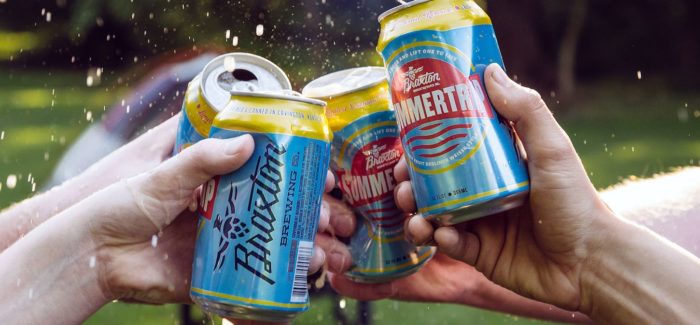 Featured image courtesy of Braxton Brewing Co.
For most, the hot summer months mean moving to lighter beers. It makes sense that a light, crisp, refreshing beer is better when you are in the sun, but that doesn't mean you have to default to a light lager or blonde ale. Many other styles fit the hot summer months just as well, such as sour craft beers. And I am not talking about the traditional sours like lambics but rather kettle sours (aka quick sours). There's been a huge influx of this type of beer and I think they are a great fit for a hot summer day because they offer low ABV, are ideally drank cold, and provide a crisp, refreshing taste that fights off the effects of the hot summer sun.
Here in Cincinnati, we have a lot of great options that fit this style. Plus, these beers are easy to bring along when you are enjoying the outdoors. Here are five of my favorite Cincinnati summer sours.
Divergent | Rivertown Barrel House & Brewery
ABV: 4%  | IBU: 10
Crisp, delicate, cutting edge, complex and tart, pouring a bright citrine with a nose of gently soured rind fruit, this beer is exactly what is needed when looking for a little something… Divergent.
https://www.instagram.com/p/BVNFU77Athy/?taken-by=rivertownbrew
This beer zigs when everyone else seems to zag. So many craft beers have large amounts of fruit added to them, which I can appreciate. But this one goes the other direction. This Berliner is perfect in its simplicity. And what makes it even better is that it is not a seasonal; you can enjoy this beer year-round.
---
Keypunch | Urban Artifact
ABV: 4.3% | IBU: 12
Our house Gose with key lime zest and key lime juice added to give it a tropical punch and a refreshing kick for an all around great summer beer! Only whole keylimes were used making this beer giving a bright citrusy kick to our most refreshing summer brew.
https://www.instagram.com/p/BVz2kjnFwbO/?taken-by=urbanartifactbeer
Urban Artifact is quickly becoming one of my favorite breweries. Every time they release a beer, I think to myself "that sounds interesting but a little weird too." Then I try it and love it. They focus on wild ales and have a portfolio full of doing weird things with their beer. Their gose lineup is really strong and this one is a crowd favorite. And it is being canned for the first time this summer. Perfect timing to grab a six pack and enjoy the citrus, tart, bright, refreshing taste of one of the most unique breweries I've had.
---
ABV: 5/4% | IBU: 26
In Eastern Germany there is an old, nearly forgotten style of wheat beer known as Gose (pronounced "goes-uh). Traditionally brewed with Coriander and Salt and fermented to produce a slight sourness, this beer has a tart, refreshing finish. Our introduction to the style uses German "Sauermalz" and a little Caraway to go along with the Coriander and just a touch of Salt. The result is a crisp, refreshing wheat ale that is just the thing when you are "out and about" on a warm day.

https://www.instagram.com/p/BQ_gucljA49/?taken-by=blankslatebeer
I don't know if much more needs to be said about this beer; that description is about perfect. What is notable is that this is your normal gose. The addition of coriander and caraway make this sour a much more "savory" style beer than most. While everyone else is making these sour beers into salty and sweet variations, Blank Slate is giving you something that you could just as easily pair with food as you would with a day outdoors in the sun.
---
Shade | MadTree Brewing
ABV: 4.6% | IBU: 10
If a shortcut through the woods beats the heat, why not take it? Though non-traditional, Shade's blackberries and sea salt quench thirst amidst any sunny day. Whatever the summer holds, feel free to kick back and relax, the 'Tree has you covered.
https://www.instagram.com/p/BVc-cFOgWMy/?taken-by=madtreebrewing
MadTree calls this beer a Fruited Tart Ale. I love that naming because it starts with the most important part of this beer—the fruit. Blackberries really are the highlight of this craft beer. But don't worry, that doesn't mean it is sweet. There is a perfect balance between the fruity, salty and tart flavors. It is an easy drinking beer that begs to be enjoyed while lounging on a summer day.
---
ABV: 4.2% | IBU: 4
This kettle soured German style ale features 50% wheat malt and is balanced with the use of lactobacillus. Very little to no hop presence allow the bready/biscuit characteristics to come through, with a nice tart Passion Fruit finish.
https://www.instagram.com/p/BVndJfIjg-B/?taken-by=braxtonbrewco
This is not the first time that this Berliner Weisse has been featured on PorchDrinking. Check out this post from last summer. The difference between this year and last year is that this time, it is available in cans. It's a great summer beer that just had to be made portable so it could go along on camping trips or to the pool. You can't miss the huge passion fruit flavors in this one. The sourness of the beer and sweetness of the fruit are an ideal pairing.
So don't settle for the same old summer classics this year. Break out of your routine and try something a little different; a little sour. I know many that have not gotten on board with sour beers yet; I urge you to consider a gose or Berliner – especially if they have fruit added.
Got a favorite summer sour beer? Sound off in the comments below or reach out to me on social media.
---