3 Comments
(Farewell to) Horny Goat Brewing | Chocolate Peanut Butter Imperial Porter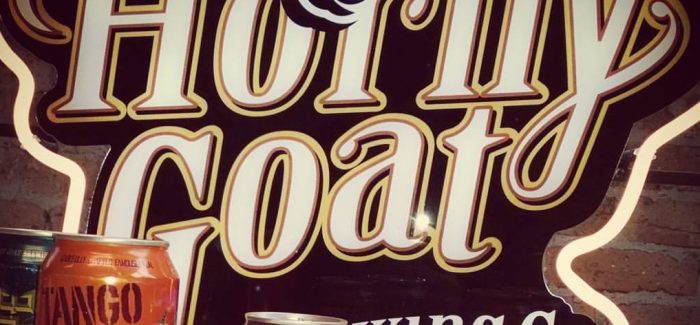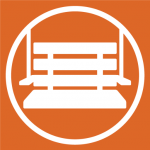 Supposedly, we are entering the warmer months of the year. Colorado seems to have forgotten that, as we have been getting cold weather, overcast skies and some last minute snowstorms, which calls for a dark beer to help you batten down the hatches.
As I perused a local liquor store for something malty and roasted, I noticed a striking can design. Black, with a five-word beer title and a regal-looking insignia. Horny Goat Brewing Company's Chocolate Peanut Butter Imperial Porter clocks in at a no-nonsense 8.5% ABV, a perfect level when trying to fight the latest installment in 2019's Bomb Cyclones.
Unfortunately, I discovered after drinking this beer that Horny Goat shut its doors in late 2015. They were one of Wisconsin's larger craft breweries, with a brewpub location in downtown Milwaukee and a facility on the south side of town that housed their production and distribution. The northern-most space, a former World War II shipyard, spanned 6.8 acres, complete with a marina and waterfront views. The southern spot was a four-acre summer paradise, home to several volleyball courts and a large patio that housed numerous local events.
It appears that Horny Goat was an institution in the city of Milwaukee, which, when combined with discovering this stellar Porter, makes it even more sad to learn they have disbanded. However, so long as six packs of this beer continue to show up on shelves, I'll drink them like Jack Sparrow drinks rum on a deserted island.
Look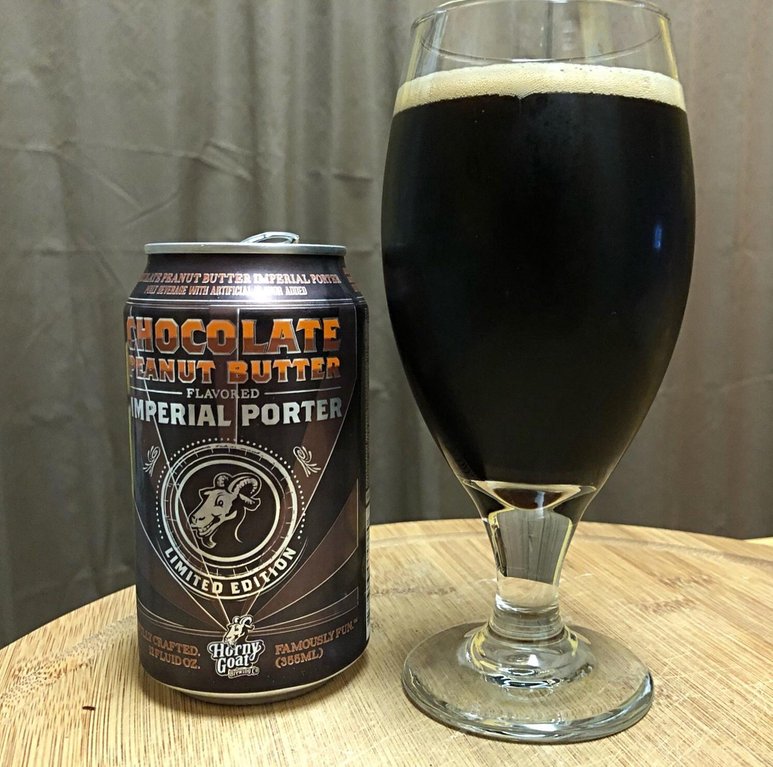 Dark. Darker than dark. This beer is as dark as they come, and it pours heavy and thick. It has a nice, dense and dark foam head on top. It looks best against the light of a fire, but there's no bad place to drink it.
Imagine a well-made Schwarzbier's color–midnight black with great effervescence–plus a thicker, richer backbone, and you have Horny Goat's offering.
Taste
If you like peanut butter and chocolate, then you're probably a fan of Reese's Peanut Butter Cups. If you like dark, malty, roasted beers, then you are most likely partial to Stouts and Porters. Great news for those who enjoy both: Horny Goat has you covered.
This beer is a no-doubt drink-dessert hybrid. You get dark chocolate up front, similar to a high-end truffle or a chocolate bar that comes with fancy, shiny packaging. On the back of your tongue, the peanut butter's creamy, fatty flavor comes through, finishing with the heavy weight that often accompanies imperial beers.
It is easy to dismiss this Chocolate Peanut Butter Imperial Porter as too much or having too many flavors, but it really is delicious. Though Horny Goat's time has come and gone, this ghost of Wisconsin beer past proves that its offerings have staying power. Be sure to look closely for a six pack of this beer; even if the warmer months are right around the corner, they are destined to run dry.
---