No Comments
Urban Chestnut Brewing Co. | Big Shark Grapefruit Radler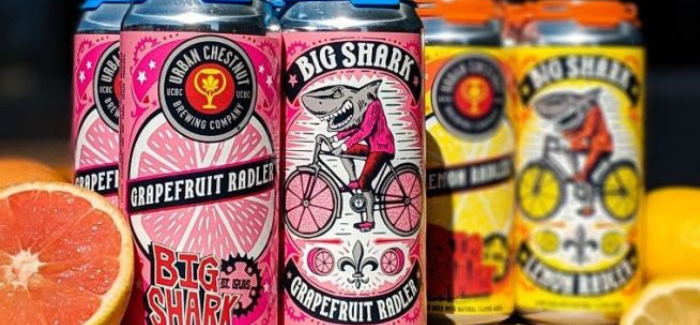 The legend of the radler dates back nearly a century to post World War I Germany, when an innkeeper named Franz Xaver Kugler, opened a tavern and tried to capitalize on the newest craze of bicycling by working to have a bike path built right to his establishment.
On the day that thousands of bicyclists showed up demanding a beer, Kugler realized he would not have enough. He quickly remembered a stash of lemon soda he had, cut it 50/50 with his beer supply, and ultimately saved the day and gave birth to a legend.
Radlers can be confusing. In German, radler means cyclist AND it also means bier-mixed-with-soda. So when Urban Chestnut Brewing Company went about canning their first radler, they got things a little mixed-up with their friends at Big Shark Bicycle Co. Urban Chestnut found themselves creating a mashup, aka Big Shark Lemon Radler. Naturally, this beer turned out to be an overall, easy-drinking, thirst quenching lemon-flavored lager which features a blend of pale lager and house-made lemon soda.

This sort of holy union has produced a beer that frankly is designed for bikers. Behold, the Big Shark Lemon Radler. Now, nearly a year later Urban Chestnut Brewing is releasing the first variant of this perfect summer, biking beer.
Big Shark Grapefruit Radler is a crushable 4.2% ABV blend of grapefruit soda and pale lager with an initial, noticeable sweetness and a bright finish.
https://www.instagram.com/p/BwNJzuAl3ug/
On the nose, the beer explodes with a burst of grapefruit but sits back. On your first sip you'll get all the wonderfulness of the pure Zwickel lager and the no-nonsense of the grapefruit soda. The soda isn't hidden here, nor is it folded underneath and it certainly does not disappear quickly. It is like you poured a grapefruit soda into a lager, and if that isn't your thing, then this isn't for you.
But what you're really looking for in this beer, no matter if you're popping the wide mouth top off the 16-oz can during a ride or after cutting the grass, is a cooling, crushable beer that is designed for refreshment. And that is what you'll get. This is a beer designed for fun, so have fun with it. Whether it's float trips, backyard barbecues, tailgating before a ballgame, this is a beer that will create good times, with good friends, so enjoy!
Feature image courtesy of Urban Chestnut Brewing.
---