No Comments
Revolution Brewing Finds Sustained Success, Growth in Their Hero IPA Series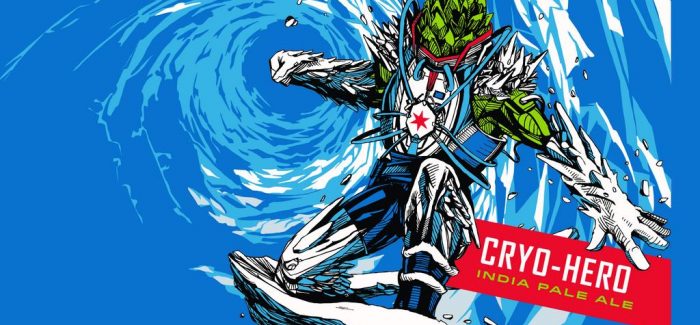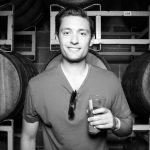 Sometimes you take the best things in life for granted. Chicago's craft beer foundation is built on excellent ales like Anti-Hero and Daisy Cutter, but they no longer generate the lines and Untappd check-ins of past years. It's not their fault—Chicago drinkers have so many great craft beer options at their disposal that it often becomes overwhelming. So how do you consistently churn out excellent flagships while appealing to the "newness" decree of today's craft beer drinker?
One valid option is Revolution Brewing's Hero series. With taproom-only releases, unique 6-pack offerings and comic-inspired variety packs, the Hero line has helped the city's largest independent brewer stand out from the fray and consistently provide something new to the masses. Each new offering allows Head Brewer Jim Cibak a chance to flex his brewing muscles in new and exciting ways. His latest notable creation is Cryo-Hero. I spoke to Jim and the Revolution team about the new Hero variant, the complexities of that brewing process and what other exciting beers they have planned for the coming months.
Pushing the Limits of the Hero Line
The genius of the Hero line is how Revolution is able to adeptly highlight new hops in new ways. From Citra to Galaxy, Mosaic and more, each of the 20 Hero variants released so far brings their own special qualities to the palate of the drinker.
Their latest, perhaps most innovative, version tests the limits of this model. Cryo-Hero is the first Hero variant to use cryo hop pellets, which are processed at lower temps (think cryo-freezing) to separate the pure lupulin powder from the other unsatisfactory vegetal matter that can make its way into a hoppy beer. Cibak and his team brewed each barrel with 1.5 lbs of cryo hop pellets that included a blend of Citra, Mosaic, Simcoe and Centennial hops. Cibak noted that the amount of hops used is significantly less than usual (almost half) for a typical Hero variant due to how concentrated the lupulin is in the cryo pellet: It basically dissolves in the boil.
"The Hero line allows us to showcase not only different hops, but different aromatics and taste profiles as well….[Cryo] is not just another version of Anti-Hero with different hops, each Hero variant gets its own unique malt bill, water composition, hop recipe, etc," Cibak said.
Cryo Hops are the result of a fairly new process that, concentrates a titanic punch of fresh hop flavor. We built a beer around them, and the result is really something special. Fresh, Citra- and Mosaic-forward, with a clean, razor sharp finish. Thrilled to bring this to everyone pic.twitter.com/hb6PqbYmy9

— Revolution Brewing (@RevBrewChicago) April 5, 2019
Sitting at 7% ABV, Cryo-Hero doesn't taste like a stronger IPA, primarily due to the lack of unnecessary vegetal additives that typically come with a standard hop blend. This makes it easier to ramp up the ABV without losing the hop flavor or getting unwanted bitterness. Cibak also said they changed up the water profile on Cryo-Hero to include more calcium and less gypsum to up the smoothness of the mouthfeel.
Cryo-Hero is a great presentation of the progression on the Hero series. The IPA is super clean,  crisp and almost drinks like a refreshing lager due to how smooth it goes down. It still has the hop presence but it's not overbearing; it also lets the brighter flavors of citrus and orange shine through. Cryo-Hero is now available in standalone 6-packs.
Every Day-Hero Prepped for Summer Success
While a Cryo-Hero drinks clean and crisp, it's probably not the best option for long sessions in the summer sun due to its higher ABV. Revolution realized they had a gap in their Hero line: Most (if not all) of their variants were above 6% ABV and weren't checking the "sessionable" box that consumers crave for cookouts, BBQs and pool parties. They adjusted and Every Day-Hero, a beer boasting only 4.3% ABV and 35 IBUs, was born.
"There was internal interest in having a beer like Every Day-Hero, which coincided with the changing demands of the drinker. We learn a lot through feedback from our retailer partners and consumers are definitely buying more beer in larger pack sizes (i.e., 12s and 15s) these days. Interest in a low alcohol, flavorful IPA in a 15-pack format like Every Day-Hero was unanimously supported by our retail partners and distributors, which helped validate this concept for a new Revolution beer," said Revolution CFO Doug Veliky.
The appeal in Every Day-Hero (compared to the larger Hero series) comes both in its lighter profile and distribution flexibility. Instead of the typical 6-pack or League of Heroes variety pack offering, Every Day-Hero is also available in 19.2oz cans and 15-packs, letting Revolution further expand its shelf presence.
https://www.instagram.com/p/Bvz91hmhPuM/
The presence of Every Day-Hero also rounds out Revolution's prominent portfolio of light beers which includes staples like Fist City and Sun Crusher along with their popular Freedom Series of sessionable sours and Rosa, a golden ale brewed with hibiscus. When drinkers are looking to mix it up from the sour and wheat ales, being able to offer a balanced IPA showcasing the likes of Sabro, El Dorado, Cascade and Mosaic hops, at a tempered bitterness, definitely has its appeal.
"The response has been strong so far from our distributors, retailers and customers," Veliky said. "I often see people online referring to it as their new everyday beer for the summer without realizing that they're saying the name of the beer. What surprised me is the number of people who are using the word "light", in a positive sense, when describing Every Day-Hero."
Haze: For the Masses and for the Taproom
In my IPA-filled meeting with Revolution, it was only a matter of time before hazy IPAs entered the conversation. And while Chicago's largest independent brewer does not have a prominent hazy IPA offering that the general beer drinker would know about currently, that should be changing soon.
Dubbed Jumpy Juice, which is named after their Pub Brewer John Palos (John P. = Jumpy), Revolution has quietly rolled out a delicious new taproom-only Hazy IPA. Jumpy is intensely-hopped with a full malt bill but doesn't rely on lactose, oats or crazy fruit additions. It's a robust IPA that lets the myriad of Mosaic, Amarillo and El Dorado hops shine through. They're currently working on V3 of Jumpy Juice which is well-worth searching out if you're in the area.
https://www.instagram.com/p/BwpSjk8lLTD/
For folks that can't make it to the taproom, the latest addition to the Hero lineup, Northeast-Hero, is another new hazy offering that takes a lot of inspiration from Jumpy Juice. It should be available on shelves soon. 
With 20 Hero offerings and counting, it's clear that Revolution isn't content to rest on their laurels. With Jim Cibak at the helm, the boldly Chicago brewery looks well-prepared to adapt and expand on the trending beers of today with a keen eye on what might interest consumers in the future. Cheers!
Feature image courtesy of Revolution Brewing
---