No Comments
Urban Chestnut | O-Katz Oktoberfest Returns in 4 & 8 Packs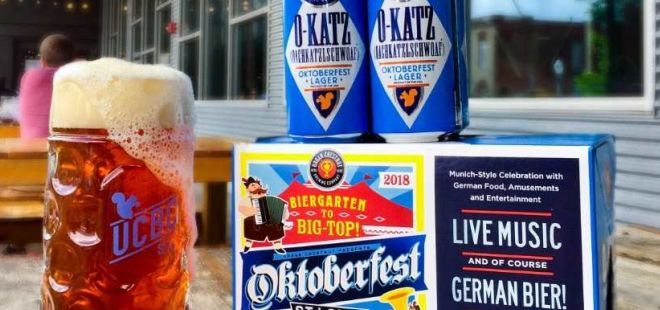 It's August. Most of the country is still experiencing summertime heat. But, I'm writing tonight to talk about fall beer. Yep, fall beers. In this case, it's Urban Chestnut's two-year-old Oktoberfest Lager with a funny name — Oachkatzlschwoaf.
This malty yet well-balanced Märzen may be tough to pronounce, but it's easy to drink. Its full name is pronounced "oh-khut-zel-schvoaf," which translates to "tail of a squirrel"… I hear it's a just a little Bavarian humor. But, you can simply refer to it as "O-Katz,"
ABV: 5.4% | IBU: 22
For those new to Märzen styles, this beer represents. It's malty yet well-balanced inspired by the bier traditionally served at Oktoberfest in Munich.
O-Katz pours pretty clear with a golden amber in color. I got a nice frothy head on top. On the nose, you'll get some nice malt, roasted and sweet as advertised, but not overly sweet. I'm not getting the floral as much as I was told, but maybe you will. On the palate, it is nicely carbonated, medium-to-full body in the mouth and a smooth. Kind of creamy.
It's a flavorful beer for sure. It has subtle toasty, caramel notes but a dry, clean finish. It pays homage to the traditional Märzen styles dating back hundreds of years. And the recipe was developed by a Bavarian, Urban Chestnut's Brewmaster Florian Kuplent who brings nearly two decades of artisan brewing experience to every beer.
O-Katz emerged during St. Louis' 2016 Oktoberfest celebration. So, its return signifies that Oktoberfest is right around the corner. Dust off your lederhosen and dirndls and save the date for Sept. 28-30th — UCBC's largest festival of the year.
This year's version is available in 8-packs, 4-packs and on tap.

---