One Comment
2 Days, 2 Nights | St. Louis' Craft Beer Scene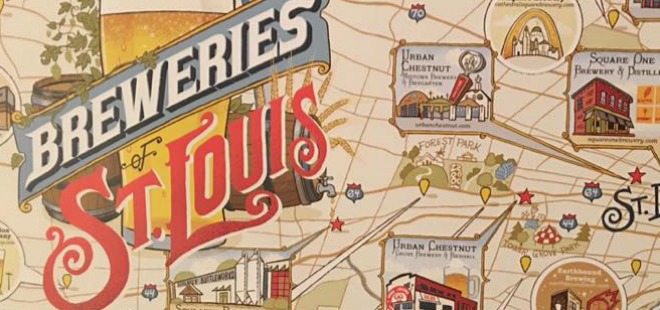 Like nearly any major city in America, the local brewing scene in St. Louis continues to grow rapidly. But unlike other cities where the brewing is made up of many startup breweries creating a new scene, here it's more like we're reclaiming our heritage as America's brewing capital.
St. Louis' brewing history dates back to 1852, the year Anheuser Busch was founded. 1991, we saw St. Louis enter the world of locally owned craft beer with the establishment of the Schlafly Brewing Company. In 2011, we saw four breweries enter the market – Urban Chestnut, 4 Hands, Civil Life and Perennial, all now known as the Class of 2011.
Since then, St. Louis has erupted with new breweries opening almost routinely. Since June of 2016, six more brewers have announced plans to open in the area, pushing our numbers of local breweries to nearing 50. So with so many possibilities scattered over two states, planning a "beercation" to St. Louis can be a bit daunting. For this trip guide, we are just focusing on the Missouri side of the Mississippi River. We will craft another 2 Days, 2 Nights adventure featuring the exploding craft industry in southern Illinois.
Important Things To Know Before Your Trip
Lambert – St. Louis International Airport is the only major airport in our area. It is located in the north side of St. Louis. Uber, while an option in many cities – is still working it's way through the legalities of operating here. Try your app, but if if fails to operate, plan on taking a cab. Do not take the Metrolink.
Taprooms have different hours, so there are many breweries only open during certain days and times. Check brewery sites and social pages/feeds often for the most current and up to date information.
Drink responsibly and use cabs or Uber – its conveniently available to use and transport you throughout your beer adventures.
Google Maps/GPS is your best friend – St. Louis is a fairly easy city to navigate, but crossing the river into Illinois and back can be tricky.
Day 1: Saturday
Morning
We suggest you begin your weekend with a mid-morning visit to the Maplewood neighborhood, where you'll find two important beer stops. Lucky for you one of the best brunch menu's in town happens to be at Schlafly Bottleworks. Schlafly was St. Louis' first new production brewery to open since the end of Prohibition. During brunch, make sure to order a beer sampler, which give you half-pint pours from 6 current draft selections. After you're done eating, make sure to take a free tour of the facility. Their Saturday & Sunday tours have limited spaces and will be filled on a first come, first served basis.
Don't miss beers: Schlafly brews over 20 styles in this brewhouse, so there is plenty to choose from. Some of our favorites include, from their year-round series – the Kolsch (ABV: 4.8% | IBU: 25), Grapefruit IPA (ABV: 5.0% | IBU: 40). From their special release series make sure to try the Tasmanian IPA (ABV: 7.2% | IBU: 65.) On draft, the Scotch Ale (ABV: 6.2% | IBU: 25) is a can't miss.
Early Afternoon
After brunch, take a leisurely stroll west down Manchester and take in the quirky shops and ambiance of this emerging, hip and happening neighborhood. Continue to the corner of Manchester and Sutton, make a left onto Sutton and then a left on Marietta and arrive at 7373 and the home of The Side Project Cellar, arguably one of the most exciting brewing experiences in the entire Midwest.
This is the tasting room for Side Project Brewing and a Belgian‐inspired beer bar with whiskey and wine.
Earlier this year, the James Beard Foundation nominated the Side Project Cellar for its Outstanding Bar Program created and managed by owners Karen and Cory King. King has become a local brewing legend in his own right and not sampling his work during a visit to St. Louis would be downright wrong.
Don't miss beers: This 100% barrel-aged brewery creates rustic Saisons, Wild Ales and Spirit Barrel-Aged Ales. Some of our favorites include: Foedre Beer, a Sour – American Wild Ale (6.0% ABV), La Bière de Fantaisie, a Saison / Farmhouse Ale(7% ABV), Fuzzy (Blend #2) – another Sour – American Wild Ale (8% ABV).
You really won't go wrong with anything you choose here.
Mid-Afternoon
The day is young and there is so much left to do before its nap time. We suggest you try out two nearby beer pubs that have some of the largest draft beer selections in St. Louis. The fact that these two just happen to sister pubs, makes it even more fun.
From Maplewood's main drag on Manchester, you'll want to cab or Uber straight east. Your destination is Nick's Irish Pub at 6001 Manchester. For more than 70 years, this location has been home to many different establishments serving generations of St. Louis locals. In 2011 (this year will be very important to you on Sunday), due to the influx of outstanding microbreweries in the St. Louis area, Nick's Pub expanded its draft beer selection from 29 to 65. These days they can have as much as 100 beers on draft.
Don't Miss Beers: With so many beers to sample, we suggest you still keep it local and try these St. Louis or regional beers that don't have tap rooms of their own. Try beers from 2nd Shift, Six Mile Bridge Brewing Company, Cathedral Square Brewing, Charleville Brewing Company, Ferguson Brewing Company, Logboat Brewing Company, Mark Twain Brewing Company, O'Fallon Brewing Company.
Late Afternoon
If you have the energy for one more stop before taking a well deserved nap before dinner, we have one more stop. Modern Brewery is just 0.7 miles east of Nick's Pub, about a 15 minute walk or a very short cab ride.
Modern Brewery opened its tasting room back in February and it quickly became a local favorite. They brew "two genres" of beer – Belgian & American craft styles. But Modern isn't stopping there. With these two styles, they are creating what they call "Beer Fusion," where they take what they like from both styles and blend them together.
Don't Miss Beers:  Citrapolis -The epitome of beer fusion. A blend Pale, Munich, and Wheat malts to give a bright golden color (6.8% ABV).  Odinson – a very close relative Citrapolis, Odinson is an uncharacteristically drinkable, "Super" IPA (6.6% ABV).
Early Evening
Nap time. Zzz…
Evening
Rise and shine! For your evening, we suggest you take in and sample the wonderful atmosphere of the south St. Louis neighborhood known as "The Soulard." Now remember, you're on a "craft beer-cation," so why not spend some time sampling great local craft beers, while thumbing your nose at the neighborhood's anchor brewery, Anheuser-Busch. That's right, the Soulard is the neighborhood A-B has called home for more than a century.
Your destination will be one block of the Soulard, but don't be afraid to venture out. Tell your cabby or Uber driver to take you to the corner of "Lafayette and 9th Street in the Soulard." Here you will find one of our favorite blocks in St. Louis.
Restaurant Choices
Their entrance is on Lafayette and their fish tacos are pure heaven. They have a small but adequate draft beer selection, but for now just focus on the fresh chips and guac. The menu is fantastic and you'll find a taco for you. Our top three: The Baja Fish, Carne Asada and the Beef Brisket Birria
Both Epic and Mission Taco share the same building which is epic!  If you're jonesing for pizza or a sandwich, Epic's got you covered. Their menu if filled with mouthwatering subs, but we prefer the ZA. Our top three: Chicken Pesto, The Bradley and the New York Cheese.
Beer for Dessert
After filling up, it's ready for some more beer. Adjoining both Mission and Epic, is one of St. Louis' best beer bars. The International Tap House is home to a menu of nearly 50 draft beers from St. Louis and around the world, as well as an 18 page bottle menu.
Here you'll be served the beer you want at the right temperature and in the proper glass. They know their beer and they love people who love beer.
The Soulard is very happening and vibrant neighborhood, and there dozens of additional bars and restaurants within walking distance of this corner, so you won't be without choices or if you choose to venture out, which we recommend. After dinner and a beer at Itap, it's time to visit a few more of our best crafters, but you have a decision to make based on the number or hours you have left in the day; stay in the city or venture west.
Stay in the City
From the Soulard, you are not far from some more craft beer taprooms worth your tasting time.
Alpha Brewing Company – Located on Washington Avenue, Alpha is creating a well balanced, well rounded beer menu that does not lack any traditional styles while focusing on a unique barrel program called BETA and an two interesting series of beers.
Don't Miss Beers: We tried the Belgian Blonde – easy drinking and light. Atheist Ale, a delicious take on an IPA brewed with a Belgian house strain of yeast. Delphian, which bounces off your tongue like a dry hopped sour ale should.
Earthbound Beer – located on Cherokee Street, an ultra hip and upcoming neighborhood in south St. Louis. Weird beer is what we affectionately call what's been brewed down on Cherokee Street the past two years at Earthbound Beer. And don't think we're being harsh, they think their beer is weird too.
Don't Miss Beers: Tax Evader DIPA  (ABV: 11.5%), Birch Farmhouse (ABV: 4.7%).
Square One Brewing and Distillery – Located in yet another super cool neighborhood called Lafayette Square. They have been among the leaders in the local craft brewing scene since 2008 and developed a reputation of brewing well balanced, full bodied beers. They're heavy on taste and low on filler.
Don't Miss Beers: I.P.A. – a full bodied, dark golden ale. Park Avenue Pale Ale – a copper colored ale is Square One's version of of an Americanized Pale Ale. Single Malt Scotch Ale – a single malt Scotch Ale is truly a big beer!

Morgan Street Brewery – Another of the old guard craft brewers. They are located in the historic Laclede's Landing business district. They were among the early visionaries in creating unique and original flavors.
Don't Miss Beers: Golden Pilsner – a traditional Bohemian style Pilsner. Honey Wheat – an American style unfiltered lager with a touch of honey. Virgin Territory – their first attempt at an IPA, it has a nose and taste of citrus, stone fruit, and piney/resin.
Venture West
St. Louis has nearly 50 local breweries but not all are located in the "city" of St. Louis, but rather they're spread out around St. Louis County and beyond. If you plan your travel time correctly you could depart the Soulard and hit one or two of them.
Six Mile Bridge Brewing Company
11841 Dorsett Rd., Maryland Heights; 314-942-2211

Kirkwood Station Brewing Company
105 E. Jefferson, Kirkwood, Mo 
Trailhead Brewing Company
921 S. Riverside Drive, St. Charles Mo.
Standard Brewing Company
12322 Dorsett Rd, Maryland Heights, Mo.
Ferguson Brewing Company
418 South Florissant Road, Ferguson, Mo. 
O'Fallon Brewing Company
45 Progress Parkway, Maryland Heights, Mo. 
Narrow Gauge Brewing Company
1595 North Highway 67, Florissant, Mo.
PaPPo's Brew Company
3690 Forest Park Avenue, St. Louis, Mo.
Day 2: Sunday
How you doing? You've done a lot of drinking so far, and good drinking at that, but now it's time to pay homage to the Class of 2011. That was the year, we believe, that began what we call the "St. Louis Brewing Renaissance." It's the year we saw the emergence of four new breweries, born in the shadow of the legendary Anheuser Busch and built around the genius of the Schlafly model.
The Class of 2011 is made up of Urban Chestnut, 4 Hands, The Civil Life and Perennial, arguably four of our town's most prominent local brewing operations, each with their own distinct style and vision.
But today, you will need no cabs. Instead we're suggesting you utilize our town's newest service designed around making beercations even easier.  CrookedCraft Brew Tours offers public brewery tours for small intimate groups. Local comedians from Bare Knuckle Comedy will lead you through a fun tour of local breweries that will be full of laughs on tap.
All four breweries from the Class of 2011 are on the tour and you are free to customize your visit as you see fit. They offer rates depending on the length of each tour.
2 hours (minimum) – $100 per hour
4 hours- $85 per hour
8 hours- $75 per hour
Contact them for all day rates
The Class of 2011
Urban Chestnut Brewing Company is the largest member of the Class of 2011. They have two locations, but we suggest you visit their newest location, the massive Grove Brewery & Bierhall. This location has a full kitchen, with a bit broader selection, from salads to sandwiches to oysters.
Don't Miss Beers: The flagship UCBC beers are what you can't leave without trying. Zwickle – unfiltered, unpasteurized, it's a German classic (5.2% ABV).  Winged Nut – a modern, American craft beer with a nutty taste (5.4% ABV). Fantasyland – the perfect jam band beer (6.5% ABV).
2016 has been a grand year for 4 Hands Brewing Company, one of the fastest growing and most exciting breweries in the STL. This year they debuted one of the city's most popular new beers, City Wide as well as launched a massive 3500 sqft, second-floor tasting room which also includes plans for a new distillery.
Don't Miss Beers: City Wide really did take over this summer and is worth your time. Three others we love include: Single Speed – an American blonde ale brewed with pilsner malt and jasmine flower. Contact High – Their spring and summer seasonal, you'll live the lime version as well.  Chocolate Milk Stout – a beautiful, dark black beer with aromas of dark chocolate, chocolate malt, and more chocolate.
The Civil Life just happens to be as close to my neighborhood brewery as I can get.  The facility is fun and inviting with a wonderful biergarten with picnic tables to a library and game room on the second floor. The brewing is done on premise, so you might get lucky in seeing some beer being made. There is a light menu with great pub fare available.
Don't miss Beers: Our favorite all-time Civil Life was introduced in cans this summer, but it remains a treat on draft. American Brown Ale – Their first beer, this rich, frothy gem can be heavy enough in the winter and light enough in the summer. Perfect beer (4.8% ABV). The Angel and The Sword – a beautiful ale with hints of breads. Great lighter winter beer (4.6%). Milk Stout -Like all Civil Life beers, it's balanced and delicious, packed with flavor this beer is deep and earthy (4.4%).
Perennial Artisan Ales is one of the most experimental breweries in the business. A small batch craft brewery dedicated to producing unique beers you won't soon forget. Their beers are influenced mostly by Belgian and American craft styles and always rich in flavors thanks to their use of barrel aging.
Don't Miss Beers: Unless your timing is perfect, you probably won't get to sample Perennials most famous beer, Abraxas – which is released only a couple times a year.  It's an Imperial Stout brewed with ancho chili peppers, cacao nibs, vanilla beans, and cinnamon sticks (10% ABV). Aria – a Belgian style ale that pours bright with an egg shell cap that leaves sticky lacing above the sunset orange color (7.2% ABV). La Boheme – a Wild Ale aged two years in wine barrels with Michigan tart cherries.
As you make your way out of town, there is still one stop left to make. In the main terminal (Terminal 1) at Lambert, make sure to visit one of the two Schlafly Tap Room bars located in the B and D concourses.
---