One Comment
The Ultimate 6er | Best Beer and Band Collaborations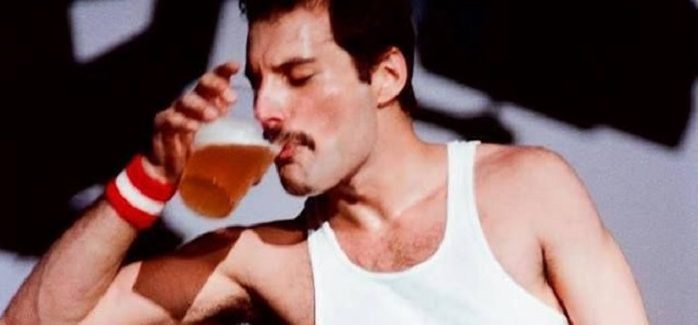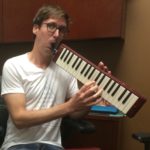 "A kid once said to me "Do you get hangovers?" I said, "To get hangovers you have to stop drinking."  – Lemmy Kilmister, Motorhead (RIP).
Rock and roll and booze have one of those symbiotic relationships where no matter what happens, they can't seem to quit each other. The deaths of Bonham, Hendrix, Scott, et al. should have scared rock away from boozing. Or maybe Keith Moon driving a car into a hotel pool. But no, rock and roll continues to drink on. The booze is a necessary component, the liquid courage needed to conjure up the whitest of dance moves at a Killers concert, or the quick substitute for years of vocal coaching as you stand up to sing "Don't Stop Believin'" at your local karaoke joint.
Not all of us can be Ace Frehley and chug bottles of perfume, so beer becomes the next best option. As craft beer continues its surge into the bars, stadiums, and concert venues of the world, a few bands have decided to work together to provide something better than the cheap swill of days gone by. In honor of the recent news of Ska Brewing and Rancid combining forces to give us some golden deliciousness this summer, let's take a look at some of the best beer and band collaborations in this Ultimate 6er!
Rancid & Ska Brewing | Brewstomper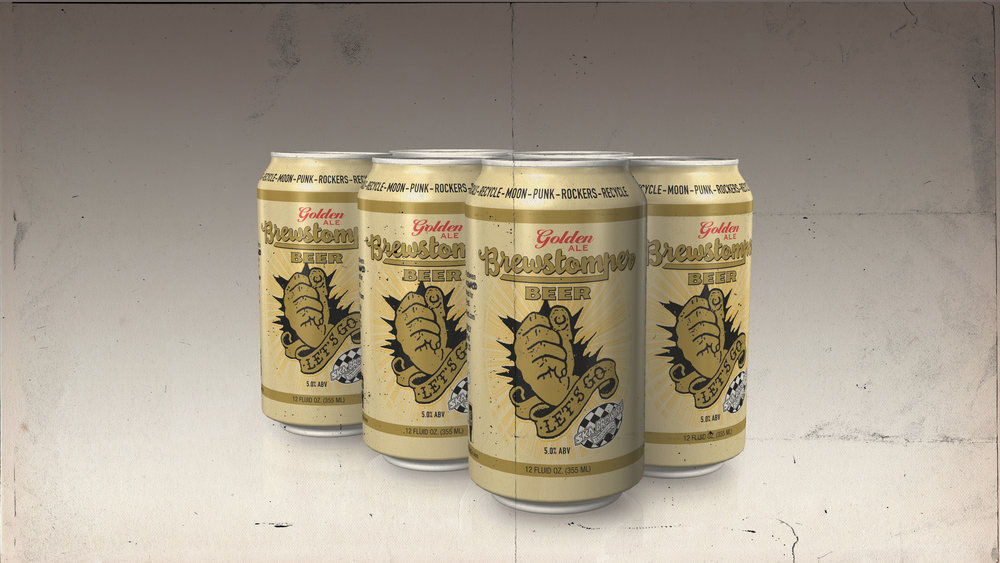 It's a fairy tale story. A small town brewery gets to meet their heroes and make a beer that will for sure be covering shirtless moshers and dinosaurs at their concerts. "Rancid and Op Ivy (both founded by Matt Freeman and Tim Armstrong), provided the soundtrack to our lives as we were planning out the brewery in the early '90s," said Dave Thibodeau, co-founder of Ska. "Their music, along with a heavy dose of an unnamed American light lager, really are the roots of what has become Ska's World Headquarters today." I think I might shed a tear.
If you get the pleasure to attend the 2019 Bash Music & Craft Beer Festival, you can enjoy this crisp, no-nonsense beer while rocking out hard. Both the beer and its can design, taken from Rancid's second album Let's Go, are meant to stoke the nostalgia of those days spent headbanging to your tape deck on your way home from seeing Keanu and Sandra save a bus full of people. Don't mock me, what else was there to do before the internet?
---
Metallica & Stone Brewing | Enter Night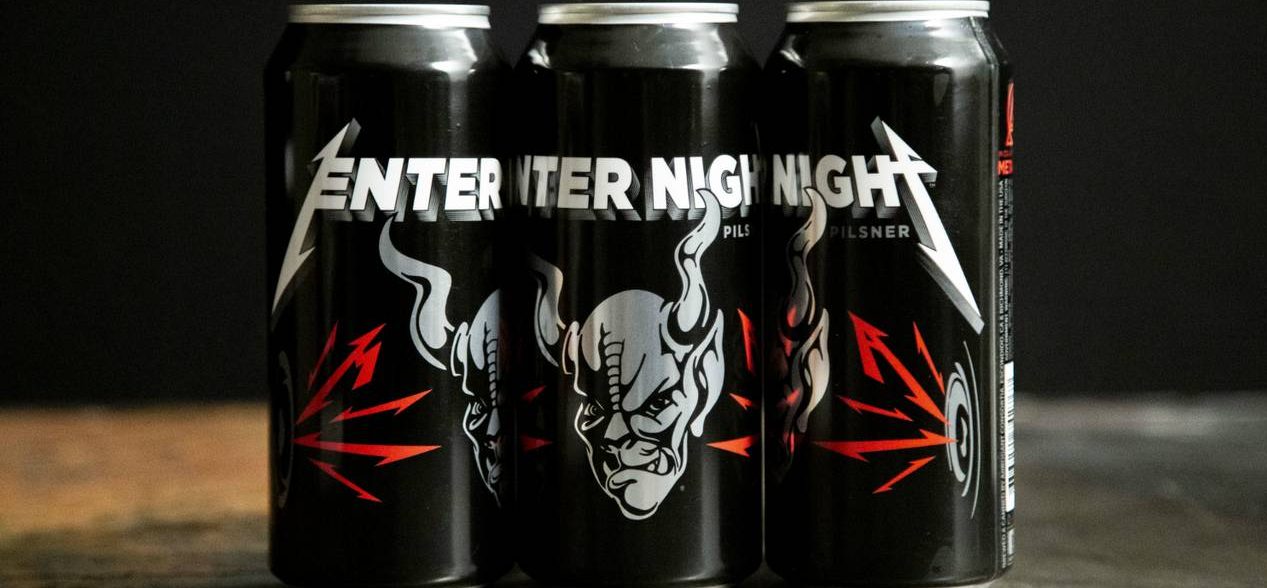 Metallica has never been afraid to attach their name to things not named Napster. This isn't even their first alcoholic beverage, with a black can version of the –ahem– "King of Beers" and a whiskey in their catalog, they finally got it write when combining with Greg Koch and Stone to brew an "intensely drinkable" hoppy pilsner.
Metallica's Lars Ulrich speaks on how the band and the brew are ideologically aligned. "I'm always blown away about how similar our paths forward have been," Ulrich said. "Our view of the worlds that we each inhabit, of creativity and process, and sense of place in relation to our peers and 'The Man' are almost identical. This collaboration is beyond effortless and pure, and we can't wait to share this incredible beverage with everyone out there."
While you'd expect them to "exit light" after their first marketed lager and create something heavier to match their sound, this is another beer that is meant to add fuel to the rock fire. Give me fuel, give me fire, give me a beer which I desire.
---
Run The Jewels & Interboro Brewing | Stay Gold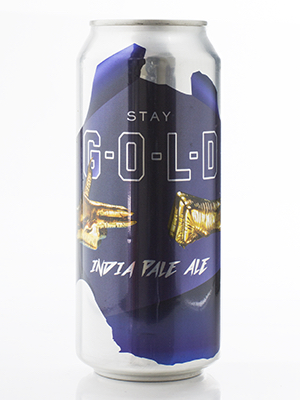 Run The Jewels loves their beer. They've done collaborations with Mumford, J. Wakefield, Interboro, BRLO, Creature Comforts, and soon Deviant & Dandy, but it's this IPA with Interboro that hits the spot. Before founding Interboro, Jesse Ferguson managed the influential underground hip-hop label Definitive Jux with Jaime Meline, AKA El-P of Run the Jewels. It makes sense that the beer collabs keep on coming, and it doesn't look like they'll be stopping any time soon.
Stay Gold is a juicy, delicious IPA, full of flavor just like RTJ. Keep your eye out on these guys as they continue to push the boundaries of music and craft partnerships.
---
The National & Mikkeller Brewing | Reality Based Pils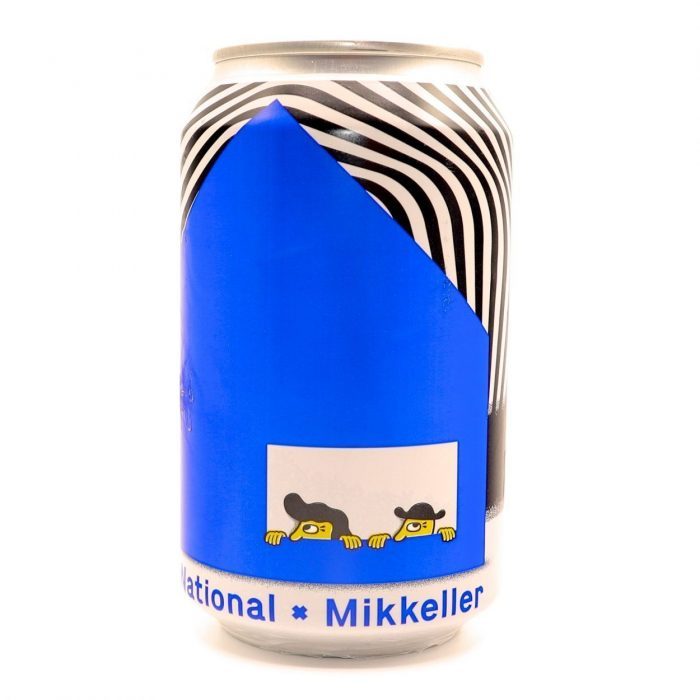 Mikkeller is no stranger to collaborations, whether that be with other breweries or bands. They even opened a bar together in London with Rick Astley. Yes, that Rick Astley. Check out the awesome press release here.
The National and Mikkeller, both Danish, have long been partners, working together on the music festival Haven. This beer is the baby born of mutual admiration. "We are all huge fans of Mikkeller, so to have Mikkel make a recipe specifically for us is very exciting," says Aaron Dessner from The National.
And the compliments fly both ways. "The National is one of my absolute favorite bands and we have been talking about making a beer together for a long time. I'm excited that it finally happened," says Mikkel Borg Bjergsø.
"We like clear and crisp beers when we come off stage and need to cool down," says Dessner, who along with his band members chose the name 'Reality Based Pils' based on an excerpt from their song 'Walk it Back.' Hopefully this beer will give a new meaning to the phrase "poppin' pils".
And sorry, I could resist myself earlier. Rick Astley and Mikkeller really did open a bar together in London. May the Rick Roll never die.
---
Megadeth & Unibroue | À Tout Le Monde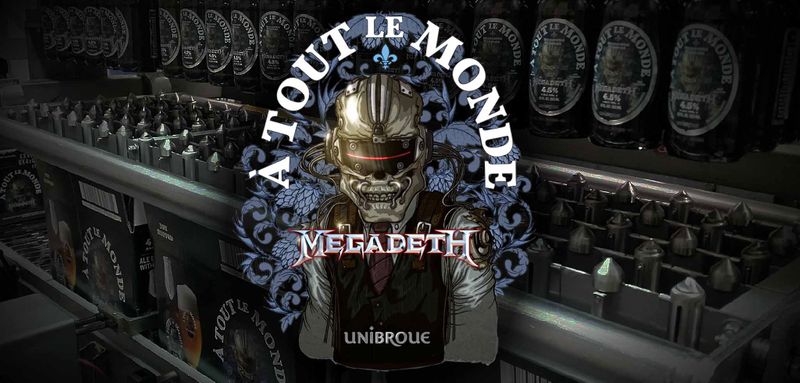 Well, this is an unlikely pairing. What do Megadeth's Dave Mustaine and Unibroue's Brewmaster Jerry Vietz have in common? Apparently a love of metal music and tasty beers. À Tout Le Monde is Unibroue's lowest ABV beer in a series of heavy metal Belgians. But when Dave requests a light saison packed full of flavor, you oblige.
Unbeknownst to moi, Quebec likes to rock hard, and in Quebec what you need to rock hard is a crisp saison. "Inspired by the most popular hard rock song to feature a chorus sung entirely in French, and whose video is in the Music Hall of Fame of Quebec's most popular TV music show. The beer is a refreshing and artisanal Belgian Style Dry Hopped Saison and the label appropriately and prominently features a symbol that is synonymous to Megadeth, their well-known mascot Vic Rattlehead."
Rock on, Quebec. Rock on.
---
Boulevard Brewing & Tech N9ne | Bou Lou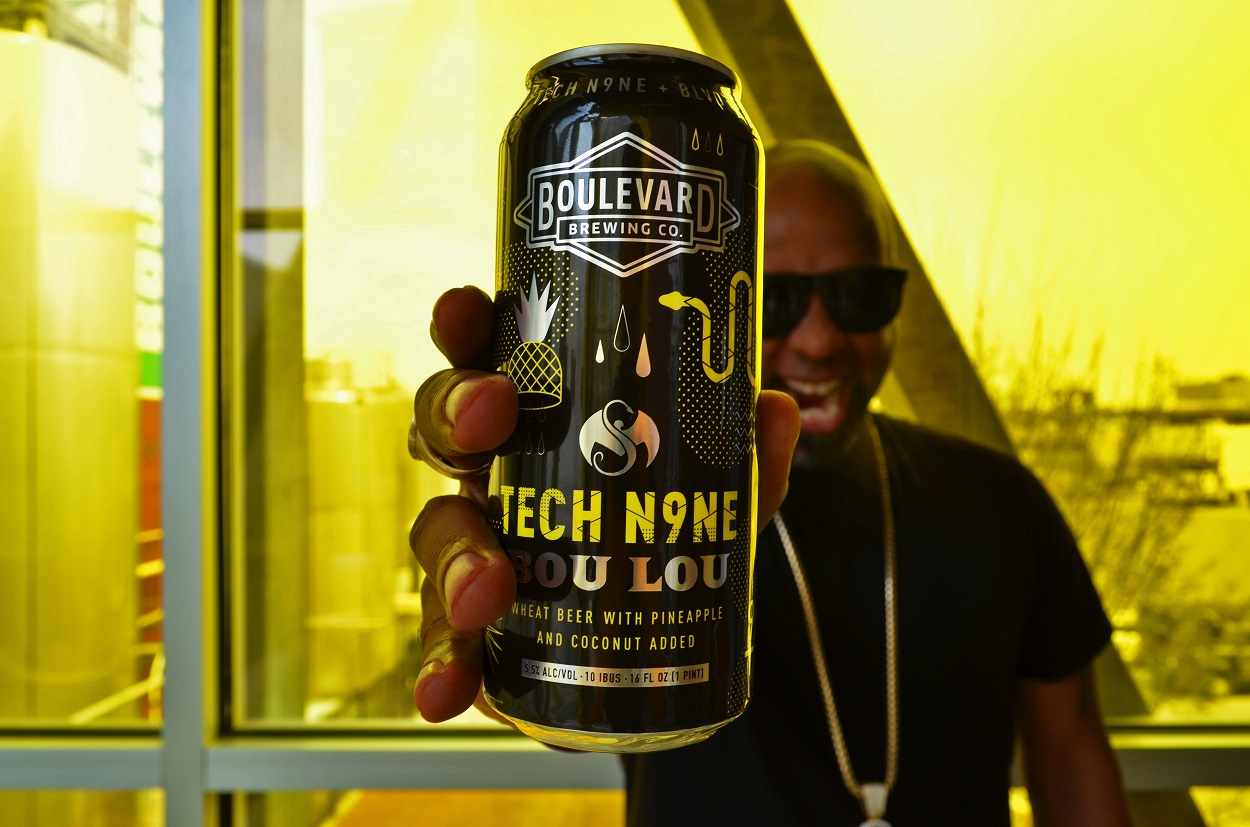 Here's a hometown pairing straight from the heart of middle America. Boulevard began brewing in 1989, right around the same time Tech started his music career. So when two wildly successful Kansas City institutions combine, Bou Lou is the result.
A wheat beer with pineapple and coconut, it's like the ultimate party favor, you know! "This is an alliance that had to happen," said Boulevard president Jeff Krum. "Working with Tech and the Strange Music team has been a real privilege. Their creativity, attention to detail and commitment to excellence made it clear to all of us why they've achieved such remarkable and sustained success."
The only defect is waking up like, "What happened?" after you drink a case of these. Ok, I'm going to stop quoting rap lyrics now.
Honorable Mentions: Surly and First Avenue, a tribute to one of the original venues that gave us the Purple One; Robinson's Iron Maiden Trooper; Asbury Park Brewing IP!ATD; Dogfish Head's many musical beers, including ones from the Grateful Dead, Miles David, Flaming Lips and Pearl Jam; and Cigar City GWAR Killsner.
Did we miss one of your favorite beer and band collaborations? Leave us a note in the comments!
---