No Comments
Event Preview | Ultra Fresh IV Brings the New New Beers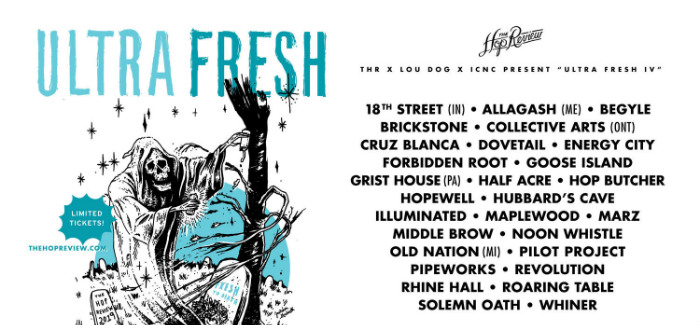 This Saturday, June 29, marks the fourth annual Ultra Fresh Fest, brought to you by our friends at The Hop Review. This Chicago craft beer festival is truly unique, featuring pours from (mostly) local breweries that have been packaged within one week of the event. You know what that means? Some ultra fresh beer!
In 2019, The Hop Review is taking its annual event up a notch. Previously, participating breweries were limited to those within the Chicago area. However, this year, you'll also find Indiana's 18th Street, Michigan's Old Nation, Maine's Allagash, Pennsylvania's Grist House and Ontario's Collective Arts.
There will be more space, more breweries and more tickets (!!!) at this year's fest. In fact, tickets are currently still available.
Event Details
Taking place this upcoming Saturday, festivities kick off at 5 p.m. CT, and continues until 9 p.m. CT. This will give you time to get your Saturday morning errands out of the way and to eat a hearty lunch before enjoying these fresh brews.
Tickets include 20 three-ounce samples from participating breweries. Swag consists of a limited edition tasting glass for those pours, along with a limited edition tote bag (I love swag!).
Finally, guests will be welcomed with an ultra-fresh can of Fresh to Death, a collaboration from The Hop Review and Pilot Project Brewing, an Ultra Fresh sponsor. Yes, please.
https://www.instagram.com/p/BzF86OnFcQ6/?utm_source=ig_web_copy_link
Featured Breweries
This year's participating breweries have extended beyond just the Chicago area. Make sure you hit each booth:
18th Street Brewery
Allagash Brewing Company
Begyle Brewing Company
Brickstone Brewery
Collective Arts Brewing
Cruz Blanca Brewery
Dovetail Brewery
Energy City Brewing
Forbidden Root Brewery
Goose Island Brewery
Grist House Craft Brewery
Half Acre Beer Company
Hop Butcher for the World
Hopewell Brewing Company
Hubbard's Cave
Illuminated Brew Works
Maplewood Brewery
Marz Community Brewing Company
Middle Brow Beer Company
Noon Whistle Brewing
Old Nation Brewery
Pilot Project Brewing
Pipeworks Brewing Company
Revolution Brewing
Roaring Table Brewing Company
Solemn Oath Brewery
Whiner Beer Company
The Pour List
Earlier this week, The Hop Review released the pour list for this year's fest (subject to change):
Surprise! Here is the beer list for Saturday's #UltraFresh… https://t.co/1R9j2E433j (subject to change). pic.twitter.com/XRVoNS8YA3

— The Hop Review (@TheHopReview) June 26, 2019
Get Your Tickets
Tickets are still available!
Date: Saturday, June 29
Time: 5-9 p.m. CT
Location: ICNC Make City, 2019 W. Carroll Ave., Chicago
Price: $45
---