No Comments
A Classic, Now Unfiltered: The Inspiration for Lagunitas' Little Sumpin' Hazy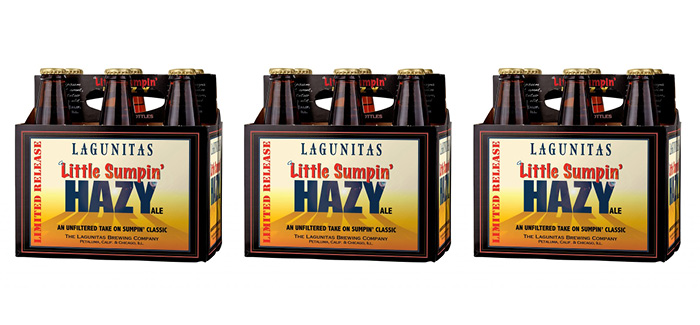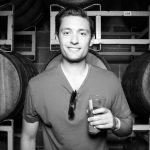 Their IPA might be their most well-known and widely-distributed, but my favorite Lagunitas Brewing Company offering is a beer that blurs the lines of the drinking experience. A Little Sumpin' Sumpin' is a classic that can be enjoyed rain or shine, sun or snow. Its hearty ABV, unique wheat body, and complex flavor profile have made it a fan favorite for years. It's also an employee favorite, says Lagunitas Brewmaster Jeremy Marshall. While the original has its perks, Lagunitas employees and brewers have had access to a version of A Little Sumpin' Sumpin' that has never graced retail shelves before now: an unfiltered-version designed to taste like you're drinking it straight from the tank. That was the inspiration for their newest offering and Sumpin' Sumpin' sibling, Little Sumpin' Hazy.
As Brewmaster Jeremy Marshall, the origins of Little Sumpin' Hazy have been swirling around in Lagunitas tanks for a decade. Marshall says that drinking A Little Sumpin' Sumpin' directly from the tank pre-filtering had become a type of shared tradition among the brewers. Even as a wheat ale, the unfiltered version came out a bit hoppier with a different type of mouthfeel that made it a favorite for the brewers – and soon enough – the Lagunitas employees as well. To aid in its popularity, the unfiltered A Little Sumpin' Sumpin' became a staple on the pour list in the Lagunitas taproom and quickly garnered buzz from patrons who came away amazed at how much they enjoyed the slightly less-edited A Little Sumpin' Sumpin'. "People were shocked," says Marshall.
https://www.instagram.com/p/ByIz-yWn8SM/
The primary reason Little Sumpin' Hazy hasn't made it far and wide before now is due to the public's traditional perception of cloudy and hazy beers. There was a time not long ago that many beer drinkers turned their noses up at turbid beers filled with swirling hop particles still present in the liquid. Nowadays, the latest rendition of most hazy IPAs with its numerous variants and lactose additives are ravenously sought after. Marshall notes that the haze craze gave Lagunitas an opportunity to re-invent this fan favorite into something that fits the bill of a hazy ale – but with Lagunitas' distinct spin on things.
Little Sumpin' Hazy comes in a touch lower in ABV (7.2% to 7.5%) and IBUs (30 to 64) to its popular predecessor. It also boasts a slightly tweaked malt bill, hop makeup and brewing process. For Marshall, the goal was to create an optimized version of the A Little Sumpin' Sumpin' they enjoy fresh and unfiltered from the source. Creating something both authentic and readily available to a mass audience is a tricky balance to navigate. Thankfully, Marshall and team seemed to have found the perfect solution.
https://www.instagram.com/p/BztTBzaHMKW/
According to Marshall, the recipe for Little Sumpin' Hazy differs from its Sumpin' Sumpin' lineage in a few ways. For starters, Lagunitas added oats to increase the haze compound and add additional "landing stations" for the the hop lupulins/oil to land on the protein complexes of the oats and grains. This creates a different mouthfeel and a brighter hop experience where drinkers are able to taste more hops in more ways.
Speaking of hops, Little Sumpin' Hazy uses a lot to ensure that it fits the hazy billing. Each barrel has around 2.5-3lb of "C-hops," including Chinook, Cascade, Columbus, Citra and even Cashmere – a new hop in the recipe. Marshall and team also ensured a lower bitterness to the finished product by adding more hops via dryhopping instead of adding them directly to the boil.
With all of the inspiration and passion around this beer, it is hard to not get excited when drinking it. True to form, Little Sumpin' Hazy when poured straight from the bottle produces a viscous, golden haze of hoppy goodness that settles in the glass with a small, foamy head. The flavor is a bit less bitter than the original, finishing sweeter and a bit fruitier instead. There is also no leftover cloyingness or hop burn that has worked its way into some hazy IPAs today. It's a well executed hazy beer that still pays homage to its hoppy wheat ale heritage.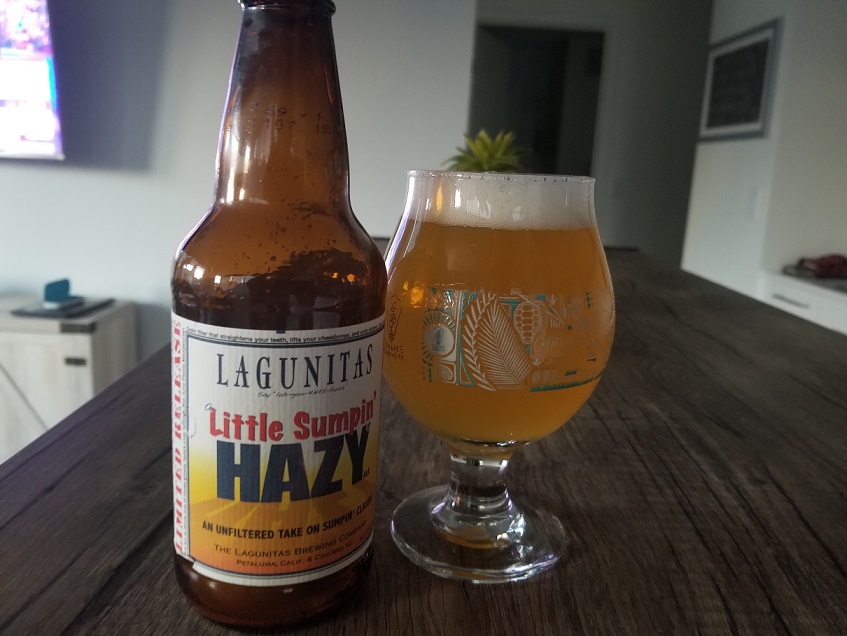 Marshall knows there will be haters and staunch old-guard drinkers who revile hazy beers and the likes of Little Sumpin' Hazy. He doesn't seem to mind. To him, bringing this beer into the fray will only help expand the conversation around beer, which is a good thing for Marshall, a good thing for Lagunitas, and a good thing for beer drinkers. Cracking open a bottle of Little Sumpin' Hazy is the closest thing to having a few beers with Marshall and team at their California brewing facility, which was ultimately the goal.
"We're trying to bring the delicious tank of unfiltered A Little Sumpin' Sumpin' closer to the customer," said Marshall. "[Drinking this beer] is like a tour from the brewer, directly in a bottle. It is the closest thing to visiting our brewery on a VIP tour."
Little Sumpin' Hazy should be on-shelves across all 50 states now in 6-packs of 12oz bottles. It will also be available on-tap. Cheers!
Feature image courtesy of Lagunitas Brewing Co.
---