No Comments
Brewery First Look: Chicago's Midwest Coast Brewing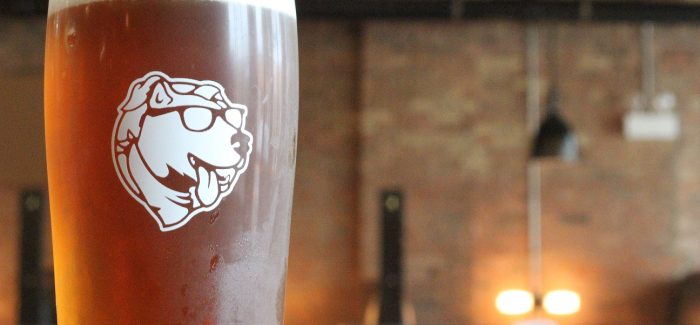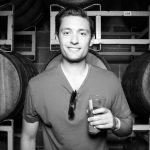 The crowded Chicago brewery scene can soon add one more new operation to its list: Midwest Coast Brewing, located in West Town at 2137 W Walnut Street. Brewer and founder Cameron Compton is excited for all of the challenges and opportunities that opening a new brewery presents. Much like their name, which came after Compton decided to balance equal parts West and East Coast IPA styles when brewing their flagship CHI.P.A., Compton is looking to take a balanced, measured approach to growth once Midwest Coast hopefully opens to the public. PorchDrinking was lucky enough to get a preview of the space and the beer soon to be available at the newest West Town brewery.
If it was Compton's call, his brewery could open tomorrow. Your first sight inside of the taproom is of a completely finished space, occupying over 3,000 square feet full of dark, earthy tones, wooden accents and subtle lighting. There are a wealth of seating options: comfortable bar stools, enclosed booths and a variety of tables. Compton says the taproom has room for 220 in total. The space is extremely comfortable and inviting, just beckoning for a long fall Saturday day drinking session.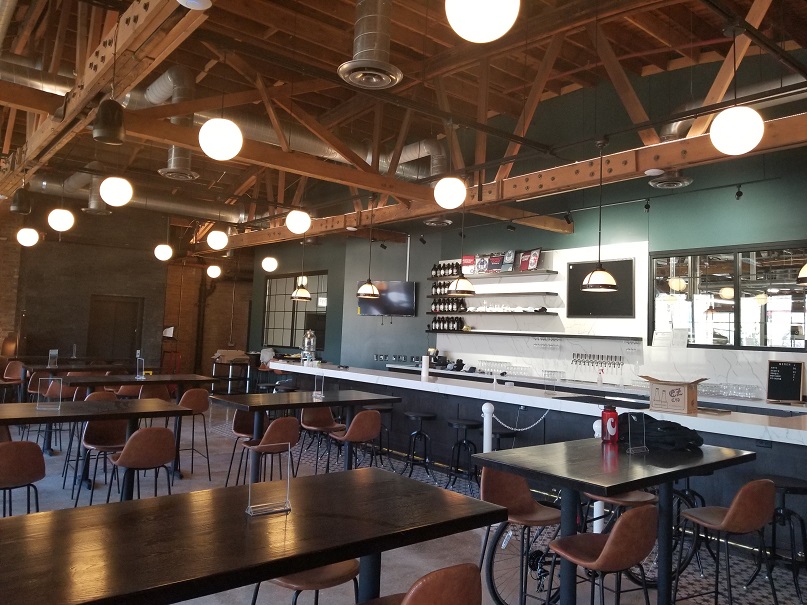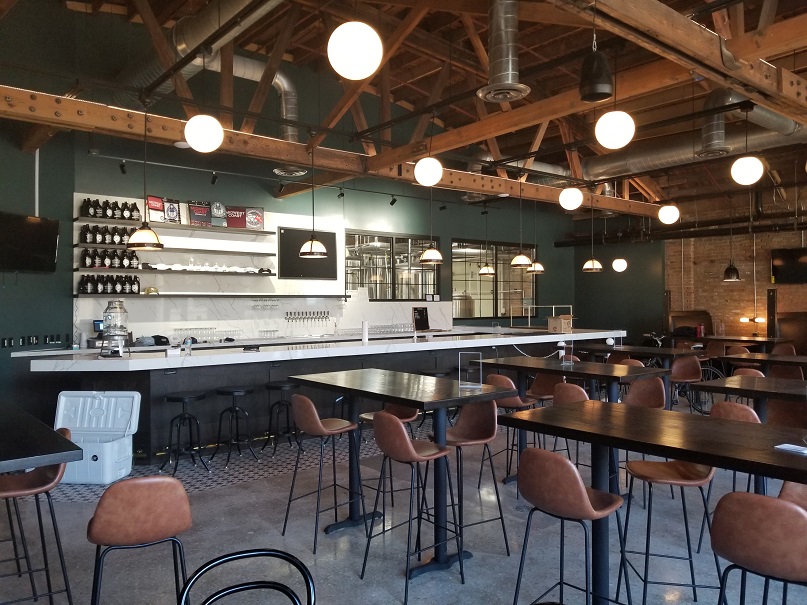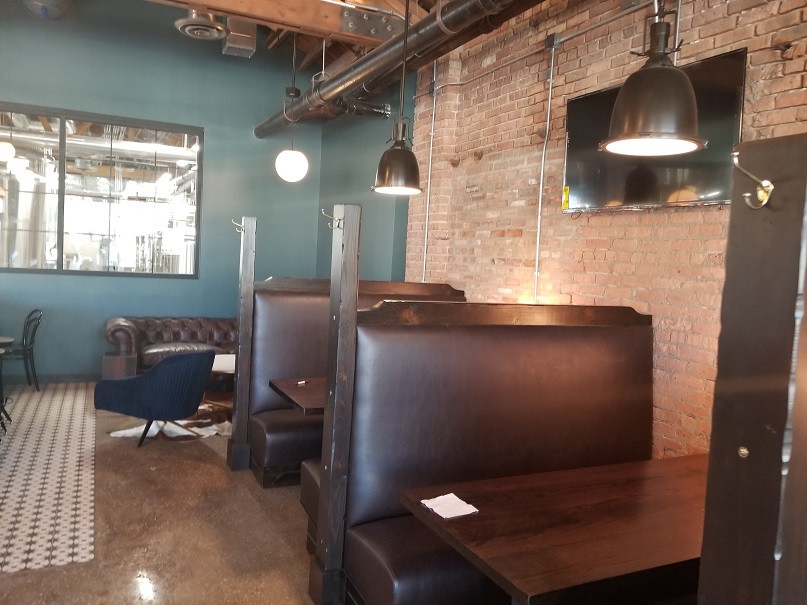 With exposed brick and wooden bow truss ceilings, the building that Midwest Coast Brewing calls home is as old as it is massive. Compton says public records of this building date back almost a century. The taproom is spacious and has the potential for so much more. On the left side of the first floor sits an elevator "that currently goes to nowhere" as Compton puts it. The building has a cavernous second story which Compton has been keen to refurbish and open alongside the first floor. Unfortunately, there are some regulatory issues around spacing that need to get smoothed out beforehand. The second floor also has the opportunity for a small rooftop area that offers a stunning view of the city's skyline. That, like the second floor, is still TBD as Compton and team focus on opening the first floor to the public first.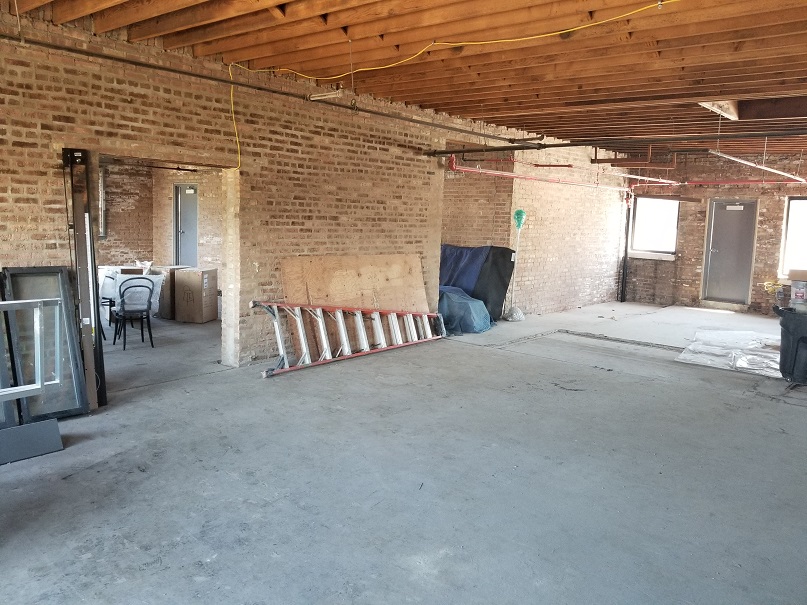 Speaking of, what can the Chicago drinking public expect from Midwest Coast? Compton's 10bbl system has been busy churning out a small but impactful tap list that currently includes four beers if the doors were to open tomorrow: the aforementioned CHI.P.A., Local Time Blonde Ale, West Town Brown Ale and a British-Style Pale Ale. A Lager, Pilsner and Saison are also in the works, along with Compton's first batch of his Hazy IPA. An Oktoberfest-style brew is also coming for fall. The taproom will also have a rotating local guest tap, starting with West Town neighbor, Forbidden Root.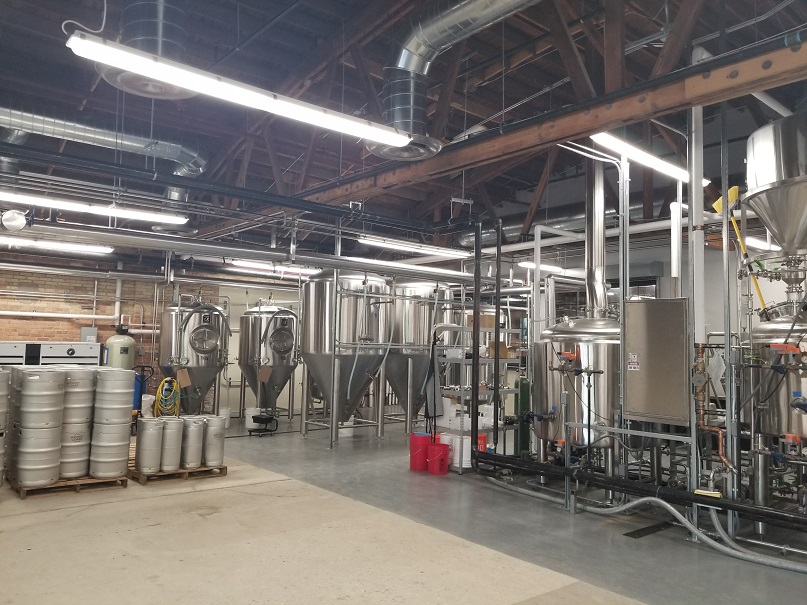 While Compton says that fruited-beers, barrel-aged offerings and even cask ales could be in the future for Midwest Coast, the current offerings offer a balanced, refreshing approach to beer that should appeal to beer drinkers who might need a break from today's hop-bombs and fruit-beer-slushies. Cans are also a possibility but not the focus at the moment. Instead, Compton is focused on growing within their means to start and building out additional capabilities as they grow.
As Compton puts it, his brewery aims to be a "return to the classic style" of craft beer, where IPAs were balanced and easy drinking. The CHI.P.A. is an excellent take on this concept. It is their strongest offering at 6.4% ABV but drinks incredibly easy thanks to its balanced equation of soothing malts and bitter hops. It's a great take on what a classic IPA used to taste like: a bit hoppy, a bit malty and 100% delicious. This will definitely be the bellwether beer for this brewery. I also tried out the Local Time Blonde Ale, which is instantly crushable and refreshing—perfect for a hot summer day or, as Compton puts it, "the perfect six-pack on the lake kind of beer."
https://www.instagram.com/p/B0o3Jf2Fef3/
With the beer list built on and the taproom ready for curious Chicago drinkers, all that's left is getting through the final band of regulatory red tape. This could happen tomorrow or next week, but definitely by mid-September. Once they get the final sign-off from officials, Compton says they'll host a soft opening followed by a weekend opening to the general public. If you're looking to get their beer before they open, both Beermiscuous and Beer Temple should have their British-Style Pale Ale on-tap soon.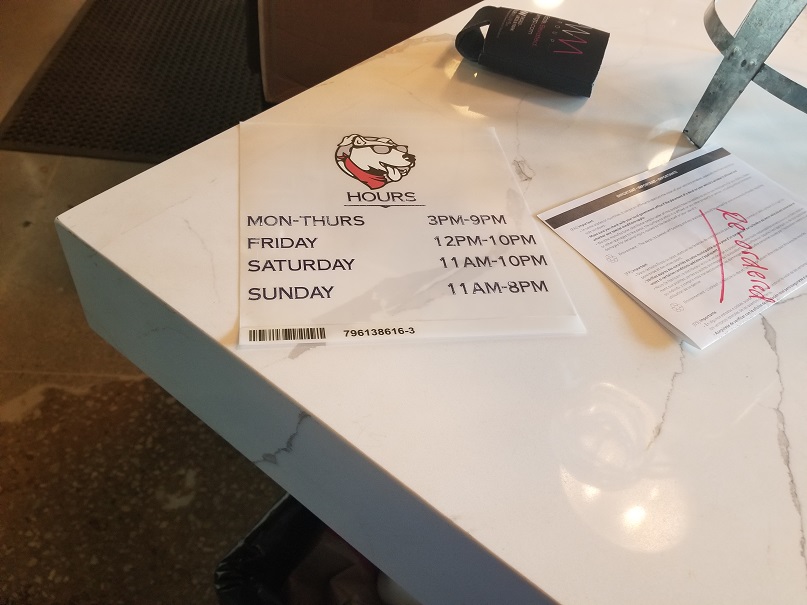 Similar to other members of the Chicago Brewing District, which Compton hopes to join soon, their taproom space is BYOF and will have a mobile ordering kiosk on-site. Unlike some of its brewing colleagues, Midwest Coast will have its own parking lot, along with a bike rack. Given their proximity to the United Center (10-15 minute walk), the TVs at the bar will air a variety of Chicago Blackhawks and Bulls games, along with other notable sporting events. When I visited, I walked from West Loop, which took roughly 35-40 minutes. Given the great beer and good vibes that Midwest Coast offered, I have a feeling I'll be taking that walk again—hopefully sooner rather than later. Cheers!
---