No Comments
Ultimate 6er | Beer and Dip Pairings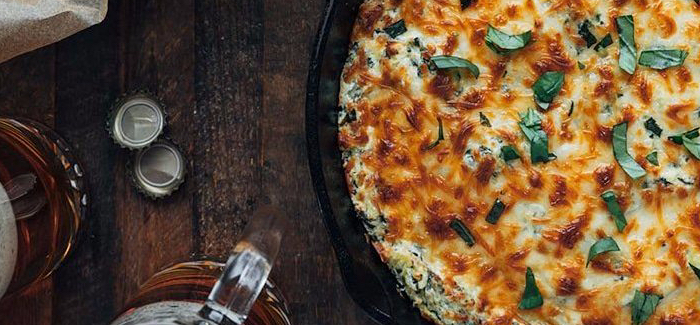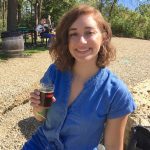 Super Bowl Sunday is one of my favorite days of the year. My friends and I gather for an evening of celebration and friendly competition: the annual Dip Party. The football plays on mute for any plus ones who care about sports, and the game is only un-muted for the half-time show. Everyone attending brings a homemade dip and dunker, with first, second, and third place prizes based on a popular vote. 
From sweet to savory, nostalgic classics to fresh takes, the party is all about the dip — a quintessential snack at any gathering. And as dip is the perfect party food, beer is an obvious beverage choice. This is especially true on Super Bowl Sunday when the industry is inundated with heightened awareness for beer's biggest players. Whether enjoying a small spread or hosting a dip feast of your own, below are fail-safe beer pairings for some classic party dips. 
Buffalo Chicken Dip | Threes Brewing Vliet
Brooklyn, NY | Pilsner | 5.2%
https://www.instagram.com/p/B1yfQ7pnosK/
Buffalo is a flavor made for party food. Wings, cauliflower, and even Takis have buffalo varieties. Though the piping hot dip may rule supreme. Between the blue cheese funk, buttery richness, and cayenne heat, this dip needs a simple and refreshing beverage. Brooklyn's Threes Brewing makes just the brew. Vliet is a German-style Pilsner with slightly sweet and floral notes. Its light flavors offer some relief from the spice with a classically crisp lager finish. 
French Onion Dip | Bell's Brewery Amber Ale
Kalamazoo, MI | Amber Ale | 5.8%
https://www.instagram.com/p/B5N8kmEnpN2/
A year-round crowd-pleaser, French onion dip is not to be forgotten at a weekend gathering. It's a perfect choice for the guest who waits until the last minute to decide what to bring to a get-together. Whether grabbing a tub of Dean's on the way to the party or throwing together your own scratch mix at home, this classic dip deserves a classic brew like Bell's Amber Ale. The malt-forward, caramel flavors in the Amber Ale bring out the sweetness in the onions, especially if your recipe uses juicy caramelized onions along with the powder or dried. A slight hop sharpness cuts the dip's creaminess to create a cozy cold-weather combo. 
Guacamole | Whiner Beer Co. Bubble Tub
Chicago, IL | Saison | 6.2%
https://www.instagram.com/p/B0eXZvoBmR6/
You can always count on someone to show up with guacamole at a get-together. Everyone has their favorite style — chunky with fresh tomatoes and onion, blended smooth with a bit of bacon, or sweet and spicy with jalapeno and pineapple. No matter your fixings, this creamy avocado dip pairs well with Whiner Beer Co.'s Bubble Tub. A watermelon-flavored, kettle-soured Saison, Bubble Tub offers a pucker to level the fat in the avocado. And it's sweet effervescence brings out the acidity and spice in the guac's chosen accompaniments. Not to mention the watermelon-pink can art pops next to the bright green dish.
Spinach + Artichoke Dip | Odell Brewing Company IPA
Denver, CO | Pale Ale | 5.2%
https://www.instagram.com/p/B0oph_9Bi31/
This is a dip I keep coming back to, year after year. As much as I want to up my culinary game with a complexly seasoned, gourmet, 16-ingredient recipe from the latest Bon Appetit, I also know that what I really want to eat when the cooking is done is a hot mess of cheesy goodness with a bit of greenery for good measure. Odell Brewing Co.'s IPA lends an earthy bitterness to a scoop of this rich dip. The hop spice and toffee-like malt flavors bring out the nutty flavors in the artichokes, especially if using fresh ones. The IPA also has enough citrus and above-average carbonation to lighten up a heavier dip.  
Hummus | Westbrook Brewing Co.'s White Thai
Mt Pleasant, SC | Witbier | 5%
https://www.instagram.com/p/BQGeZwhDjFf/
Hummus is a blank canvas in dip form. The base of chickpeas, tahini, lemon, and garlic can be a great addition to any spread, especially when you want to get creative with dunkers. Additions like roasted red pepper, beets, carrots, za'atar, cumin, and more can take it to the next level if you're feeling adventurous. Regardless of hummus flavor preference, this dip really benefits from a bit of a zing. Westbrook Brewing's take on a Belgian-style wheat beer, White Thai, has a similar flavor profile to a slightly dolled-up hummus. Using lemongrass, ginger, and herbal Sorachi Ace hops, this brew aligns well with the sweet, acidic, and spicy flavors in hummus. Even the light malt varieties bring out the nuttiness of chickpeas and tahini. 
Chili Cheese Dip | Alaskan Brewing's Smoked Porter
Juneau, AK | Porter | 6.5%
https://www.instagram.com/p/B50ZkH7gB0V/
A nostalgic weekend snack for many, chili cheese dip is a must-have winter staple. Especially if you can grab your share shortly after it exits the oven, cheddar still bubbling. Not one for the health nut, the shameless layers of cream cheese, canned chili, and more cheese are an easy fan-favorite if you're looking for a way to a speedy food coma. This dip has a fair amount of heft and its beer pairing has to be robust enough to stand up to it. The Smoked Porter from Alaskan Brewing Co. is up for the job with its roasty, smoky, malt-forward flavors. This Porter pairs just as well with a savory, meaty dip as it would a piece of chocolate cake, providing a rich sweetness with cocoa and coffee notes.
Feature image courtesy of StripedSpatula.com.