One Comment
Examining the Oskar Blues Can-O-Bliss Series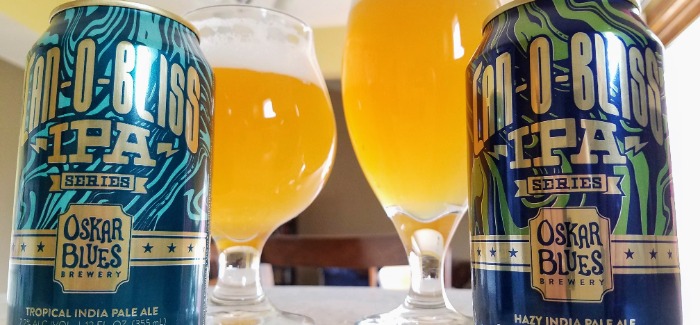 In this new COVID19-driven world, to-go options and canning have taken center stage in the craft beer industry. So it's no surprise that the first brewery to put craft beer in cans, Oskar Blues, is still producing and distributing a variety of beer styles. One such collection is the Oskar Blues Can-O-Bliss IPA series, a rotating release of IPAs the brewery unveiled in 2019. The idea behind the project is to "showcase unconventional combinations of exceptional hops." The result for beer drinkers is a series that celebrates the diversity of hop flavors and aromas.
The brewery sent PorchDrinking a few samples to try: Tropical IPA, Hazy IPA and Citra DIPA. The Tropical will return next spring, but the seasonal Hazy IPA is available now and the DIPA is a year-round treat. Oskar Blues will also release a new Citrus IPA in September 2020.
HAZY IPA
Available now (released May 2020)
First released: April 2019
7.2% ABV
The Hazy IPA offers robust fruit flavor and aroma which is achieved by the substantial hops additions during the whirlpool and dry-hopping stages. The brewery chose to incorporate "five noteworthy hops: super dank Strata, aromatic Cashmere, quirky Enigma, wine-like Hallertau Blanc and peachy-pine Eureka hops."
"This beer doesn't set out to be a 'New England' style," said Oskar Blues Head of Brewing Operations Tim Matthews. "The bitterness is forward, but elegant. The mouthfeel is thorough without being fluffy. The beer focuses on intense hop loads that are extracted to create a long-lasting hop haze."
Oskar Blues Lyons Head Brewer, Juice Drapeau, added, "Most hazy IPAs go for strong, aggressive citrus and popular dank hops like Mosaic and Galaxy, but this hop profile offers a lot more nuance and subtlety than most. It's truly hop-driven with soft, fruity undertones, making it perfect for summertime IPA swigging."
CITRA® DOUBLE IPA
Available Year-Round
Released in 2020
8.2% ABV
For those that enjoy NEIPAs but still crave some traditional "West Coast" attributes, the Citra DIPA might be the beer for you. The translucent, rich-yellow beer offers abundant Citra-hop aroma and flavor that remind one of passionfruit and nectarine. Although it's more one-noted in its hop flavoring (compared to other Can-O-Bliss selections), the additional bitterness obtained from the abundant hops plays well against the substantial malt backbone. Thus, in this writer's view, the DIPA achieves an ultra-pleasing balance of hops flavor, hops bitterness and malt.
Indeed, the traditional IPA characteristics coupled with the citrus-forward flavors would serve well as a good summer IPA. The citrus refreshes much like a summer cocktail, but it retains all the beer goodness we love when breaking a bit of a sweat in July.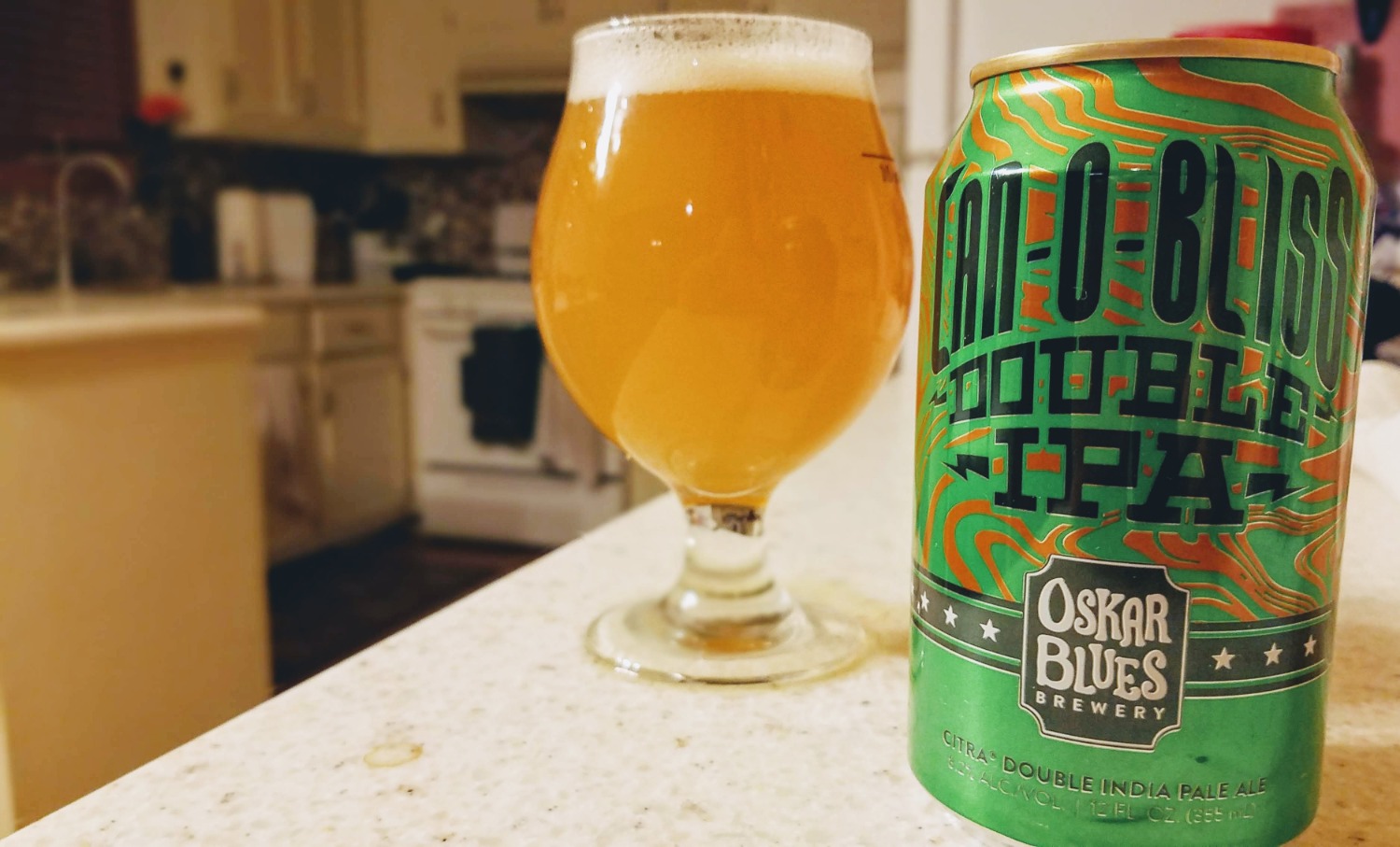 TROPICAL IPA
Available: Jan – April
First Released: January 2019
7.2% ABV
Tropical IPA benefits from an array of hops: Mosaic, Azacca, Galaxy, El Dorado and Idaho 7. The bitterness is subdued in the fruit-forward Tropical IPA, but the beer offers an abundance of hop flavors with notes resembling orange, nectarine and tangerine. One will also detect a hint of pine flavor and aroma that's typical in traditional West Coast IPAs. Be warned though: The tartness ramps up as it warms so it's best to drink it while it's cold. However, the beer is hardly a sipper, so that's not much of a problem (that 7% ABV will sneak up on you!). A real plus is the malt background of Tropical IPA, which gives it that nice classic beer feel; it also provides sweetness to the beer. So while wildly juicy/tropical, it's not a "juice bomb."
By the way, the beer works superbly as an accompaniment to a meal such as roasted chicken, pork tenderloin or even a warm, hearty sandwich.
CITRUS IPA
Available for the first time in September 2020.
7.2% ABV
Not sampled, but the brewery noted: "A complex, international blend of Motueka, Amarillo, Mandarina Bavaria, Citra and Experimental Hop #06277 contribute to a big, juicy, citrusy IPA experience with notes of orange, tangerine, and zesty tropical fruit."
Final Remarks
Each Can-O-Bliss selection enjoys similarities as part of the NEIPA family but like any family, each member is unique, too. This is not a series that showcases hoppy-bitterness, but instead a celebration of distinct hop flavors as well as craft-brewing experimentation that combines those flavors into a final, pleasing result. The boozy notes are largely held at bay in each selection making every variety an easy-drinker for those that enjoy this style of beer. Thus, expect big flavors, "juicy" attributes, plenty of citrus/tropical notes, and solid malt backbones that keep it from becoming juice bombs or straying too far to the cocktail side of life.
https://www.instagram.com/p/CAGnnXYFaV8/
---