No Comments
Complete List of Colorado Breweries Re-Opening Taprooms This Weekend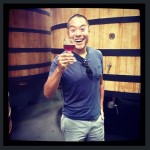 Earlier this week, Colorado Governor Jared Polis included breweries along with restaurants in his update of businesses that could begin re-opening this week in the wake of the COVID-19 pandemic. In following the guidelines set forth for both restaurants and breweries, Polis also noted breweries must provide food from a licensed retail food establishment.
Breweries are alternatively allowed to partner with neighboring restaurants to provide food, or partner with food trucks, however, breweries are not covered simply by providing light snacks, microwaving food on-site to serve, or allowing patrons to bring in takeout or food delivery.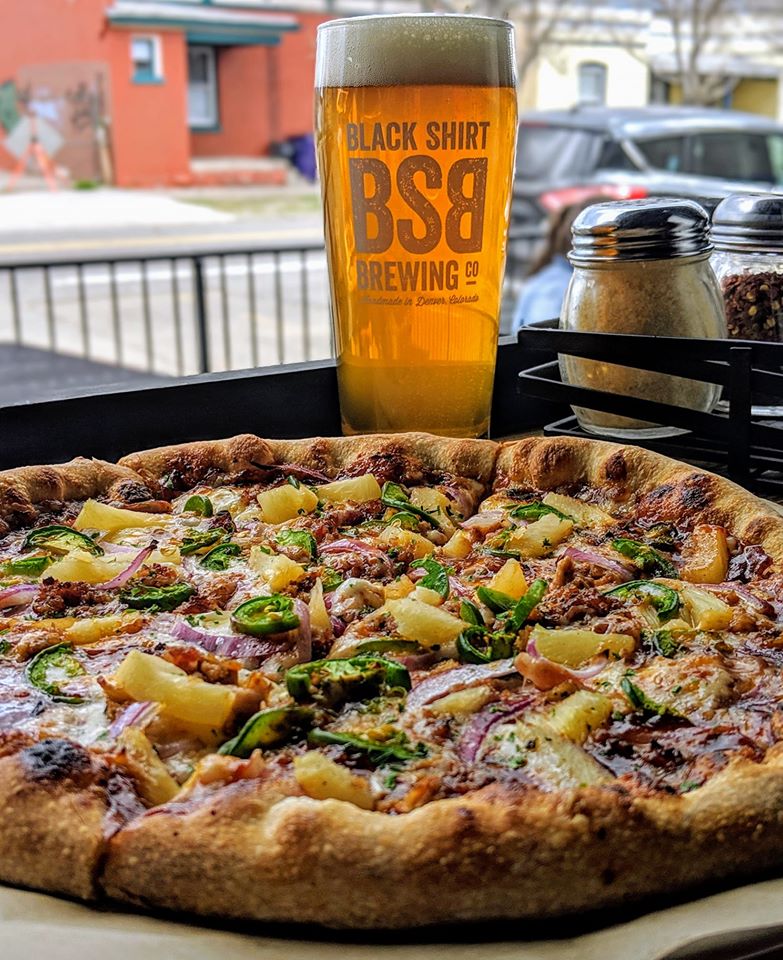 During his press conference on May 26, Polis was asked by Steve Staeger, a reporter for 9News, why breweries would be required to have a food component on-site to re-open, and explained that the main focus was to shift brewery operations to more of a sit-down restaurant model to lessen social contact among multiple parties.
"The key concept is not the food; it's not about food; food doesn't make it any safer. What makes it safer, is the expectation socially that you're with your party, and it's not an environment to mix with other parties," said Polis. "It's one to break bread or beer with those who you came with, facing each other talking to each other. The only people at risk presumably, are the people in that party. It's not talking to hundreds of friends moving freely between parties. That was the goal, and it can certainly be refined in the days ahead."
In addition to providing food on-site for customers, breweries must also adhere to social distancing guidelines which include spacing tables 6-feet apart from each other and a max capacity of 50 patrons in the establishment. In order to abide by these new measures, several breweries have adopted new ways to accommodate greater space between their guests. Yesterday, Copper Kettle Brewing, announced that they had knocked out one of their interior walls to create more space for patron seating.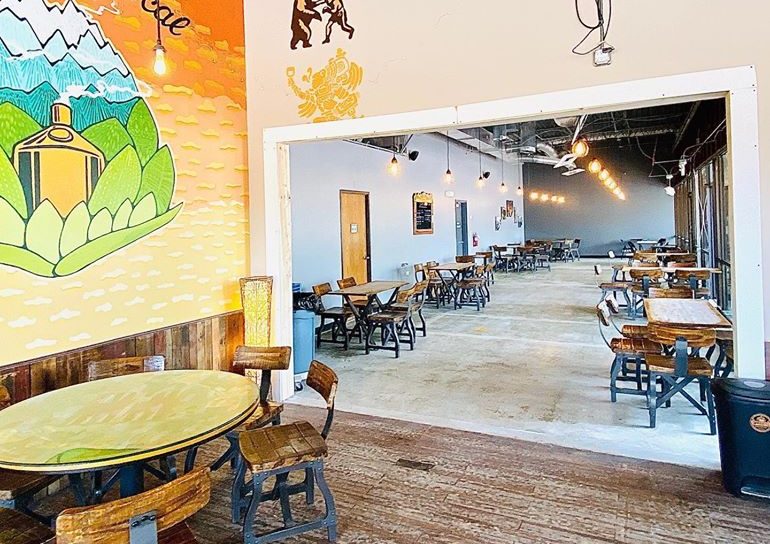 Additionally, in Denver, several districts have proposed the ability to close down select streets to allow businesses to extend outdoor seating for patrons. Woods Boss Brewing has already partnered with the city to extend their taproom to the areas between their sidewalk and street.
Meanwhile, many more breweries have also opted to remain closed for on-site consumption this weekend, instead opting to ease back into regular operations after having shifted their business models to focus only on beer-to-go sales for the past two months.
As breweries begin re-opening their taprooms this weekend, the PorchDrinking team has rounded up a complete list of breweries that have already re-opened, will re-open this weekend, or have re-opening dates announced for the horizon. Keep in mind, most of those breweries that have elected not to re-open immediately, are still open for beer-to-go sales and we encourage our readers to continue supporting their to-go efforts.
Additionally, we also urge readers to remain patient with breweries as they begin re-opening taprooms. Many have shifted their business models completely and are still adjusting to this transition period. Due to the limited capacity, we also remind our readers to expect wait times before being seated.
If your brewery has updated its opening date since the publication of this article please reach out to tristan (@) porchdrinking (dot) com to have your listing updated.
Special thanks to Karen Mills, Emma Wargolet, and Scott Davidson for contributions in research for this article.
Brewery
Opening Date
Limited Hours
Reservation Required?
Denver
14er Brewing
Friday, May 29
Mon-Fri: 3-9pm, Sat-Sun: 1-9pm
Alpine Dog Brewing
TBA
Alternation Brewing
Friday, May 29
Fri: 3-9pm, Sat: 2-8pm, Sun: 12-6pm
Reservation with $10 Deposit
Amalgam Brewing
TBA
Baere Brewing
Soft Open Wednesday, June 10
Banded Oak Brewery
Friday, May 29
Trial Run Opening: Fri & Sat: 12-6pm
Barquentine Brewing
Now Open
Mon-Thurs: 12-9⠀
Fri-Sun: 11-10 ⠀
Bierstadt Lagerhaus
Friday, May 29
Opening Friday at 1pm. Normal hours resume Saturday: 11am - Midnight
Black Project Spontaneous & Wild Ales
TBA
Black Shirt Brewing
Now Open
Sun-Thurs:11am -10pm Fri-Sat: 11-midnight
Black Sky Brewery
Friday, May 29
Call for Reservation: 720-708-5816
Blue Moon Brewery
TBA
Blue Tile Brewing
TBA
Briar Common Brewery + Eatery
Friday, May 29
Opening at 3pm on Friday, then returning to 11am - 10pm
Strongly encouraged -- email s[email protected] or call the brewery to speak with a manager
Bruz Beers
Now Open
2pm - 9pm Daily
Bull & Bush Brewery
TBA
Burns Family Artisan Ales
Sunday, May 31
Fri-Sun: 1-6pm
Call to Arms Brewing
Wednesday, June 3
3-8pm
Cerebral Brewing
TBA
Cervezeria Colorado
Now Open
Chain Reaction Brewing
Now Open
Friday 3-8pm, Saturday 12-8pm and Sunday 12-6pm
Chophouse Denver
TBA
Comrade Brewing
Monday, June 8
Mon-Thurs: 1-7pm, Fri-Sun: 12-7pm
Copper Kettle Brewing
Friday, May 29
Fri & Sat:12-10 PM Sun: 12-7 PM
Counter Culture Brewery & Grill
TBA
Crazy Mountain Brewing
TBA
Crooked Stave Artisan Ales
TBA
De Steeg Brewing
Friday, May 29
Denver Beer Co.
Now Open
Diebolt Brewing
Thursday, June 4
Dos Luces Brewery
Friday, May 29
Opening Friday at 1pm
The Empourium Brewing
Friday, May 29
Opening Friday at Noon
Epic Brewing
Now Open
Call 720-539-7410 for reservation
Factotum Brewhouse
Monday, June 1
TBA
Fiction Beer Company
Friday, June 5
FlyteCo Brewing
Now Open
Open 12-7pm Through Sunday, Hours Updated Afterward
Goldspot Brewing
Now Open
3-9pm
Good River Beer
Taproom Closed
Grandma's House Brewery
TBA
Great Divide Brewing (Barrel Bar)
Friday, May 29
2-8pm
The Grateful Gnome
Thursday, June 4
Hogshead Brewery
Now Open
12-9pm
Jagged Mountain Craft Brewery
Friday, May 29
Fri & Sat: 12-10pm; Sun:
Lady Justice Brewing
TBA
Little Machine Beer
Now Open
Long Table Brewhouse
Saturday, May 30
Lowdown Brewery
Now Open
Mon-Thurs: 4pm-10pm, Fri - Sun 11am -11pm
Mockery Brewing
Now Open
12-8pm Daily
Next Stop Brew Co.
Friday, May 29
Fri: 2pm-8pm, Sat: 11am-8pm (Final Two Days of Operation)
Novel Strand Brewing
TBA
Oasis Brewing
Now Open
Odell Brewing (RiNo)
Wednesday, June 10
Wed-Sun: Noon-10pm
Our Mutual Friend Brewery
TBA
Pints Pub
TBA
Platt Park Brewing
Tuesday, June 8
Prost Brewing
Friday, May 29
Thurs - Sun: 12-9pm
Raices Brewing
Now Open
3-7pm
Ratio Beerworks
Now Open
12-10pm / Hours Updated Daily
Renegade Brewing
TBA
River North Brewery
Now Open
Washington Street: Friday 4-6pm, Saturday 1-4pm
Blake Street: Today and Friday, 4-7pm, Saturday and Sunday 1-7pm
Seedstock Brewery
Friday, May 29
Opening at 2pm
Spangalang Brewery
TBA
Station 26 Brewing
Monday, June 1
Mon-Thurs: 1-11pm, Fri-Sat: 11am - 11pm, Sun: 11am-9pm
Strange Craft Beer
Saturday, May 30
TBA
The Sandlot
TBA
Thirsty Monk
TBA
Tivoli Beer
Monday, June 1
TRVE Brewing
TBA
Vine Street Pub & Brewery
TBA
Woods Boss Brewing
Now Open
Wynkoop Brewing
Monday, June 1
11am-8pm
Zuni Street Brewing
Now Open
Sun-Wed: 3-10pm, Thur: 3-11pm, Fri-Sat: 12pm-12am
Denver Metro
105 West Brewing
Now Open
Mon-Thur: 12pm -9:30pm, Fri-Sat 11:30-10:00pm,
Sun 11:30-8pm
3 Freaks Brewery
Now Open
Tue - Fri: 3-7pm
Sat - Sun: 1-6pm
4 Noses Brewing
Wednesday, June 3
Barnett & Sons Brewing
Now Open
Barrels & Bottles Brewery (Golden)
Friday, May 29
11:30am - 7pm
Bent Barley Brewig
Now Open
Big Choice Brewing
Now Open
Hours for this week will be kept to 1130am-7pm.
Reservations are required. Please call 303-498-0150 to reserve a table OR message us on Facebook.
Blind Faith Brewing
Blue Spruce Brewing
Friday, May 29
Boggy Draw Brewing
Now Open
Thurs & Fri: 3-8pm, Sat: Noon-8pm, Sun: 2-6pm / Closed: Mon-Wed
Brewability Lab
Friday, June 5
Brewery Rickoli
Sunday, May 31
Burly Brewing
Friday, May 29
Cannonball Creek Brewing
Friday, May 29
12-8pm
Cheluna Brewing
Now Open
Coal Mine Ave Brewing
Now Open
Tues-Fri: 3-8pm, Sat-Sun: 12-8pm
Coda Brewing
Now Open
Wed-Thurs: 3-9pm, Fri-Sun: 12-9pm
Email [email protected] for reservations or walk up to our host.
Colorado Plus
Friday, May 29
11am-10pm daily
Dead Hippie Brewing
Friday, May 29
Fri-Sat: 2-8pm, Sun: 2-6pm / Hours will be re-evaluated shortly.
Donovan Brewing
Dostal Alley Brewpub & Casino
TBD
Downhill Brewing
Now Open
Dry Dock Brewing (South Dock)
Friday, May 29
Elizabeth Brewing
Now Open
Frolic Brewing
Now Open
Sun-Thurs: 11am-10pm, Fri & Sat: 11am-11pm
Front Range Brewing
Now Open
Wednesday To-Go ONLY 3-6pm
Thursday Dine-in, appetizers with limited hours open at 3pm

Friday Dine-in, more food options open at 3pm --check social media for updates
Golden City Brewing
Now Open
Great Frontier Brewing
Friday, June 5
Mon-Fri: 4-8pm, Sat-Sun: 2-8pm
Green Mountain Beer Company
Friday, May 29
2-9pm weekdays and 12-9pm Friday- Sunday.
Grist Brewing
Now Open
Halfpenny Brewing
Now Open
Fri-Sun: 12-8pm, Mon-Thurs: 2-8pm
Holidaily Brewing
Friday, May 29
Monday - Thursday: Beer to Go ONLY 12-6pm
Friday - Saturday: Taproom Open 2-8pm
Sunday: Taproom Open 12-6pm
Iron Mule Brewery
Monday, June 1
Jackass Hill Brewery
Now Open
Joyride Brewing
Now Open
Noon-10pm
Kokopelli Beer Company
Friday, May 29
Landlocked Ales
Now Open
Mon - Thurs: 2-8pm, Fri & Sat: 12-9pm, Sun: 12-8pm
Lariat Lodge Brewing
Now Open
Launch Pad Brewery
Friday, May 29
Mon-Sat: 12-9pm, Sun: 12-7pm
Living the Dream Brewing
Now Open
Locavore Beer Works
Now Open
Lone Tree Brewing
Now Open
Los Dos Portillos
Wednesday, May 27
Luki Brewery
TBD
Mad Jack's Mountain Brewery
Tuesday, May 26
Wed-Thurs: 4-8pm, Fri-Sat: 11-8pm, Sun: 11-6pm
Mother Tucker Brewing
Now Open
2-7pm
Mountain Toad Brewery
TBD
New Image Brewing
Wednesday, June 3
New Terrain Brewing
Now Open
Ohm Brewing
Friday, May 29
Mon-Fri: 3-9pm, Sat-Sun: 1-9pm
Odyssey Beerwerks
Friday, May 29
Fri-Sun: Noon-8pm
Old 121 Brewhouse
Now Open
Over Yonder Brewing
Now Open
M-Th: 2-8, Fri: 2-9, Sat: 12-9, Sun: 12-8
Peak to Peak Brewery
Now Open
Peak View Brewing
Now Open
Monday - Wednesday 2-10pm and Thursday - Sunday 11am-10pm.
Call ahead to check availability
Periodic Brewing (Northglenn)
Now Open
Thurs-Mon: 1-8pm
Online reservations in the works
Rail's End Brewery
Wednesday, May 27
Mon-Thurs: 2-10pm, Fri-Sat: Noon-10pm, Sun: Noon-9pm
Resolute Brewing
Friday, May 29
Friday 5/29: noon to 9pm!
Saturday 5/30: noon to 9pm!
Sunday 5/31: noon to 6pm!
Rockyard Brewery
Now Open
Satire Brewing
Now Open
Someplace Else Brewery
Now Open
Something Brewery
Now Open
Yes
Spice Trade Brewing
TBD
Tommyknocker Brewery
Saturday, May 30
11am-9pm
Two22 Brew
Now Open
Ursula Brewery
Now Open
Walk-in only
Welcome Home Brewery
Now Open
WestFax Brewing
Now Open
M-Thurs 3-10, Fri-Sat 12-11, Sun 12-8
Westbound & Down Brewing
Now Open
11am-8pm Closed Tuesdays
Westminster Brewing
Wednesday, June 3
Wild Blue Yonder Brewing
Now Open
Wonderland Brewing
Now Open
M-f: 3-10, Sat: 11-10, Sun: 11-9
Fort Collins
Black Bottle Brewery
Wednesday, June 3
12-8pm
Coopersmith's
Friday, May 29
Guests to call 30 minutes ahead to be put on waitlist
Crooked Stave Artisan Ales
Now Open
No -- two people at a time allowed in
DC Oakes
Now Open
11am-9pm daily
Envy Brewing
Now Open
Equinox Brewing
TBA
Funkwerks
Friday, May 29
11am - 8pm
Gilded Goat
Friday, May 29
Horse & Dragon Brewing
Saturday, June 13
Sat-Sun: 12-7pm, Fri: 3-7pm
Intersect Brewing
Now Open
M-Th noon-9pm / F noon-10pm / Sat 11am-10pm / Sun 11am-8pm
Jessup Farm Barrel House
Now Open
11am-9pm daily
Maxline Brewing
Friday, May 29
McClellan's Brewing
Now Open
New Belgium Brewing
TBA
Odell Brewing (Fort Collins)
Thursday, June 11
Thurs-Sun: 12-7pm
Pitchers
Now Open
No
Prost Brewing
Friday, May 29
Purpose Brewing
Thursday, June 4
Rally King Brewery
Friday, May 29
Mon-Thurs: 2-7pm, Fri-Sun: Noon-7pm
Ramskeller
TBA
TBA
Red Truck Brewery
TBA
TBA
Snowbank
Thursday, June 4
Thurs-Sun: 3-8pm
Zwei Brewing
Monday, June 1
Mon-Sat: 11am-9pm, Sun: 11am -7pm
Greeley
Brix Brewery & Taphouse
Now Open
T: 3-9pm / W-Fri 3-7pm / Sat 11am-5pm / Sun 3pm-9pm / Mon closed
Yes for indoors, no for outdoors
Broken Plow Brewery
Now Open
3-7pm daily
Crabtree Brewing
Friday, May 29
Fri 2-7p, Sat noon-5p
Green Earth
TBA
TBA
Lonesome Buck
TBA
TBA
Rocky Mountain
Now Open
No
WeldWerks Brewing
TBA
TBA
Wiley Roots Brewing
TBA
TBA
Loveland
Berthoud Brewing
Saturday, June 30
Big Beaver
Friday, May 29
3-7pm daily
Big Thompson
Friday, May 29
Mon-Fri: 3-7pm. Sat: 1-7, Sun: 1-6
Buckhorn
TBA
Crow Hop Brewing
Monday, June 1
Dratz
Now Open
Grimm Brothers
Now Open
Loveland Aleworks
Now Open
daily from 2pm-9pm⁠
Rock Coast
Now Open
NEW HOURS:⁠
Tuesday - Friday 11am - 9pm⁠
Saturday 8am - 9pm⁠
Sunday 8am - 3pm⁠
Reservations are highly recommended: 970-617-2325⁠
Verboten Brewing
Now Open
Fri: 2 - 8 p.m., Sat:11am - 8 p.m, Sun: 2 - 8 p.m. Modified Taproom Hours Beginning Monday
Northern Colorado
Avant Garde Aleworks
Now Open
12 - 6pm Daily
City Star Brewing
Now Open
Estes Park Brewing
Now Open
G5 Brewpub
Tuesday, June 2nd
7am-9pm
High Hops Brewery
TBA
Lonesome Buck Brewing
TBA
Lumpy Ridge Brewing
Now Open
Mash Lab Brewing
Friday, May 29
Mighty River Brewing
Friday, May 29
Mon-Thurs 3pm - 9pm
Friday: 1pm - 10pm
Saturday: Noon - 10 pm
Sunday: Noon - 8 pm
Old Colorado Brewing Company
TBA
Soul Squared
Now Open
Mon-Thur: 3-9pm
Fri-Sat: 12-10pm, Sun: 12-8pm
Sparge Brewing
Now Open
Thurs:
3-7pm, Fri:
2-7pm, Sat:11am-7pm, Sun:
12-6pm
Rock Cut Brewing
Saturday, May 30
11am-7pm
Timnath Beerwerks
Friday, May 29
Colorado Springs
Atrevida Beer Company
Now Open
Bierwerks Brewery
Now Open
Black Forest Brewing Company
Now Open
Brass Brewing
Now Open
Check social media for up-to-date hours
Bristol Brewing
TBA
Cerberus Brewing
Friday, May 29
Walk-in only, call ahead to be added to the waitlist
Cogstone Brewing
Now Open
Colorado Mountain Brewery
Now Open
Deuces Wild Brewery
Now Open
FH Beerworks
FH Beerworks East is open
Sun-Thurs: 12-8, Fri-Sat: 12-10
Fossil Brewing
Thursday, June 4
Goat Patch Brewing
Friday, May 29
Walk-in only
Gold Camp Brewing
TBA
Jaks Brewing
Now Open
Local Relic Brewing
Wednesday, June 10
Lost Friend Brewing
Now Open
Manitou Brewing
Now Open
Metric Brewing
Tuesday, June 2
Nano 108 Brewing
Now Open
Paradox Beer Company
Now open
Peak N Pines Brewing
Now open
Phantom Canyon Brewing
Wednesday, June 3
Pikes Peak Brewing
Now Open
Red Leg Brewing
Now Open
Rocky Mountain Brewery
Now Open
Smiling Toad Brewery
Saturday, May 30
Storybook Brewing
Now Open
Trinity Brewing
TBA
Whistle Pig Brewing
Friday, May 29
Boulder County
12Degree Brewing
Friday, May 29
300 Suns Brewery
Friday, May 29
Asher Brewing
Now Open
Avery Brewing
TBA
Beyond the Mountain Brewing
TBA
Bootstrap Brewing
Friday, May 29
Bru Handbuilt Ales
TBA
Busey Brews
Now Open
Cellar West Artisan Ales
Saturday, May 30
1-9 pm Sat & Sun, hours tbd
Call (720) 465-9346 to confirm Table Availability
Collision Brewing
Saturday, May 30
Crystal Springs Brewing
Friday, May 29
Endo Brewing
TBA
Finkel and Garf Brewing
Saturday, May 30
Floodstage Ale Works
TBA
Gravity Brewing
Now Open
Großen Bart Brewery
Now Open
Gunbarrel Brewing
Now Open
Industrial Revolution Brewing
TBA
Kettle & Spoke Brewery
Now Open
Wed to Fri: 4-8pm, Sat: 1-9pm, Sun: 1-6pm
Knotted Root Brewing
Tentatively Opening Wednesday, June 10
Left Hand Brewing
Now Open
Liquid Mechanics Brewing
Saturday, May 30
Longs Peak Pub
TBA
Mirror Image Brewing
Now Open
Mother Tucker Brewery
Now Open
2-7pm this week, hours TBD following
Mountain Cowboy Brewing
Now Open
Mountain Sun Pubs
TBA
Odd13 Brewing
TBA
Oskar Blues Brewery
TBA
Outworld Brewing
TBA
Primitive Beer
TBA
Pumphouse Brewery
Monday, June 1
Hours for the first week of reopening (Monday) will be 11:00am - 10:00pm everyday. Redzone opening at 3:00pm Monday-Wednesday and 11:00am Thursday-Sunday.
Redgarden Restaurant & Brewery
Now Open
Monday - Friday: Noon - 7pm
Sanitas Brewing
TBA
Shoes & Brews
Now Open
*Reservation required for outside service only
Ska Street Brewstillery
TBA
Southern Sun Pubs
TBA
Stein Brewing
TBA
The Post Brewing
TBA
Twisted Pine Brewing
TBA
Uhl's Brewing
Saturday, May 30
Check social channels for updated hours daily
Unnamed Beer Co.
TBA
Upslope Brewing
Friday, May 29
Flatiron Location Only
Very Nice Brewing Company
Now Open
Vision Quest Brewery
Now Open
West Flanders Brewing
TBA
Wibby Brewing
Now Open
Wild Provisions
Wednesday, June 3
Interstate 70 / Summit Co & Eagle
7 Hermits
Now Open
Angry James Brewing
Wednesday, June 3
Noon-8PM
Aspen Brewing
Now Open
Noon -10pm
Ball Brewing
TBA
Bonfire Brewing
Now Open
Broken Compass Brewing
Now Open
12-8pm
Cabin Creek Brewing
Friday, May 29
Capitol Creek Brewing (Brewery?)
Now Open
Carbondale Beerworks
Friday, May 29
Casey Brewing & Blending
Now Open
Fri-Sun: 11-9pm, Mon-Thurs 2-9pm
Copper Club Brewing
Now Open
Dillon Dam Brewery
Now Open
Edgewater Brewery
Now Open
12 - 8pm
El Rancho Brewing
Now Open
11am - 8pm
Evergreen Brewery
Friday, May 29
Glenwood Canyon
TBA
Gore Range
Now Open
Guanella Pass Brewery
Now Open
Highside Brewery
Now Open
Kannah Creek Brewery
Now Open
Lariat Lodge
Now Open
Outer Range Brewing
Wednesday, June 3
Palisade Brewing
TBA
Periodic Brewing (Leadville)
Thurs-Mon: 1-8pm
Pug Ryan's
Now Open
Roaring Fork Beer Company
TBA
Rockslide
Now Open
South Park
Now Open
The Bakers' Brewery
Now Open
Vail Brewing
Now Open
Route 40 / Steamboat Springs
Butcherknife Brewery
TBA
Camber Brewing
Now Open
Fraser River
Now Open
Grand Adventure Brewing
TBA
Hideaway Park Brewery
Now Open
Mahogany Ridge
TBA
Mountain Tap
Now Open
Monday: Closed
Tuesday: 2-8pm
Wednesday: 2-8pm
Thursday: 2-8pm
Friday: 2-8pm
Saturday: 12-8pm
Sunday: 12-8pm
Never Summer
Friday, May 29
Peak Brewing
No taproom
Storm Peak Brewing
Friday, May 29
Yampa Valley
Now Open
Monday: Closed
Tuesday: 4-9pm
Wednesday: 4-8pm
Thursday: Closed
Friday: 5-9pm
Saturday: Closed
Sunday: Closed
Route 50 / Route 550 (BV/Salida)
Avalanche
Now Open
Brues Aleshouse
Now Open
Chrysalis Brewery
TBA
Colorado Boy Brewery
Now Open
Yes
Crestone Brewery
Now Open
Eddyline Brewery
Thursday, June 4
Thurs-Fri: 4-8pm, Sat-Sun: Noon-8pm
Elevation Beer Co.
Now Open
Florence Brewing
Now Open
Golden Block
Now Open
High Alpine
Now Open
Horsefly Brewing
Now Open
Irwin Brewing
TBA
Lake City
Friday, May 29
Moonlight
TBA
Mr. Grumpy Pants Brewing
TBA
Ouray
Saturday, May 30
Paonia United
TBA
Red Mountain
Monday, June 1
Reservoir Brewing
Now Open
Shamrock
Now Open
Smuggler's Brewpub
TBA
Soulcraft
Now Open
Telluride Brewing
Now Open
Noon-6pm
Tres Litros Beer
Monday, June 1
Two Rascal's
Now Open
Walter's Brewery
Friday, May 29
World's End
Now Open
Route 160 / Alamosa
Animas
TBA
Bottom Shelf
Monday, June 1
Break Room
Now Open
Carver
TBA
Colorado Farm Brewery
Now Open
Crafty Canary
TBA
Dolores River Brewery
TBA
J. Fargo's
Now Open
Main Street
Now Open
Mancos Brewing Company
TBA
Monumental Beer Works
Now Open
Pagosa Brewing
Saturday, May 30
Riff Raff
Now Open
San Luis Valley Brewing
TBA
Ska Brewing
TBA
Square Peg Brewery
Now Open
Steamworks Brewing
Wednesday, June 3
Three Barrel Brewing
Now Open
WildEdge Brewing Collective
Tuesday, June 2