No Comments
First Taste | Imperial Oak Brewing 2020 Quiet Giant Barrel-Aged Imperial Stout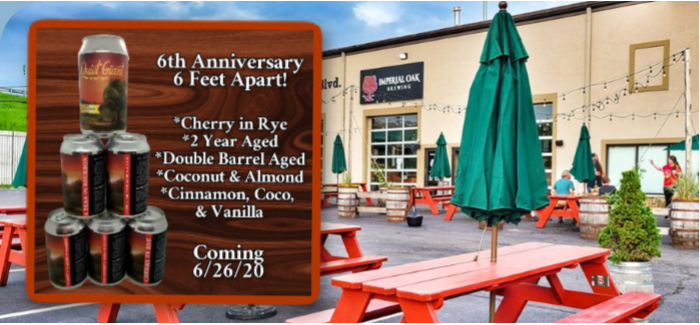 Pure barrel flavoring. No extracts. No syrups. No sugar bombs. The Imperial Oak Brewing Quiet Giant (strong) Barrel-Aged American Imperial Stout series, now in its sixth year, celebrates the artistry of barrel-aging in its purest form.
Yes, there are varieties with adjuncts, but only as complementary flavors. "Why put a beer in a barrel for a year and then completely cover it up? That's why the two-year [BBA] is still my personal favorite. But, I do like our variants. They aren't going to knock you in the face. That's not our thing. None of them are going to be a chocolate bomb, coconut bomb..that type of terminology. I like adjuncts. But, I want it to be subtle and complement the beer," said Brett Semenske co-owner and brewer.
Quiet Giant arrives each year for its anniversary, which this year enjoys the theme: Six years, Six Feet Apart (details can be found at the end of this story). The party slogan speaks to the challenges presented to breweries in 2020 by the COVID-19 pandemic. But, Illinois' case numbers are declining, patios are open and the beer remains consistent as ever. Going forward, most can expect five variants to arrive each May (this year in June due to the COVID-19 lockdown), with more two-year BBA for 2021.  However, this year, Imperial Oak also has a one-time special beer from its Savage Oak room, offered in bottles.
Quiet Giant Double-Barrel in Bourbon & Rum
A true mixologist doesn't merely consider spirit combinations but thinks about the origins and compositions of the spirits used in a cocktail. That type of mindset is what one will find in the Double-Barrel from Imperial Oak."We have been using South American Rum Barrels. They are super smooth and fruity. South American barrels re more mellow than, say the ones we get from Jamaica & the Dominican." It won't taste hot by any means. The Rum is a finisher.
The beer spends nine months in bourbon barrels and then goes directly, barrel-to-barrel to the South American Rum barrels. There's a little sweetness from the Rum, but don't think of it like rum-soaked brownies; the rum sweetness is mostly perceived. The rum flavor, however, is real, and works especially well with the bourbon and base beer.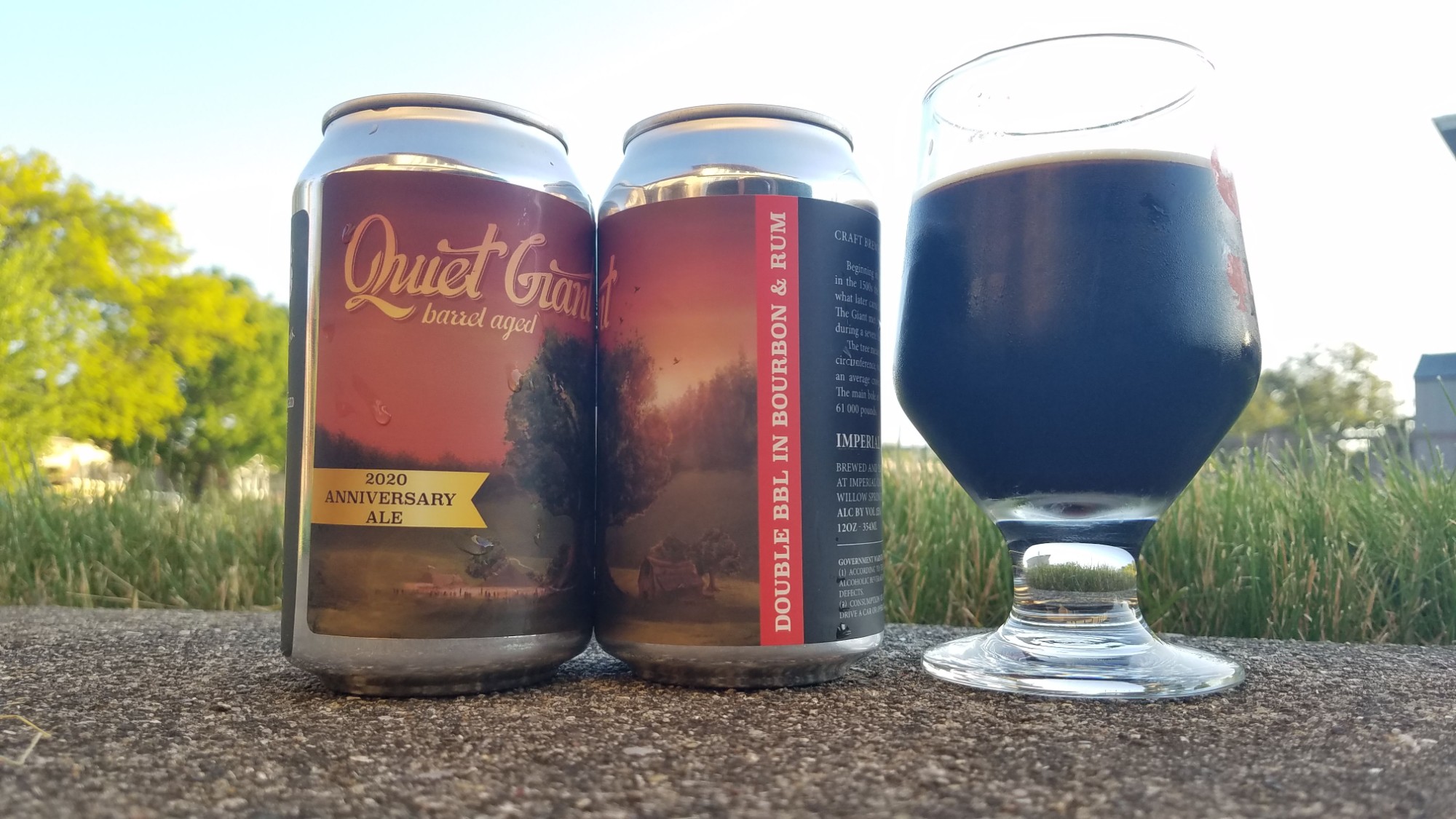 Quiet Giant 2-Year in Bourbon 
It will be tough for lovers of real BBA beers to find flaws with the two-year variant. Its lack of adjuncts allows one to dive deep into the minds of the Imperial Oak brewers and their ideas on barrel-aging.. What sweetness exists, comes purely from the bourbon barrel. "This is the sweetest one simply because when you get that extra time in the barrel, you get more evaporation, so it concentrates the sugars even more,' noted Semenske.
It checks all the boxes: mouthfeel, flavor, aroma — you name it. With two years in a barrel, there's plenty of bourbon flavor, marked by chocolate, vanilla, spice and oak notes. And the full, viscous body and creamy mouthfeel speak to its skilled execution.
Quiet Giant Cherry in Rye 
The brewers take the beer out of the fermenter a couple of weeks earlier than normal so that the yeast can work on the cherries, so they ferment out. "You can see it chugging along for a week or two once we put it all in the barrel."
One of the more refined Quiet Giant variants offered in 2020 by Imperial Oak, the brewers "use the tart, Montmorency cherry, so it is not 'cough-droppy' at all; it is not sour, but it gives it a bit of tartness on the finish. It's not like cough medicine at all," explained Semenske." Additionally, Imperial Oak ages the beer in malted-rye whiskey barrels from Quincy Street Distillery rather than place the beer in raw, rye whiskey barrels. That does offer some rye char, but it's a much smoother rye flavor, and there's a little less rye bite than one might expect from rye-whiskey aging. There's a richness and depth to this variant that might make it a fan-favorite, if the flavor combinations are to their liking.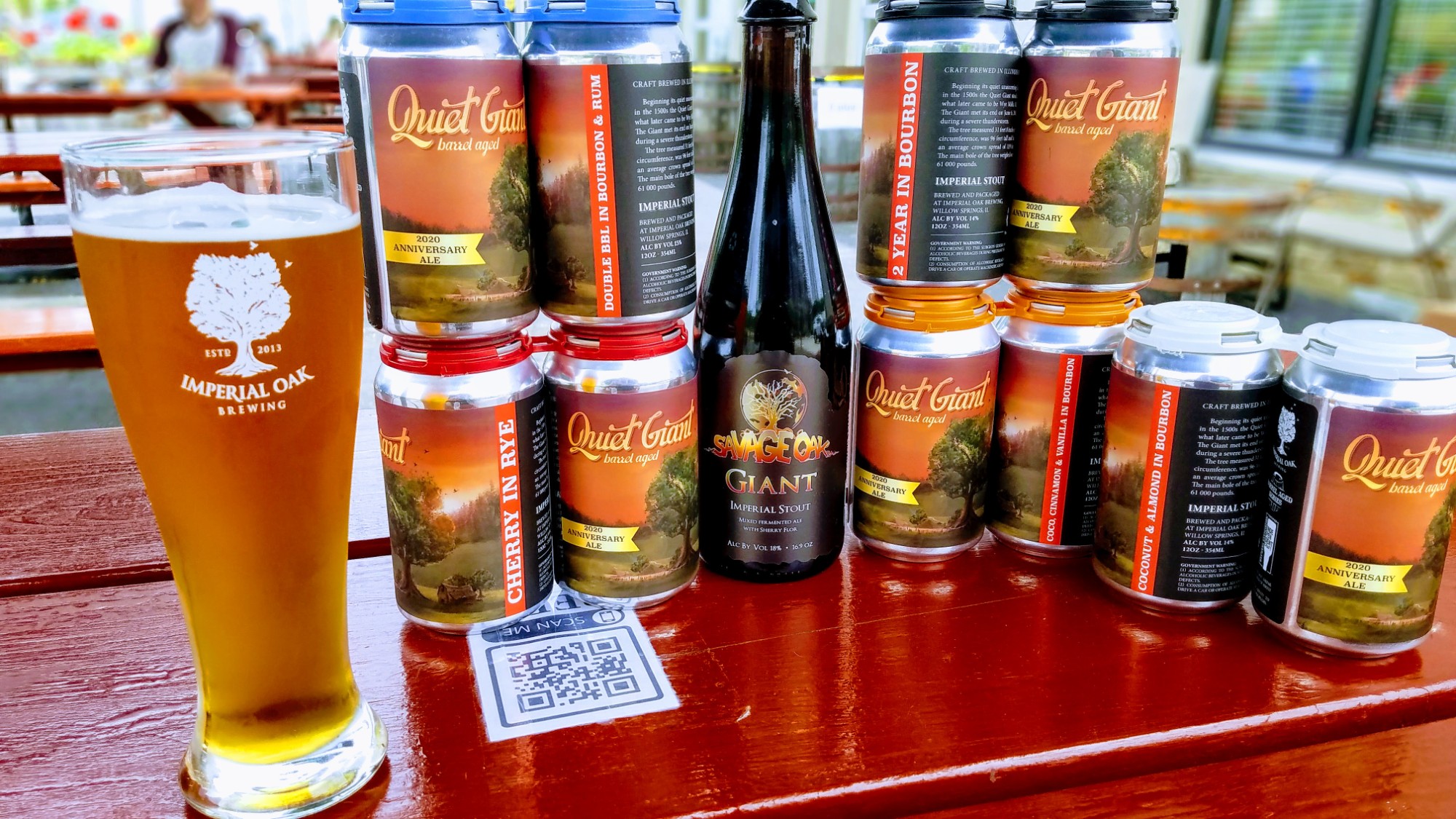 Quiet Giant Coco, Cinnamon & Vanilla in Bourbon
"All the ingredients are real. Grant [Hamilton, co-owner & brewer] sources all of that. We get the Cocoa Nibs from Ethereal Confections It's fresher than generic cocoa nibs that you can buy. It's a lot like with coffee when you think of single origin, but it's cocoa," said Semenske.
Imagine an idea similar to Mexican spice, minus the hot peppers. The cinnamon serves as the most prominent flavor when it's cold, whereas the chocolate and vanilla come through as it warms. Regardless of the temperature, though, the chocolate base — akin to adding chocolate to a savory dish, serves as the foundation. The cinnamon hits first, followed by the vanilla (again, more so as it warms).  The bourbon-booziness and spice notes from the cinnamon play nicely with the cocoa nibs and vanilla. But, what makes this beer is the chocolate base — superb.
Quiet Giant Almond & Coconut in Bourbon
No, this beer does not resemble a candy bar, nor does it conjure up memories from your last tropical island poolside bar experience. Similar to most of the other beers, the adjuncts merely impart twists on the base, BBA Quiet Giant. The almond is present from nose to finish. If one prefers less bourbon flavor, this might be the one for you — the almond balances it quite effectively. The coconut is not super strong — nothing like Fremont B-Bomb as a comparison, but remains ever-present with each sip. There's beauty in subtlety, exemplified by the use of coconut in this Quiet Giant variant.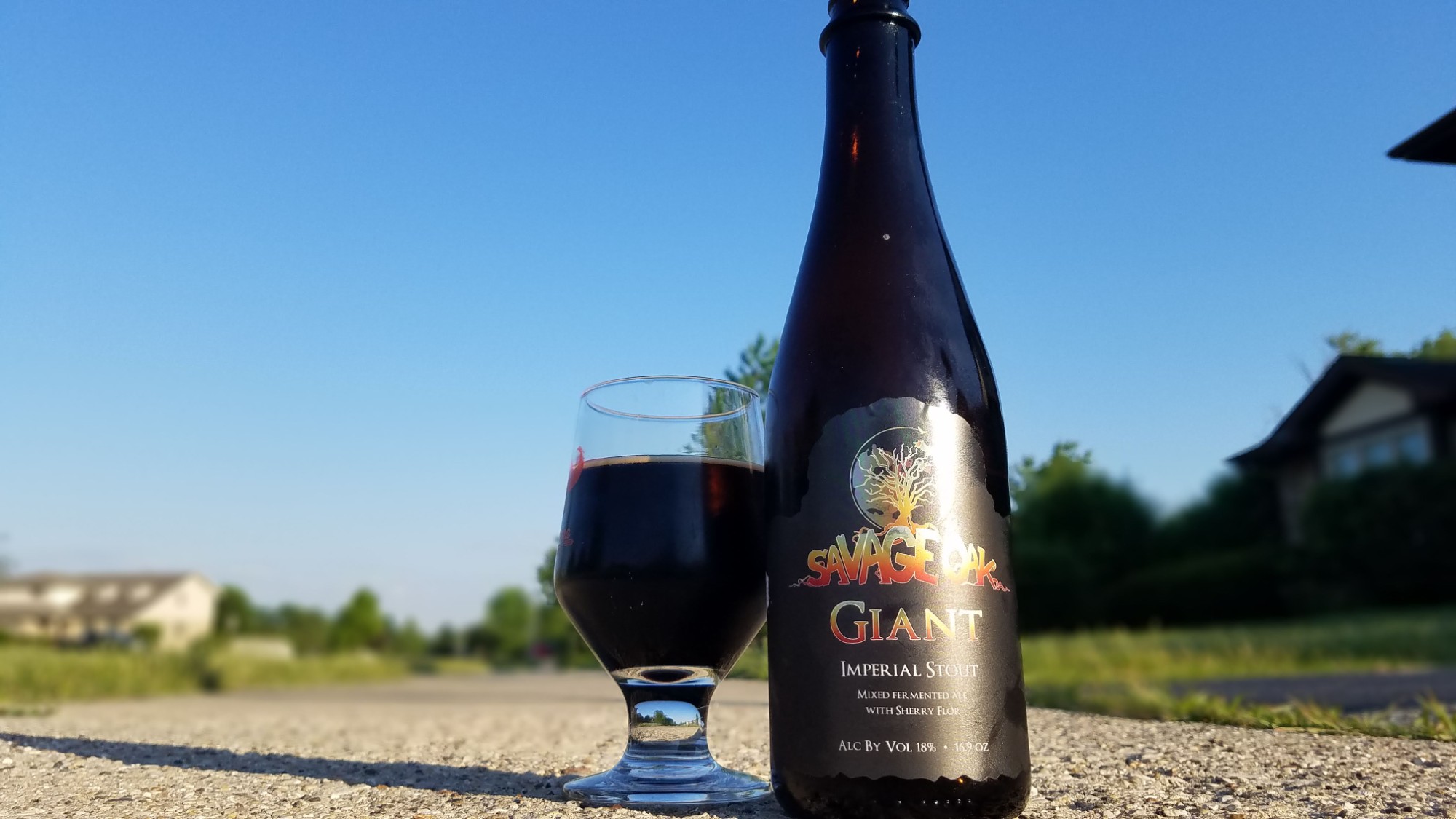 Savage Oak Giant Imperial Stout Mixed Fermented Ale with Sherry Flor
Brewers, like chefs, like to try things. Every once in a while, the attempt isn't perfect. But, talented artisans know how to turn lemons into lemonade. (Or in this case, beer into 18% ABV liquid gold.) "We had a beer that fermented super dry. Our brewer, Dan, who does most of our Savage Oak stuff [the part of the brewery that is home to its foeders], had the idea of putting it in barrels with Sherry Flor." Sherry Flor Yeast works well with high alcohol levels. So, "we put it in barrels, let it sit for two years, and then we tried it. We all had it and said,, 'Wow, this is really good!.'"
The result of the process is an exquisite, refined sipper. The beer is dry, comparable to a dry wine, or Irish stout. Savage Oak Giant flavors include chocolate, some subtle fruitiness (similar to plum) and just a hint of nuttiness. The Savage Oak Giant Imperial Stout comes in at 18% ABV and is packaged in 16.9 oz bottles. "It's more of a take-it-home kind of beer."  And, it's a one-time offering — get it while you can.
"6th Anniversary – Timed Pickup" | Social-Distance-Friendly Release 
"We've been working on a plan to celebrate our 6th Anniversary in a responsible way and still get everyone a pour and cans of our Quiet Giant Anniversary Stouts."
In order to do this and adhere to the social distancing requirements, Imperial Oak will offer tickets for attending and enjoying Quiet Giant on tap.
6th Anniversary – Timed Pickup tickets will be available on Thursday, May 18, at 12 pm via the Imperial Oak Brewing online store: 
(You do not need a ticket to attend only to purchase cans)
Tickets will be for 3-hour windows on Friday June 26th and Saturday June 27th.
"Timed Pickup" windows: Friday 5pm-8pm & Saturday 11am-2pm, 2pm-5pm, & 5pm-8pm.
For $6 these tickets will allow you to purchase cans during your window and also includes your first pour of QG.
Any beer remaining after these windows will then be available for purchase on Sunday June 28th.
By visiting during your ticketed time slot, Imperial Oak hopes to avoid a line or rush at their opening, or at any point during the day.
"Your continued support and cooperation has been amazing over these past few months and even more so these past 6 years. THANK YOU! We look forward to seeing you."
(Details for the party taken from the Imperial Oak website, but edited by Porchdrinking.com)
---