No Comments
Ultimate 6er | The Great British Baking Show: Collection 8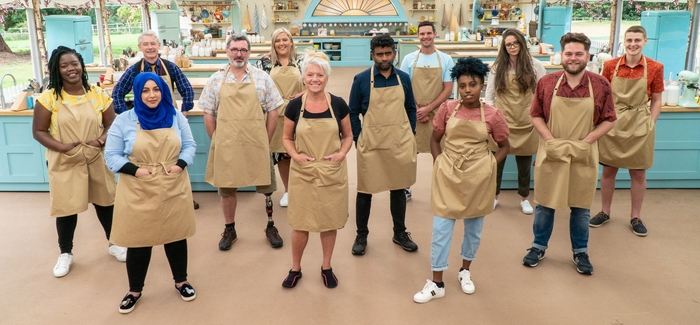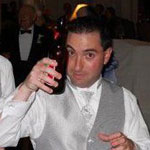 Netflix is home to many shows that enjoy a cult-like following, and The Great British Baking Show is no exception. The delightful baking show takes place in a tent and puts 12 amateur bakers to the test, each hoping to win the weekly Star Baker award and, ultimately, the entire show. What's crazy to Americans is that there is no cash prize for the winner — it's all about the love of baking.
Editor's note: This article was written after the first episode. The second episode has since been released on Netflix.
Collection (season) eight kicked off on Netflix last week, and new episodes will appear each week as the series progresses. I've always loved watching this show. It's relaxing, the bakers are mostly talented, and Noel Fielding, one of the show's two comedian-hosts is hilarious. You can't write about The Great British Baking show without calling out the judges Paul Hollywood and Prue Keith. Their dry wit and direct feedback always provide entertainment.
After watching the first episode of the new collection I paired up the six bakers who I think have the best chance to win it with a beer that I think most complements their personality or baking style.
Sura Selvarajah | Parallel 49 Brewing Tricycle Lemon Radler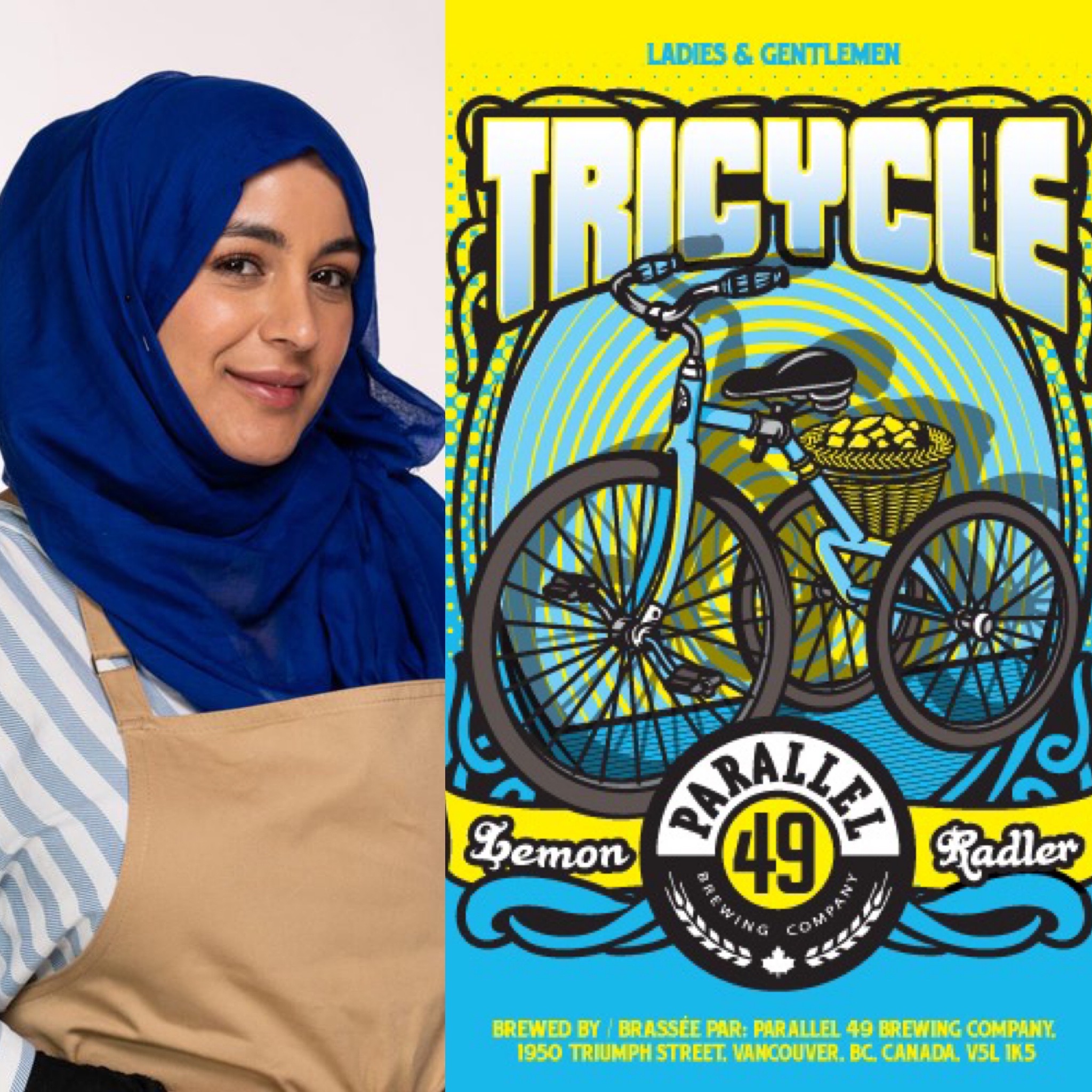 Once you get over the fact that she takes her cat out on walks, Sura is a formidable opponent this year and impressed in the first episode. I know it was an accident, but she also knocked Dave's pineapple upside-down cakes off during the second challenge; that action sends a message — don't mess with Sura.
Her first few creations focused a lot on citrus with lemon and orange being themes throughout the three challenges that are highlighted in the episode. I paired Sura up with Parallel 49 Brewing Tricycle Lemon Radler.
Yes, it's a beer that focuses on citrus so that had something to do with the pairing, but Sura might not strike you as an immediate favorite, she's not loud or flashy, much like a Radler. The style doesn't get a lot of love, but Radlers when well done, are a fantastic beer.
Sura won the technical challenge in the first episode and while she didn't get Star Baker, she's one I'll be keeping an eye on.
Peter Sawkins | Alt Brew Kickback Kolsch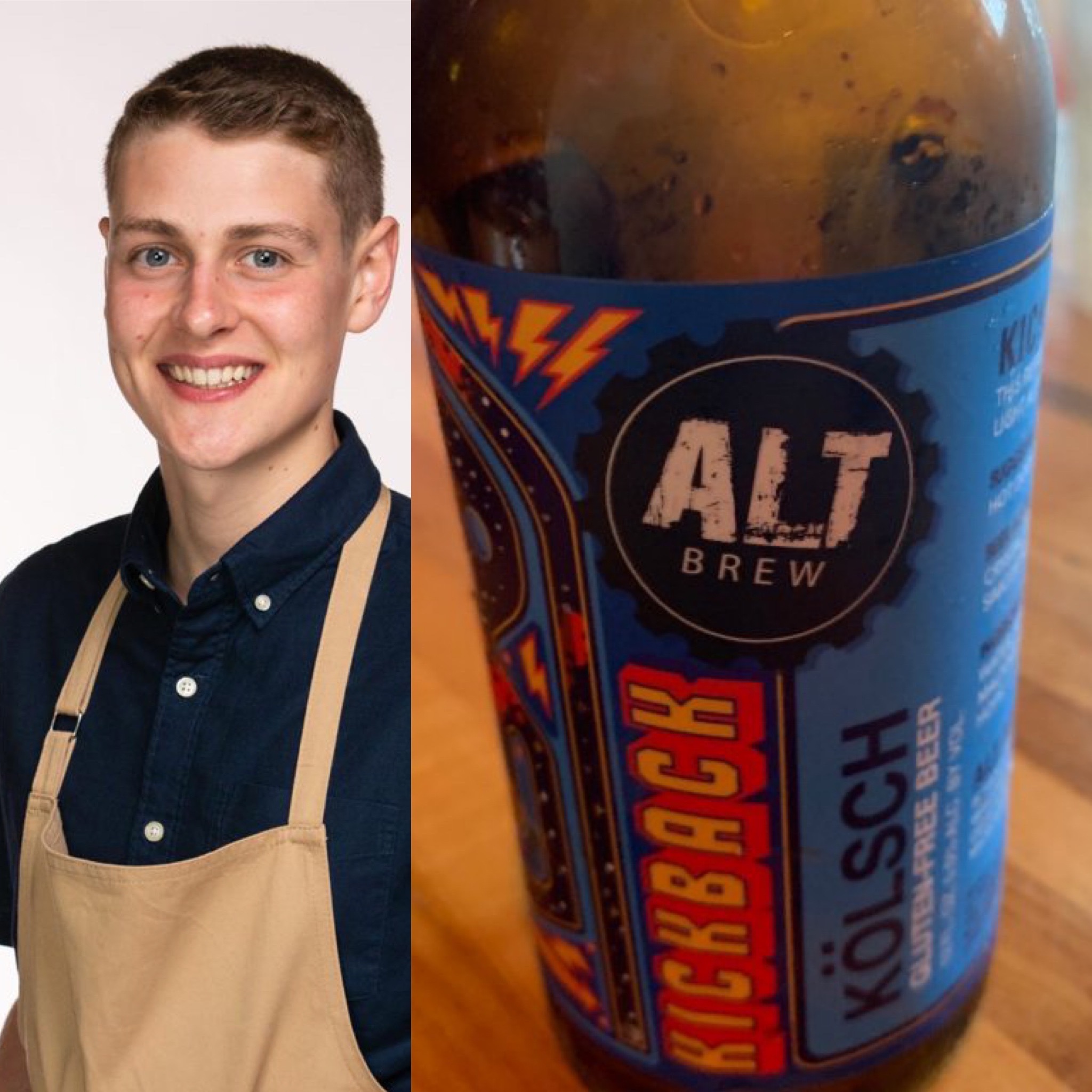 It's pretty bold to be a gluten-free baker and enter The Great British Baking Show. While Peter is using gluten in the competition, at home he does a lot of gluten-free baking so I thought it was natural to pair him up with one of the better gluten-free beers I've had and that's Wisconsin-based Alt Brew's Kolsch.
However, there's more to the pairing than just the gluten-free connection. Kolsch is a classic style and Peter was using classic, simple ingredients in his baking. His cake bust of biker Sir Chris Hoye wowed the judges and while it wasn't the most intricate design, it impressed — like a Kolsch.
Throughout the entire episode, Peter impressed the judges. His flavors of orange and chocolate are classic and the flavors and appearance of his dishes were spot on all episode. He ended up winning Star Baker so he of course has to be a favorite early on.
Rowan Williams | Pipeworks Brewing Ninja vs. Unicorn
Rowan likes to push the envelope and I'm here for it. The very first challenge he had an idea to build a design with 13 different building components and go big. He ultimately had to adjust, but I love that he doesn't shy away from a challenge.
His baking is colorful and the designs jump out at you. I'm pairing him with Pipeworks' Ninja vs. Unicorn. Known for their great can artwork and design, Pipeworks cans jump off the shelf and catch your attention, much like Rowan's baking creations. Ninja vs. Unicorn is also a strong double IPA at 8% and Rowan is a strong baker.
He took third in the technical challenge and I like that he's a risk-taker, keep an eye on him, I think he'll do well.
Laura Adlington | Haymarket Brewing Clare's Thirsty Ale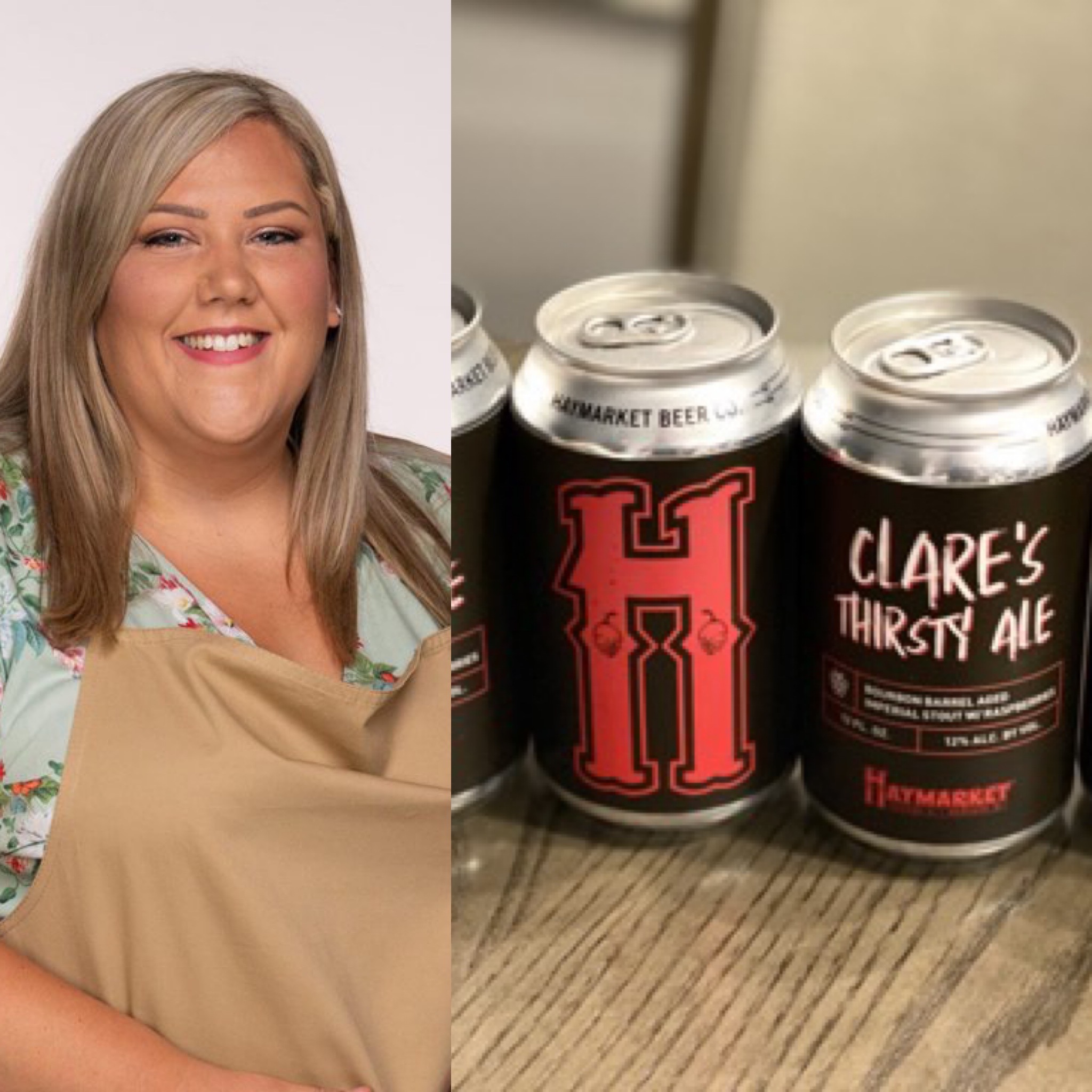 If you watched the first episode, you might be questioning this choice as a favorite. Still, there's something about Laura that I like. She had some nerves early on but she's a talented baker and I think can go far.
Her very first dish was raspberry heavy and while watching it I started thinking about Haymarket Brewing Clare's Thirsty Ale. Their raspberry barrel-aged stout is one of my favorite beers that gets released each year. The raspberries are strong but paired nicely with the stout and you get a chocolate-covered raspberry flavor that's delicious.
Laura took 6th in the first technical challenge — right in the middle — and her cake bust of Freddie Mercury left a little to be desired. Nevertheless, the judges said her cakes tasted great. If she can get off the early jitters, she'll be a Great British Baking Show contender.
I'm taking a gamble putting Hermine up as a favorite but her very first dish I thought was the best of the bunch. I'm pairing her with Alarmist Brewing Le Jus.
Hermine in the first episode made cakes that tasted great, but her technical skills were a bit rough around the edges. Think about a hazy IPA, they can taste great, but they are technically flawed if you think about how you make a classic IPA. We've all come to accept the Hazy IPA as its own style, and it is, but take the classic IPA that's clear, bitter, and hoppy, the steps taken to make a Hazy IPA were a "mistake" from the IPA and the industry has run with it.
So don't underestimate Hermine. Maybe she doesn't have the best technical skills, but if she can make great tasting cakes, she can be a serious force to be reckoned with in the competition.
Dave Friday | New Holland Brewing Dragon's Milk Triple Mash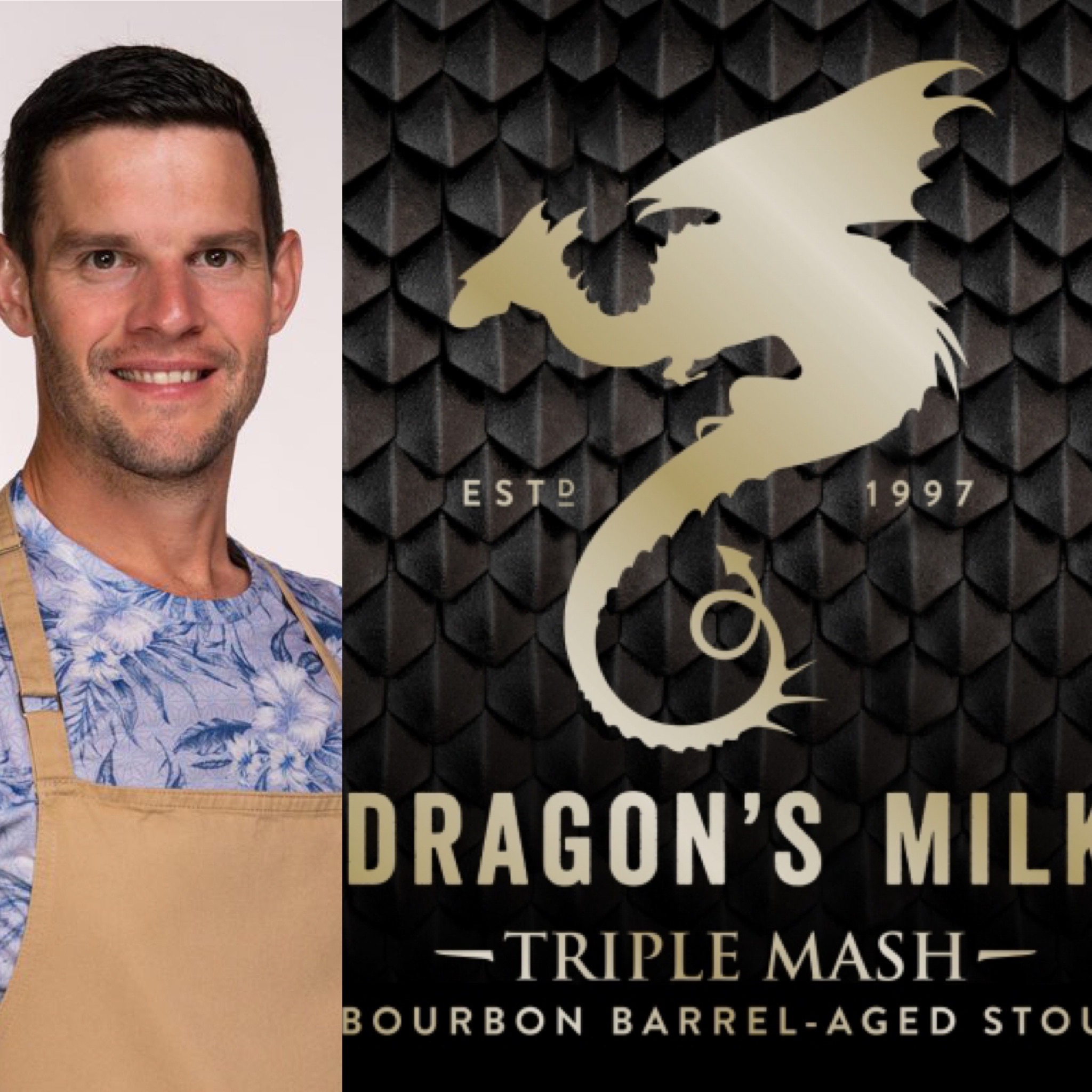 If I thought Hermine was a gamble, Dave is a total long shot, but sometimes when you're making predictions you have to put someone in there that's really going to shake things up.
In the first challenge, he went alcohol-heavy in his creation with a chocolate espresso martini cake and lots of chocolate liquor — the judges said it was a bit overpowering, as well.
For his beer, I'm pairing him up with New Holland Dragon's Milk Triple Mash. An obvious choice because at 17% this barrel-aged stout packs a punch of booze, just like Dave's first creation.
But as you continue to drink the beer you realize how complex it is and the flavors work well together. Dave settled down and despite Sura knocking his pineapple upside-down cakes off the serving plate, his cake bust of Blink 182's Tom DeLonge looked great, and maybe there's some potential for him.
Like Dragon's Milk Triple Mash not being for every drinker, Dave might not be a favorite choice of the 12 bakers, but give him a chance, he might surprise us.
---