No Comments
New Belgium's Fan-Favorite Tart Lychee Returns for Limited Release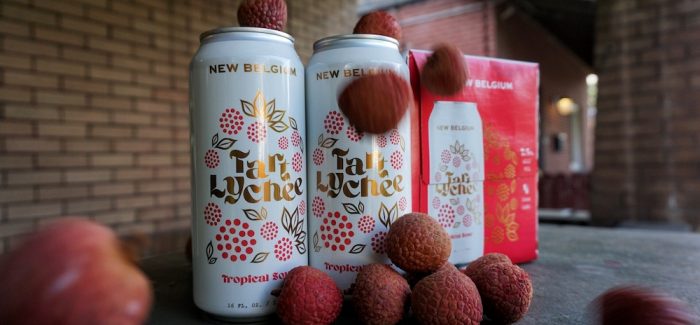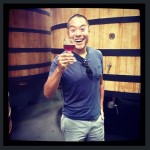 Sometimes a beer can be so memorable, so unique and so remarkable that even after being discontinued, it continues to reverberate in the memories of its fans for years on end. New Belgium Brewing's Tart Lychee first appeared as a taproom-only release as far back as 2009, was more widely released in 2011 as part of the brewery's Lips of Faith series and was revived in 2016. Now, the popular wood-aged Golden Sour with pureed lychee fruit and cinnamon is finally back once again.
Receiving similar levels of cult-like following as the McRib, Tart Lychee was the brainchild of New Belgium Wood Cellar Director, Lauren Limbach. Its star ingredient–a unique fruit native to Southeast Asia–came as a serendipitous discovery to Limbach, who was first introduced to it when she was served a Lychee Martini at a sushi restaurant in Montreal that she didn't actually order.
"I knew immediately while chewing on what looked like a delicious pink eyeball that I was absolutely going to make a sour beer with this impossibly sweet tropical fruit," Limbach joked.
And while discovering such a unique ingredient aids in the composition of such a distinctive beer, part of the difficulting in creating Tart Lychee actually comes in sourcing the fruit. For this edition of Tart Lychee, the New Belgium team began sourcing lychee as early as October 2019 and ended up employing 68 industrial-sized drums of lychee puree. To avoid any issues with exploding cans, the lychee was added during fermentation and the beer was pasteurized before packaging.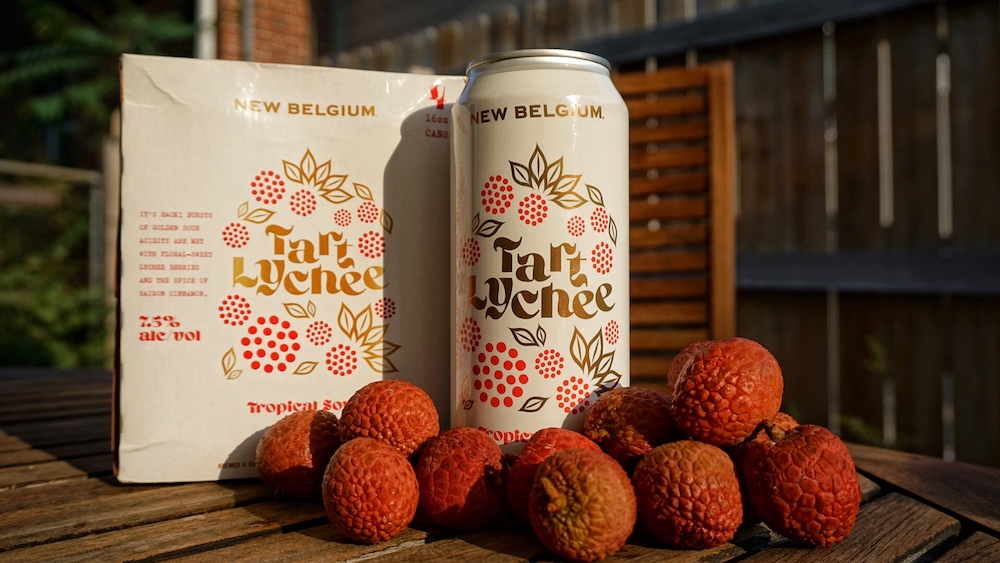 But for someone as venerated and accomplished at creating distinctively beloved beers, the secret often boils down to puzzling together different flavors that unexpectedly fit perfectly together.
"I spend hours a day thinking about flavor combinations," Limbach said. "Each time I decide on the star of a beer: a fruit, a spice, a specific flavor, feeling, season, occasion. The next thing I think of is, 'who will be the supporting cast'?"
Limbach explained, "I think in threes, in life. What's the main thing (what can't be lost), what is going to lift it to new heights (without usurping their good thing), what is the white noise (what you don't think about but is ubiquitous and really holds the whole thing together)."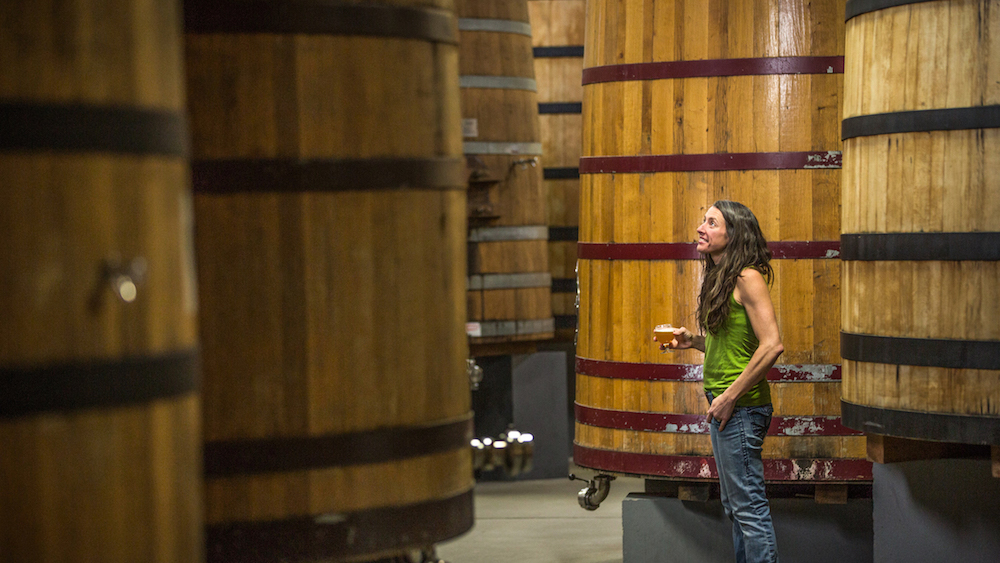 In the case of Tart Lychee, the main element is built behind the golden sour base; the use of lychee fruit helped to elevate the beer to new heights. For the tertiary element, Limbach looked to a familiar spice to help create another dimension in the beer.
"In classic Lauren style, she's all about these accent ingredients," said Andrew Emerton, Specialty Brands manager for New Belgium Brewing. "That's where her genius comes in, she finds these accent ingredients you wouldn't think of that totally work and, in this case, it was cinnamon." 
"I was going for the illusion of warmth as a juxtaposition, such as a Christmas sweater on a tropical vacation," Limbach said.
The 2020 edition of Tart Lychee is now available in 16oz cans for limited distribution throughout Colorado and in select states across the country. This marks only the second time the brewery has released a sour in cans; the first was a collaboration with TRVE Brewing in Denver. As for future re-releases from New Belgium's famed Lips of Faith series, Emerton noted that there's always the possibility that we might see some familiar fan-favorites such as Coco Mole and Eric's Ale down the line. For now, the New Belgium team is gearing up for a series of limited sour releases available only from their tasting room locations to celebrate the company's 30th anniversary in 2021.
---