No Comments
The Happy Couple Behind Miel Brewery & Taproom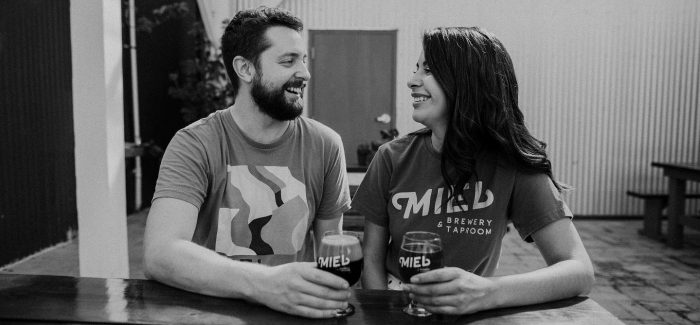 "You'll notice he has this laugh."
That's one of the first sentences Janice Montoya said about her fiance and business partner, Alex Peyroux, on a stormy Tuesday in January in New Orleans at the brewery they currently co-own, Miel Brewery and Taproom. And she's right—the laugh is impossible not to notice. It's his response to everything.
"Even when I met him that first night, that was one of the first things that stood out to me," said Montoya, 30. "After two beers, I thought he was really funny."
But on that night in 2012, when a mutual friend had brought her to Abita Brewing in Covington, La., where Peyroux was working, he wasn't thinking about flirting. He was simply trying to get through his graveyard shift as a brewer.
"I thought you were cute for sure," Peyroux, 32, said to Montoya. "But I was also like, 'I gotta go filter this beer.'"
And there's that laugh again.
It's present throughout the nearly hour-long retelling of their love story, which began at Louisiana's oldest craft brewery and culminated in one of the state's newest and most innovative one in the Irish Channel neighborhood in New Orleans. In retrospect, from their first date at a pizzeria in Uptown New Orleans, it is clear that opening their own brewery together was in the cards—even if it wasn't immediately obvious to them.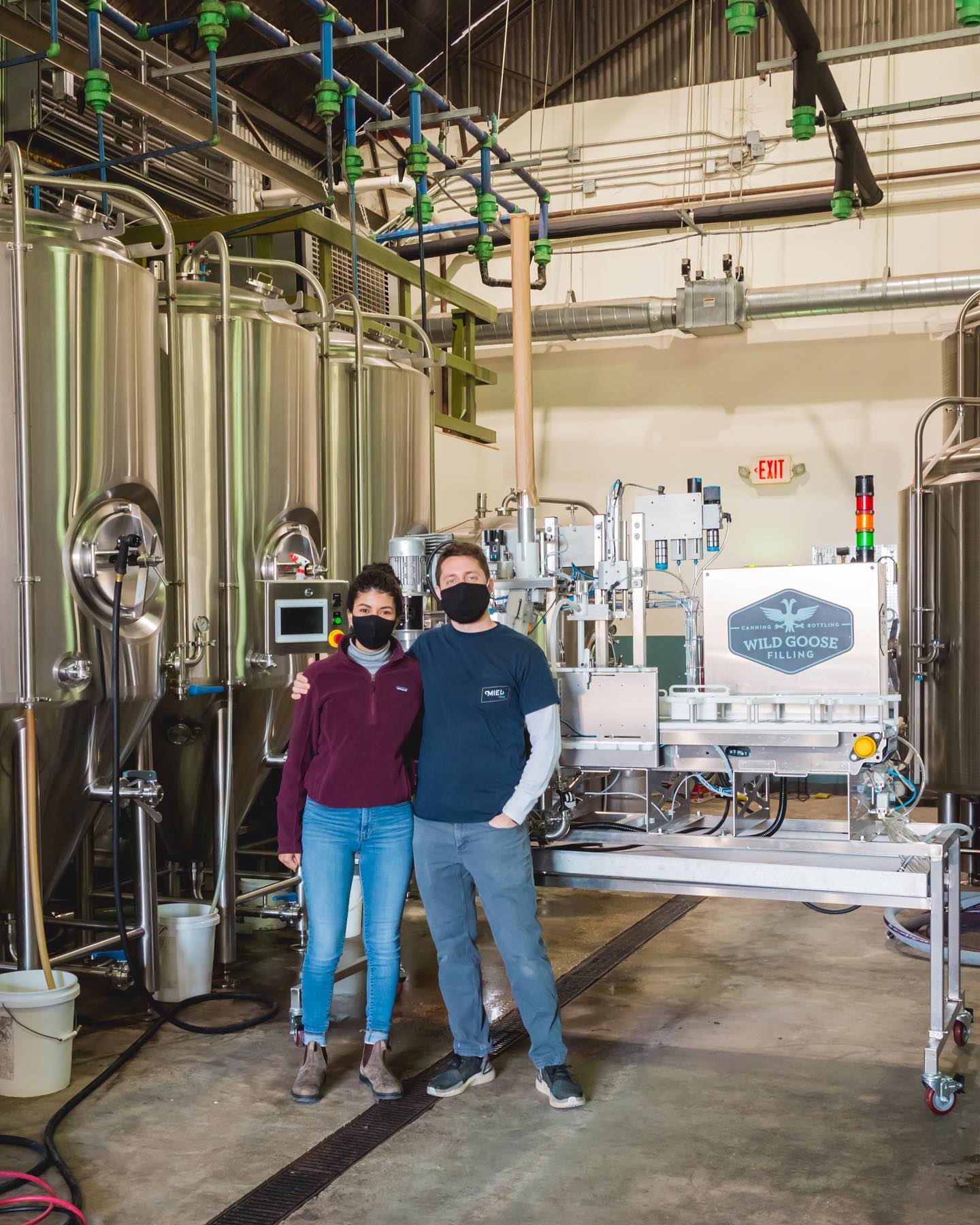 The date was going well, but at one point, Peyroux had to tell Montoya that he was accepting a summer job at a brewery in Alaska. All Montoya could say was:
"'Oh," she recalled saying with a laugh. "'Well, that's awesome for you, dude.'"
Boston Bound
Montoya is from a New Orleans suburb, born to two immigrants from Honduras. She said she was so excited to make them proud when she had accepted her first job offer in a liberal arts field that offered benefits, a rarity for creative professionals.
Born and raised Hammond, a town of 20,000 on the north shore of Lake Ponchartrain and 50 miles northwest of the French Quarter, Peyroux can trace his ancestry back nearly 300 years in New Orleans. His immediate family was the first to move out of the city, to a farm on the outskirts of Hammond. It's where he learned to say colloquialisms like "spring chickens," a term he called himself and Montoya as their love was blossoming.
"Is that a country-ism?" he asked. "It must be a country-ism."
Once Peyroux, then 24, returned from Alaska, he and Montoya, then 22, immediately reconnected and started dating. She was nearly finished with school at Southeastern Louisiana University in Hammond (from which they both graduated), and they knew they wanted to live in a bigger city.
Peyroux then earned a brewing position at Harpoon Brewery, and on their exploratory visit to Boston—their first time on the East Coast—Montoya marveled at the beautiful brownstone houses and couldn't wait to move into one.
"And then I realized, 'Oh, wait, we're poor,'" she said with her own iconic laugh.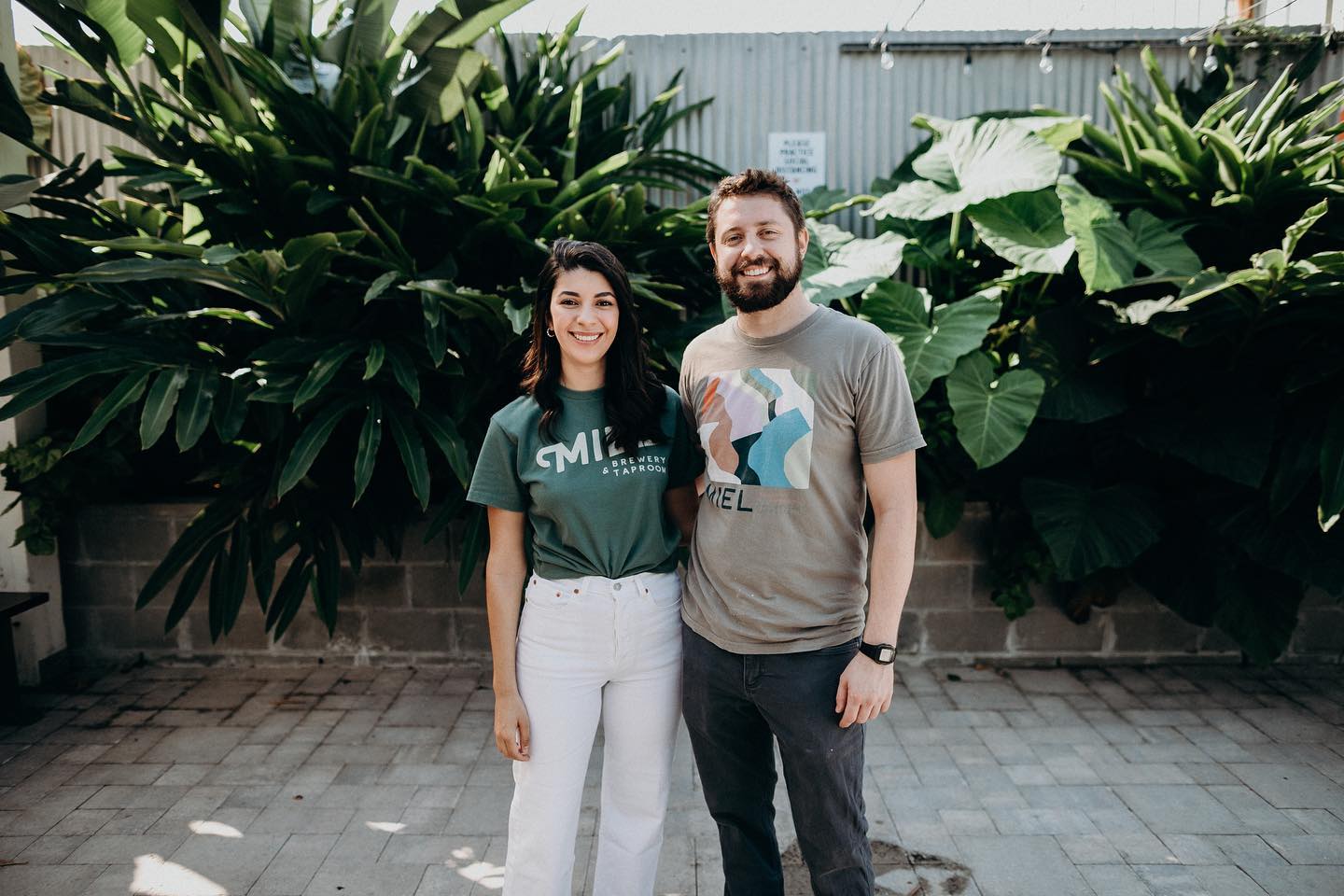 Home Again
After two years in their respective positions in Boston—Peyroux at Harpoon, Montoya at an advertising agency—they were burning out and itching to return to Louisiana. Peyroux was hearing rumors that the taprooms laws were changing in 2016, meaning that breweries would be allowed to serve their own product over their own bar—for much higher margins.
From their first date, Montoya knew Peyroux had strong ambitions to open his own brewery. But she hadn't necessarily seen herself as a part of it, not really. At this point, however, all the wheels were in motion, and Peyroux's gears were turning.
"All I knew was I wanted to make beer and not work for other people," Peyroux said with his laugh.
But it was never that simple, and Montoya knew as much. She immediately starting asking the hard questions.
"'Who's this brewery going to appeal to?'" Montoya asked Peyroux. "'Who's gonna come?'"
That's when she told him her expectations in no uncertain terms. She had experienced craft breweries in Boston that were intimidating, and she wanted to open a place where someone could say, "Hey, I'm just here with my friends, drinking a beer." No big deal.
"'We're going to do this together,'" she recalled telling him, "'and this is going to brewery that anyone who identifies in any way can come and feel welcome in. All ages, however anyone identifies, can come.'"
"Miel"
With Montoya's rich Spanish background and Peyroux's deep French ancestry, the name of their future brewery came to them relatively quickly: "Miel," which means "honey" in both Spanish and French. Since opening in 2018, they have used honey in several beers. But that ingredient or name was never meant to pigeon hole them. Instead, it is about proudly reflecting their heritage and creativity.
They wrote the business plan while still in Boston, but pieces starting coming together because a "perfect storm" of circumstances, he said. That consisted of changing taproom laws in Louisiana, their encouraging familial systems in the New Orleans area and finding their current location on their first try searching for real estate. They began renting out the building in 2016, two years before they opened their doors.
In that time, Montoya returned to work in video production for a wedding videography company. The brewery scene in New Orleans was still in its infancy, so brewing positions were limited. Peyroux bartended at the famous beer-bar Avenue Pub and even at Urban South Brewery, a 6-minute drive down the road from Miel on Tchoupitoulas Street, a popular corridor nowadays lined with several breweries.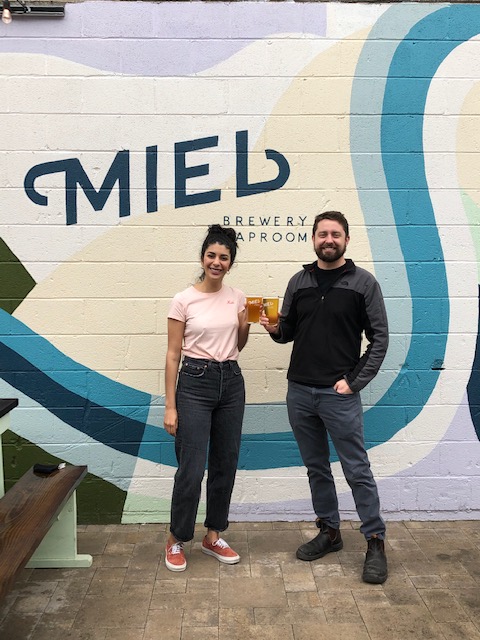 A Change of Plans
While working toward opening Miel, Peyroux was also working to warm Montoya up to the idea of marriage—a belief that she said she vehemently didn't hold. In 2017, he thought he would propose on New Year's Eve, as all previous New Year's celebrations had "been a total wash" for them, said Peyroux. He thought he could turn the holiday around.
"And then it was the worst storm ever," he said. "It rained all night."
So, instead, Peyroux collaborated with Montoya's bosses. On one unassuming weekday afternoon, he asked her to join him for a walk in the park on her lunch break. He was acting strange the entire walk, and at one point she spotted her bosses hiding behind bushes, giggling and smiling. When she turned around to ask Peyroux what they were doing there, he was on one knee.
"On a Tuesday at 1:30 pm," she said. Hey, Peyroux said, he tried to go for the big event.
"But I had to settle for a walk with the dog," he said.
"Preserve each moment"
The date was set, the location picked out—the wedding was a go for April 4.
Except, the year was 2020. And everyone knows how that turned out
"We (Miel) were closed by March," Peyroux said of the shutdowns put in place to help curb the spread of the pandemic.
Montoya only shrugged.
"We'll have a party when it's safe," she said.
But regardless of if they're fiancees or spouses—they're still business partners. And despite how consuming that can be, they are able to find time away from the brewhouse for themselves.
"We go to dinner, won't bring up work. Watch a movie, won't bring up work," Peyroux said. "We make sure it doesn't interrupt our life—we try to preserve each moment."
The Future of Miel Brewery
Their love is evident in everything Miel does. Not just their love for each other, but for their crafts. Everything from the clever, eclectic art labels on the cans to the entire taproom's aesthetic is a result of Montoya's talents, and most of the unique beers that are poured from the tap are a result of Peyroux's (though the head brewer who has been with them since Day One also has a hand in their diverse tap list).
They bought a canning line for Miel in fall 2020, and each of the 10 can releases so far have sold out. Because of the pandemic, they've been forced to think beyond their taproom-only model. But it's not just because of the virus that wider distribution may soon become a possibility. It's because of their hard work—and the damn delicious beer and brand they've created together.
Hearing them talk about each other's respective skills turns into a compliment contest. They seem as if they cannot lift up each other enough.
"'Everything you do is like magic,'" Peyroux said to Montoya. "'No, I swear to God. As in, it looks like wizardry.'"
She smiled, and then she acknowledged that their skills do indeed complement each other so well. So well, that their business is thriving—and so, too, are they.
"Even though we are around each other all the time," Montoya said to Peyroux, "I never get sick of you."
---