No Comments
Urban South Celebrates Mardi Gras With Three Special Themed Releases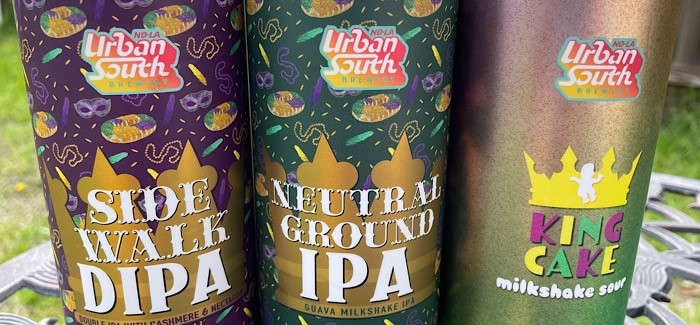 As seasonal and event-focused beers grow in popularity, Mardi Gras beers are now becoming a trend around the country, tying in with local celebrations or referencing NOLA traditions. For New Orleans' largest brewery by volume, Urban South, this is the time of year for curated innovation as they update their annual triple-release of brews to celebrate the city's biggest party.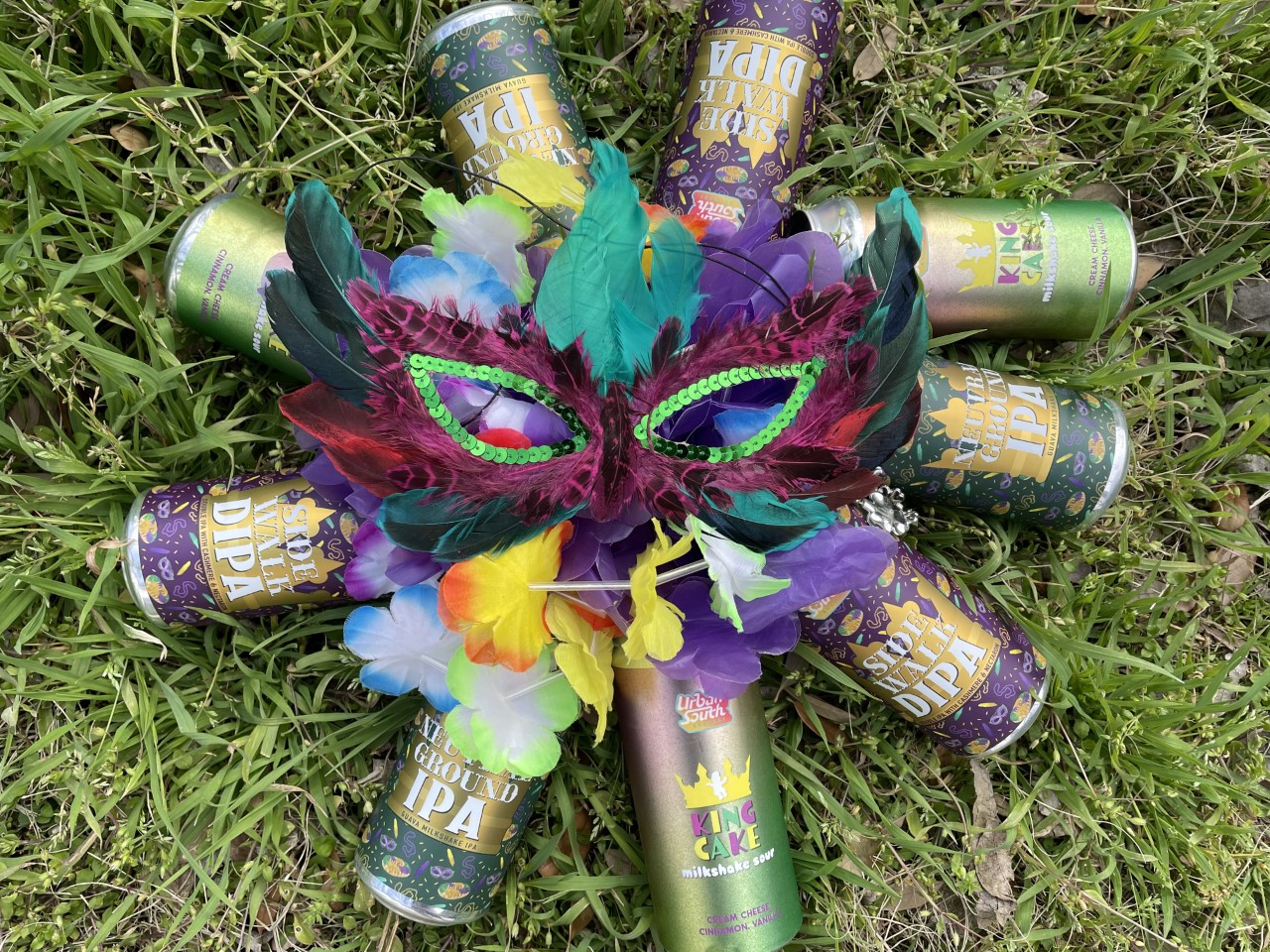 Urban South opened their doors in 2016 with a mission to "share the gospel of good beer", combining forward-looking design with the high quality of classic European brews, much like New Orleans' melding of old and new world traditions. Their Mardi Gras series is now in its third year, and a happy addition to the city's first post-pandemic carnival. Tapping into the local vernacular, the beers are themed around key NOLA Mardi Gras terminology while boasting stylish on-theme can art. For the uninitiated, Side Walk Side and Neutral Ground Side are references to the positions spectators take up when watching the parade. The idea of 'neutral ground' is a reference to the carnival's history – in the mid-1800s the city's French Creole population lived in the French Quarter, with the Americans in the 2nd District. The main Mardi Gras thoroughfare of Canal Street bisects the neighborhoods, with rival crews showing their allegiance by sticking to their faction's sidewalk side. The wide grassy midsection of the street became known as neutral ground because the space belonged to neither side, offering de facto truce territory where everyone could party together. These days, the labels serve more as a guide for where to find your friends rather than an indication of tribal territory, but the debate over whether sidewalk side or neutral ground side is the best viewing location is still intense enough for folks to print t-shirts proclaiming their preference.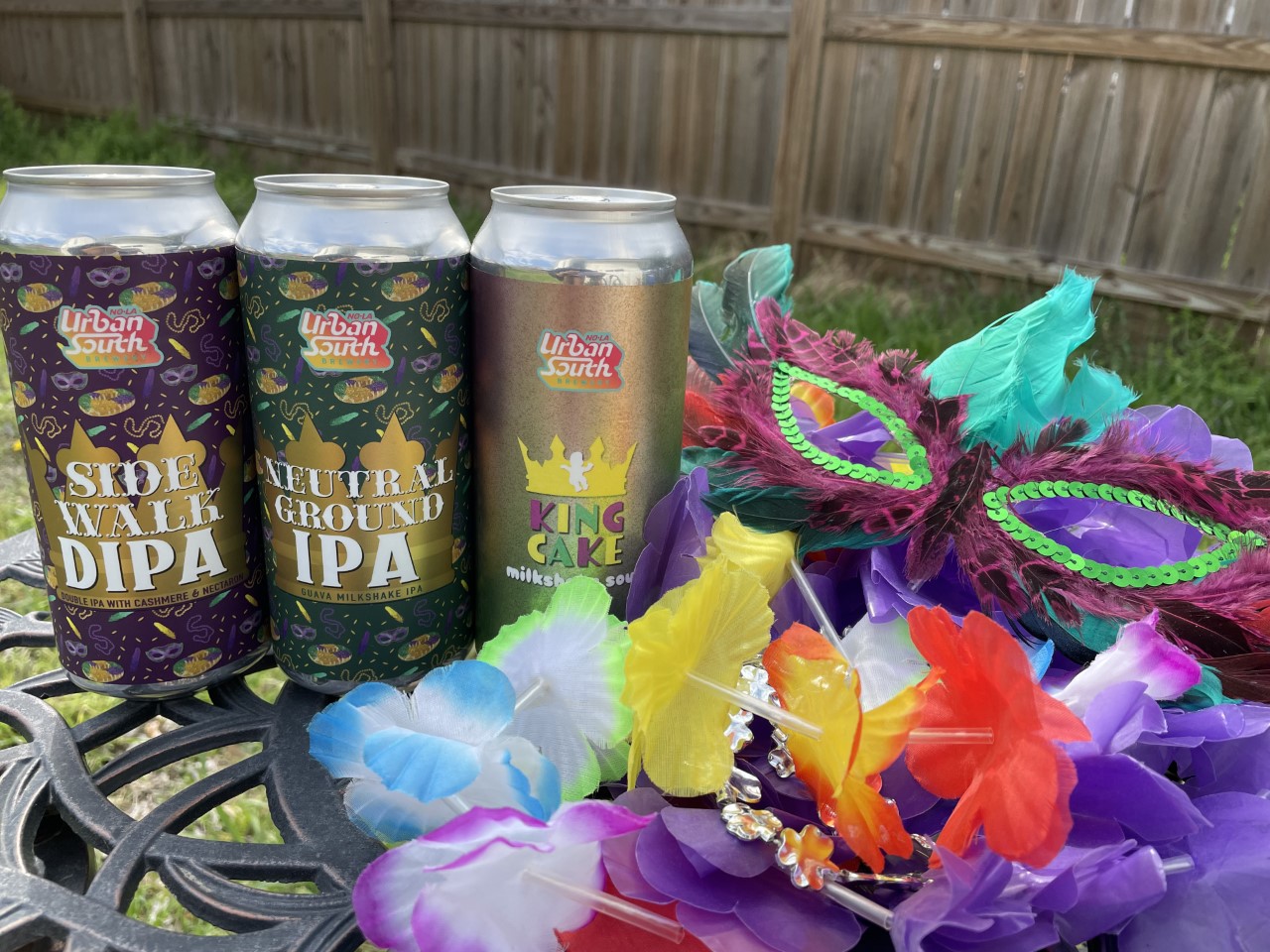 By offering up a beer for either side, Urban South are de facto stating that all are welcome at their brewery, while playfully joining in with the banter. "Our Mardi Gras IPA series was inspired by our city's love for Mardi Gras. We designed them to capture the spirit of the people who are either Neutral Ground or Sidewalk side parade goers" says Alex Flores, head brewer at Urban South. "We change our Mardi Gras IPA recipes every year" Flores explains, "For Neutral Ground we always choose a different fruit and hop pairing, and for Side Walk Side we always try to come up with a more unique hop combination. People look forward to the series every year!"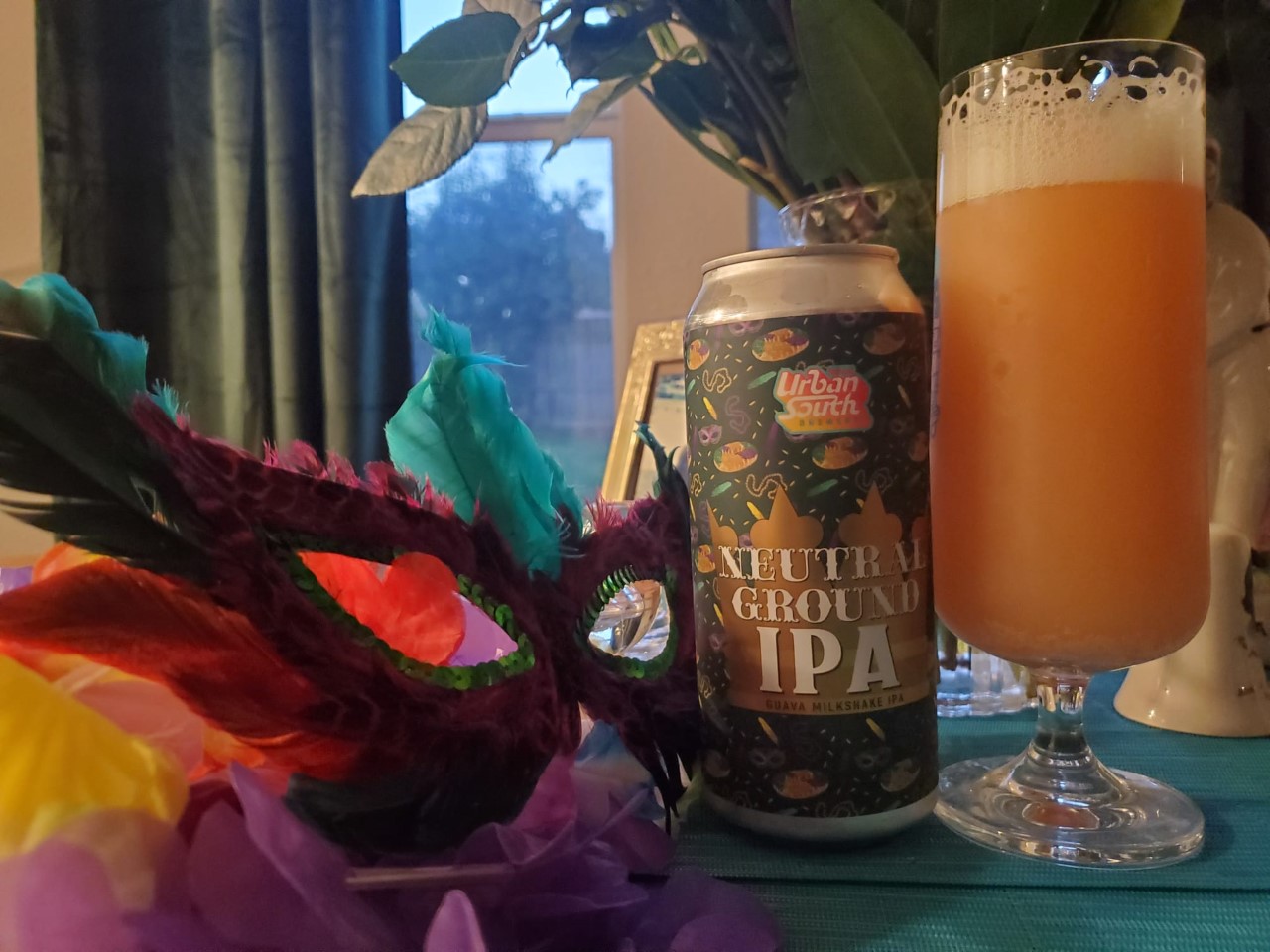 This year's Neutral Ground IPA is Guava Milkshake, although in both appearance and taste it's less milkshake and more smoothie, and a light-bodied one at that. With a smooth pillowy texture and juicy full fresh guava flavor, the beer is much more easy-drinking than the average milkshake IPA and glides down easily thanks to a subtle and restrained lactose and a zingy hoppy tang on the finish. This is a smashable fruity beer, perfect for partying and fully enmeshed in the Mardi Gras fruit-cocktail spirit. The Side Walk DIPA also embraces traditional Mardi Gras flavors. This hazy juicebomb has a rather Hurricaine-esque feel to it, with citrus-tropical orange-passionfruit-pineapple notes that sweetens as it warms. A gently dank wet-hop herbaceous nose balances out the sweetness, and the Cashmere and Nectaron hops make a fun, playful combination. Flores and his team have cleverly imbued complimentary Mardi Gras twists into both Neutral Ground and Side Walk, creating tasty carnival fare, wherever you choose to stand.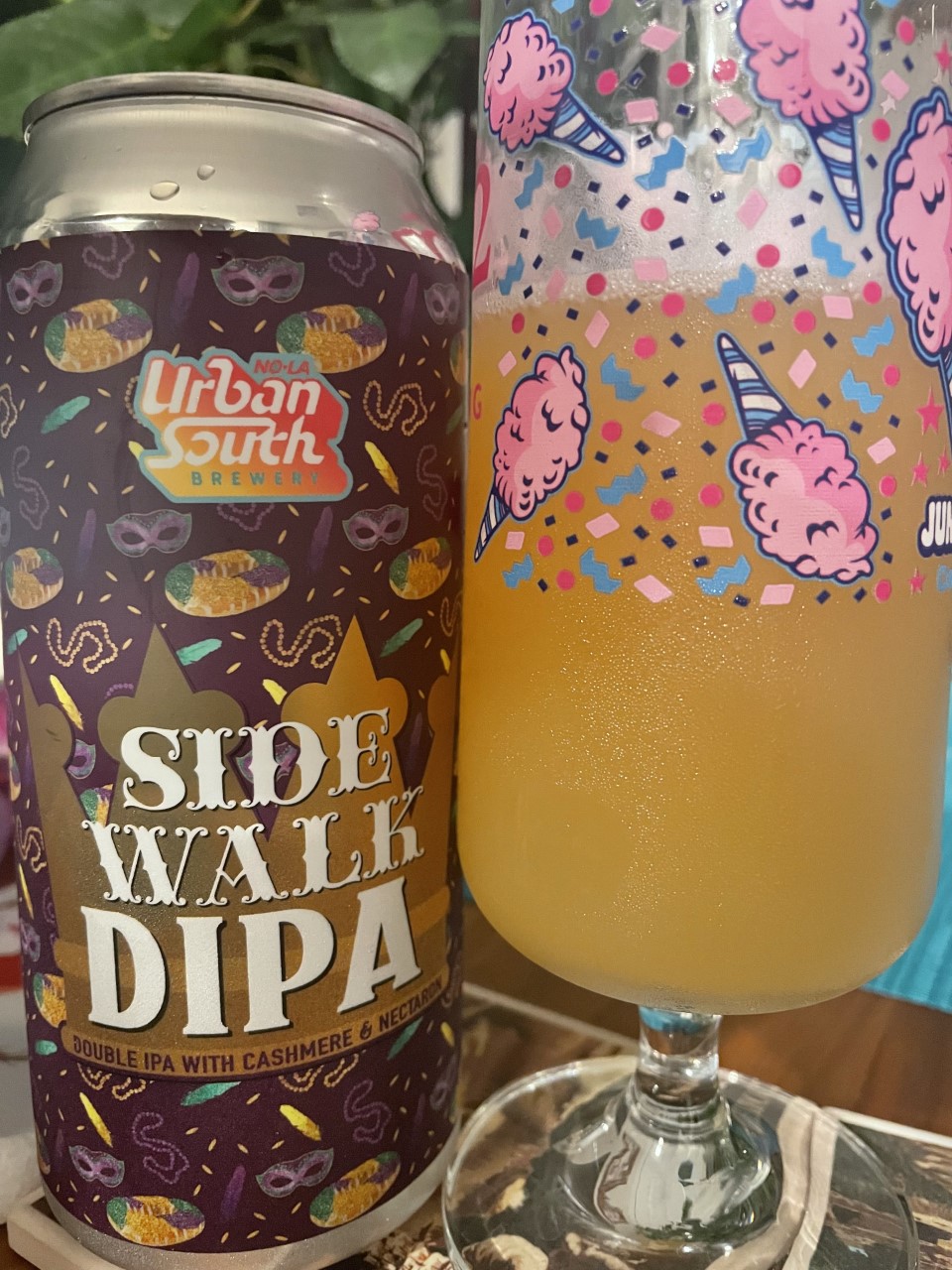 Now, on to the (figurative) after-party-beer. King cake is an integral part of Mardi Gras and similar Catholic celebrations around the world. The oval-shaped cinnamon-dough cake is dusted with sugar and decorated in green, gold, and purple (representing faith, power, and justice), Louisiana's traditional Mardi Gras colors. King cakes can be filled with cream or fruit, and hide a miniature baby, a reference to the Christian celebration of Epiphany – whoever gets the baby in their slice of cake must provide the cake the following year. With rich flavors of cinnamon, vanilla and coffee, it's no surprise that many breweries choose king cake for their Mardi Gras beer inspiration. The third point in Urban South's Mardi Gras beer-crown, they have taken a different approach to ensure their brew stands out. "Generally, we're seeing a lot of darker beer styles with King Cake adjuncts – we went the other way and made our version a fruited sour," says Flores. "Lots of vanilla bean, cinnamon sugar and hints of cream cheese. It really is liquid King Cake with touches of acidity from our sour base." With a nose of full cinnamon and super-light body, this is a surprisingly crushable beer full of refreshing zingy tartness. If, not unreasonably, you don't believe it's possible to taste cream cheese in a beer that's neither markedly sweet or thick and heavy, think again because this is exactly what Flores and his team have pulled off – a King Cake beer that's chock-full of flavor but won't slow you down as you dance the night away – and at just 4.8% ABV you can easily sneak in a second one (or two)!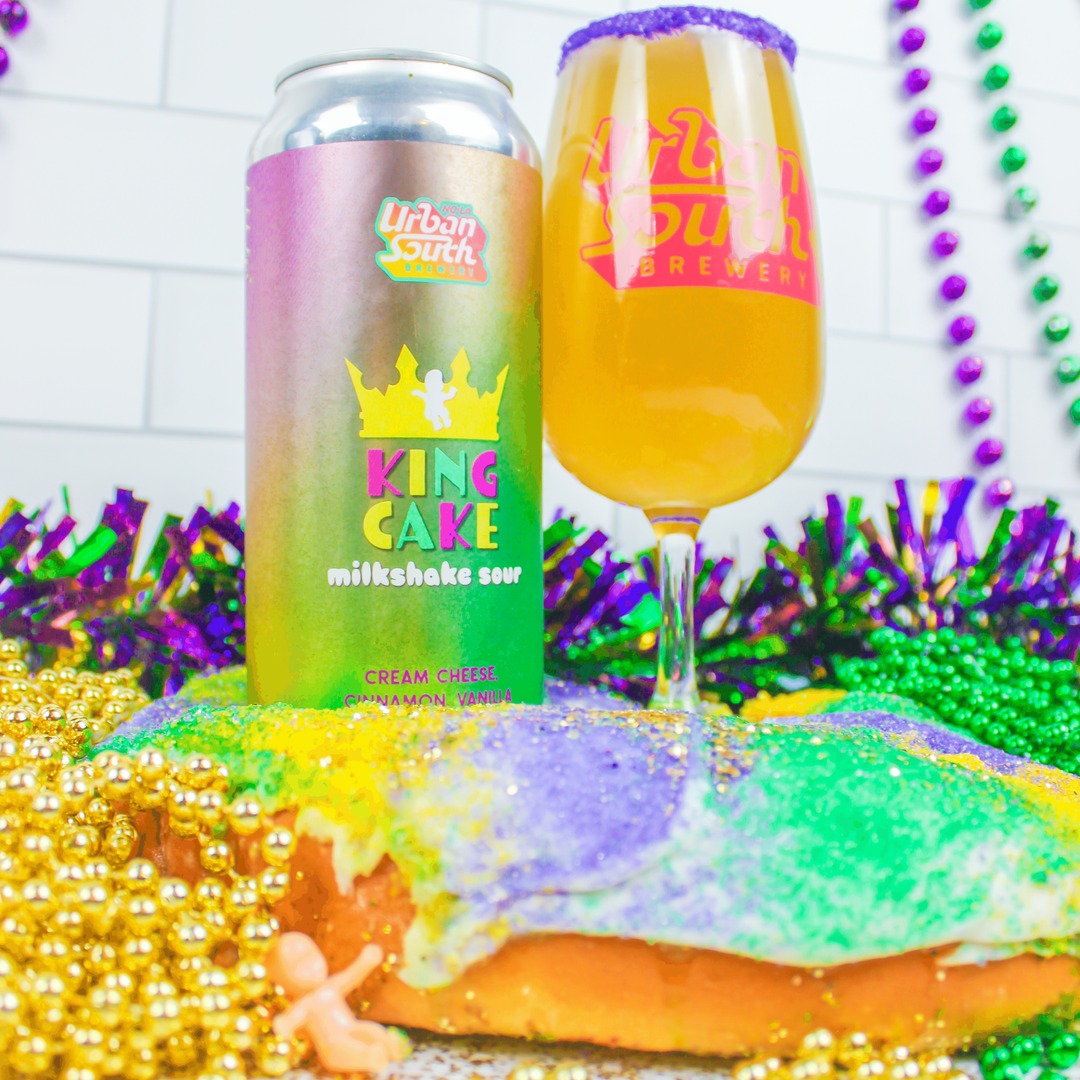 All three beers are available at Urban South's NOLA Tchoupitoulas Street taproom while supplies last. King Cake Milkshake Sour is also on shelves throughout Urban South's distribution footprint in Louisiana, Mississippi, Alabama and Tennessee.
Beers provided by Urban South, opinions writer's own
---