No Comments
Atrium Brewing Partners with Louisville Bats to Launch "Bat Boy"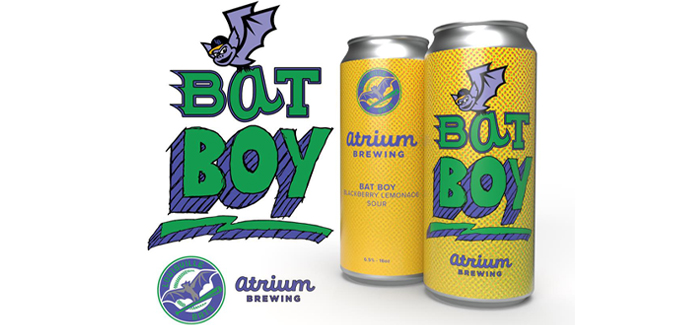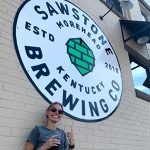 Atrium Brewing has partnered with the Louisville Bats, a Triple-A Affiliate of the Cincinnati Reds. The Louisville brewery and minor league baseball have teamed up to launch Bat Boy, a blackberry lemonade Sour Ale beer branded exclusively for the Louisville Bats.
Atrium Brewing opened its doors in September 2020 in the middle of the COVID-19 pandemic. The added stress and worry of opening, and then, operating a brewery during a pandemic was why Don Mahoney, Atrium's Vice President and Creative Director, reached out to the Louisville Bats to purchase season tickets for his staff.
When Mahoney reached out to the Bats about purchasing season tickets for Atrium, the conversation quickly changed into a conversation about beer.
"Some things with the way they [Bats] did contracting before with who could pour beer and who couldn't, had changed," Mahoney said. "So they were they were very excited to start pouring local beer just in general, not specifically us. They just wanted local beer pouring in their taps up there and just kind of brought it up to us. We kept talking, and here we are."
A Beer Fit for a Baseball Afternoon
When deciding what beer to brew for the Bats, Mahoney said head brewer Spencer Guy imagined himself sitting in the outfield stands of Louisville Slugger Field on a hot 90-degree July afternoon in Louisville. A blackberry lemonade Sour Ale is what came to mind.
View this post on Instagram

Bat Boy is a beer made for the Louisville Bats, but the label pays tribute to the Louisville RiverBats. In 1982, the St. Louis Cardinals moved their Triple-A Team from Springfield, Ill., to Louisville becoming the Louisville Redbirds. In 1999, the team rebranded as the Louisville RiverBats as a reference to Louisville's location on the Ohio River and baseball bats, and specifically, the bats manufactured locally under the Louisville Slugger brand.
"When I when I think about the Bats, I think about when they first started," Mahoney said. "I remember Ken Griffey Jr. I think pulled his hamstring and did some rehab starts there. Deion Sanders had had some starts there, and the stadium was packed when it was brand new.
"I think since that point it's really become a staple of the Louisville experience going to some Bats game every year. I thought if we're starting this partnership, it would be cool to start, at least where my head's at, thinking of that throwback era. And the colors, the yellow, purple and green in it fit the beer."
Happy birthday to the Louisville RiverBats legend, Deion "PRIMETIME" Sanders! pic.twitter.com/Nklqzqruu1

— Louisville Bats (@LouisvilleBats) August 9, 2019
One of the Boys
Bat Boy is the latest release in part of Atrium's "Boy" series of Sour Ales. Other "Boys" have included Raspberry Boy, PB&J Boy, BC PF Fluph Boy, Peach Pie Boy, Bo Tang Fluph Boy, Double Fruited Raspberry Boy, Chocolate Covered Cherry Boy, Tiki Boy, Cake Boy, Black Currant Boy and Cara Car Fluph Boy.
Atrium and the Bats are offering a special Craft Beer Ticket Pack. This includes an outfield reserved ticket and two Atrium beers for just $19 during Friday home games. Tickets can be purchased online at BatsBaseball.com using the code "BATBOY".
Bat Boy is available at the Atrium taproom for a limited time from July 5-9. The blackberry lemonade Sour Ale will be available at Louisville Slugger Field in cans and on draft beginning July 9 for the Louisville Bats' game against the Memphis RedBirds.
For more information on Atrium Brewing, visit atriumbrewing.com.
Feature Image Courtesy of Atrium Brewing and Louisville Bats.
---