No Comments
Deschutes Brewing Goes the Extra Mile with Brooks Running Partnership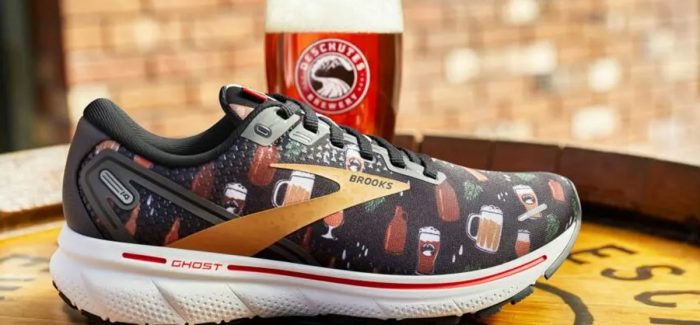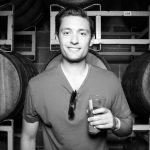 How do you measure the success of your run? In calories burned, miles ran… or beers you're able to consume afterwards? Many brewers and drink companies have leaned into that third category by making better for you NA-beers, light ABV options with salt and electrolytes, or even sponsoring races and marathons. The fitness drinker group is certainly a growing category, which is why Deschutes Brewing has decided to partner with one of the predominant running companies in the world, Brooks Running, on a new beer and merchandise line. The new, running-inspired "Run Hoppy" partnership updates Brooks' "Run Happy" tagline with a playful nod to Deschutes' IPA line and is sure to excite both runners and beer drinkers alike thanks to the corresponding launch of the Run Hoppy Golden IPA and a bevy of Run Hoppy merchandise, including an awesome new collectible Brooks Ghost 14 running shoe. Here are the details. 
The new Run Hoppy collection will be available across a select number of running boutique stores across the U.S. and online, with the beer being released at Deschutes' Bend and Portland pubs. In total, the Run Hoppy collection includes Run Hoppy Golden IPA, a special Run Hoppy Brooks Ghost 14 running shoe and matching apparel including the Distance Graphic Short Sleeve, Distance Graphic Tank, Discovery Trucker Hat and Tempo Knit-In Crew sock. 
According to Deschutes' VP of Sales and Marketing, Neal Stewart, the partnership between the iconic Pacific Northwest brewery and running brand is nearly two years in the making. 
"The shoe industry works on crazy long timelines. I remember when Brooks reached out to us – we were super excited about the opportunity and wanted to make it happen ASAP, so it's definitely been an exercise in patience for us."
Cheers! 🍻 Smooth strides are on tap in the new Run Hoppy Collection — a brewtiful collaboration between Brooks Running and @DeschutesBeer. Shop now: https://t.co/qACqAbj6iy pic.twitter.com/rW0RR0AGrf

— Brooks Running (@brooksrunning) August 30, 2021
The result is a great tagline that combines the ethos of both brands, along with a well-crafted line of merch and beer that should appeal to a wide set of both drinkers and runners. The standout is the new Run Hoppy shoe, which combines the latest edition of Brooks' popular Ghost running shoe line, the Ghost 14, with a fun and unique beer print filled with growlers, mugs and imperial pint glasses like those in Deschutes Brewery's tasting rooms. Other fun details include the addition of hops dotting, the upper portion of the shoe to pay homage to Deschutes' Fresh Family IPA line, a condensation effect on the Brooks logo and the tongue of the shoe to invoke images of a cold glass of beer on a hot summer day, and the Deschutes logo on the tongue and sock liner. The shoe has even made it to popular culture site HypeBeast, which means a competitive secondary market – not unlike what you might see for some of Deschutes' barrel-aged releases, could await the new Run Hoppy shoe. 
Additional collaboration details present in the merchandise line include:
Men's Distance Graphic Short Sleeve and Women's Distance Graphic Tank: Feature a beer can motif inspired by Deschutes Brewery's beer cans with discoverable details throughout, along with the Deschutes logo on each. 

The Discovery Trucker Hat and Tempo Knit in Crew sock: Feature a fun-looking beer mug with legs along with the "Brooks Running x Deschutes Brewery" detail. 'Run Hoppy' also appears on the hat.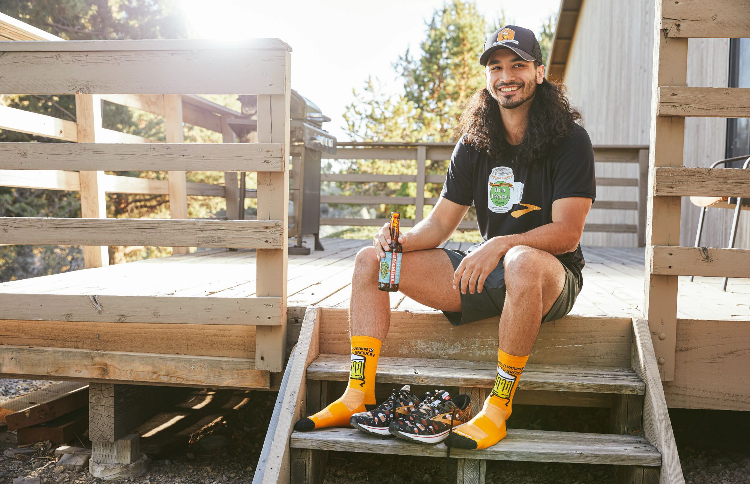 The beer created in the collaboration is meant to reflect the after-race refreshments many runners imbibe in. Instead of a heavy IPA, Run Hoppy is a dialed-back Golden IPA coming in at 5.5% ABV that features a heavy dose of Centennial, Amarillo and Citra hops and is brewed with English Golden Ale malt to deliver an easily drinkable post-race refreshment with low bitterness.  
"We know that many runners cap off a good run with a refreshing, cold beer, especially at this time of year," said Brooks Running SVP, CMO Melanie Allen. "This collection celebrates that running tradition and gives runners and beer drinkers new gear to inspire them to run all summer long."
The new Brooks partnership continues Deschutes considerable momentum in partnerships and collaborations in the sports and lifestyle space. The brewery recently signed on to become the official beer of the Pac 12, is a continued partner of the Portland Trail Blazers, and recently brought a bevy of local Oregon breweries together to raise funds for Wildfire Relief.
Now this is a new one: @DeschutesBeer today announced that is now the official beer of the @pac12, for both football and men's basketball. Multi-year partnership includes activations at games, on and off-premise programming and digital media. CC: @darrenrovell pic.twitter.com/4IcvbFBC6q

— Taylor Laabs 🍺 (@TaylorLaabs) August 26, 2021
It's clear the brewery has made it a point to extend its influence beyond just making great beer in an attempt to create a walkable bridge for new potential consumers and drinkers who might exist in the overlap of the activity circles outside of craft beer like running and basketball. Finding a sweet spot between the two is difficult to execute, but when done right – it can be extremely effective. To Stewart, the appeal of these collaborations is two-fold, it's about tapping into the "passions of a subculture in an authentic way," and to partner with other brands that aligns with their values, as a burgeoning brand nationwide. 
"This wasn't so much about partnering with a shoe brand, it was more about partnering with a brand with like-minded values. We like to think of Deschutes Beer in a similar way – we're fairly well-known but we continually earn respect with craft beer drinkers who know quality when they taste it."
Feature image courtesy of Deschutes Brewing
---