No Comments
Colorado Breweries Who Won Big at the 2021 GABF Competition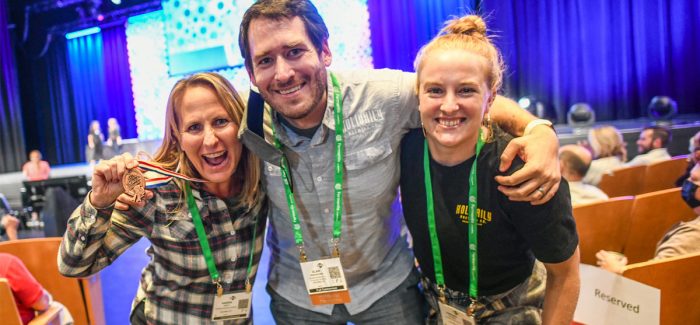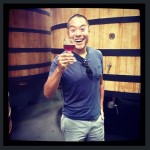 Photo © Brewers Association
Colorado has long held a reputation for strong showings at the Great American Beer Festival, and while this year was no different, Colorado breweries had a solid showing after totaling 21 medals after tallying 25 the previous year.
However, even despite a slightly lower medal count, several Colorado breweries showed sustained dominance in 2020 by continuing impressive streaks. As noted in our general 2021 GABF Awards Recap, Cannonball Creek continued its impressive streak of winning medals at nine consecutive GABF competitions, this year earning a gold medal for Vladimir Brutin Brut IPA under the Experimental IPA category.
The interesting trend that prevailed this year for Colorado breweries was the re-emergence of several pioneers of the Colorado craft beer landscape. New Belgium Brewing, whose entry was technically listed under their Asheville location, returned to the podium with a gold medal for Trippel under the Belgian-Style Abbey Ale category. That beer also won gold in the Belgian-style Ale category in 2001. Great Divide one of Denver's earliest breweries also earned hardware with silver for their Wild Raspberry Ale, a beer that had been retired in 2012, but will be returning to their year-round lineup in early 2022.
Telluride Brewing's Face Down Brown earn its 4th GABF medal with a bronze in the American-style Brown Ale category. That medal was also Telluride Brewing's 5th GABF medal all-time. Crooked Stave also added to their medal count with silver for Stay the Funk In in the Belgian-style Sour category, which becomes their fourth GABF medal. Avery Brewing and SKA Brewing were two other pioneers who tallied medals this year as well for Stampede in the American-style Lager, and True Blonde Ale in the English Ale categories respectively.
Our Mutual Friend Brewery won a pair of medals this year, the most by any single Colorado brewery in the competition. Their silver medal for Biere Ovale and gold for Inner Light, brings their all-time GABF medal total count to six.
Grimm Brothers Brewery earned their 10th GABF medal this year with a Bronze for Snow Drop in the historical beer category.
Strange Craft Beer earned its fifth GABF medal tonight with a silver medal for Silverbrick Norwegian Farmhouse. That medal joins two other World Beer Cup victories as well. Silverbrick Norwegian Pale, a Norwegian Farmhouse Ale brewed with juniper berries and Kveik yeast, is unique in that it will become a flagship beer for Strange Craft's upcoming collaborative restaurant with Guanella Pass Brewing Company. With plans to open next year, the unique partnership restaurant is aptly named Silverbrick Cafe in Georgetown.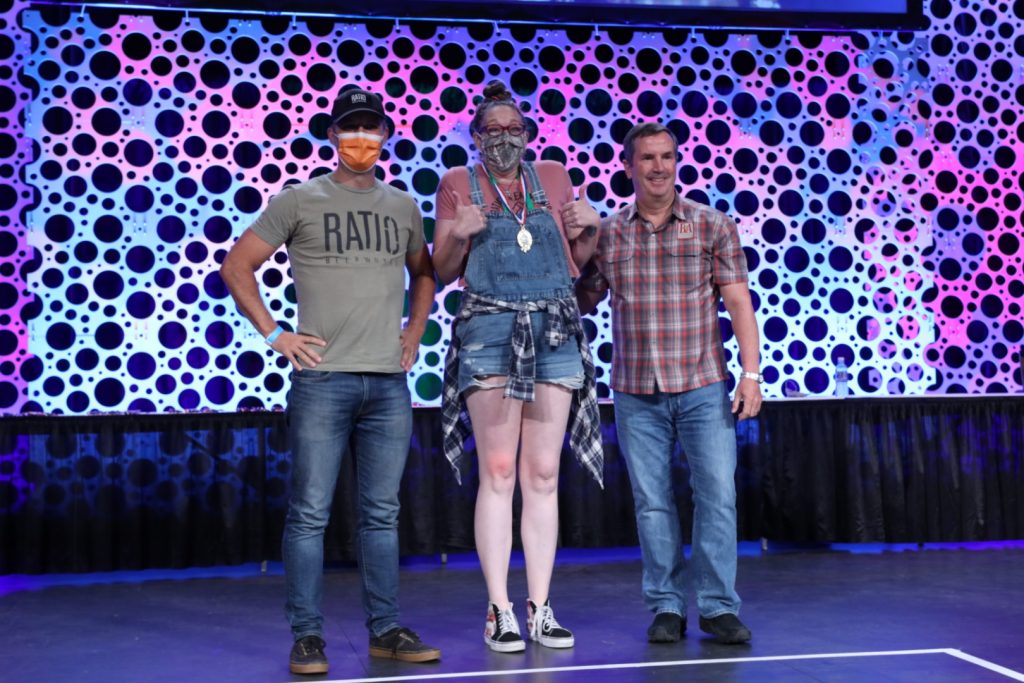 Ratio Beerworks is now working on back-to-back years medaling at GABF this time earning a Gold medal for Domestica under the Golden or Blonde Ale category.
"For it to be a flagship and a beer we launched with when we opened the brewery, it's doubly sweet," said co-founder and head brewery Jason zumBrunnen. "It feels like the first time winning because last year's win wasn't in person, so it didn't really feel real."
Philip Joyce who brews for Ratio Beerworks also earned a medal for his passion project brewery, Amalgam, which was co-founded with Eric Schmidt. Skins, their spontaneous beer fermented on skins from pressed cabernet frank grapes aged in barrels earned a bronze medal in the Experimental Beer category.
"It feels like many years of hard work! I'm The beers that I'm making at Amalgam are ones that I'm super passionate about, but it's fun to be recognized for something that's so small scale, but really an authentic self-expression."
Finally, Peak View Brewing joined Amalgam in taking home its first-ever GABF medal this year with a silver in the Fruited Wheat Beer category for their Blood Orange Wheat.
Here are the final medal tallies from Colorado breweries in 2021.
Category 2: American Fruit Beer – 133 Entries
Gold: Blood Orange Kölsch, Crystal Springs Brewing Co., Louisville, CO
Silver: Wild Raspberry Ale, Great Divide Brewing Co., Denver, CO
Bronze: Lone Tree Peach Pale Ale, Lone Tree Brewing Co., Lone Tree, CO
Category 3: Fruit Wheat Beer – 123 Entries
Silver: Blood Orange Wheat, Peak View Brewing Co., Greenwood Village, CO
Category 6: Chili Beer – 90 Entries
Gold: Humo y Espejos with Fuego!, Cerebral Brewing – Florence St., Aurora, CO
Silver: Prescribed Burn, Steamworks Brewing Co., Durango, CO
Category 18: Experimental Beer – 88 Entries
Bronze: Skins, Amalgam Brewing., Denver, CO
Category 19: Experimental India Pale Ale – 120 Entries
Gold: Vladimir Brutin, Cannonball Creek Brewing Co., Golden, CO
Category 21: Historical Beer – 63 Entries
Silver: Silverbrick Norwegian Farmhouse, Strange Craft Beer Co., Denver, CO
Bronze: Snow Drop, Grimm Brothers Brewhouse, Loveland, CO
Category 22: Gluten-Free Beer – 49 Entries
Bronze: Big Henry Hazy IPA, Holidaily Brewing Co. – Production Facility, Golden, CO
Category 27: Mixed-Culture Brett Beer – 59 Entries
Silver: Biere Ovale, Our Mutual Friend Brewing, Denver, CO
Category 29: Wood- and Barrel-Aged Strong Beer – 151 Entries
Gold: BJ's Barrel Aged Got Beer, BJ's Restaurant & Brewhouse – Boulder, Boulder, CO
Category 36: American-Style Lager – 103 Entries
Silver: Stampede, Avery Brewing Co., Boulder, CO
Category 53: Golden or Blonde Ale – 152 Entries
Gold: Domestica, Ratio Beerworks, Denver, CO
Category 55: English Ale – 39 Entries 
Silver: True Blonde Ale, SKA Brewing, Durango, CO
Category 56: Australian Pale Ale – 26 Entries
Gold: Inner Light, Our Mutual Friend Brewing, Denver, CO
Category 59: American-Style Pale Ale – 151 Entries
Gold: Stick's Pale Ale, Bootstrap Brewing, Longmont, CO
Category 74: American-Style Brown Ale – 82 Entries 
Bronze: Face Down Brown, Telluride Brewing Co., Telluride, CO
Category 86: Belgian-Style Sour Ale – 73 Entries
Silver: Stay the Funk In, Crooked Stave Artisan Beer Project, Denver, CO
Category 87: Belgian-Style Strong Specialty Ale – 101 Entries 
Bronze: Treachery, 12Degree Brewing, Louisville, CO
---