No Comments
Ørkenoy | Django Pennsylvania Grodziskie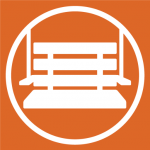 Often times, smoked beers can offer similar notes and flavors to beef jerky. Separately, both incredible things; combined, not my cup of tea (or beer). Thankfully, no two iterations of any beer style are the same. Enter Django Pennsylvania, a Grodziskie style beer brewed by Ørkenoy in Chicago, IL in collaboration with Live Oak Brewing out of Austin, TX. A Grodziskie is a traditional Polish style, which is a very light, smoky beer, brewed with 100% wheat malt.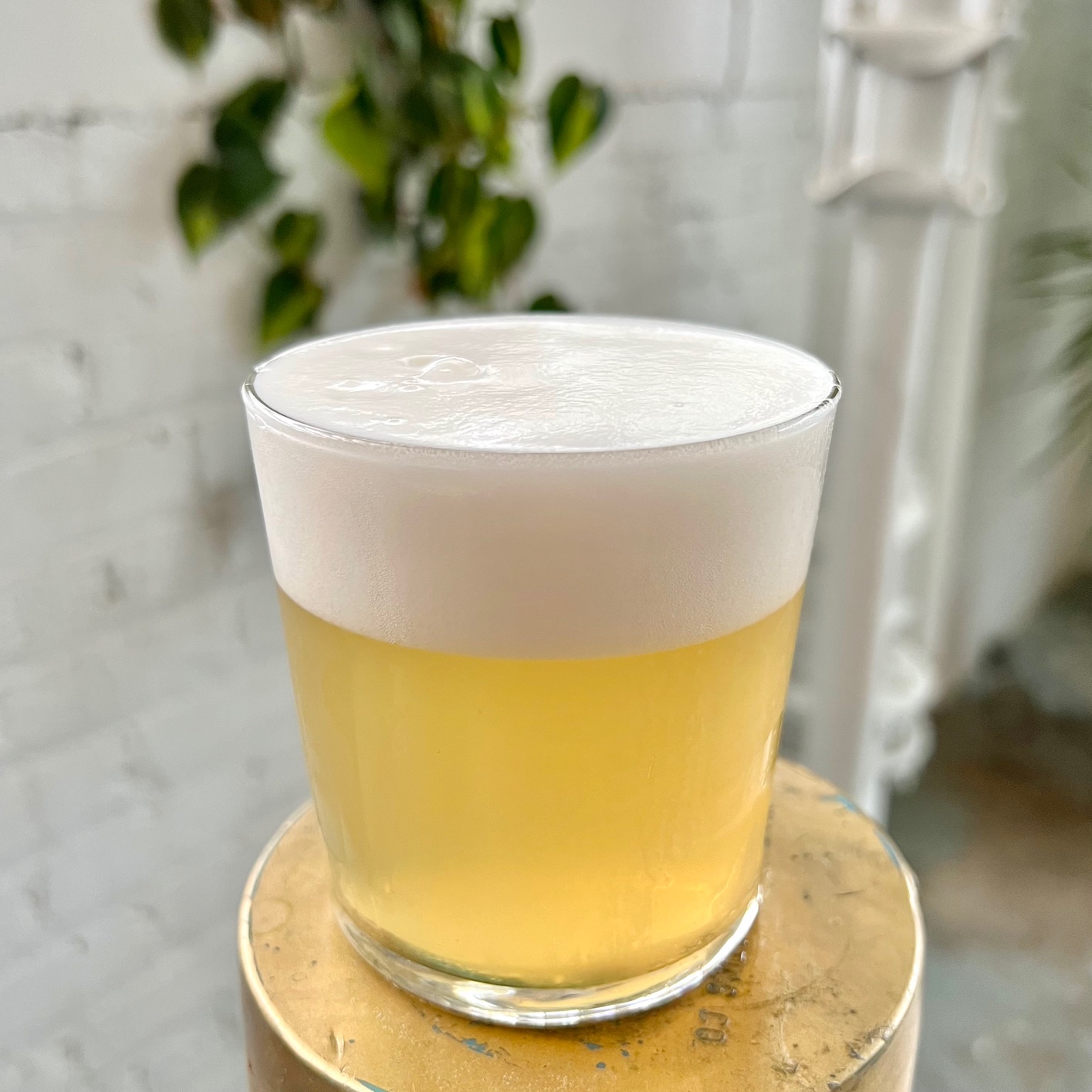 Collaboration with Live Oak Brewing
While it's surprising to find Grodziskie beers, especially in Chicago, it's less surprising coming from Ørkenoy. This Norwegian-inspired brewery and restaurant offers few things you'd traditionally expect from a brewery, from their unique beer offerings, to their delicious and ever-changing culinary menu. The concept for this particular beer started when former Head Brewer, Jonny Ifergan, reached out to Dusan Kwiatkowski to collaborate. Kwiatkowski is the Head Brewer at Live Oak Brewing Company in Austin, Texas. Similar to this style of beer, he is of Polish decent and has helped put Grodziskie back on the map. Dusan already had a trip planned to Chicago, so the two collaborated on Django Pennsylvania while he was in town.
Grodziskie Style Beer
Django Pennsylvania was brewed using 100% Sugar Creek white oak cold smoked wheat malt, Polish hops, and Ørkenoy's house Kölsch yeast. The beer was brewed using a specific step mash regimen, slow lauter, and first wort hopping. True to its style, Django Pennsylvania is a lighter offering, which comes in at 3.8% ABV. The smokiness from the Sugar Creek malt is well-balanced and ends with a clean finish.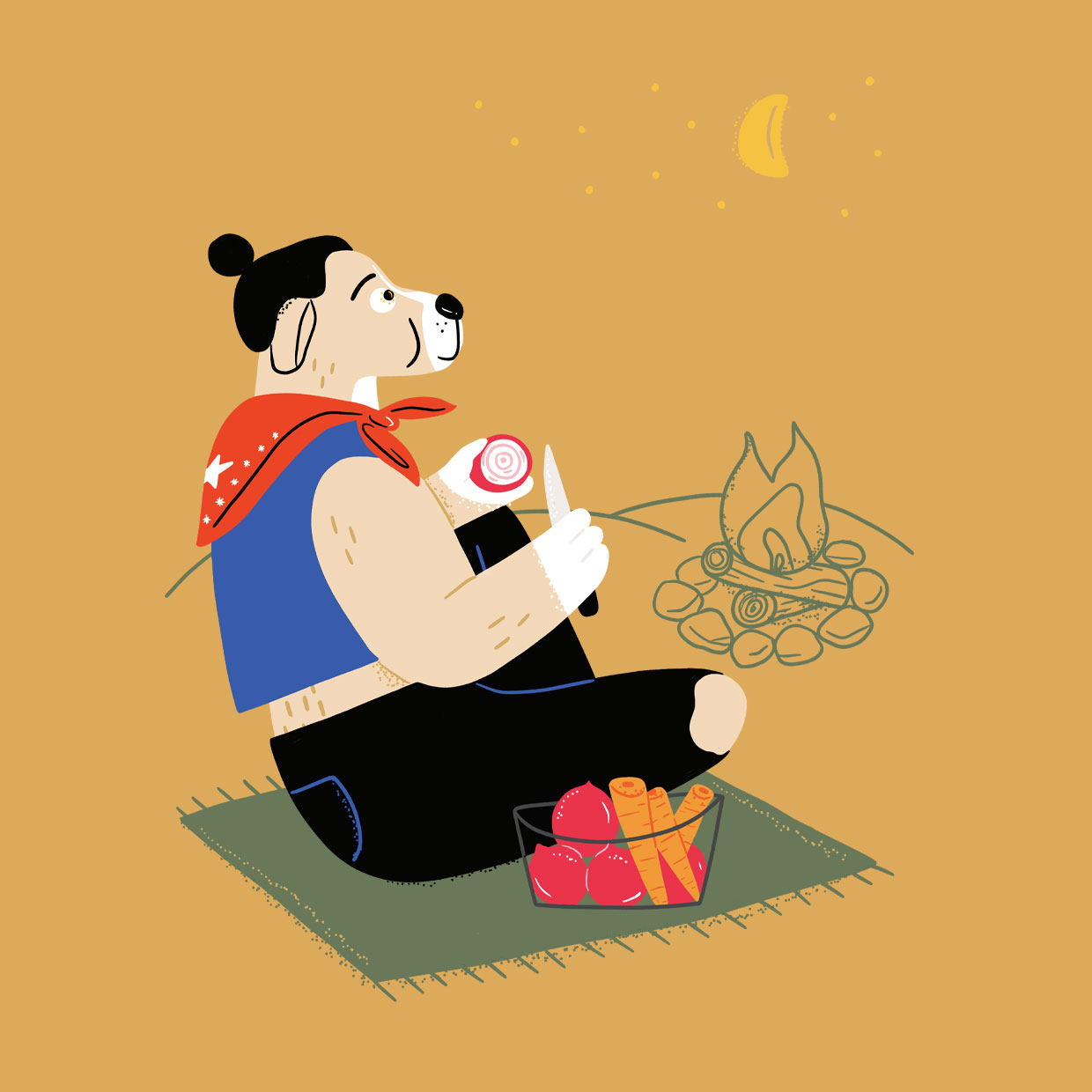 The Name: Django Pennsylvania
Ørkenoy names their beers after the pets of their employee and customers. Both the names of the beers and artwork are inspired by these submissions. (I'm still waiting on mine to be used, no rush!) Django Pennsylvania was named after Dusan's best bud, Django, who is a radish-loving mutt. The artwork for this beer is by Katie Lukes (@lukeskatie on Instagram), who has worked with Ørkenoy to expand their branding through cans, signage and merch. While sipping on this smoked wheat beer, take a moment to pay homage to Django himself through Dusan's kind words –
The Prince of Dunes (Texas Coast sand dunes), Sultan of side-eye. A 75-pound slumpy mutt. He is, above all else, motivated by food. He loves radishes and all other veggies except lettuce. A lazy, sweet boy though often intentionally just out of reach from affectionate pets and pestering. He is a sprinter in the wild, he likes to be chased, but quickly tiring and ready to go back to bed, of which he has several. Ideally, he is in bed all day with a constant supply of snacks.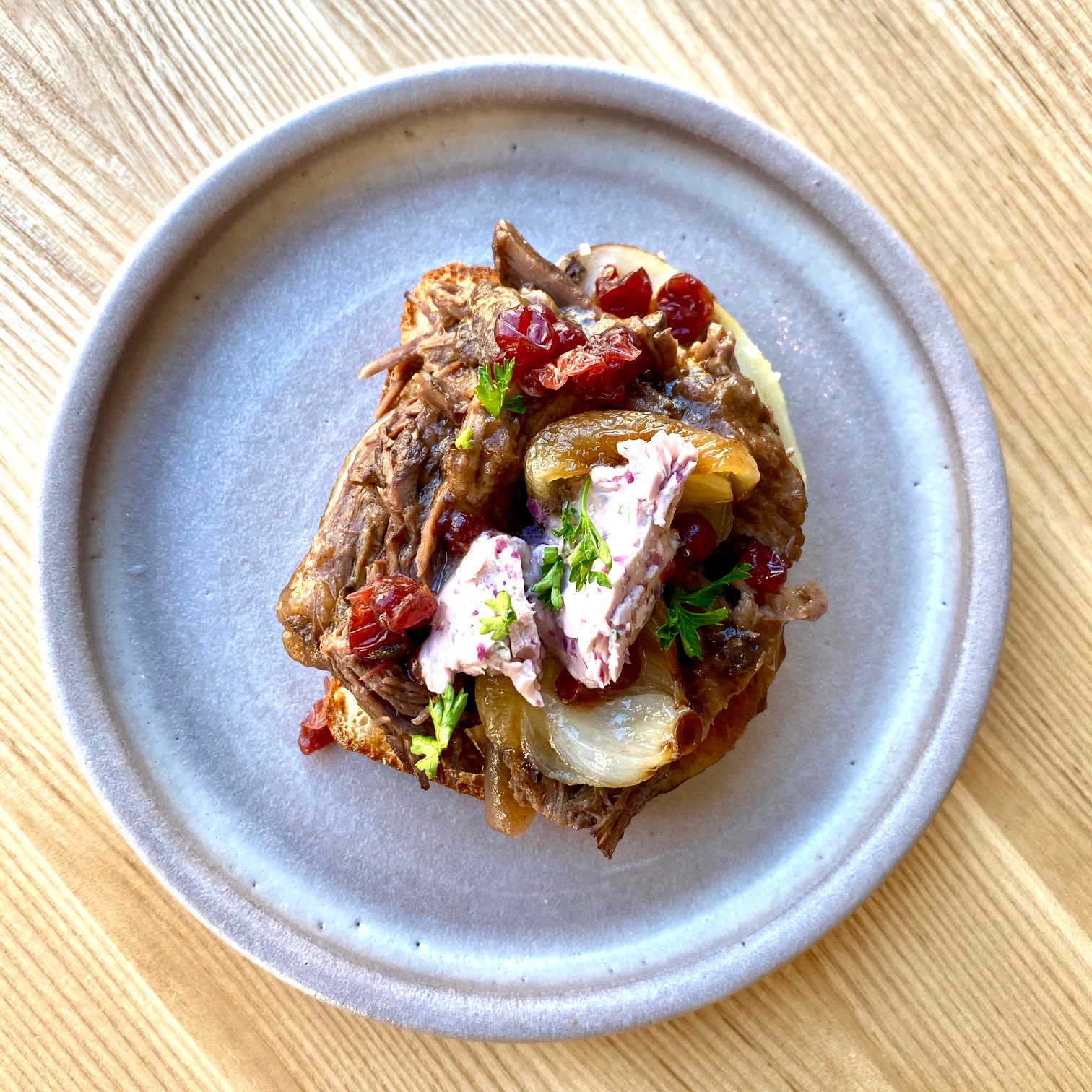 Food Pairings
One of Ørkenoy's owners, Briana, believes there is a huge opportunity for more beer and food pairings in the U.S. It doesn't come as a naturally as it does in places like Germany – cue all the beer, brats, and pretzels. While it may not be as prevalent here, a Grodziskie style such as Django Pennsylvania is a unique style for pairing. The smokiness of the beer compliments smoked and grilled meats nicely. The lightness of the style opens up many food pairing opportunities, including oysters, which the brewery serves Wednesday nights. Jonny recommends pairing this beer with braised short rib, alongside confit smashed potatoes, balsamic cipollini onion, red wine butter, lingonberry and brioche. Wow.
Get it While it Lasts
Ørkenoy specializes in smaller batch brews, so Django Pennsylvania won't be around for long. That said, there are many more exciting beers coming soon, so stay tuned. Swing by Ørkenoy in Humboldt Park to checkout their upcoming beer list, handcrafted cocktails, and the rotating culinary menu that includes a wide variety of toasts or "smørrebrød", oysters, vegan offerings and more.
Cheers!
---